Ring Leader: The FashioniSTA Guide to Engagement Bling
Even if you couldn't care less about celebrity nuptials, everyone cares about the engagement ring. I know I'm not the only one who Facebook-stalks for ring photos as soon as I see someone's status change to "Engaged." But other than the ability to distinguish Tiffany from Crack Jack, sometimes the diamond details can allude even the best fashioniSTA. So we're breaking down the dish on the left-handed bling.
Color
Unless your ring is a J. Lo-inspired pink diamond or a canary stone, the color difference is generally unnoticeable to the untrained eye. The general rule is the clearer, the better, with the whitest stone reflecting the most light. Diamonds are rated on an alphabetical scale from D through Z, with D being colorless and Z having a light yellow hue. However, unless you have a trained eye, a single spectrum difference – like that between a D rating and an E rating – will not make a big impact.
Cut
Although the diamond experts refer to cut as how someone cuts the stone to reflect the light, I think I speak for us all when I say that the cut we all care about is the shape. I don't have a light reflector instrument on me at all times, but I have eyes, so you can guess what I'm focusing on. The eleven general shapes you have to choose from are: round, princess (square), emerald, radiant, oval, pear, marquise, heart, trilliant, cushion and asscher. Round is the most popular, making up more than half of all engagement ring selections, with the newer princess cut coming in second. Going for a solitaire is always a classic choice, and many engagement rings now consist of a solitaire with a pave band. Should you be a more ornate bride, you can also go with a floral theme, constructing a diamond flower from a center stone with a ring of smaller diamonds around it.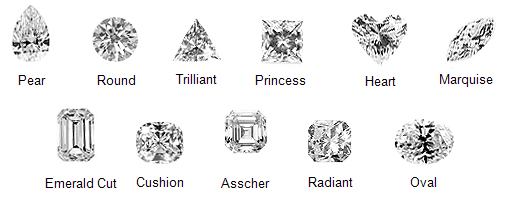 Clarity
Much like color, clarity is something you can only distinguish when there is a vast difference. Diamonds are rated on a scale from Flawless (FI), to Internally Flawless (IF), to Very, Very Small Inclusions (VVS), to Very Small Inclusions (VS), to Small Inclusions (SI), to Imperfect (I). While it's great to go flawless, it will exponentially increase the price of the ring. You can always pass off the imperfections as a trendy "leopard" diamond.
Carat
This is the biggie. Let's be honest, the clarity of Kim Kardashian's ring never made headlines, it was the fact that it was 20.5 carats and covered her entire lower finger. Rings that big are even expensive at Forever 21. While all categories increase the price as you get fancier, upping the carat weight is the quickest way to drain your future children's college fund on a piece of jewelry. Worth it? Probably, but the average size of an engagement ring is 1.18 carats, worth anywhere from around $1,500 and up depending on other bling factors. So don't be afraid to be understated, you don't want people to think your ring is fake.
Engagement Ring Hall of Fame
When you live the life of the rich and fabulous, some men ask their significant others to marry them in the most extravagant way possible.
Jennifer Lopez – cleaning up in both of her high-profile (recent) engagements, J. Lo first scored a $1.2 million, 6.1-carat pink diamond from Ben Affleck in 2002, then received an 8.5-carat, $1 million sparkler from hubby Marc Anthony.
Kim Kardashian – in true keeping-up form, Kim was able to outshine her sister's impressive Cartier engagement ring with a $2 million, 20.5-carat emerald shape stunner (photo above).
Beyonce – this diva turned up the heat when she received an 18-carat emerald-cut flawless diamond set in platinum from Jay-Z, coming in at an astounding $5 million.
Kate Middleton – making her the envy of every young woman on the planet, Kate sealed the deal with her prince with Princess Diana's sapphire engagement ring.
Heidi Klum – the woman who has it all also struck gold (literally) with her engagement ring from Seal: a 12-carat canary yellow diamond from Lorraine Schwartz.
~Ashley, FashioniSTA
Comments are closed.