Posts tagged
Heidi Klum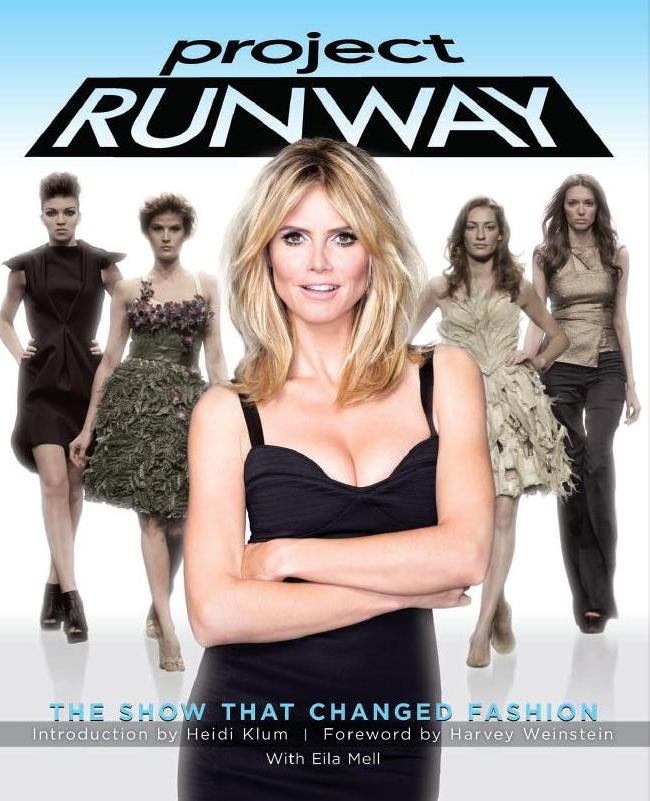 Last time Eila Mell and I spoke was back in February, in the thick of New York Fashion Week. We were discussing her previous book – New York Fashion Week – and she alluded to a new project in the works focused on Project Runway. Well now it's six months later, and Eila's book - Project Runway: The Show That Changed Fashion - has hit shelves to the glee of both critics and Project Runway fans. Eila spoke with us about what it took to put this book together, and the style she encountered along the way.
STA: I'm so glad I'm getting to talk to you again, I'm so excited about your book!
Eila Mell: Thank you! It was so much fun doing it, but, you know, it's nice when it's done.
STA: What made you gravitate towards making PR the focus of your book?
EM: In my last book, I touched on PR.  For a show that not a lot of people had faith in at the very beginning to be approaching it's 10th anniversary is an incredible milestone.  I felt that now was a perfect time to celebrate the show in a book.
STA: Who was your favorite contestant that you interviewed?
EM: I feel a little uncomfortable using the word favorite just because I don't want to hurt anyone's feelings, but I have to say I have a very soft spot for a few of them. But my absolute best would have to be Emilio Sosa – he's fantastic, so talented.
STA: Love him! He just debuted his own line at NYFW in February.
EM: It was a beautiful show, my favorite that I went to, and I can't wait to see what he does in September. He was also nominated for a Tony Award designing the costumes for Porgy and Bess, so he's had an amazing year. What people might not know is that he's really funny, he has the best personality. I don't know how much people got to see that on the show because in the show he was focused on the work.
STA: This year is Project Runway's 10th season, what do you think has made this show sustainable for so long?
EM: Absolutely because of the show's integrity.  It's not manipulated, and what you're seeing is creative people do what they do best. The cast is the best in the business, and that's why people respect the show so much. You don't just have whoever as judges, they have Michael Kors, they have Nina, it's just an amazing show. There is no other place that showcases designers and gives them a voice other than PR.
STA: Any favorite Season 10 designers?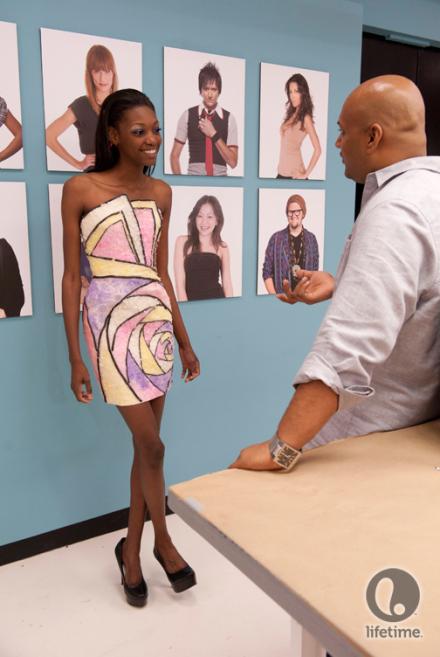 EM: I am loving Ven Budhu – his [candy design] was amazing (shown at right), you couldn't even tell it was candy! Right now I'm rooting for him, he's super talented.
STA: Any fun tidbits from working on the book?
EM: Here's a funny thing, when I met Heidi for the first time, I actually ended up insulting her without meaning to. I was talking to her and said, "How does it feel to have the contestants think of you as the mean judge?" And she said, "I'm the mean judge?!" She didn't know! She was very good-natured about it, and not insulted, but I was sitting there thinking, "Oh my gosh, what did I say?!" Because people talk about it on the show! She was laughing and didn't care. But then I was so relieved, because this woman who worked with her Googled it and said, "No no Heidi, they do, they refer to you as 'Klum of Doom'!"
STA: Well she's got that tough German accent and she tells it like it is!
EM: I think that's what makes her so good, and I hope that people give her the credit she deserves. In comparison to some of the other hosts on reality TV, you can really see what a great job she is doing.
STA: And that seems to be one of the reasons the show does so well.
EM: You have Heidi coming at it as a model, she's worn the clothes and knows designers. Then you have Michael Kors who is a designer, and he understands the creative process. And then Nina comes at it from an editorial point of view. That blend is really what makes the dynamic work because you're getting three very valid points of view. Other shows just don't have that.
STA: Do you have a favorite interviewee?
EM: Getting to interview Michael Kors was a career high for me. I was floating for days after. He's someone who I think is so talented and brilliant business-wise. I love that he started from a modest background and built an empire. I think that's fascinating.
STA: And Nina Garcia seems like an enigma to me, I wouldn't know what to expect if I met her.
EM: She's very cool and very together, just like she is on the show. She's so chic, oh my gosh…her closet is the one I would want.
STA: Since NYFW is almost upon us, what are you looking forward to?
EM: Absolutely looking forward to what the PR designers are doing! Emilio [Sosa] is showing, Victor [Luna, from Season 9] is showing – I have a soft spot for those two, my buddies. And then Michael Kors always, he's incredible. It's fun to see what Marc Jacobs does, and [I love] Alexander Wang and Altuzarra. I cover the shows for FashionWatch.com, and I have a ball doing that. I also have my own blog called Not Without My Gucci [notwithoutmygucci.blogspot.com], I don't know if people still get the Sally Field reference, but I still think it's funny!
We'll definitely have to keep on the lookout for your coverage while reading your new book!
~Ashley, FashioniSTA