Posts tagged
Gucci
70% off Clearance Items and 20% off new arrivals … you better get ready … It's our Midnight Madness sale!
Starting February 5th and 6th, the madness begins!  Beautiful designers from Chanel, to Louis Vuitton, to Gucci are all either 20% off or 70% off!  Seriously, is it normal for these beautiful designers so discounted?  Well, no.  That's why it's madness.
So … while our store aren't actually open until midnight, they are open later than usual.  But we promise the madness part is real.  Whether you're looking for something new for spring or a winter classic to save for November, you'll find an unbelievable deal.  And most of all, with 70% off, we'll be bolting for those stunning investment pieces that are calling our names.  Hang on David Yurman, I'll see you on February 5th and 6th.
With 70% off clearance items, we're saying goodbye to winter and hello to spring! after all…
We're now accepting Spring Consignment!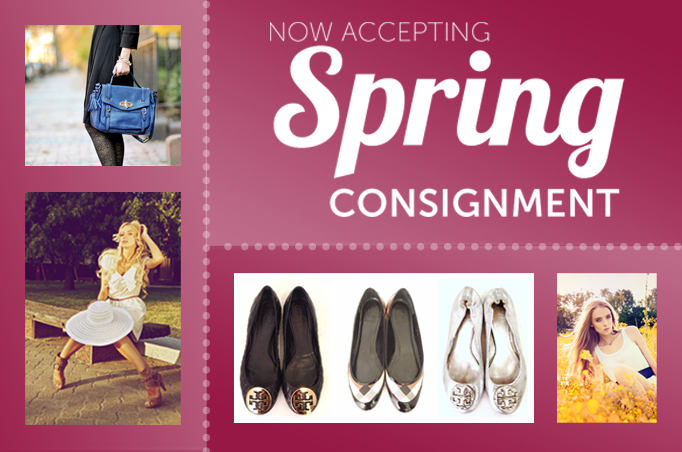 Yes, we all saw the overwhelmingly unanimous decision that Lupita Nyong'o was the best dressed at the 2014 Golden Globes.  But dear fashion magazines, how is that supposed to help us?  I'm sorry but we are not about to try to pull off a fire engine red cape.  We're looking to these celebrities not just to adore their glamorous wardrobes, but for style inspiration!  Luckily many other stars among the best dressed flaunted styles that we can't wait to try.  Here are our favorite looks from the 2014 Golden Globes to inspire our every day style.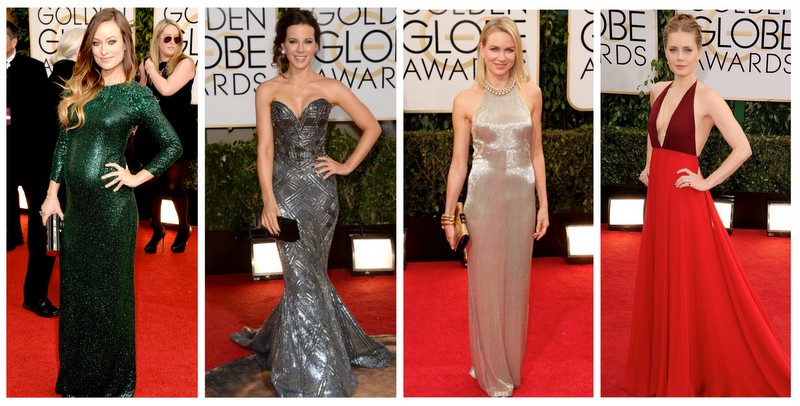 1. Olivia Wilde
Designer: Gucci Premiere
Inspiration: Emerald Green
With a color like this, we just can't take our eyes off her.  So why not try to incorporate such an eye-catching color into your wardrobe?  We love the idea of adding a pop of emerald green to your go-to looks. To add a little zest to your casual every day wear, how about shimmering emerald heels?  Or glittering emerald nails anyone?
2. Kate Beckinsale
Designer: Zuhair Murad
Inspiration: Beaded Texture
There is just something so glamorous about beaded texturing.   Kate's beaded gunmetal gown turned a simple metallic dress into a spectacular work of art.  We love this look so much that we are determined to add more beaded accents to our wardrobe.  Whether it be a touch of beads in a headband or a beaded skirt, the texture give the piece a one-of-a-kind, hand made feeling.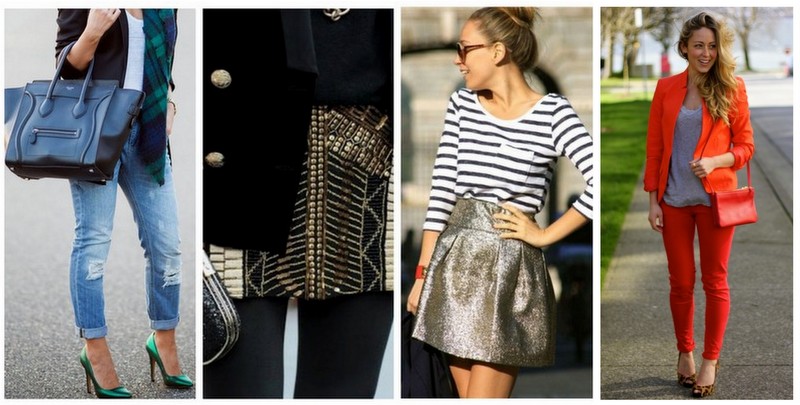 3. Naomi Watts
Designer: Tom Ford
Inspiration: White Gold
While many fear light hues will wash them out, Naomi shone brilliantly in her embroidered, white gold gown.  We can't get enough of this color for its ability to add some shine to winter outfits without going all out holiday sparkle.  The elegance of white gold is perfect for a blouse, for a sophisticated look without being stuffy.  On a more casual note, we love this white gold shimmer skirt with a laid back T-shirt.  It's just enough to sparkle without wearing sequins.  White gold's versatility makes it a great piece to wear when dressing up or down.
4. Amy Adams
Designer: Valentino Couture
Inspiration: Minimalism
Talk about a statement!  We are drooling over Amy's plunging neckline and the ruby red color.  In fact, the outfit is so stunning that she felt no need to over accessorize.  We'll take a page from Amy's book and say, let your outfit do the talking!  While it's fun to dress up a simple outfit with bold accessories, the opposite can be just as appealing.  When it comes to a bold style, own it!  Don't let accessories distract from your sleek outfit.  Like Amy, rather than sport bold jewelry, rock a bold color (and we love the idea of red and maroon)!  We love this eye opening idea.  Sometimes less is more.
Photo Credits: Pintrest.com, Vogue.com, eonline.com, Huffingtonpost.com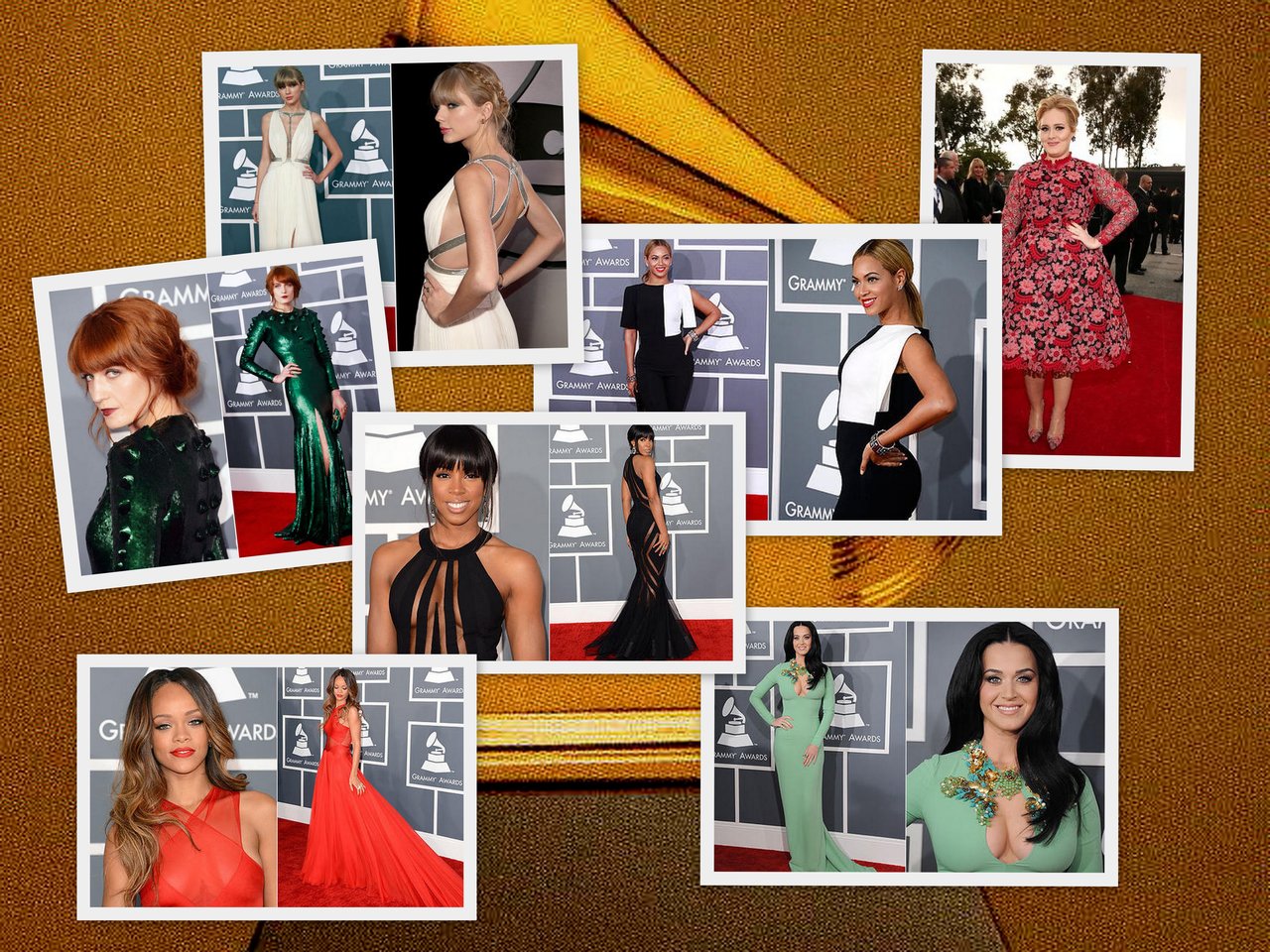 Best dressed and worst dressed are fairly subjective. So this Grammys, we're giving you a look at the seven red carpet appearances that you should know.
1. Taylor Swift in J.Mendel - A mixed bag on this one from critics, personally we like the grecian-dominatrix look, but admittedly it's not her best.
2. Florence Welch in Givenchy - The reviews with this were all over the place, but either way it's worth seeing this surely Jurassic Park-inspired ensemble. (And it's worth noting that emerald green is the color of 2013.)
3. Kelly Rowland in Georges Chakra Couture - It seems like the halftime show wasn't the only boost to this former Destiny's Child member's career. This dress has elevated her to style stardom by critics and fans alike.
4. Rihanna in Azzedine Alaia - This was probably the biggest red carpet surprise of the night, with her pure elegance blowing the disco ball-wearing attendees straight out of the water. People are dying over this more classic look, and we are right there with them.
5. Beyonce in OSMAN by Osman Yousefzada - Bey can do no wrong, so basically everyone should know what she's wearing. This pants option is a pseudo-fashion risk, yet not as buzz-worthy as some of the others.
6. Adele in Valentino - Yet another look that ran the spectrum of the critics' picks. Some love this look, while others thought it was a bit dowdy and overrun with the floral print. We're somewhere in the middle, but she definitely stood out.
7. Katy Perry in Gucci - This one is universally not liked, between the cleavage and the in-your-face spring green color. We're right on board with that.
Stay tuned for our Oscars coverage in two weeks!
Photo credit: latimes.com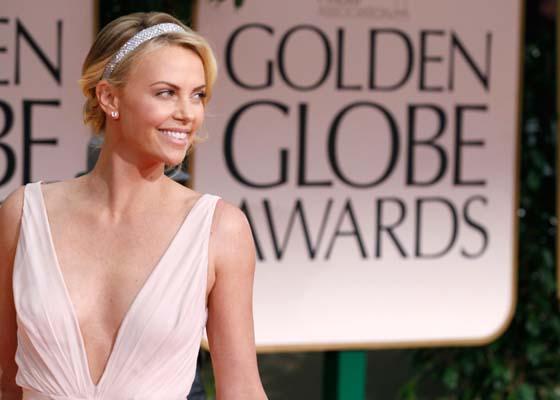 This year's Golden Globe Awards was all about bold statements and futuristic flair. From silver metallic moments - that we saw on Nicole Richie and Lea Michele - to art deco details - as seen on Selma Hayek and Claire Danes - statement accents were everywhere. Even those who donned nude gowns for the occasion ramped up the drama with oversized skirts (Charlize Theron and Piper Perabo) and large-scale jewelry (Heidi Klum). And of course fringe hit the red carpet yet again, this time taking on celebs such as Emma Stone and Busy Phillips.
Ashley's Picks
Best Dressed: Freida Pinto in a teal, textured Prada. I'll admit that I like when actresses go more timeless than trendy, and I think this gown had the best of both worlds. The classic shape was slightly modernized with the fuller silhouette at the bottom and the smaller accents, such as the belt and her stunning Chopard lattice choker. The texture was the perfect detail to make her stand out in the best way possible.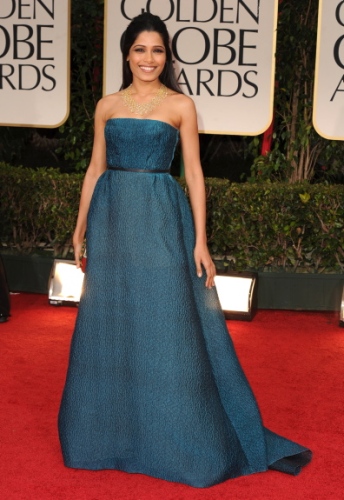 Worst Dressed: Lea Michele in a silver Marchesa concoction. Some people have been fawning over this risky move, and I'm hoping that those people get their eyes check out soon. Instead of a smart risk, this is too over-the-top, and Lea stirs up memories of Cher in Bob Mackie.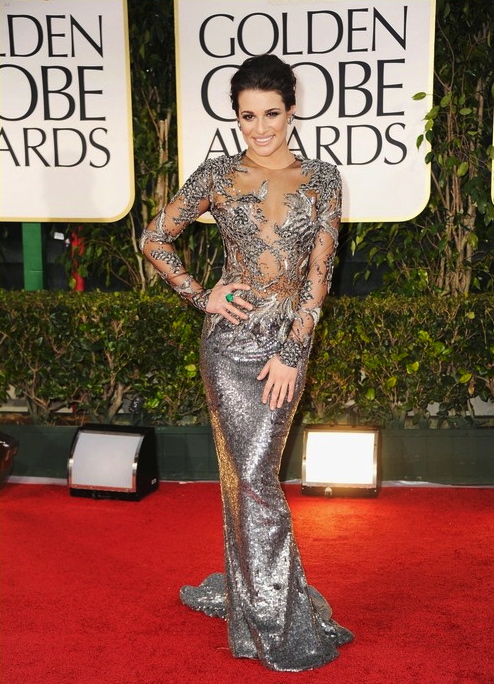 Rookie of the Night: Shailene Woodley's Marchesa dress was an unbeatable mix of age-appropriateness and gorgeous detail. The structured bodice with the illusion neckline was a shining example of how to dress a young Hollywood actress.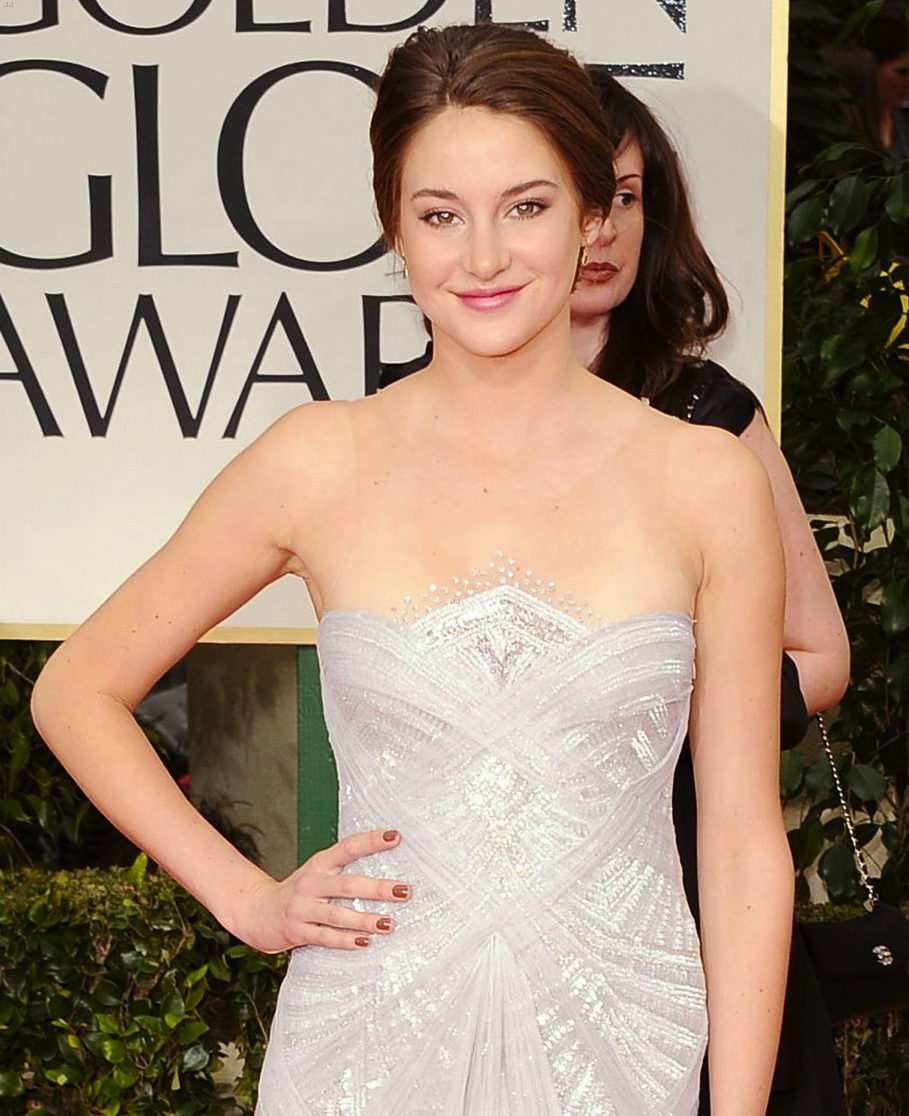 Most Improved: Nicole Kidman in Versace redeemed herself a million times over from her missteps last awards season (remember the white Dior)? From the studs to the body-hugging silhouette, this dress proved why Versace is such a fashion powerhouse.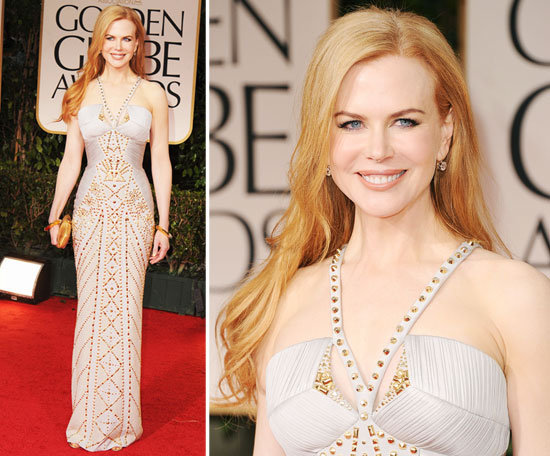 Kim's Picks
Best Dressed: My absolute two favorites of the night were Salma Hayek in Gucci and Kate Winslet in Jenny Packham. Hayek may get panned for her risky art-deco choice, but I thought she pulled it off beautifully while Winslet proved that Old Hollywood is always in style… her touches of gold were flawless and her clutch was a perfect match.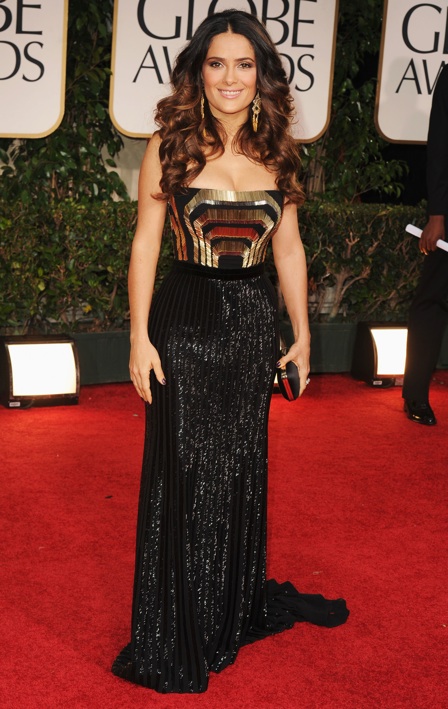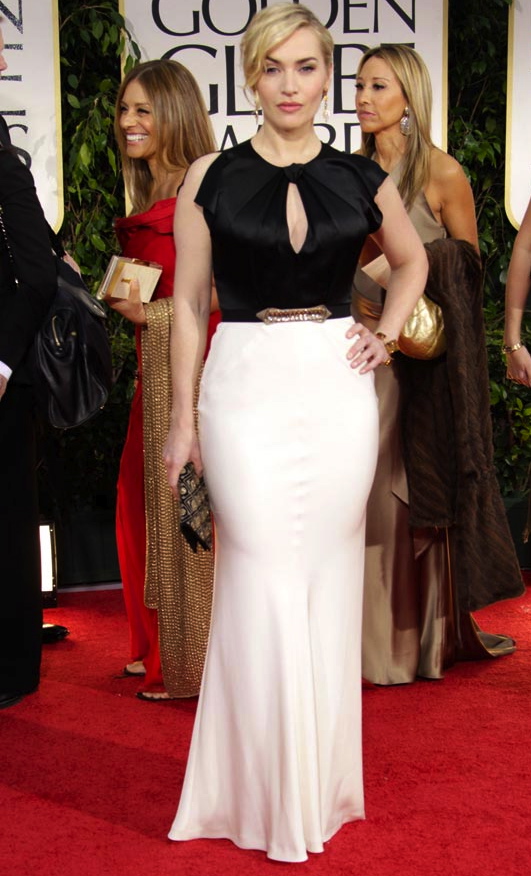 Worst Dressed: Angelina Jolie in Atelier Versace — seriously, how dated! I am a firm believer that one can never be tooooo matchy-matchy, but Jolie's hideous outfit tonight has shaken that belief to its core. The worst, however — hands-down — is Sarah Michelle Gellar in Monique Lhuillier. That print should never hit the red carpet, nor should it ever grace a dress so formal. You took a risk, Gellar, and it failed.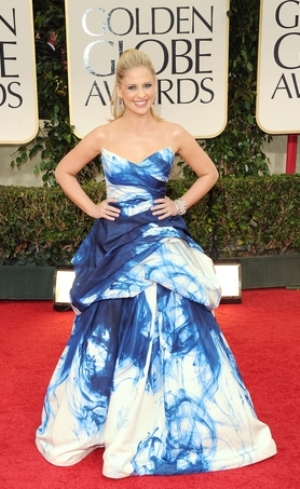 Rookie of the Night: Kelly Osbourne in Zac Posen — I may not particularly like her dress, but I'll certainly remember it. Bold lines make for a bold choice, and I'm not sure if she pulled it off or not. But it certainly caught my eye! I'd also like to nod my hat to Rooney Mara in Nina Ricci… very fitting for her character, and very well put together.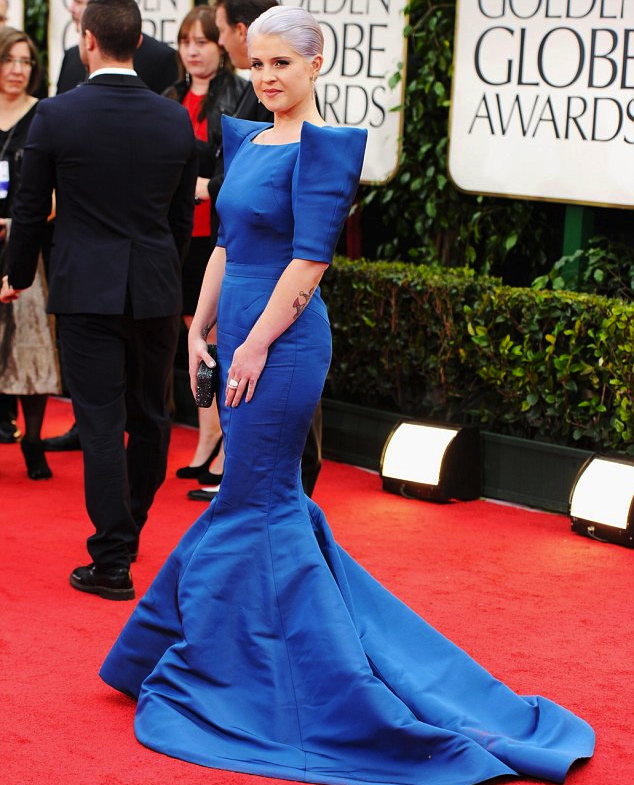 Most Improved: Tilda Swinton in Haider Ackermann… Swinton arrived last year in a questionable Jil Sander get-up that was part dress / part boardroom, but this year she made some major strides. She clearly enjoys going for a slightly androgynous look and this year is no exception. However, she softens the blow with a fabulously wild hairdo and beautiful jewelry by Fred Leighton. Baby steps, Swinton, but you're getting there.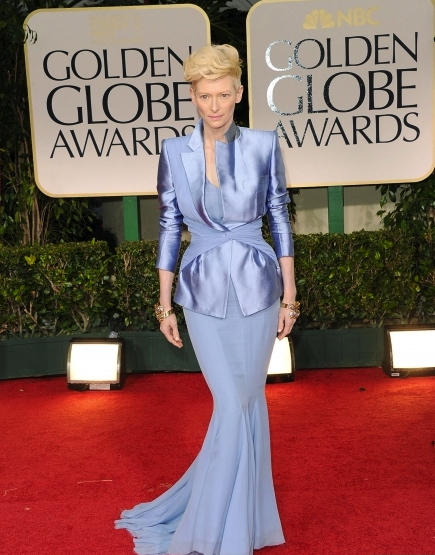 Kristen's Picks
Best Dressed: Claire Danes – I have a love hate relationship with Claire Danes.  Yesterday it was love.  Her J. Mendel dress, coupled with simple jewelry, was nothing short of perfection, and the cut out back? Swoon.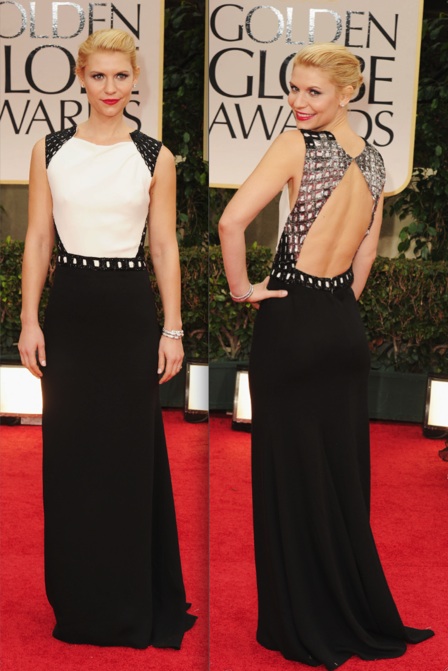 Worst Dressed: Zooey Deschanel in Prada is my pick for worst dressed, not because of the dress necessarily, but the hair. Usually I'm all for glam throwback looks especially when it comes to hairstyles, but this custom-made bold dress deserves a simple updo.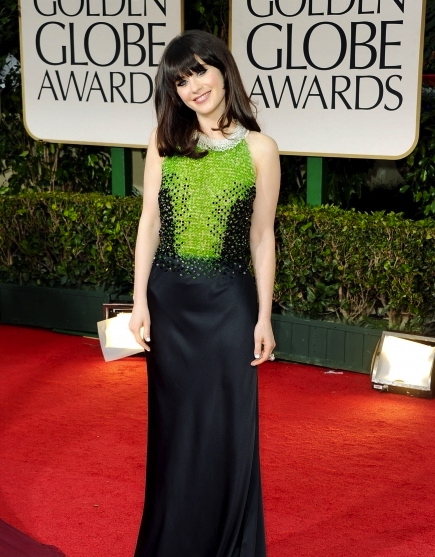 Rookie of the Night: While I think she always looks great at award shows, my rookie of the Golden globes Goes to Sarah Hyland of Modern Family in Dolce & Gabbana.  I'm all about the lace! Sarah was able to pull off an elegant strapless dress while maintain her youthful charm.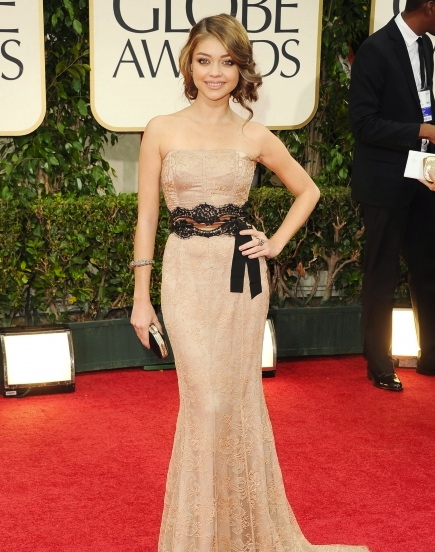 Most Improved: Laura Dern – Known for her effortlessly hippy-ish style, she kicked it up a notch this year!  Her emerald sparkle Andrew Gn dress was just the right amount of classy and sexy, she looked radiant when accepting her award.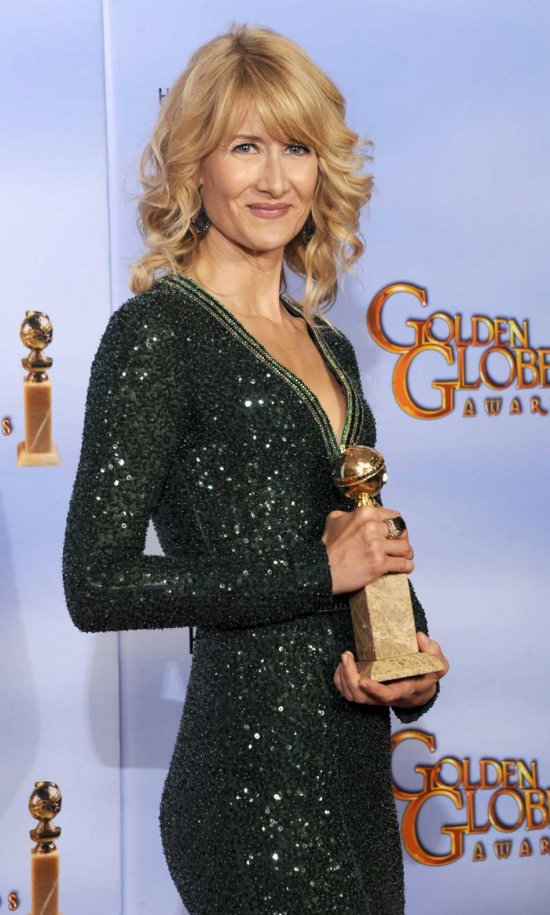 Stay tuned as we cover all of the other award shows this season!
After all the daytime grilling and lounging, it's time go out and really celebrate summer! People will be out and about feeling rested, energized, and amped up about the holiday weekend! Time to ditch the denim and get on with your glam!
Whether your style is sparkly, bohemian, or classic, there are ways to look your finest. Maxi dresses always add a touch of drama, and heeled gladiator booties are perfect for summer nights out. Adding a little gold will go great with that glow you garnered after sitting outside all day, and this is the only season where you can really rock your sleeveless dresses sans cover-up.
Dress: Guess Jeans (size M) $25 / Necklace: $18 / Sandals: Stuart Weitzman (size 9) $89
Dress: Notice (size S) $49 / Wood & Leather Necklace: $16 / Rope & Shell Belt: $15 / Clutch: Vintage Gucci $79 / Shoes: LF, size 8 $29
Dress: Zara Woman (size L) $29 / Elastic & Velour Belt: $15 / Patent Leather Bag: Etienne Aigner $25 / Shoes: Dana Buchman (size 8.5) $49
Dress: Dharma Imports (size M) $38 — NWT! / Leather & Grommet Tote: Carlos Falchi $89 / Sandals: Miz Mooz (size 7.5) $25
~Kim, FashioniSTA/Store Manager - Harvard Square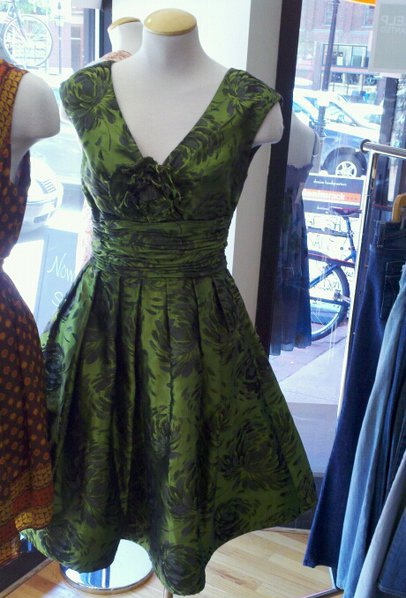 Looking for a fashion experience where you can score everything from couture to casual? Then you shoulddefinitely look to take advantage of the Portsmouth sale! Over the past few months, this location has become a magnet for high-end items. They just had four Oscar de la Renta gowns (an example is featured on the right), some even donned by celebrities while strutting down the red carpet! Of course they all sold immediately, but the treasures don't stop there. They also have had tons of high-end shoes: Prada, Gucci, Lanvin, Louboutin. You name it they have it! (And good news for you size 11 girls, there are shoes in that size too!)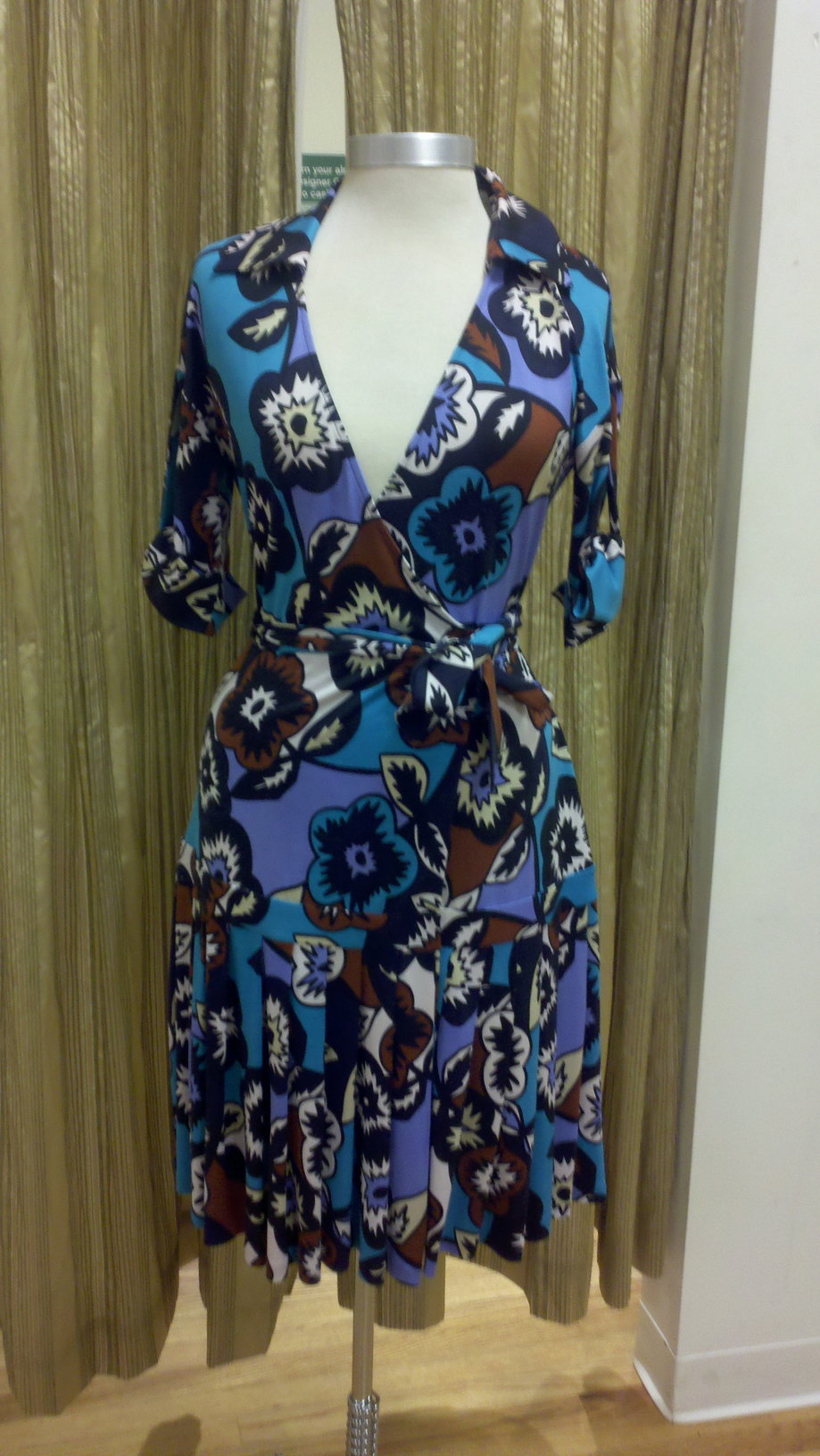 For you contemporary gals, Diane von Furstenberg, Milly, Miu Miu, Lilly Pulitzer, Tory Burch and Anna Sui also live at this Second Time Around. Whether you're looking for a work-appropriate Right now you can find a great pair of Miu Miu shoes, the perfect DVF printed wrap dress (left), and an Anna Sui dress that is sure to add the right element of unique to your wardrobe. Want even more one-of-a-kind pieces that you can't get anywhere else? This location is one that houses Dharma Imports direct from the designer, a line that features gorgeous textiles from India and Thailand. From strapless sundresses to printed knit shirts, this line is the perfect way to add color and exotic texture to your closet.
One of the great things about this store is that it helps you piece together the perfect ensemble. They've got you covered, whether you're looking to update your wardrobe with a key summertime piece, or you need an outfit for an upcoming family event, or you simply have nothing to wear for the warmer weather. In addition to designer-themed racks, this STA has set up stylized racks like "Flirty Florals," "The Perfect Print" and "Ruched and Ruffled." This helps anyone navigate the new store with ease, letting people shop their favorite trends quickly & easily!
Should you be up for a day of shopping and lunching (think Real Housewives meets Portsmouth, without the obnoxious drama), this STA location is right in the middle of everything you'd want. You can work up quite an appetite scoping out the latest and greatest fashion finds, and you can swing by The Works Bakery Café for an understated yet deserved lunch, Radici for Italian dining, or Sake Japanese Restaurant for your sushi fix. Or for the pizza lover, you can swing by Flatbread, which serves up slices fit for anyone, whether you're organic, gluten-free, vegan or the original pizza aficionado.
Meet the Manager – Molly Shea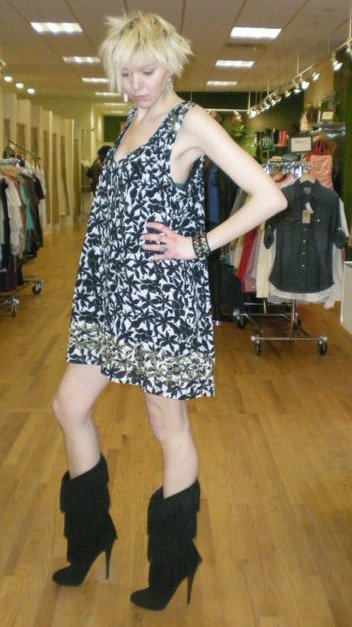 Molly is a 25-year-old stylista who moved to Portsmouth NH right after graduating college with a fine arts degree. She started working at STA about 3 years ago, and before she knew it, she had moved up to store manager. The stylist in her means the mannequins are always dressed to impress, and the consignor in her means she cleans out her closet on a regular basis (to of course make room for all the STA deals she brings home!).
Fave designer: Marc Jacobs, of course. I also love All Saints and Elizabeth & James
Personal style: Generally in head to toe black. I occasionally add a pop of grey, or chartreuse if I am really feeling racy! I am attracted to anything flowy, asymmetrical, oversized, and always, always in multiple layers!
After-work/weekend hotspot: Brazo!! A fabulous Latin restaurant in town, that makes the best watermelon martinis around, and a few of people who work there are regular shoppers and consignors with us as well!
Latest fashion splurge: I have my eye on a pain of 4-inch Lanvin copper cutout sandals right now! I will be over 6 feet in them, but just to own them would be well worth the splurge!
Best STA deal ever: My Marc Jacobs classic quilted Stam purse for $99! Or my reversible Escada floral cardigan that was only $30! I will never ever get rid of that one!
If you follow fashion trends, you may have already figured out that one secret to staying current is simply identifying styles from the past and wearing them in new ways.
Retro is the new modern, and there's no better way to dress vintage than by wearing the real thing. "Vintage" is usually defined by the era of 1940 to 1980 — earlier than 1940 would be considered "antique" clothing. While today's designers often reproduce looks from the past with a few modern twists, there's a certain satisfaction in wearing an authentic vintage dress, skirt or sweater. It gives you a fashionable flair and is always a conversation-starter.
But pulling it off isn't always the easiest. However, if you follow a few key guidelines, it can become as effortless as throwing on your old pair of jeans.
The most important thing to keep in mind is this: modernize it, don't relive it. Head-to-toe vintage can look too much like a costume, so blending yesteryear with today is key. Use a sweater or skirt with items you already have. Mix and match new with old to create a style all your own! You want to look reminiscent of days gone by, not like you're on your way to a theme party. Which leads us to our first tip…
TIP #1 – Keep it Simple
Do not try to put together a whole vintage outfit, top-to-bottom. If the vintage piece you're incorporating is loud or flashy, make it your accent piece and make sure the rest of your ensemble is understated. If your main garment is vintage, be sure accentuate the ensemble with more modern pieces. Pair a vintage neck-tie blouse with skinny jeans and flats. Wear a 50's shirt dress with new patent leather pumps. The opposite works just as well; feel free to use a touch of vintage (scarves, jewelry, a fun jacket) to gussy up an otherwise regular outfit.
Below look: Shirt: 70s Vintage — $19 / Tank: Eileen Fisher — $25 / Denim: Seven for All Mankind — $59 / Shoes: Arturo Chiang — $29 / Bag: Longchamp — $79
TIP #2 – Mix Period Styles Together
Think about the style you are trying to achieve. Do you like the sleek sophistication of the 1920s-30s or "New Look" clothing from the '40s and '50s? Does your taste run toward mod 60s miniskirts or flowing hippie 70s styles? Or is it more 1980s, with big shoulder pads and high-waisted pants? Whatever your preferred style, you'll be surprised at how easy it is to blend the fashion timelines together. Styles have overlapped through the eras much like they do today, and combining elements from the decades will help to achieve a look that is all your own.
Below look: Cardigan: J. Crew — $29 / Tee: Three Dot — $25 / Skirt: 60s Vintage — $19 / Shoe: Stephane Verdino — $79 / Bag: 80s Vintage Anne Klein for Calderon clutch — $19
TIP #3 — Become a DIY Designer
As the decades changed, so did our culture's eye for acceptable hemlines, necklines, and forms. The result? Many great vintage finds are passed over on the rack, deemed to "matronly" or too "boxy". What to do? Alter it. Tailor that "piece with potential" to give it a contemporary fit. A long dress that looks dowdy at mid-calf length can be easily hemmed into a mini dress. Remove outdated shoulder pads and replace tacky buttons with new ones for an instant makeover. Add a few darts to give that sheath a new shape, and take the scissors to those bell sleeves to create a shorter cap.
Some vintage purists hate alterations, arguing that any modification to these relics results in them being rendered worthless — it would be like painting over a Picasso. This is a valid debate, and it's worth pointing out that any items of high original retail or cultural value are best left in their original state. However, there are many vintage items on the market that were mass produced at very low cost in their heyday and are worth nothing more to history other than a sense of nostalgia — like that H&M sweater you might find at the back of your closet in twenty years. So do a little research into your pieces before putting your sewing skills to work. Then it's time to get creative!
Below look: Jacket: Arden B. leather — $49 / Dress: 70s vintage — $25 / Shoes: Stephane Verdino — $79
TIP #4 – Fun First! Fashion follows.
This tip especially applies to your vintage choices. We here at Second Time Around truly believe that if you feel good, it shows. Confidence is the key in pulling off any style, so be sure to find the right look for your comfort zone. Whether your final ensemble is understated or bold, you will be well on your way to staying ahead of the curve… by following trends of the past!
Below look: Cardigan: 80s Vintage Adrienne Vittadini from Bergdorf Goodman — $39 / Denim: Marc Jacobs — $69 / Shoes: DKNY — $69 / Bag: Gucci — $109
~Kim, Store Manager, Second Time Around Harvard Square
An Inside Look at Cannes
Whenever I click on the TV to watch the awards shows I am so entranced with what looks like effortless beauty radiating from every actor and actress that grace the red carpet. There could be a hurricane barreling through; wind, rain, the whole nine yards and the stars would still be statuesque. It wasn't until this May that I was actually able to get up close and personal with the Hollywood scene and watch as they transcended down through paparazzi lights and shouting fans. Though I hate to admit it they are pretty perfect but a lot more goes into it than I ever imagined.
The festival was grandeur! I was afforded the opportunity to intern for a public relations company over in Cannes and I jumped on it quick. The publicity side of things was very interesting but what got me most was how fashion and style was so commoditized on and off the red carpet. Never in my life have I been able to walk down the street and see so many people with immaculate personal style. It was fascinating.
Seeing this relationship between the famous wearing haute couture and civilians wearing their best was intriguing and really took away mystery that surrounds the elite. After all, they are just like us but with bigger bank accounts and an entourage. My point is, that style doesn't just come from a designer or a fashion magazine it really comes from the person wearing it
Make that sidewalk your red carpet and price and designer aside, your confidence makes the look.
Top Red Carpet Trends:
1. Leg Baring Evening Attire
2. Chanel and Gucci Gowns
3. Old Hollywood Red (lips, dresses, heels, you name it)
4. Off-the-Shoulder Gowns
5. Tuxedo Dresses
Top Sidewalk Trends:
1. Jumpsuits
2. Flowery scarves (on men too)
3. Tailored trousers
4. Shoulder pads in jackets
5. Oversized striped shirts
6. Small chain link shoulder bags
7. Clubmaster Ray-Bans
~Kirsten, FashioniSTA, Second Time Around