Posts tagged
bags
70% off Clearance Items and 20% off new arrivals … you better get ready … It's our Midnight Madness sale!
Starting February 5th and 6th, the madness begins!  Beautiful designers from Chanel, to Louis Vuitton, to Gucci are all either 20% off or 70% off!  Seriously, is it normal for these beautiful designers so discounted?  Well, no.  That's why it's madness.
So … while our store aren't actually open until midnight, they are open later than usual.  But we promise the madness part is real.  Whether you're looking for something new for spring or a winter classic to save for November, you'll find an unbelievable deal.  And most of all, with 70% off, we'll be bolting for those stunning investment pieces that are calling our names.  Hang on David Yurman, I'll see you on February 5th and 6th.
With 70% off clearance items, we're saying goodbye to winter and hello to spring! after all…
We're now accepting Spring Consignment!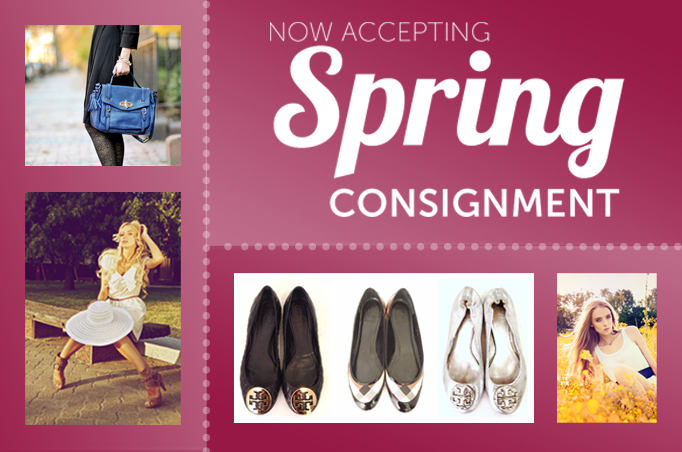 Well tomorrow is the big day!  I'm happy to say my prep has gone amazingly well, but still smoothing out some of the details.  I've been scoping out the stores and stalking (admittedly) the STA Facebook pages for all of the newly consigned pieces.  I've got my heart set on some great items, and tomorrow's my big chance!
We've got limited time.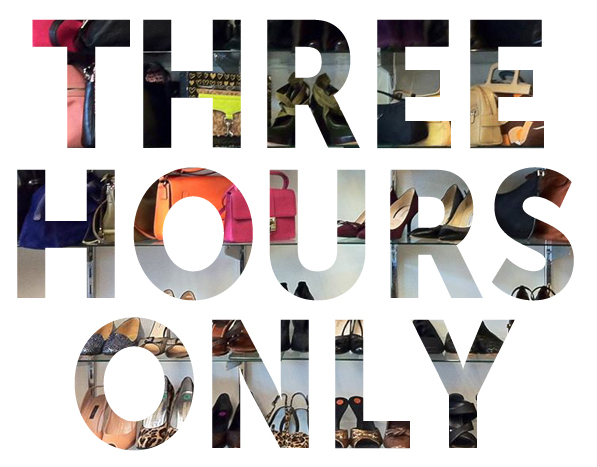 The opportunity to get 50% off everything in the store only lasts from 7am to 10am!
So here's the schedule for tomorrow:
6:00 am: Wake up
6:30 am: Grab the girls and head to Newbury St.
6:50 am: Outside STA 176 Newbury and eat a quick, energizing breakfast (yogurt?)
7:00 am: STA spree!
7:55 am: Walk to STA 219 Newbury St.
8:00 am: Shopping spree at STA 219 Newbury
8:45 am: Starbucks break (crossing fingers for no line)
9:00 am: Spree at STA 324 Newbury St.
10:00 am: Celebratory wrap-up brunch with the girls
I'll definitely be heading back to STA on Saturday morning for free mimosas and 30%-50% off.
Black Friday's like our birthdays, it's a weekend-long event.
As expected, I've got my eye on my wish list items at each store.  While they might have already sold, I have faith that they'll come in again.  Hey it's the holiday season … wishes do come true.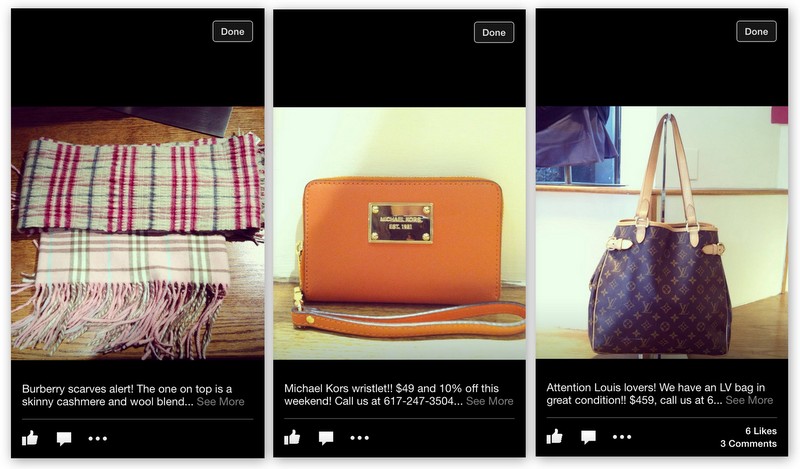 176 Newbury: Burberry scarves spotted, Michael Kors essential wristlet, and helloooo Louis

219 Newbury: Stunning holiday dresses, calling dibs! Burberry scarf second spotting, Milly cross body, and statement necklaces galore.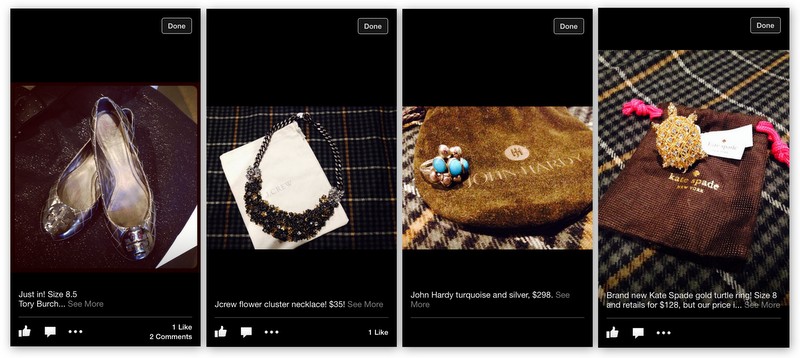 324 Newbury: I see you, Tory Burch flats.  Cocktail rings, check!  And a gorgeous Jcrew flower necklace.
I may more excited on Black Friday Eve than Christmas Eve … STA knows my style better than Santa anyways.
Spikes and studs used to express somewhat of an emo look now they are the hottest design around! People are dying to wear spikes and studs on anything from head to toe ranging from earrings to headbands to jackets to bags. Basically, you can add studs to any item of your wardrobe and it will be deemed fashionable. Depending on how style daring you are there many different routes you can take to pull off the spikes or studs trend.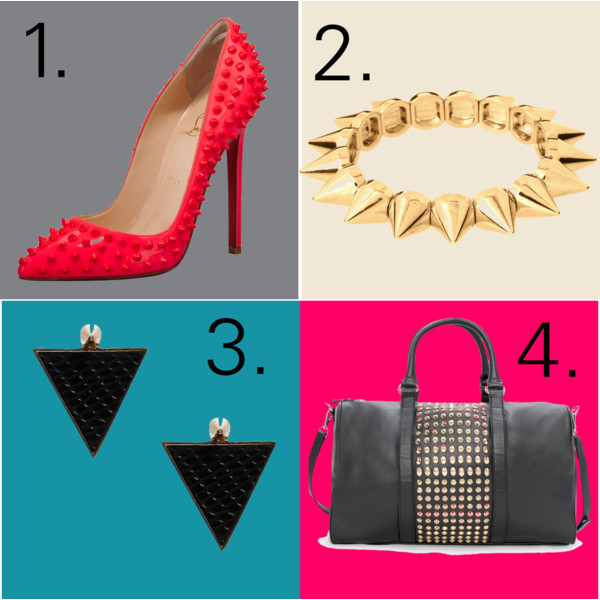 If you are that typical trend-setter…
You're always wanting to be the first one to show off that new style now matter how crazy it may look. And with this trend, there are many different ways you assert your style status while showing off your love for spikes and studs.
Going with an all-over spiked shoe is a great statement piece, whether you go with traditional metallic spikes or a monochromatic look as seen in picture number one above (Christian Louboutin Pigalle Spikes Fluorescent Patent Red Sole Pump, $1,195). Should you want to take it one step further and you're not afraid of a little height, try out Jeffrey Campbell's Spiked Lita Boot ($195).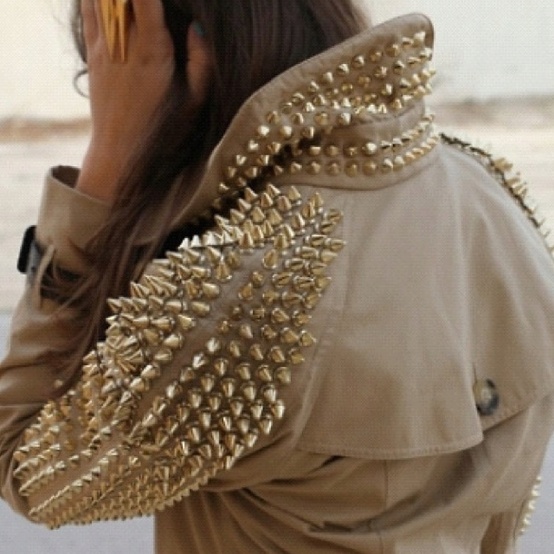 A blazer or jacket with arm/ shoulder studs could be paired beautifully with black skinny jeans, a white shirt/sweater for a stark style, or even a simple black dress and heels for evening attire.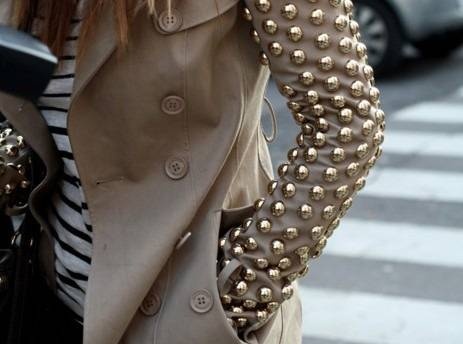 If you are more of a budding trend-lover…
You're someone who likes certain styles once they have caught on and become popular. You are more likely to carry a bag like number four above (Mango Spiked Bowling Bag, $110, Mango.com). A bag of this size and detail is multi-purposed - great for going out shopping or even a carry-on bag for traveling.
Other items that a budding trend-lover could be seen wearing are:
Studded or spiked wristlet and flats - The wristlet on the left could go with just about any outfit to add some emotion and eye-catching shine. The flats on the right would go great with black shorts or even a shirt and sweater. Add a pendant necklace and you're sure to catch some attention with just those few details.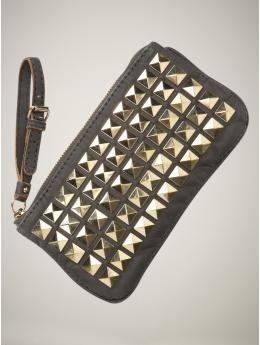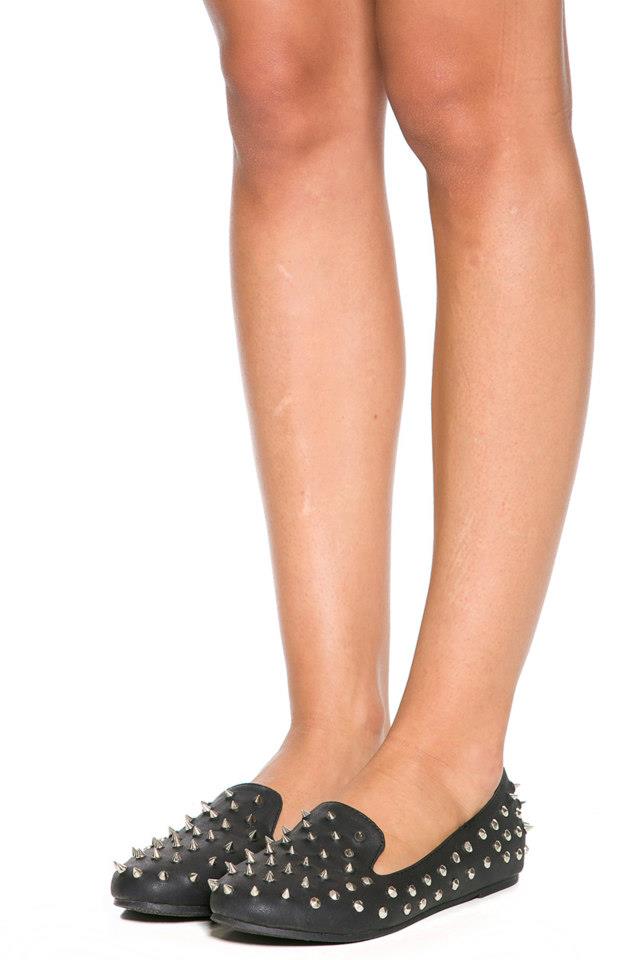 Spiked jewelry - If donning spikes on your bag or shoes is too much for you to handle but you still want to follow this obsession, the best thing to do is incorporate it into your jewelry. When wearing spiked bracelets the best thing to do is stack them as shown above to give an even fuller look. As shown in box number two in the graphic above, you can try spiked bangles (the ones above are ASOS spiked stretch bracelets $14, and the photo below is Stella & Dot's Renegade bracelet $59), or your can ode the '80s with earring like in box number three (these are Jenni Design Spiked Earrings $16).
Studded manicures - Giving your nails some stud love is also a more low-key way to try the trend (shown below), and we found one of the best studded manicure tutorials here on Lulu's Blog. Its very eye catching but make sure not to puncture someone while giving a friendly handshake!
Electronic accessories - Phone cases are a great item to show off your love for spikes and studs it looks great but is something that is not constantly being shown off. People will notice it when you whip your phone out for a quick call or text message but then you can top it back into our purse once its seen.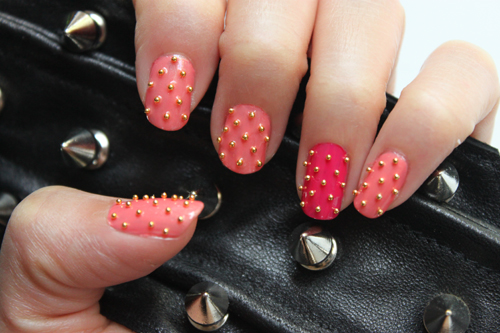 ~Jenna, fashioniSTA