Posts tagged
ASOS
Whether you're a college student home for the holidays, a young professional going to Christmas dinner at your significant other's home for the first time, or a hostess expecting all of your extended family in your home, dressing festive (appropriately!) is never an easy task.
Lucky for you, festive is my specialty. Put down the ubiquitous Santa hat and choose one (or two, or all three) of these ways to bring some holiday cheer into your wardrobe for the next four days.
Baroque Details

Bring one of our favorite fall 2012 trends into your holiday arsenal. A little gilded Baroque-inspired detail (like the above gold jacket by ASOS) goes a long way during the holiday season. Best when paired with simple black pants and knee-high boots, this brings a bit of festive shimmer to your gift-giving look. You can take this look a little further with a gold-gilded skirt or dress in a Baroque print, or a two-toned lace dress - one color for the lace overlay and another color underneath - will give you the same effect. Want just a dash of this? Try a set of antiqued-gold bangles like these Amrita Singhs, or an embellished clutch to top off your outfit.
The Perfect Manicure

Blame our Pinterest obsession for this no-fail way to bring a subtle holiday hint to an outfit. The best part about this is you can keep it super simple if you're short on time. Cranberry red, pine green, a gold glitter accent? There's no better hand to have when reaching under the tree. If you're looking for something a little more advanced, break out the toothpicks and tiny brushes to paint on stripes, snowflakes, or bows. We've found great tutorials for keeping your manis festive at Goose's Glitter blog, Do Not Refreeze blog, Nails Helensvale, and Chickettes (for those of you who love nail decals). And don't forget! Make sure to check out our Get Your Holiday Spirit Pinterest board for lots of holiday beauty inspiration.
The Never Fail Stand-By

'Tis the season for red and green. We can assure you, this look is possible without looking like an extra from Elf. Start with a festive red or green cashmere pullover sweater, like the Michael Kors featherweight style above. Pair with crisp white pants, or a neutral black skirt for a timeless look that'd make even Kate Middleton's holiday looks jealous. Prefer a dabble of festive color? Try a tartan headband or dark red and green gemstone jewelry for a modern take on traditional holiday spirit.
Happy Holidays (and make sure to check out our Holiday Tips of the Day on Twitter at @STAConsignment)!
-Meredith, FashioniSTA
Spikes and studs used to express somewhat of an emo look now they are the hottest design around! People are dying to wear spikes and studs on anything from head to toe ranging from earrings to headbands to jackets to bags. Basically, you can add studs to any item of your wardrobe and it will be deemed fashionable. Depending on how style daring you are there many different routes you can take to pull off the spikes or studs trend.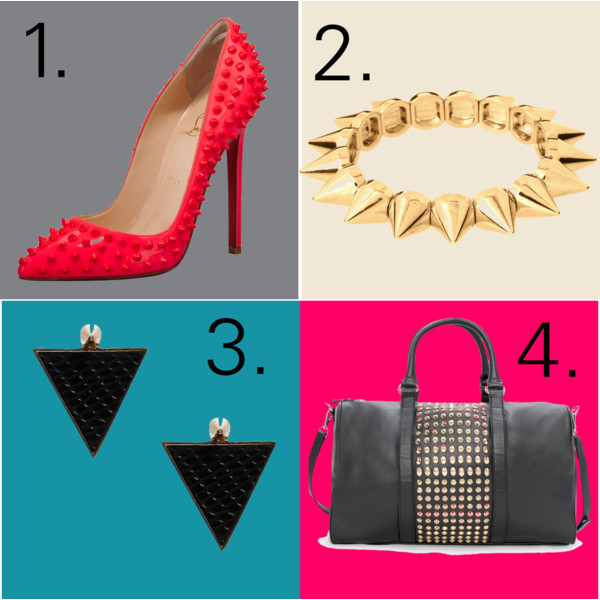 If you are that typical trend-setter…
You're always wanting to be the first one to show off that new style now matter how crazy it may look. And with this trend, there are many different ways you assert your style status while showing off your love for spikes and studs.
Going with an all-over spiked shoe is a great statement piece, whether you go with traditional metallic spikes or a monochromatic look as seen in picture number one above (Christian Louboutin Pigalle Spikes Fluorescent Patent Red Sole Pump, $1,195). Should you want to take it one step further and you're not afraid of a little height, try out Jeffrey Campbell's Spiked Lita Boot ($195).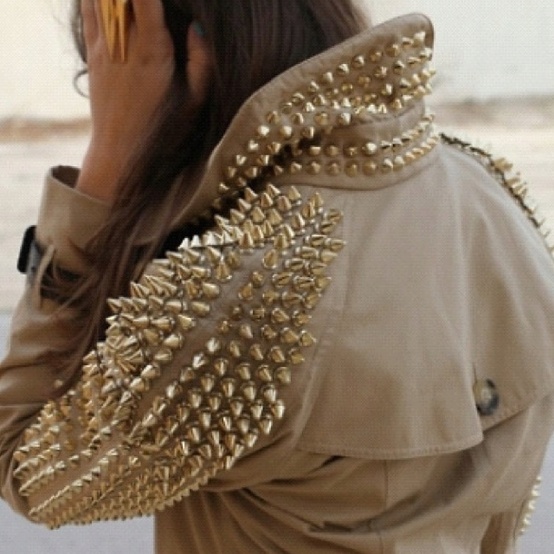 A blazer or jacket with arm/ shoulder studs could be paired beautifully with black skinny jeans, a white shirt/sweater for a stark style, or even a simple black dress and heels for evening attire.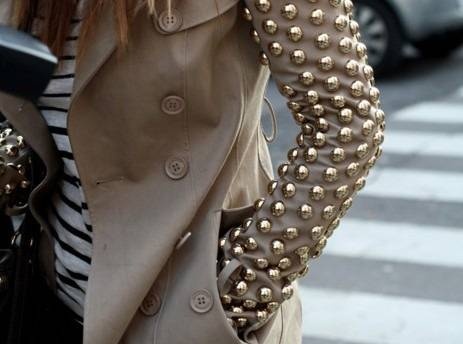 If you are more of a budding trend-lover…
You're someone who likes certain styles once they have caught on and become popular. You are more likely to carry a bag like number four above (Mango Spiked Bowling Bag, $110, Mango.com). A bag of this size and detail is multi-purposed - great for going out shopping or even a carry-on bag for traveling.
Other items that a budding trend-lover could be seen wearing are:
Studded or spiked wristlet and flats - The wristlet on the left could go with just about any outfit to add some emotion and eye-catching shine. The flats on the right would go great with black shorts or even a shirt and sweater. Add a pendant necklace and you're sure to catch some attention with just those few details.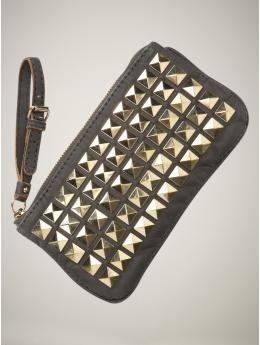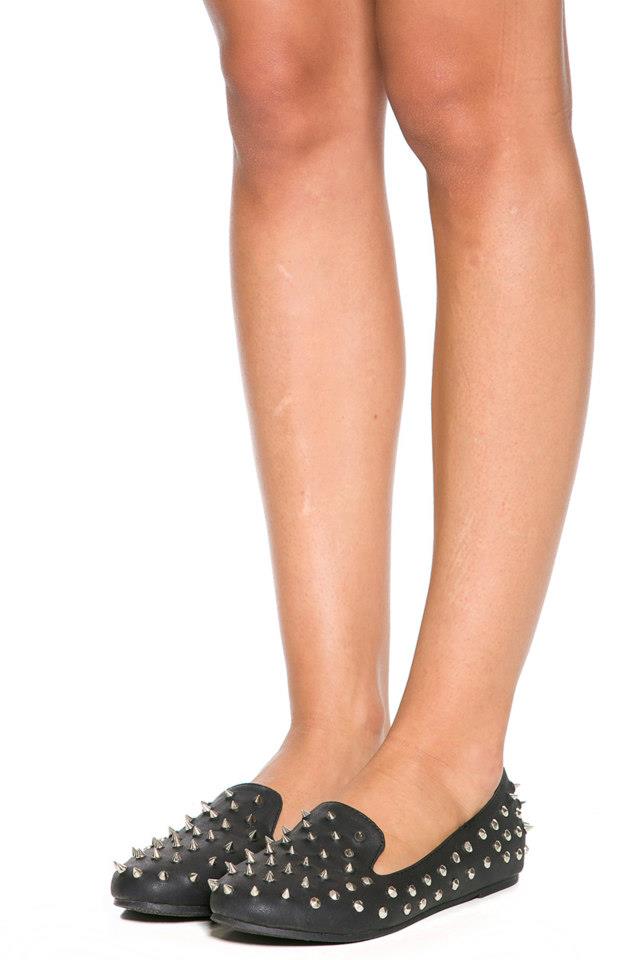 Spiked jewelry - If donning spikes on your bag or shoes is too much for you to handle but you still want to follow this obsession, the best thing to do is incorporate it into your jewelry. When wearing spiked bracelets the best thing to do is stack them as shown above to give an even fuller look. As shown in box number two in the graphic above, you can try spiked bangles (the ones above are ASOS spiked stretch bracelets $14, and the photo below is Stella & Dot's Renegade bracelet $59), or your can ode the '80s with earring like in box number three (these are Jenni Design Spiked Earrings $16).
Studded manicures - Giving your nails some stud love is also a more low-key way to try the trend (shown below), and we found one of the best studded manicure tutorials here on Lulu's Blog. Its very eye catching but make sure not to puncture someone while giving a friendly handshake!
Electronic accessories - Phone cases are a great item to show off your love for spikes and studs it looks great but is something that is not constantly being shown off. People will notice it when you whip your phone out for a quick call or text message but then you can top it back into our purse once its seen.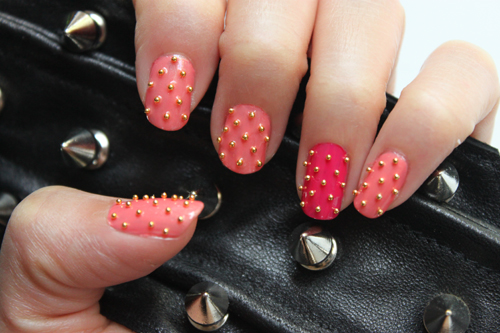 ~Jenna, fashioniSTA
The FashioniSTA's Summer Wedding Essentials
While summer weddings are guaranteed fun times of dancing, drinking, and plenty of ooh-ing and aah-ing at the lovely couple, it also raises the question of what to wear? With so many different types of ceremonies and parties, there are endless opportunities for style. We've chosen a few different looks and fashioniSTA essentials for any kind of wedding you may attend this summer!
Whether you're celebrating in Nantucket, Cape Cod, The Hamptons, or Kennebunkport, anywhere along the shore is a perfect opportunity to play up that preppy beach chic look. Go ahead and wear a fun, festive seasonal color- it is summer after all. Accessorize with simple, classic accessories, and don't forget to wear flat sandals, you don't want to be wearing heels on the beach!
Above: Dress, J.Crew. Jewelry, Kate Spade. Sandals, Mystique.
For a traditional wedding, you can never go wrong with an LBD. Since this summer has graced us with the trend of the peplum, try a dress which has that feminine detail and shows off your shape. If the ceremony is held in a church, it's a good idea to bring a light sweater or cardigan to cover up your shoulders. Add simple bangles and earrings, and choose a great pair of heels which you are able to dance in.
Above: Dress, Alice + Olivia. Clutch, similar one here by Lauren Merkin. Shoes, Christian Louboutin.
Backyard weddings, barn weddings, and garden parties are some of the most fun, casual, and laid back celebrations. Wear a light-weight, breathable dress- barns and backyards can become very stuffy and hot during a party. Accessorize with rustic, effortless jewelry and a neutral clutch. For outdoor weddings, wedges are a must! The last thing a fashioniSTA needs are the heels to her Louboutins sinking into the dirt!
Above: Dress, Diane von Furstenberg. Earrings, ASOS. Bangles, Alex and Ani. Clutch, Tory Burch, Shoes, Steve Madden.
Black tie weddings may be the most difficult to shop for, but if you think of it as playing dress-up, it can also be the most fun! Look for a classic gown that will last forever. Choose black or a classic color that will never go out of style, and steer away from trends! Go for a simple gown, with a simple silhouette and simple details- classic and chic. Antique jewelry is a great way to accessorize for a black tie event, it's unique and always glamourous. Carry a small structured clutch, and add sparkly sandals to brighten your step.
Above: Dress, Rebecca Taylor. Shoes, Manolo Blahnik.
~Lisa, fashioniSTA