Posts tagged
Baroque
Whether you're a college student home for the holidays, a young professional going to Christmas dinner at your significant other's home for the first time, or a hostess expecting all of your extended family in your home, dressing festive (appropriately!) is never an easy task.
Lucky for you, festive is my specialty. Put down the ubiquitous Santa hat and choose one (or two, or all three) of these ways to bring some holiday cheer into your wardrobe for the next four days.
Baroque Details

Bring one of our favorite fall 2012 trends into your holiday arsenal. A little gilded Baroque-inspired detail (like the above gold jacket by ASOS) goes a long way during the holiday season. Best when paired with simple black pants and knee-high boots, this brings a bit of festive shimmer to your gift-giving look. You can take this look a little further with a gold-gilded skirt or dress in a Baroque print, or a two-toned lace dress - one color for the lace overlay and another color underneath - will give you the same effect. Want just a dash of this? Try a set of antiqued-gold bangles like these Amrita Singhs, or an embellished clutch to top off your outfit.
The Perfect Manicure

Blame our Pinterest obsession for this no-fail way to bring a subtle holiday hint to an outfit. The best part about this is you can keep it super simple if you're short on time. Cranberry red, pine green, a gold glitter accent? There's no better hand to have when reaching under the tree. If you're looking for something a little more advanced, break out the toothpicks and tiny brushes to paint on stripes, snowflakes, or bows. We've found great tutorials for keeping your manis festive at Goose's Glitter blog, Do Not Refreeze blog, Nails Helensvale, and Chickettes (for those of you who love nail decals). And don't forget! Make sure to check out our Get Your Holiday Spirit Pinterest board for lots of holiday beauty inspiration.
The Never Fail Stand-By

'Tis the season for red and green. We can assure you, this look is possible without looking like an extra from Elf. Start with a festive red or green cashmere pullover sweater, like the Michael Kors featherweight style above. Pair with crisp white pants, or a neutral black skirt for a timeless look that'd make even Kate Middleton's holiday looks jealous. Prefer a dabble of festive color? Try a tartan headband or dark red and green gemstone jewelry for a modern take on traditional holiday spirit.
Happy Holidays (and make sure to check out our Holiday Tips of the Day on Twitter at @STAConsignment)!
-Meredith, FashioniSTA
To embrace the fall is to embrace everything warm and sumptuous, from thick, lavish fabrics to simmering Crock-Pots. This year it's all about the balance between sleek and luscious, with top trends ranging from sheer details to menswear for women. So break out the rich colors and get ready to sink into fall.
The signature prints of fall get away from summertime florals and dive right into thick houndstooth and collegiate plaid. This fall is all about taking these more traditional patterns and channeling them in menswear-inspired garments (like the below right photo from L.A.M.B.). From full structured suits to box-pleated miniskirts, the masculine elements are gaining momentum and giving feminine garments a more stylish edge. Try this trend by accenting masculine pieces with feminine details, such as a sparkly statement necklace or a tie-bow blouse (like below photo on the left from Rachel Zoe).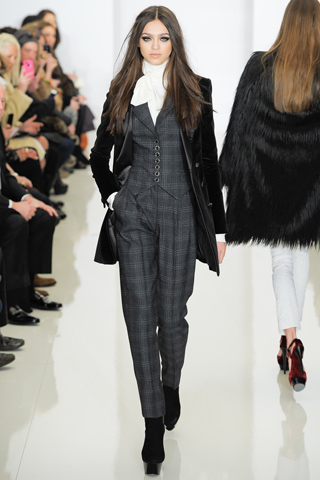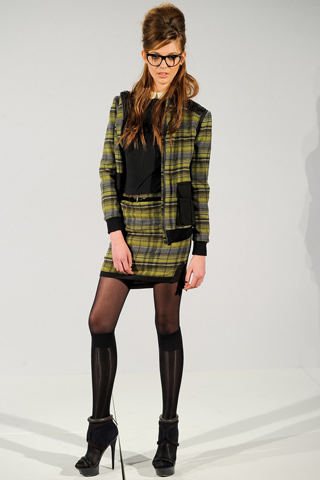 If you're more of the sleek and silky school of thought, then now is your chance to shine. Leather and sheer details flooded the runways, with sheer sleeves and leather skirts becoming staples for fall. If you choose the more exposed sheer option, you can take this trend from bold to bolder depending on your trend comfort (like the below right photo from Milly). Go dramatic by choosing a dress with a full sheer overlay (shown below left by Jill Stuart), or try out the trend with sheer cut-out details to take your LBD to the next level.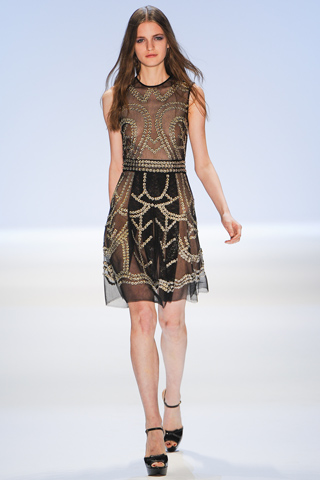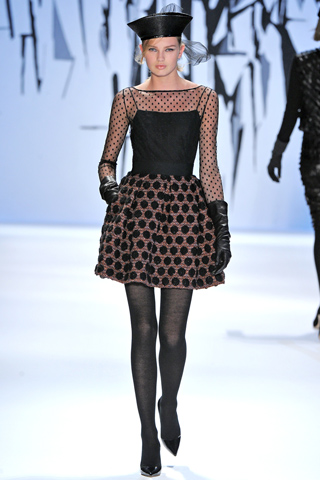 If you choose to go the leather route, you can also try it out with details - such as leather trim on a jacket - or go with individual leather pieces - such as a peplum top or a skirt (shown below left from 10 Crosby by Derek Lam). For a more dramatic take on the trend, go with a leather minidress or full suit (shown below right from Rachel Zoe), accented with a statement necklace, earrings or double cuffs.

So curl up for a quiet night in a cozy sweater or turn up the volume with a leather minidress, fall is here!
~Ashley, FashioniSTA