This Fall: Lush Textures and Sleek Silhouettes
To embrace the fall is to embrace everything warm and sumptuous, from thick, lavish fabrics to simmering Crock-Pots. This year it's all about the balance between sleek and luscious, with top trends ranging from sheer details to menswear for women. So break out the rich colors and get ready to sink into fall.
The signature prints of fall get away from summertime florals and dive right into thick houndstooth and collegiate plaid. This fall is all about taking these more traditional patterns and channeling them in menswear-inspired garments (like the below right photo from L.A.M.B.). From full structured suits to box-pleated miniskirts, the masculine elements are gaining momentum and giving feminine garments a more stylish edge. Try this trend by accenting masculine pieces with feminine details, such as a sparkly statement necklace or a tie-bow blouse (like below photo on the left from Rachel Zoe).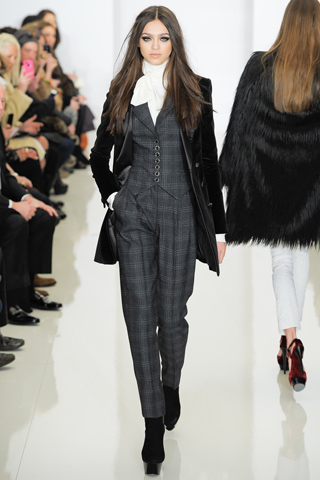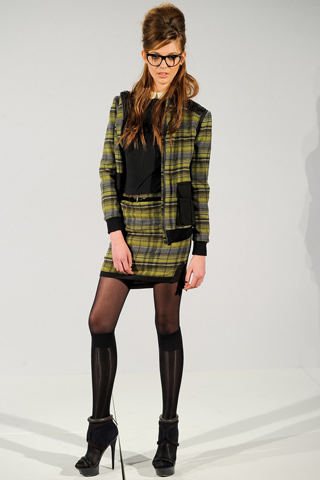 If you're more of the sleek and silky school of thought, then now is your chance to shine. Leather and sheer details flooded the runways, with sheer sleeves and leather skirts becoming staples for fall. If you choose the more exposed sheer option, you can take this trend from bold to bolder depending on your trend comfort (like the below right photo from Milly). Go dramatic by choosing a dress with a full sheer overlay (shown below left by Jill Stuart), or try out the trend with sheer cut-out details to take your LBD to the next level.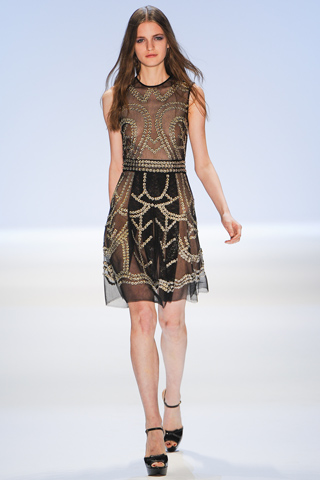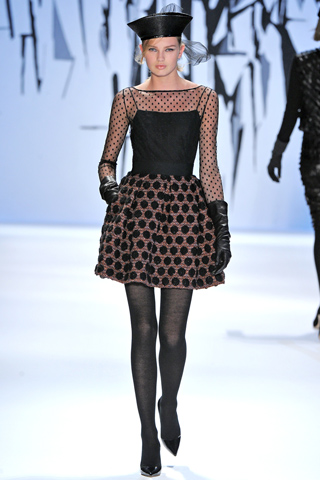 If you choose to go the leather route, you can also try it out with details - such as leather trim on a jacket - or go with individual leather pieces - such as a peplum top or a skirt (shown below left from 10 Crosby by Derek Lam). For a more dramatic take on the trend, go with a leather minidress or full suit (shown below right from Rachel Zoe), accented with a statement necklace, earrings or double cuffs.

So curl up for a quiet night in a cozy sweater or turn up the volume with a leather minidress, fall is here!
~Ashley, FashioniSTA
Comments are closed.