Posts tagged
Milly
Putting the 'Fashion' in 'Fashion Hunters' with Tara and Ambria!
Craving the pieces you've seen on Bravo's 'Fashion Hunters'? So are we! To get you in the style spirit, we've outlined our take on the best part of the fall season (the fashion, of course), and how you can get in on the haute couture fun for less.
Summer merchandise is colorful and fun, but fall and winter is where our meaty, pricy pieces start to come in. Cashmere sweaters, wool coats, buttery leather boots…it's that time of year again and this time we are going to be consigning all fall while our show airs. We are anticipating people will be excited to bring their gems for us to sell at this fabulous, soon-to-be-nationally-recognized store.
Some of our favorite items in the store now are a great mix of timeless and trendy. We love sexy staples like classic little black dresses, as well as sparkly pieces like this Chloe wave-printed, multicolor skirt (shown below), which we have priced at $149. It's such a great statement piece that all you need is a black top and a neutral shoe and you've got a dazzling fall ensemble. We also can't get enough of the interesting outerwear that comes through our doors. This M Missoni coat (shown right) is $329 and is a great classic alternative to a regular, black coat! These silver pumps (shown right) from Sergio Rossi ($219 at STA) are the perfect pop of metallic that will go with any outfit. But when it comes to shoes, no one can resist those absolute couture stunners that we see on our shelves, like the rose-gold grommetted Stella McCartneys that we recently had in the store. Cooler weather doesn't mean your wardrobe has to be boring, we say bring on the sparkle and the shiny details!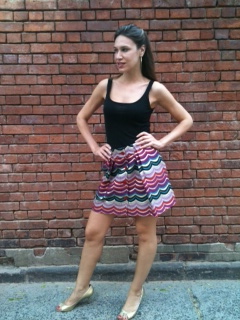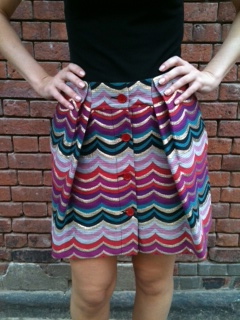 While we love these couture and high-end designer pieces, we also love getting our 'middle-of-the-road' designer labels that are a huge component of our business engine. Labels like Diane Von Furstenberg, Theory, Tory Burch, Milly and Paul & Joe have been rolling right in. Ambria is clearly a DVF fan, wearing a printed dress (shown below) by the designer ($119 at STA), and pairing it with gold heels and hoops, of course. This is a great dress option for spring, summer or fall, it's all about how you accessorize it!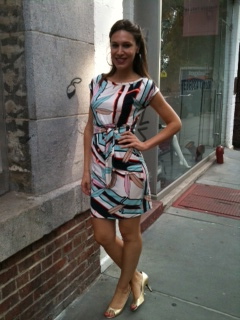 We also love separates that these designers put out, especially for fall. We always have a bunch of individual pieces in the store that you can mix and match to maximize your outfit choices. It's important to think outside the box with this as well, try out putting unexpected pieces together, you might be pleasantly surprised! Tara paired this A.L.C. soft denim blazer with leather lapels (shown below, $199 at STA) with this plaid-printed Rugby Ralph Lauren skirt (shown below, $39 at STA) for a modern take on conservative pieces. You can do this with as well with other plaid details and blazers, or you could try out mixing a traditional pencil skirt with a printed blazer, obviously found on the racks of Second Time Around. Same idea, great new look!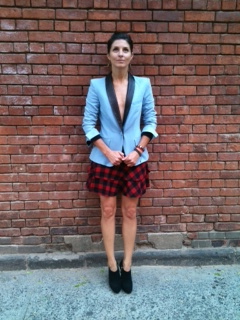 So if you come on down to New York City, or live here and just don't find yourself with a reason to go to Nolita, let us give you one – our Mott St. location! It's fresh, it's packed with amazing merchandise and pretty soon you will be watching it on Tuesday nights at 10:30 p.m.! Couture kisses to all!
~Tara and Ambria, fashioniSTAs and Bravo's Fashion Hunters