Spring Trends 2012: Bold, Bright and Graphic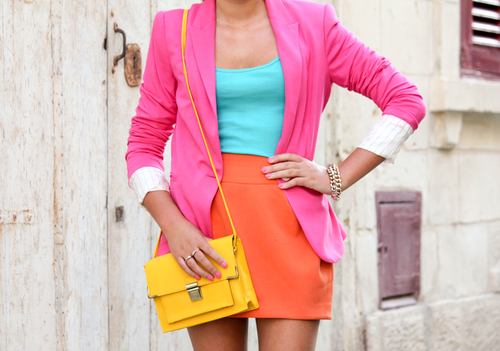 Spring isn't coming quietly this year, so prepare for the bold entrance of the season! From prints to pastels, the palette of the season is definitely all about mixing colors and textures for truly statement-worthy ensembles. So grab your loudest and proudest pieces and take on the warmer weather in style!
Bright colors are a signature sign that sunshine is on its way, and we're soaking up all the chromaticity that we can. Going bold can mean just a pop of color against a monochromatic outfit, whether it's a bright scarf against all black or pairing a camel-colored ensemble with a bright blue handbag. Making the trend personal is easy with a signature color, whether it's an affinity for raspberry (which would be very STA of you) or a love of robin's egg blue. Pick a unique color and work it into your wardrobe whenever you can, with accessories, nail polish, or articles of clothing.
You can also take this signature color, or any other shade that catches your eye, and hop on the colorblocking bandwagon while you're at it. The trend that lit up last summer has returned, giving us more opportunity to lighten our days by pairing complementary brights in unexpected, killer combinations. Whether you're pairing teal with deep purple for a cool color palette or warming it up by mixing orange and yellow, this is an easy trend to try, all you need is a little confidence!
The bold factor doesn't have to stop at solid colors either, this spring we're seeing a dramatic take on prints as well. Art deco prints are popping up on everything from dresses to pants. These angular shapes create drama to even the simplest shift dress, turning any ensemble into a nod to mod. Accessorize with equally angular jewelry for a statement ensemble, or try a silk scarf in a complementary pattern to mix prints in a modern way.
If you're not into stark prints, graphic florals have also hit it big. This futuristic spin on the classic spring floral palette brings a vintage motif into the present using black with brights to highlight bold patterns. Designers have been also using watercolor techniques and elongated patterns to create fluid floral designs that are a cross between classic flowery shapes and bold, contemporary art. Whichever trend you choose to try, go boldly into spring!
Comments are closed.