Posts tagged
Altuzarra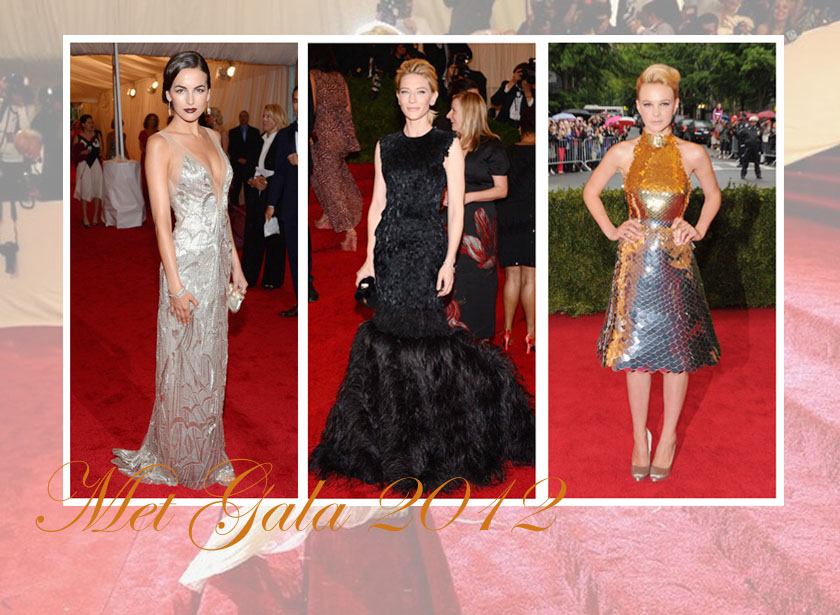 The Met Gala is arguably the most high-fashion red carpet event of the year, where the style risks are lauded and the boring are never invited again (if only). This is a great night for the avant garde to sneak in with the red carpet glamour, giving us great pieces that are sure to inspire (or give us a sneak peek at) upcoming runway collections. Here are the top four trends of the night, and who wore them best!
1. Dripping in Metal
Gold has continued to earn its weight worth, at least in the style arena, and it was definitely a key power player last night. Between Anna Wintour's gold detailed Prada, Karolina Kurkova in a full-on Arabian-inspired Rachel Zoe ensemble, and Jessica Pare's square neckline/cap sleeve dark golden L'Wren Scott gown, there was enough sparkle to go around. Not only was all of this glitz great to watch on the red carpet, but it inspires the rest of us to break out the bold metallics when we have our less-formal (but still fabulous) events to attend.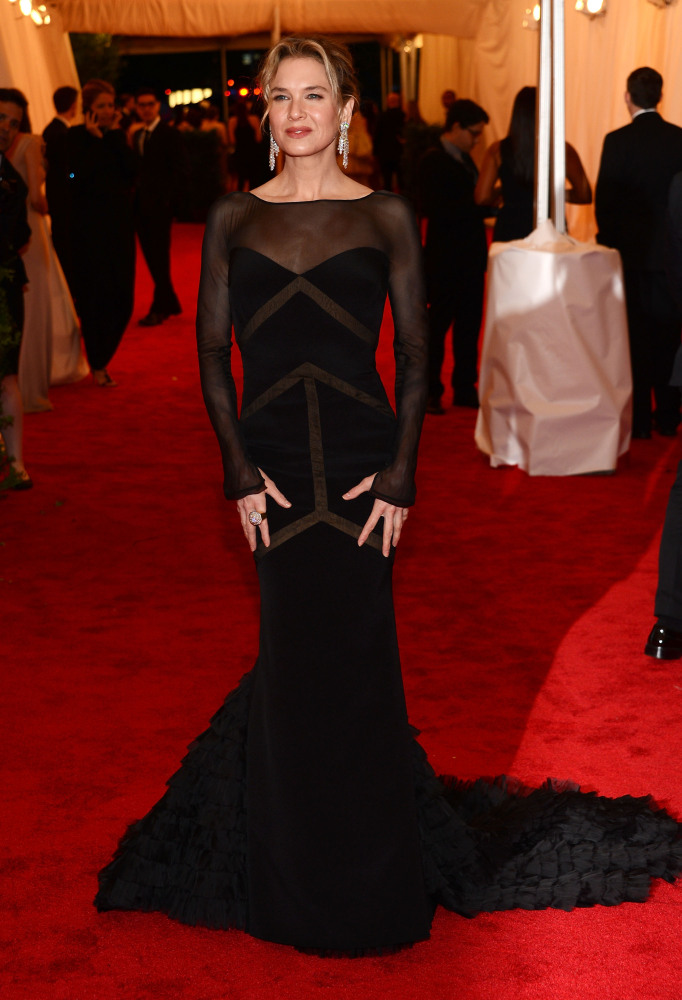 Who wore it best? We're torn between Lana del Rey's flawless sweetheart Altuzarra and Camilla Belle's plunging Ralph Lauren. Both style stars donned the dark gothic makeup to accentuate their dresses' lighter metallic shades, but Camilla Belle's flawless accents with her hair/makeup/earrings put her in the lead.
2. Embellished Mermaids
Instead of body-hugging silhouettes or outrageous ball gowns, the biggest shape contender last night was hands-down the mermaid silhouette. And since we're pretty sure that these ladies weren't trying to hide oversized calves, we can only speculate that the mermaid trend is stationed to take to new heights in the near future. From the tame - like Julianne Hough, to the outrageous - Beyonce in a lace and feather concoction - these ladies added appliques, feathers, tulle and pretty much every other material on the planet to create dramatic volume below the knees.
Who wore it best? While it seems a demure choice, Reneé Zellweger gave us all a shock when she decided against wearing her signature Carolina Herrera. However, dressed in Pucci (left), she rocked the long sleeves, sheer details, and an embellished mermaid train without looking like a trend wreck.
3. Feather Intensity
A flock of feathers covered the red carpet last night. This trend popped up everywhere from Donna Karan's clutch to Kate Bosworth's backless full-on feather Prada dress. Amy Poehler looked shockingly chic in a Fontini black peplum gown with a mermaid train of black feathers, and Diane Kruger's purple Prada gown swept the carpet with the trim and train drenched in feathers. The red carpet had it's grand finale when Beyonce arrived in a jaw-dropping Givenchy Haute Couture embroidered gown with a purple ombré train of feathers, proving to us that she properly holds the title of World's Most Beautiful Woman. I guess stylish birds of a feather really do flock together.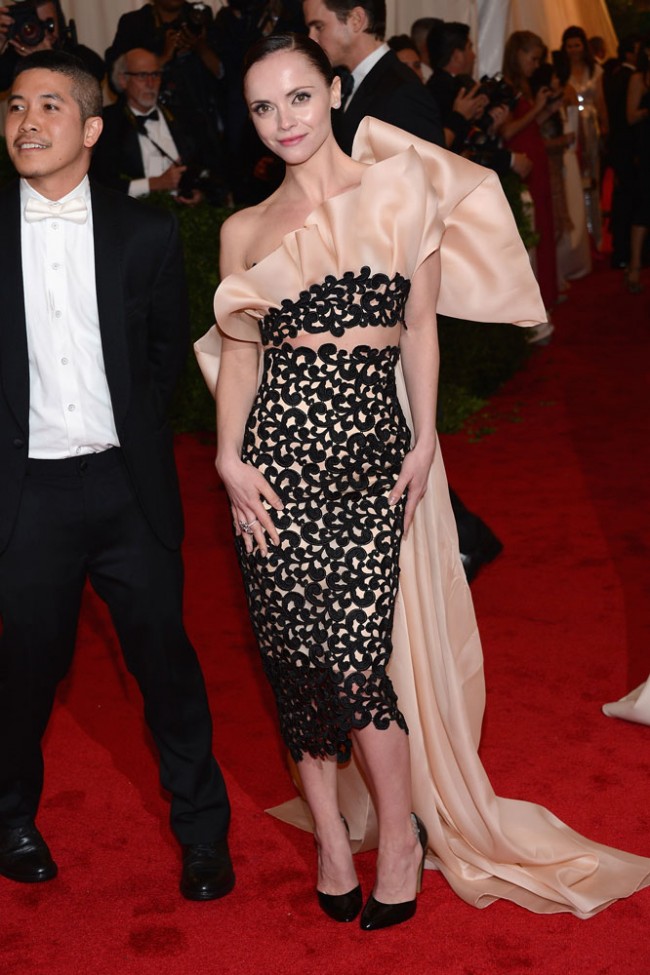 Who wore it best? We have to go with Cate Blanchett in Alexander McQueen. Don't let the black dissuade you from far away, the actress brought the glamour by marrying intricate feather detailing from the bodice to the train with impeccable fit.
4. Sculpturesque
One of the biggest trends on the Fall 2012 runways was the architectural shapes and details, and it carried over onto the red carpet last night. While January Jones stepped out in a Versace hip-action number that we feel like we've seen her in a million times, stars like Elizabeth Banks (in a somewhat bizarre Mary Katrantzou dress) and Jessica Stam (in a pale blue, ornate Christian Dior Couture design) brought over-exaggerated sculpted details to the event.
Who wore it best? Ok, don't judge us, but for some reason Thakoon-dressed Christina Ricci's oversized bow and architectural neckline really spoke to us (right). Maybe it was the risk or maybe we're having a Casper flashback. Don't ask, we really can't explain it.
Do you think someone else wore it better? Tell us in the comments, post on our Facebook wall or Tweet us!
~Ashley and Lisa, FashioniSTAs

It's March Madness time again, but why does basketball get to have all the fun? This year we're turning our attention to spring 2012 trends, and pitting them against each other in our ultimate style challenge. Each week we'll bring you the rundown from the fashion competition, as we start the games with 16 major spring players. Stay tuned as the competition unfolds, it's going to get cutthroat.
May the odds be ever in your favor!
Meet the Sweet 16
1. Neons
Likened to a "Career Trend," it has a hidden superpower to turn into colorblocking at a moment's notice.
Celebrity Nail Polish Lines
The latest in noteworthy nails is the influx of celebrity-based lines. In its corner is the Kardashians for Nicole by OPI, Nicki Minaj for OPI and the Hunger Games Capitol Couture for China Glaze. If nothing else, at least the Hunger Games knows how to fight.
3. Mixing & matching
You can mix prints, you can mix metals, you can colorblock by mixing solids. A solid competitor with a driving street style force behind it.
4. Crop tops
A former superstar in the '90s with a taste for 21st century vengeance.
5. Hi-low hemlines
New to the style game (unless you liken this to a mullet hemline…which we don't), but it's taking the street style world by force.
6. NBC's Fashion Star
In its corner is a singer/designer, a model/designer, a reality star(?)/designer and a real designer. Let's just say it's got a lot of designing power behind it.
7. Top knots
A hairdo that has the ability to go messy or sleek, a key attribute when worn by a woman who has to look good with limited time. Which is every woman.
8. Day clutches
Another switch-hitter that has come into the running. With its larger size and diverse details, this opponent has a killer A-game.
9. Marni for H&M
A designer with a cult following. A store with a universal following. The combination will prove very hard to beat.
10. Peplum
This daring competitor has brought women everywhere a way to disguise their midsections and hips. Opponents beware.
11. Graphic prints
A new superpower has risen from basic pastel florals and springtime prints. Has the backing of designers like Altuzarra and Prabal Gurung.
12. Jennifer Lawrence
The one who took on Katniss Everdeen is out to prove she's a style star as well.
13. Shorts/Menswear
What used to be reserved for casual wear has taken a daring turn into the formal arena. Has a leg-up with special reinforcements like tuxedo details, satin finish and a full-leather armor.
14. Mint
Saturated pastels are big this spring, and mint is definitely their all-star.
15. Pleats
This multi-faceted competitor that can go long or short when needed
16. Art Deco Jewelry
Sharp, angular designs make this competitor almost deadly, and it has additional strength when stacked.
Rank your favorites with our blank bracket below, and let us know what trend you want to reign supreme on our Facebook www.facebook.com/staconsignment.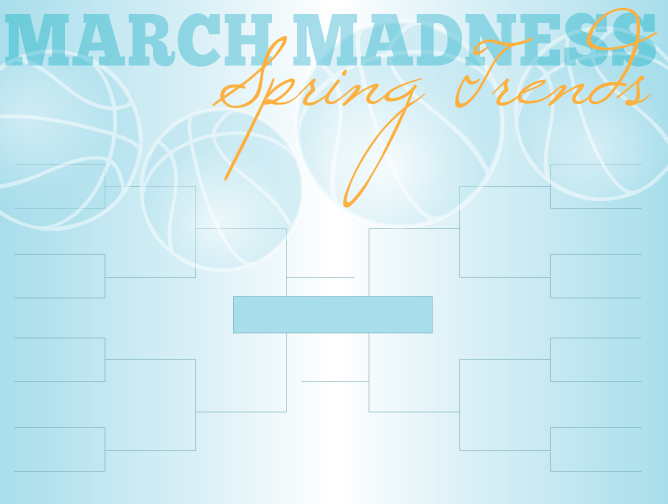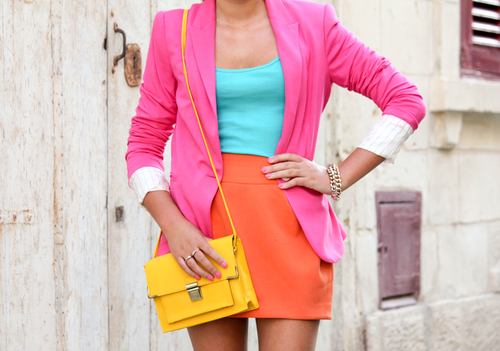 Spring isn't coming quietly this year, so prepare for the bold entrance of the season! From prints to pastels, the palette of the season is definitely all about mixing colors and textures for truly statement-worthy ensembles. So grab your loudest and proudest pieces and take on the warmer weather in style!
Bright colors are a signature sign that sunshine is on its way, and we're soaking up all the chromaticity that we can. Going bold can mean just a pop of color against a monochromatic outfit, whether it's a bright scarf against all black or pairing a camel-colored ensemble with a bright blue handbag. Making the trend personal is easy with a signature color, whether it's an affinity for raspberry (which would be very STA of you) or a love of robin's egg blue. Pick a unique color and work it into your wardrobe whenever you can, with accessories, nail polish, or articles of clothing.
You can also take this signature color, or any other shade that catches your eye, and hop on the colorblocking bandwagon while you're at it. The trend that lit up last summer has returned, giving us more opportunity to lighten our days by pairing complementary brights in unexpected, killer combinations. Whether you're pairing teal with deep purple for a cool color palette or warming it up by mixing orange and yellow, this is an easy trend to try, all you need is a little confidence!
The bold factor doesn't have to stop at solid colors either, this spring we're seeing a dramatic take on prints as well. Art deco prints are popping up on everything from dresses to pants. These angular shapes create drama to even the simplest shift dress, turning any ensemble into a nod to mod. Accessorize with equally angular jewelry for a statement ensemble, or try a silk scarf in a complementary pattern to mix prints in a modern way.
If you're not into stark prints, graphic florals have also hit it big. This futuristic spin on the classic spring floral palette brings a vintage motif into the present using black with brights to highlight bold patterns. Designers have been also using watercolor techniques and elongated patterns to create fluid floral designs that are a cross between classic flowery shapes and bold, contemporary art. Whichever trend you choose to try, go boldly into spring!