Posts tagged
art deco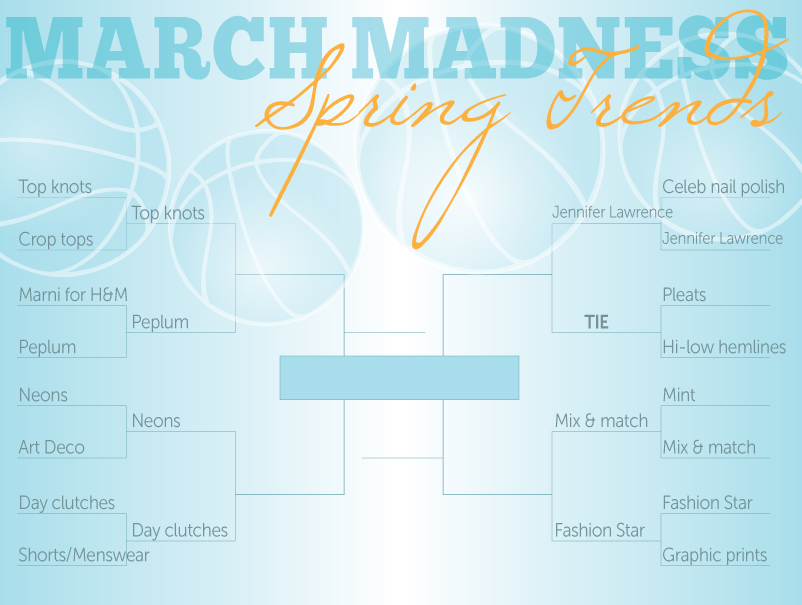 Round 1 was a tough first battle, with our Sweet Sixteen Trends competing against each other to be the top spring trend of 2012. From the celebrity endorsements to the accessibility to women everywhere, these trends broke out the big guns to make it out of the gate. Check out how each game turned out:
1. Top Knots vs. Crop Tops
The Knot trumps the Crop when women everywhere realize that only celebrities and people with personal trainers on speed dial can actually wear crop tops.
2. Peplum vs. Marni for H&M
The hottest silhouette goes up against a designer with a cult following now at lower prices (which is still all relative). It was a pretty dead-heat battle until Peplum whipped out its ability to flatter anyone's midsection. Game over, Marni.
3. Neons vs. Art Deco jewelry
Right out of the gate the Neons powerhouse slams down Art Deco jewelry's effort. Even with the backing of Rachel Zoe, since no one has the time to search for Art Deco jewelry – and it hasn't made it to H&M just yet – it proves to be no match for the rising publicity and street cred that Neons has gained.
4. Day clutches vs. Shorts/Menswear
The nighttime-gone-day accessory (Day clutches) goes up against the daytime-gone-night trend (Shorts/Menswear). This is a decent competition, what with celebrity endorsements on both sides. Ultimately, Day Clutches squeak by as a winner as soon as we (as in all womenkind) realized that our legs weren't quite shorts-ready just yet.
5. Celebrity nail polish lines vs. Jennifer Lawrence
Yes, Celebrity nail polish lines have the backing of The Hunger Games and Nicki Minaj, but adding the over-exposed Kardashians to the mix makes this trend just a little more annoying. And with Jennifer Lawrence's runway choices for her red carpet premieres and her growing superstardom, the girl on fire reigns supreme.
6. Hi-low hemlines vs. Pleats
A great battle with a deadlock outcome. These truly brilliant competitors form an alliance to create a superpower spring trend – Pleated Hi-Low skirts and dresses. Now they've set their sights on knocking out Peplum to form an alliance with Neons.
7. Mint vs. Mixing & Matching
The starring pastel of the spring (Mint) against a trend that stylized breaking major fashion rules (Mixing & Matching) was a tough battle from the start. But the infiltration of downtown divas throughout the world has made Mixing & Matching a new style art, which left Mint in the dust.
8. Fashion Star vs. Graphic prints
Graphic prints hit the runway with legitimate backers, such as Milly and Erdem, and a solid cause to modernize the classic spring floral. However, the star power and accessibility of a television show proved too powerful by helping three retailers sell out (within hours) new items by no-name designers. That's the definition of winning.
Stay tuned to see who wins the round 2 match-up!

It's March Madness time again, but why does basketball get to have all the fun? This year we're turning our attention to spring 2012 trends, and pitting them against each other in our ultimate style challenge. Each week we'll bring you the rundown from the fashion competition, as we start the games with 16 major spring players. Stay tuned as the competition unfolds, it's going to get cutthroat.
May the odds be ever in your favor!
Meet the Sweet 16
1. Neons
Likened to a "Career Trend," it has a hidden superpower to turn into colorblocking at a moment's notice.
Celebrity Nail Polish Lines
The latest in noteworthy nails is the influx of celebrity-based lines. In its corner is the Kardashians for Nicole by OPI, Nicki Minaj for OPI and the Hunger Games Capitol Couture for China Glaze. If nothing else, at least the Hunger Games knows how to fight.
3. Mixing & matching
You can mix prints, you can mix metals, you can colorblock by mixing solids. A solid competitor with a driving street style force behind it.
4. Crop tops
A former superstar in the '90s with a taste for 21st century vengeance.
5. Hi-low hemlines
New to the style game (unless you liken this to a mullet hemline…which we don't), but it's taking the street style world by force.
6. NBC's Fashion Star
In its corner is a singer/designer, a model/designer, a reality star(?)/designer and a real designer. Let's just say it's got a lot of designing power behind it.
7. Top knots
A hairdo that has the ability to go messy or sleek, a key attribute when worn by a woman who has to look good with limited time. Which is every woman.
8. Day clutches
Another switch-hitter that has come into the running. With its larger size and diverse details, this opponent has a killer A-game.
9. Marni for H&M
A designer with a cult following. A store with a universal following. The combination will prove very hard to beat.
10. Peplum
This daring competitor has brought women everywhere a way to disguise their midsections and hips. Opponents beware.
11. Graphic prints
A new superpower has risen from basic pastel florals and springtime prints. Has the backing of designers like Altuzarra and Prabal Gurung.
12. Jennifer Lawrence
The one who took on Katniss Everdeen is out to prove she's a style star as well.
13. Shorts/Menswear
What used to be reserved for casual wear has taken a daring turn into the formal arena. Has a leg-up with special reinforcements like tuxedo details, satin finish and a full-leather armor.
14. Mint
Saturated pastels are big this spring, and mint is definitely their all-star.
15. Pleats
This multi-faceted competitor that can go long or short when needed
16. Art Deco Jewelry
Sharp, angular designs make this competitor almost deadly, and it has additional strength when stacked.
Rank your favorites with our blank bracket below, and let us know what trend you want to reign supreme on our Facebook www.facebook.com/staconsignment.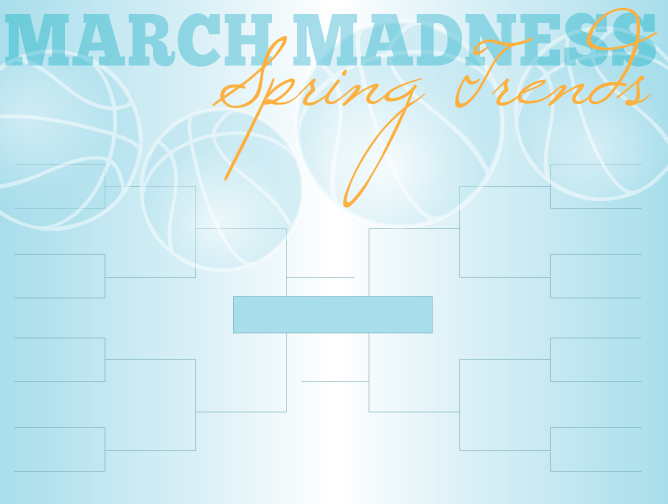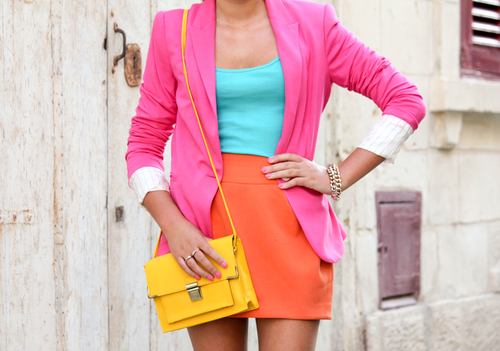 Spring isn't coming quietly this year, so prepare for the bold entrance of the season! From prints to pastels, the palette of the season is definitely all about mixing colors and textures for truly statement-worthy ensembles. So grab your loudest and proudest pieces and take on the warmer weather in style!
Bright colors are a signature sign that sunshine is on its way, and we're soaking up all the chromaticity that we can. Going bold can mean just a pop of color against a monochromatic outfit, whether it's a bright scarf against all black or pairing a camel-colored ensemble with a bright blue handbag. Making the trend personal is easy with a signature color, whether it's an affinity for raspberry (which would be very STA of you) or a love of robin's egg blue. Pick a unique color and work it into your wardrobe whenever you can, with accessories, nail polish, or articles of clothing.
You can also take this signature color, or any other shade that catches your eye, and hop on the colorblocking bandwagon while you're at it. The trend that lit up last summer has returned, giving us more opportunity to lighten our days by pairing complementary brights in unexpected, killer combinations. Whether you're pairing teal with deep purple for a cool color palette or warming it up by mixing orange and yellow, this is an easy trend to try, all you need is a little confidence!
The bold factor doesn't have to stop at solid colors either, this spring we're seeing a dramatic take on prints as well. Art deco prints are popping up on everything from dresses to pants. These angular shapes create drama to even the simplest shift dress, turning any ensemble into a nod to mod. Accessorize with equally angular jewelry for a statement ensemble, or try a silk scarf in a complementary pattern to mix prints in a modern way.
If you're not into stark prints, graphic florals have also hit it big. This futuristic spin on the classic spring floral palette brings a vintage motif into the present using black with brights to highlight bold patterns. Designers have been also using watercolor techniques and elongated patterns to create fluid floral designs that are a cross between classic flowery shapes and bold, contemporary art. Whichever trend you choose to try, go boldly into spring!
A TIMELINE OF TRINKETS: Jewelry Through the Decades
Every jewelry aficionado has at least one piece in their collection that stands out, be it for eye-catching glitz, overly ornate details, or understated simplicity.  But where do these pieces come from?  Heirlooms? Antique shops? Your local department store?  All jewelry, be they from yesterday or yesteryear, can be credited in design to certain eras.  Join us as we scour the cases at our Harvard Square location, hunting for pieces to help highlight the ongoing heyday of personal adornment!
Each groundbreaking design period had jewelry styles that are easy to identify, so let us begin with one of the earliest trends to break away from the mold of conservative cameos and basic gemstones…
ART NOUVEAU (all the rage: 1895-1915)
The graceful Art Nouveau period started with designers in France and those in America following suit. The most important characteristic of this kind of jewelry was its free-flowing nature. The whimsical lines found in Art Nouveau jewelry suggest the movement, passion, and youthful vigor in the new ideas of the turn of the century. At the heart of the Art Nouveau movement were nature motifs and fantastical elements such as fairies and wood creatures.
EDWARDIAN (all the rage: 1890-1920)
After the death of the UK's Queen Victoria, the Edwardian era was ushered in when her son Edward took the throne. This was a lavish period with pearls and diamonds paired with emeralds, rubies and other gemstone accents. This era was proven to be a highly decorative and elaborate period, full of regal and bold components.
ART DECO (all the rage: 1920-1935)
The period between the World Wars witnessed new interest in modernizing jewelry. Designers of the Art Deco period welcomed the clean lines of the machine age — forms inspired by nature or abstract sources followed geometric lines, a noticeable difference from both Edwardian and Art Nouveau jewelry.  In addition to the strong shapes, this was a period of contrasting bright colors.
Motifs of the Art Deco period included screw-back / clip-on earrings and Egyptian-esque jewelry (King Tut's tomb was discovered in 1922). Themes of this era are still prevalent today — new diamond cuts were introduced to accentuate the geometric taste, including the emerald cut, triangle cut, trapeze cut, and marquis cut.
RETRO (all the rage: 1935-1950s)
Even before World War II, jewelry was changing. The Retro look was an infusion of old and new - utilizing the curves of Art Nouveau with the clean simple look of Art Deco, but in a scale not seen before. Big was beautiful when it comes to describing jewelry of the Retro period, elaborate and colorful with an array of gold and gemstones. It had Hollywood for its inspiration, so the retro jewelry was somewhat larger than life in style. This was also the period when charm bracelets became a favorite jewelry item.
CONTEMPORARY (all the rage: 1960s to present)
Jewelry in recent decades has come a long way. Plastics were introduced, which provided a huge outlet for new colors and styles. Price points decreased and everyone was now able to find an affordable style to suit them.  Bold, primary colors emerged, as did oversized cartoony shapes. This carried on well into the 1980s, but after the "massive consumption" years of the decade, less became more in the 1990s. The silhouette became neater as shoulder pads finally died and jewelry became non-existent or chic in its simplicity and barely-there quality. Floating necklaces were popular, as were simple studs for earrings.  Moving forward, the '00s weren't so much about any one trend — it actually relied heavily on past decades for inspiration. Add in leather cuffs, arm bands and cocktail rings, and you've got yourself a complete ensemble from the early 21st century.
CURRENT (all the rage: now)
Because women have a need for newness in their style, fashion will continue to offer changes. Some trends are emerging in 2010, but they are subtle and cautious. Big, edgy and bold pieces are still significant; statement necklaces, large cocktail rings and massive bracelets remain important. What has emerged this year is that metal is playing a larger role in jewelry designs. Chains are among the most simple and ancient forms of jewelry, but designers are using them in elaborate and modern ways this season. Designs run the gamut, from delicate dangling gold earrings to bold bib-style necklaces, composed of dozens of strands of chains. The newest necklaces are mixtures of gold and silver, shiny and matte metals, often dressed up with crystals, charms, stones and pearls.
Judging from the variety of styles that can be found in the Harvard Square Second Time Around alone, one emerging trend is simply to mix it up.  Take a little Art Nouveau and toss in a little Deco, grab that Edwardian-esque set of earrings and contrast it with a dark chain necklace.  Blur the lines of yesterday and today… and where better to go than a one-stop shop over in Cambridge!
~Kim, Manager, Second Time Around Harvard Square