Posts tagged
Erdem
With another award season officially kicking off last night, we are here to weigh in on the best and worst dressed starlets hitting the red carpet. First up: The Golden Globes! From the sparkly style stars to the oh-no-it-hurts flops, Kristen, Ashley and Meghan tell us their picks of the night. Stay tuned for our takes on each awards show this season, and tell us your highs and lows on Facebook and Twitter!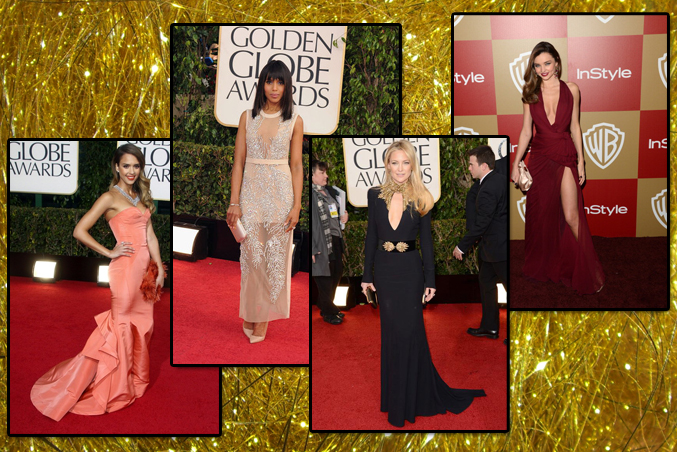 The Best of the Best
Kristen's Pick: Miranda Kerr in Zuhair Murad
I think Miranda was the epitome of old school Hollywood siren (even if she isn't an actress…) in this is burgundy Zuhair Murad gown. If anyone could pull off a high slit and plunging neckline without making it look like they're trying too hard, it's her.
Honorable Mention: Kate Hudson knocked it out of the park in this McQueen number.
Ashley's Pick: Kate Hudson in Alexander McQueen
This entire look is completely flawless. From the intricate embellishment to the effortless blowout, Kate's team was able to make her 100% relevant in this look. She was able to look completely put-together and fashion-forward without looking fussy or bizarre. I can't even put into words how much I love this whole ensemble, it's utterly breathless.
Honorable Mention: Kerry Washington rocked the sheer, nude and embellished trends all in one perfect Miu Miu package.
Meghan's Pick: Jessica Alba in Oscar de la Renta
The always beautiful Jessica Alba looked maj in this Oscar de la Renta gown. The peachy color looks great on her olive skin and the breathtaking necklace breaks up the matching lipstick. Her soft curls pull the whole look together! She could have left the fluffy bag at home but I won't hold it against this best dress nominee.
Honorable Mention: Nicole Richie's blue patterned Naeem Khan dress looked stunning with the matching eye shadow.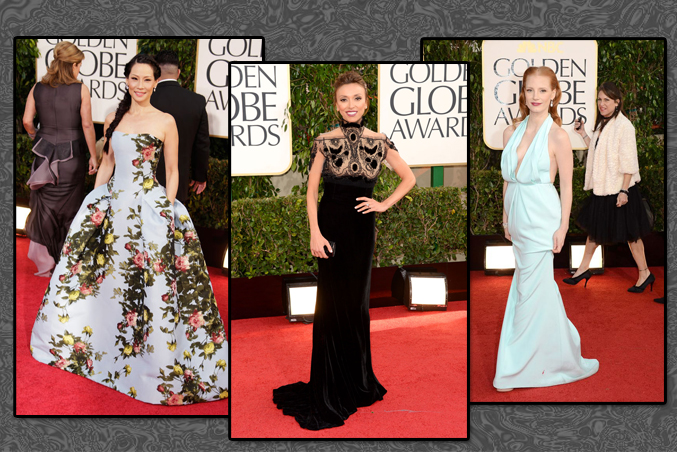 Wayward Worst
Kristen's Pick: I'm sorry but someone has to call the fashion police on Giuliana Rancic. I am usually all for classic, Downton Abby style dresses but Giulianna looks like she's channeling Helena Bonham Carter in this goth-gone-wrong Celia Kritharioti dress. I can't imagine G got Joan's approval on this one.
Honorable Mention: Halle Berry is a babe, but this Versace dress was a fail.
Ashley's Pick: It physically hurts to put Jessica Chastain in this category. I would like to officially go on record and say that I am obsessed with everything about her, all except this Calvin Klein dress. She's a gorgeous canvas, but the fit and the hair choice served her a serious injustice.
Honorable Mention: Sienna Miller's ode to wallpaper Erdem skirt and top.
Meghan's Pick: Lucy Liu can pretty much pull anything off. This dress, not so much. While the silhouette isn't horrible, the floral pattern and colors are. I do like the fullness of the dress and the fact that it has pockets (I always love leaving my bag at home).
Honorable Mention: Julianne Hough's horrific Monique Lhuillier dress and poor makeup ensemble.
We'll see you all in a couple weeks for our SAG Awards picks!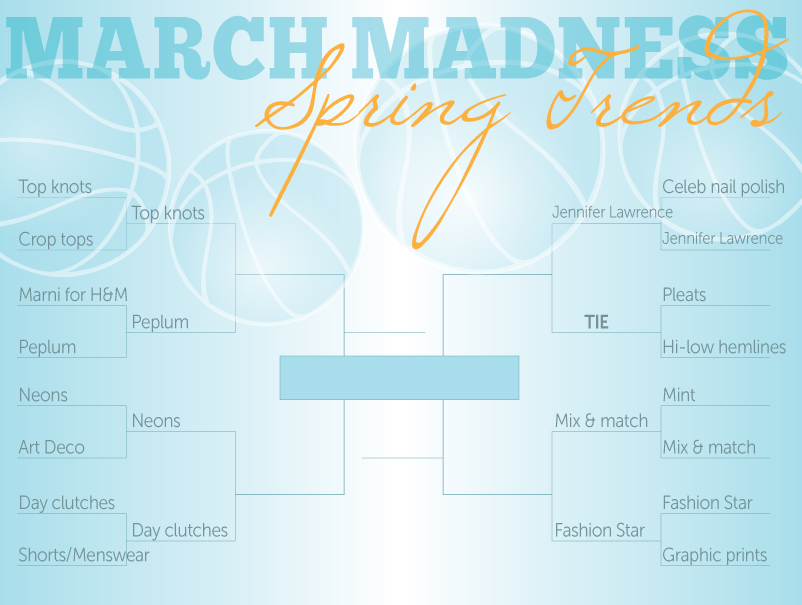 Round 1 was a tough first battle, with our Sweet Sixteen Trends competing against each other to be the top spring trend of 2012. From the celebrity endorsements to the accessibility to women everywhere, these trends broke out the big guns to make it out of the gate. Check out how each game turned out:
1. Top Knots vs. Crop Tops
The Knot trumps the Crop when women everywhere realize that only celebrities and people with personal trainers on speed dial can actually wear crop tops.
2. Peplum vs. Marni for H&M
The hottest silhouette goes up against a designer with a cult following now at lower prices (which is still all relative). It was a pretty dead-heat battle until Peplum whipped out its ability to flatter anyone's midsection. Game over, Marni.
3. Neons vs. Art Deco jewelry
Right out of the gate the Neons powerhouse slams down Art Deco jewelry's effort. Even with the backing of Rachel Zoe, since no one has the time to search for Art Deco jewelry – and it hasn't made it to H&M just yet – it proves to be no match for the rising publicity and street cred that Neons has gained.
4. Day clutches vs. Shorts/Menswear
The nighttime-gone-day accessory (Day clutches) goes up against the daytime-gone-night trend (Shorts/Menswear). This is a decent competition, what with celebrity endorsements on both sides. Ultimately, Day Clutches squeak by as a winner as soon as we (as in all womenkind) realized that our legs weren't quite shorts-ready just yet.
5. Celebrity nail polish lines vs. Jennifer Lawrence
Yes, Celebrity nail polish lines have the backing of The Hunger Games and Nicki Minaj, but adding the over-exposed Kardashians to the mix makes this trend just a little more annoying. And with Jennifer Lawrence's runway choices for her red carpet premieres and her growing superstardom, the girl on fire reigns supreme.
6. Hi-low hemlines vs. Pleats
A great battle with a deadlock outcome. These truly brilliant competitors form an alliance to create a superpower spring trend – Pleated Hi-Low skirts and dresses. Now they've set their sights on knocking out Peplum to form an alliance with Neons.
7. Mint vs. Mixing & Matching
The starring pastel of the spring (Mint) against a trend that stylized breaking major fashion rules (Mixing & Matching) was a tough battle from the start. But the infiltration of downtown divas throughout the world has made Mixing & Matching a new style art, which left Mint in the dust.
8. Fashion Star vs. Graphic prints
Graphic prints hit the runway with legitimate backers, such as Milly and Erdem, and a solid cause to modernize the classic spring floral. However, the star power and accessibility of a television show proved too powerful by helping three retailers sell out (within hours) new items by no-name designers. That's the definition of winning.
Stay tuned to see who wins the round 2 match-up!