Posts tagged
mint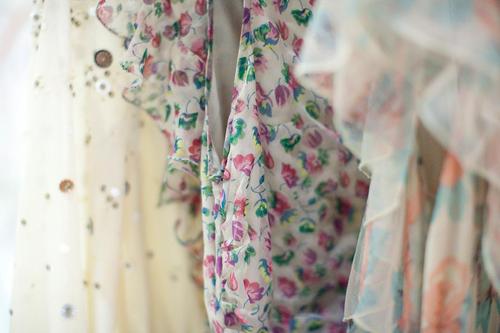 You may not be mentally ready for a weekend of family activities – depending on who your family is – but at least you can make sure that you're style is ready. Whether you want to try a new trend or break out something traditional, So ditch the eggs (just for just a moment) and get ready to go on a different kind of hunt.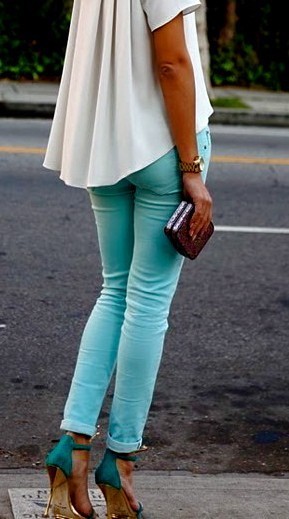 If you want to go trendy…
While neons are getting all the attention right now, this weekend is a good time to try out the saturated pastels trend. Designers from Louis Vuitton to the Gap are featuring these hues, and there are tons of great ways you can try it out. Going with a saturated pastel shift dress is always a timeless option, or you can branch out and try other silhouettes, such as A-line or even a hi-low hem. Accent these with a statement necklace or a bright belt in a completely different hue for a subtle take on colorblocking. Or to keep yourself warm, don a pair of skinny colored pants – a huge trend this year – in mint, lavender or light blue.
If you want to go traditional…
You can never go wrong with a pastel floral, ethereal dress. Lace is also a great trend to try, whether you go with it in a saturated pastel or in traditional white. Long-sleeved lace is a more daring option, but it will keep you considerably warmer than something sleeveless. If you're going to be wearing a sleeveless dress – lace or not – pairing it with a blazer in a light neutral or a pastel hue makes it modern and adds structure to a feminine silhouette.
Another tip: If you're going with a more traditional dress, make it pop with a pastel manicure. This is a great way to stay current without being too trendy.
Remember, this is a great time to wear colors and silhouettes that you may deem too girly and pastel to wear during the rest of the year, so take advantage of it!
~Ashley, FashioniSTA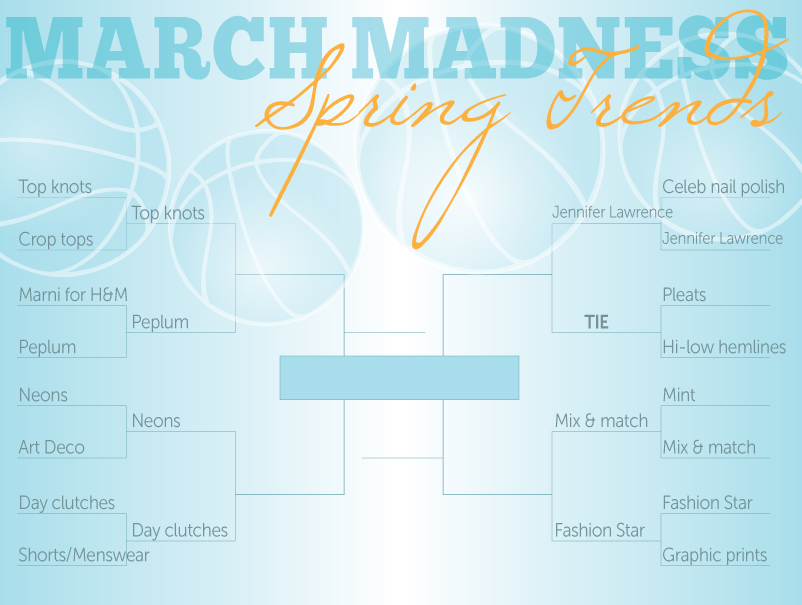 Round 1 was a tough first battle, with our Sweet Sixteen Trends competing against each other to be the top spring trend of 2012. From the celebrity endorsements to the accessibility to women everywhere, these trends broke out the big guns to make it out of the gate. Check out how each game turned out:
1. Top Knots vs. Crop Tops
The Knot trumps the Crop when women everywhere realize that only celebrities and people with personal trainers on speed dial can actually wear crop tops.
2. Peplum vs. Marni for H&M
The hottest silhouette goes up against a designer with a cult following now at lower prices (which is still all relative). It was a pretty dead-heat battle until Peplum whipped out its ability to flatter anyone's midsection. Game over, Marni.
3. Neons vs. Art Deco jewelry
Right out of the gate the Neons powerhouse slams down Art Deco jewelry's effort. Even with the backing of Rachel Zoe, since no one has the time to search for Art Deco jewelry – and it hasn't made it to H&M just yet – it proves to be no match for the rising publicity and street cred that Neons has gained.
4. Day clutches vs. Shorts/Menswear
The nighttime-gone-day accessory (Day clutches) goes up against the daytime-gone-night trend (Shorts/Menswear). This is a decent competition, what with celebrity endorsements on both sides. Ultimately, Day Clutches squeak by as a winner as soon as we (as in all womenkind) realized that our legs weren't quite shorts-ready just yet.
5. Celebrity nail polish lines vs. Jennifer Lawrence
Yes, Celebrity nail polish lines have the backing of The Hunger Games and Nicki Minaj, but adding the over-exposed Kardashians to the mix makes this trend just a little more annoying. And with Jennifer Lawrence's runway choices for her red carpet premieres and her growing superstardom, the girl on fire reigns supreme.
6. Hi-low hemlines vs. Pleats
A great battle with a deadlock outcome. These truly brilliant competitors form an alliance to create a superpower spring trend – Pleated Hi-Low skirts and dresses. Now they've set their sights on knocking out Peplum to form an alliance with Neons.
7. Mint vs. Mixing & Matching
The starring pastel of the spring (Mint) against a trend that stylized breaking major fashion rules (Mixing & Matching) was a tough battle from the start. But the infiltration of downtown divas throughout the world has made Mixing & Matching a new style art, which left Mint in the dust.
8. Fashion Star vs. Graphic prints
Graphic prints hit the runway with legitimate backers, such as Milly and Erdem, and a solid cause to modernize the classic spring floral. However, the star power and accessibility of a television show proved too powerful by helping three retailers sell out (within hours) new items by no-name designers. That's the definition of winning.
Stay tuned to see who wins the round 2 match-up!
Green is in the air this weekend, and it's only natural to want to get in on the festivities. Resist the urge to wear an oversized green bow-tie and a t-shirt that says "Kiss Me, I'm Irish." Instead, try a few fashionable approaches to the holiday to ensure that you don't wake up with a bad style hangover.
Minty Fresh
With Spring just around the color, saturated pastels are popping up everywhere. One of the biggest colors this spring is mint (not to be confused with Thin Mints), which also happens to be a killer choice to celebrate in this weekend. Instead of going with traditional kelly green, try a fresh spin with mint, either in a pair of colored denim (like from Current/Elliott), a sleeveless top (like this one from Rag & Bone), or a full mint dress (like from Diane von Furstenberg). Touches of mint were all over the Spring 2012 runway, from Carolina Herrera to DVF, and have been making they're way into all aspects of street style. If you're not comfortable trying it out in an ensemble, go with a mint manicure, pair of flats, scarf, sunglasses, or a bunch of stackable prasiolite or peridot-accented bangles or rings. Or you could even find items of clothing that have small mint touches, like this colorblock dress by Tibi (two trends, one stone!).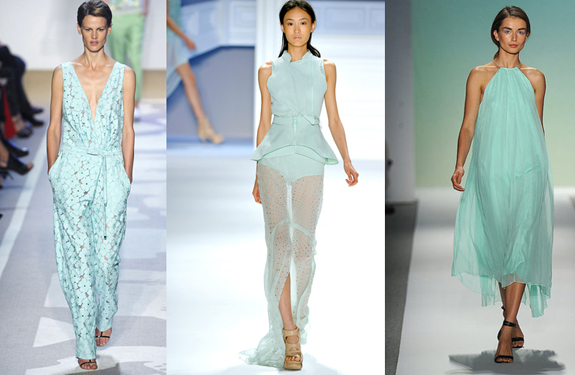 It's All in the Details
Unless you moonlight as a leprechaun, head-to-toe green might be a no-go. However, using a few individual touches of green can help you have a put-together - but still festive - look. Now is the perfect time to break out that bright green handbag or pair of flats that you haven't been wearing. Green is a tough color to go to, but luckily this spring is all about brights, and this is the perfect opportunity to break out of your muted shell! Red jeans have been lighting up the streets, but to get ahead of the trend a bit, go for a pair of green denim. Perfect for St. Patrick's Day and beyond!
If pants aren't your thing, you can start by working green in with jewelry and accessories, and then when you're feeling brave, you can move to bigger parts of your ensemble. Snap up a green dress, tank or skirt, and keep the rest of the outfit neutral for a classic look or go for colorblocking to bring on the bold. If you feel more comfortable with neutrals (black, white, camel, navy), you can work with different textures to achieve different looks. Go with simple knits for a minimalist vibe, or channel your inner urbanite with touches of leather - a huge trend for both spring and fall 2012. If you choose the colorblocking route, green goes great with all shades of blue - try a bright cobalt with a dark green for a great springtime look - as well as certain shades of yellow. Since neons are coming out in full-force, pairing a kelly green with a bright yellow is a surefire hit. But remember, for this holiday, pairing two shades of green together could come across as overkill.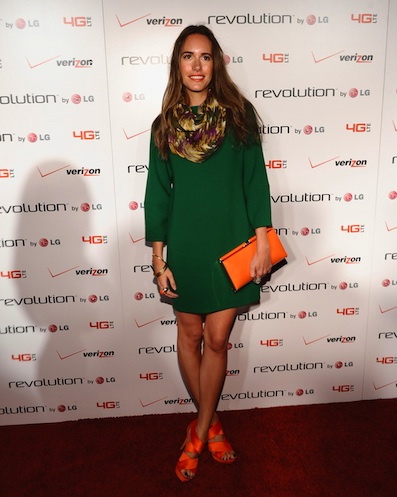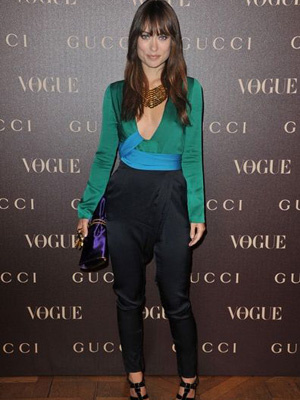 Prints Charming
This is also a great time to work in some of the green-printed pieces you have sitting in your wardrobe. Whether it's a green and white-printed wrap dress or a green polka-dotted blouse (like this Kate Spade option), St. Patrick's Day is a safe occasion to try out a piece for the first time. Once you wear it out, you may be more comfortable working it into your current wardrobe rotation. (This holiday is also a great excuse to get another wear out of a piece.) Another great thing about wearing green prints is that it doesn't look like you overdosed on the St. Patrick's Day Kool-Aid. You'll look classic and put-together, with just the right amount of holiday spirit.
Of course if you're one of those girls who goes big or goes home, I won't judge you for wearing a full sequined, green dress, as long as you channel Alice + Olivia's Fall 2012 line rather than Poison Ivy from Batman.
~Ashley, FashioniSTA