Posts tagged
dvf
When heading to the beach this summer, be sure to do it in style. Here are eight essentials for a fashioniSTA's seaside getaway!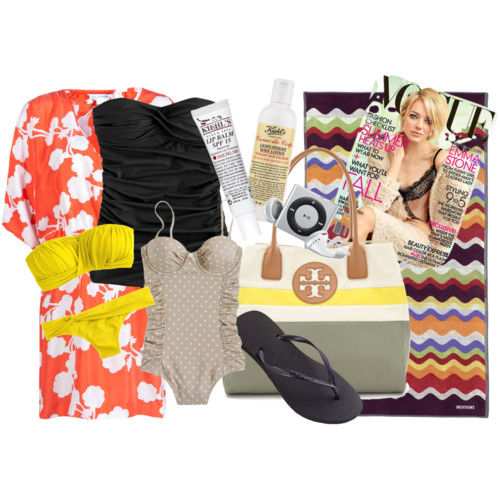 1. Fun, Flattering Swimwear
There are endless possibilities of swimwear styles each year. We recommend going for a classic, flattering suit with a bit of a twist- whether its a pop of color or fun print, like the ones above all from J.Crew.
2. Complimentary Cover-Up
Pair your swim suit with a pretty cover-up. We love this one from DVF. Not only is a Diane von Furstenberg print always in style, but this tunic can take you from the beach, to the beach bar or restaurant, to running errands around town- comfortable, effortless and chic.
3. Beach Flip-Flops
Havaianas are a summer must-have for fashioniSTAs- the most comfortable and practical rubber flip-flop. They come in a variety of colors and prints, and you can even design your own to perfectly show off your summer style and personality.
4. Tory Tote
It's no secret that we love Tory Burch at STA, so when it's time to tote all your summer goods to the beach, we favor a Tory Burch carry-all.
5. Sun Protection
Keep your skin moisturized and protected with a good SPF.
6. Beach Bedding
Nothing says summer like a colorful Missoni knit, so when you're laying on the beach, sunning in the sand, sun in style with a Missoni print beach towel.
7. Quality Reading Material
Vogue, Harper's Bazaar, WWD, Glamour, Elle, etc…oh and Fifty Shades of Grey, obviously.
8. Summer Tunes
Currently on the fashioniSTA summer playlist:
Robyn "Hang With Me"
Ellie Goulding "Lights"
Josh Turner "All Over Me"
New Kids On The Block "Summertime"
Avicii "Silhouettes"
Vanessa Carlton "White Houses"
Zac Brown Band "Toes"
What's your beach essential? Tell us on Facebook or Twitter!
~Lisa, fashioniSTA
Green is in the air this weekend, and it's only natural to want to get in on the festivities. Resist the urge to wear an oversized green bow-tie and a t-shirt that says "Kiss Me, I'm Irish." Instead, try a few fashionable approaches to the holiday to ensure that you don't wake up with a bad style hangover.
Minty Fresh
With Spring just around the color, saturated pastels are popping up everywhere. One of the biggest colors this spring is mint (not to be confused with Thin Mints), which also happens to be a killer choice to celebrate in this weekend. Instead of going with traditional kelly green, try a fresh spin with mint, either in a pair of colored denim (like from Current/Elliott), a sleeveless top (like this one from Rag & Bone), or a full mint dress (like from Diane von Furstenberg). Touches of mint were all over the Spring 2012 runway, from Carolina Herrera to DVF, and have been making they're way into all aspects of street style. If you're not comfortable trying it out in an ensemble, go with a mint manicure, pair of flats, scarf, sunglasses, or a bunch of stackable prasiolite or peridot-accented bangles or rings. Or you could even find items of clothing that have small mint touches, like this colorblock dress by Tibi (two trends, one stone!).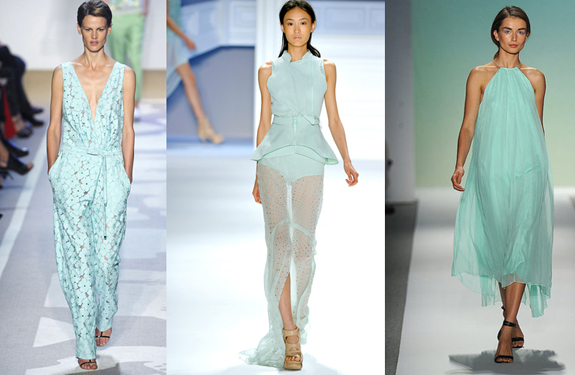 It's All in the Details
Unless you moonlight as a leprechaun, head-to-toe green might be a no-go. However, using a few individual touches of green can help you have a put-together - but still festive - look. Now is the perfect time to break out that bright green handbag or pair of flats that you haven't been wearing. Green is a tough color to go to, but luckily this spring is all about brights, and this is the perfect opportunity to break out of your muted shell! Red jeans have been lighting up the streets, but to get ahead of the trend a bit, go for a pair of green denim. Perfect for St. Patrick's Day and beyond!
If pants aren't your thing, you can start by working green in with jewelry and accessories, and then when you're feeling brave, you can move to bigger parts of your ensemble. Snap up a green dress, tank or skirt, and keep the rest of the outfit neutral for a classic look or go for colorblocking to bring on the bold. If you feel more comfortable with neutrals (black, white, camel, navy), you can work with different textures to achieve different looks. Go with simple knits for a minimalist vibe, or channel your inner urbanite with touches of leather - a huge trend for both spring and fall 2012. If you choose the colorblocking route, green goes great with all shades of blue - try a bright cobalt with a dark green for a great springtime look - as well as certain shades of yellow. Since neons are coming out in full-force, pairing a kelly green with a bright yellow is a surefire hit. But remember, for this holiday, pairing two shades of green together could come across as overkill.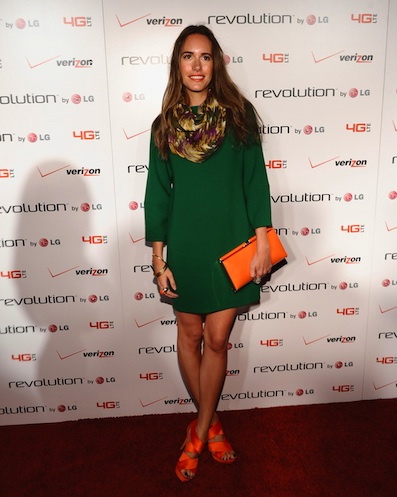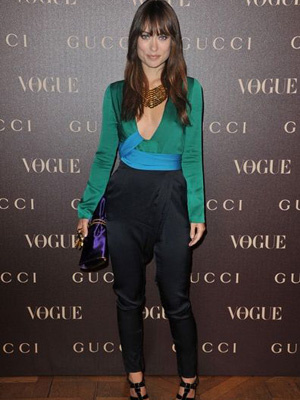 Prints Charming
This is also a great time to work in some of the green-printed pieces you have sitting in your wardrobe. Whether it's a green and white-printed wrap dress or a green polka-dotted blouse (like this Kate Spade option), St. Patrick's Day is a safe occasion to try out a piece for the first time. Once you wear it out, you may be more comfortable working it into your current wardrobe rotation. (This holiday is also a great excuse to get another wear out of a piece.) Another great thing about wearing green prints is that it doesn't look like you overdosed on the St. Patrick's Day Kool-Aid. You'll look classic and put-together, with just the right amount of holiday spirit.
Of course if you're one of those girls who goes big or goes home, I won't judge you for wearing a full sequined, green dress, as long as you channel Alice + Olivia's Fall 2012 line rather than Poison Ivy from Batman.
~Ashley, FashioniSTA
"It's more important than ever to have confidence," says Diane von Furstenberg, creator of the clingy wrap dress so symbolic of 1970s fashion that it hangs in the Smithsonian Institution. "Confidence created these clothes. Confidence created these women."  When the dress first became en vogue almost forty years ago, it allowed women to embrace their sensual side, regardless of body type, while still looking polished and professional.  Today the DVF brand stands strong as evidence of a fashion concept that has transformed the way women think and feel about clothing.
Fashion historians credit Furstenberg for reinventing the timeless wrap to make it work for the modern woman.  In a decade when many women were entering the work force while also reveling in a new found feminine freedom, the affordable dress became a symbol of liberation. With little time to focus on themselves, a girl could feel put-together with little effort.
Now in her mid-60s, Furstenberg has seen her business skyrocket in the 1970s, crash in the '80s and, unpredictably, thrive today. Helping the resurgence is the creativity expressed in the design and marketing of the clothes; the line has over time expanded to include staple garments such as tops, pants, and accessories.  The wrap dresses have also evolved, depending on trends. When mini dresses were popular, the hemlines went up. When kimono-inspired obi belts were all the rage, out came dresses with obi belts.
Ms. von Furstenberg says it is important to fill a niche rather than to aim to be a brand that is everything to everyone. Her own specialty is feminine yet comfortable women's fashion.
"I am not interested in making children's clothes," she says. "I want little girls to want to grow up to wear the clothes. I do not want to do men's clothes. My mission in life, what I understand in life, is women. I wanted to be a certain kind of a woman. I became that kind of a woman."
Currently at our Harvard Square location, we have a multitude of consigned DVF pieces ranging from that quintessential wrap in a variety of styles to vintage blouses to dress slacks.  One particularly appealing feature of Furstenberg's wardrobe is the fact that each article can work for numerous occasions and body types.  Behold the looks below from your Cambridge styliSTAs!
PORTRAIT #1
DVF Double-Breasted Wrap Dress: $128, Coach Bag: $98, Anne Klein Shoe: $26, Painted Wood Earring: $8
PORTRAIT #2
DVF Strapless Dress: $122, Ferragamo Shoe: $82, Prada Wallet: $112
PORTRAIT #3
DVF Camisole: $58, Vintage Skirt: $16, Elastic Belt: $14, Chinese Laundry Shoe: $24
Enjoy! ~Kim, Manager, Harvard Square