Posts tagged
fashioniSTA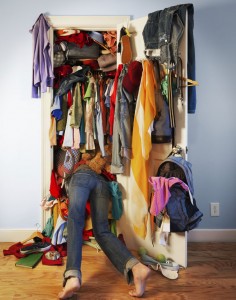 It is that time of year again - Spring Cleaning! We all know what that means… It's time for "out with the old and in with the new." That motto is all fine and dandy, but some of us struggle with a true spring cleaning overhaul more than others. For those of you that just need a little extra push in the right direction, this post is for you. So packrats, unite! I give you three (yes, three) easy step that will overhaul any closet. Let's get started!
1. Divide & Conquer
I couldn't tell you the amount of times that I got overly ambitious and started to clean out my closet and dumped all of my clothes from my closet and drawers onto my bed. Then halfway through the overhaul, I got tired or frustrated from cleaning and dumped everything back into my closet and drawers.
This is the worse way to cleanout your closet! Take it from me - I learned the hard way. It's important to divide your closet and drawers into sections. I personally like to divide my space into zones based on category. I'll go through my shoes separate from my jackets and coats too ensure that I go through my closet with a fine tooth comb. This ensures that you'll allot yourself enough time and energy into each section. This is the perfect way to spread an overhaul over the span of a few days, rather than dedicating one whole day (like your precious days off) to the mess that is now your closet.
2. "Should I Stay or Should I Go?"

This is definitely the hardest part of cleaning out your closet. There have been plenty of times that I've kept an article of clothing hoping to lose weight or in anticipation of a special event (that will [most likely] never happen). Let's be honest here, if you have had it for two years and it has never been worn (red flag: price tags still attached), it is time to say goodbye. Unless of course, it is something very sentimental. I'm sure you aren't still rocking gaucho pants that were ever so popular circa 2007/2008.
Another trick to figuring out what should stay and what should go is to reverse all of your hangers so that they are facing outward (towards you). When you wear an article of clothing, put it back into your closet as normal (hanger facing inward - towards the back of the closet). Do this for about a month. The items that are left facing outward (sorry to say) got to go.

3. "Another Man's Trash is Another Man's Treasure"
Now, your former belongings need a new home. If you have items with tags still attached that are in style and/or in good condition, consign them at Second Time Around! This is the perfect opportunity for you to make some cash on clothing and/or accessories that were just sitting in your closet, taking up space and collecting dust. For a limited time, STA is offering up to 70% on consigned handbags. Details here.
I love going into Second Time Around and using the money I made from my consigned items and putting it towards a piece I know will fit perfectly into my new, clean closet. If you have items that are not in sellable condition, like a pair of beat up sneakers, donate them! Goodwill and Salvation Army will take all of your unwanted clothing for those in need.
That wasn't too painful, right? It really is easy when you have a guide to go by. Stay tuned for next week's post on organizing your closet after an overhaul.
Have any tricks you use when Spring Cleaning? Leave them in the comment section, below! We'd love to hear 'em!
~ Taylor, fashioniSTA