admin
This user hasn't shared any biographical information
Posts by admin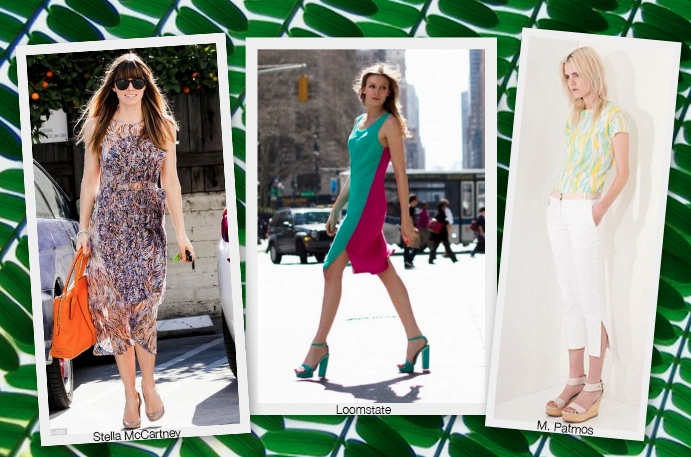 It's easy to get lost in the little things in our daily lives—we're often too preoccupied with work, school, family and friends to think about much else. However, Earth Day is approaching on Monday, April 22, and it is a day when we should put those petty issues aside and express our gratitude for the thing we take most for granted, the Earth.
There are numerous ways to give back to the Earth, from the smallest act of recycling and drinking from reusable water bottles to volunteering time to plant trees or installing energy-efficient appliances in your home. However, it doesn't stop there. Your wardrobe can be just as eco-friendly as your lifestyle. Here's how:
Buy Used/Consign
I'm not mentioning this just because this is the Second Time Around blog; buying used clothing is one of the biggest ways to be environmentally friendly with your fashion. Think about it: the amount of fuel and resources it takes to manufacture clothes and accessories is enormous. By purchasing clothing from a consignment store, you're saving the energy and supplies that would ordinarily be used in the production of new clothing. Buying from consignment stores is not only good for the Earth—it's good for your wallet, too! Consignment stores offer great deals on gently worn clothes and are a moneymaking eco-friendly alternative to tossing your last-season pieces in the trash.
Check Out Eco-Friendly Designers
There are numerous designers (both indie and more prominent) who take pride in their environmentally friendly designs. Loomstate is a mainstream clothing company that produces organic cotton clothing using "socially and environmentally responsible methods of production." Another eco-friendly designer is Marcia Patmos, of M. Patmos. After spending a decade at luxury label Lutz + Patmos, she created her own brand, creating socially conscious and environmentally friendly pieces. Stella McCartney is probably the most prominent eco-fashion designers. Her designs are famously vegan, along with an emphasis on using organic and sustainable fabrics.
Share With Friends
In my sophomore year of college, I lived with seven other girls. Sounds crazy, right? It actually was one of the best experiences of my life. Not to mention, I probably spent less time and money shopping than I ever had before. Why? Because we raided each others' closets all the time. There was rarely a day each week when a roommate wouldn't ask to borrow an item of clothing or just browse through each others clothes. Borrowing clothes is a great way to practice environmentally friendly fashion, because like consignment shopping, you're not adding to the pollution and resources it takes to produce new clothing. Not to mention, that sundress hanging in your best friend's closet probably looks better on you anyway.

For more eco-friendly style inspiration, be sure to check out our Going Green: Your Closet and Going Green: At Home Pinterest boards!
~Alyssa, fashioniSTA
(image credits: flickr.com, vogue.com, dailymail.co.uk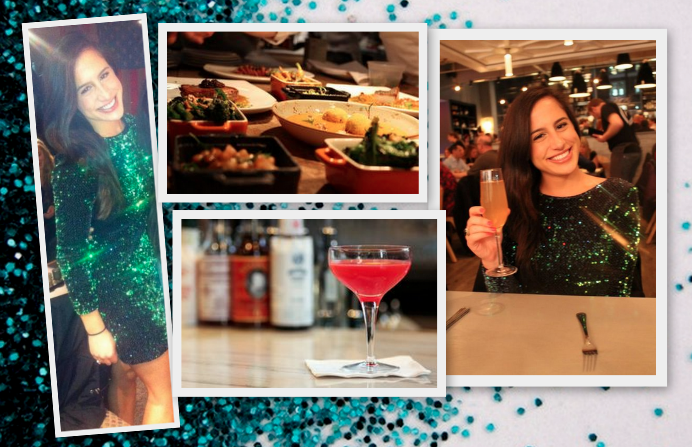 Birthdays are the greatest day of the year—but can also be the most stressful. It's the one day that is all about you; as a fashioniSTA, there's pressure to make it fantastic. Picking out the right outfit, party location and activities (not to mention creating your birthday wishlist) can be completely draining. However, after having just celebrated my own birthday, I've perfected the recipe to a fun, chic and successful fashioniSTA birthday.
Step 1: The Wishlist
I love making wishlists. I make them for Christmas, my birthday, and even various seasons—okay, maybe I'm a little overzealous. Still, if it's your birthday, you want to receive gifts that you're actually going to use, right? My birthday wishlists have completely changed since I hopped aboard the Pinterest train. Virtually any store can be accessed online, so you can just pin your favorite items straight to your very own birthday wishlist board. I start pinning my wishlists early and often, so there are lots of options for gifts by the time your birthday rolls around (and also because pinning is madly addictive). Once you're done, all you have to do is send your wishlist board to your friends and family to give them a nudge in the right direction

. Need some inspiration to get your Pinterest board on the right track? Check out our own "Night Out in Style" board for ideas!
Step 2: The Outfit
There are two days of the year when it's okay for a fashioniSTA to get decked out in sequins: New Year's Eve and your birthday. I have a crazy obsession with all things sparkly, so I obviously took advantage of the day and donned a green, long sleeved sequin mini dress. I paired the dress with simple black booties and a blazer, along with minimal jewelry—it was a hit. Not quite as excited about sequins as I am? Not to worry! Try a sparkly top with skinny jeans and killer pumps or a simple little black dress with fun statement jewelry, and you'll still be a glittering birthday fashioniSTA.
Step 3: The Party
Every fashioniSTA celebrates her birthday differently, especially depending on your age and what day of the week it falls on. If you want to have a blowout event, you need to start this step fairly early on. Creating a guest list, planning food and drinks and finding a venue takes a lot of time—but is definitely worth it! Having a chic birthday bash is the ultimate way to celebrate in style. While I'm all for big parties, I had a milestone birthday last year (and rented out a hip bar to celebrate it), so this year I decided on a more intimate dinner with my closest girlfriends. Myself and nine other girls got dressed up and headed to the gorgeous Boston Waterfront, where we enjoyed specialty cocktails and fantastic new American food. My biggest suggestion when going to a birthday dinner with a large group is to go somewhere that has an extensive cocktail list (everyone has their own drink of choice) and a menu with plates to share. Also, pretend not to notice when your friends ask the waiter for a birthday dessert—it's always more fun to act surprised when everyone starts singing happy birthday!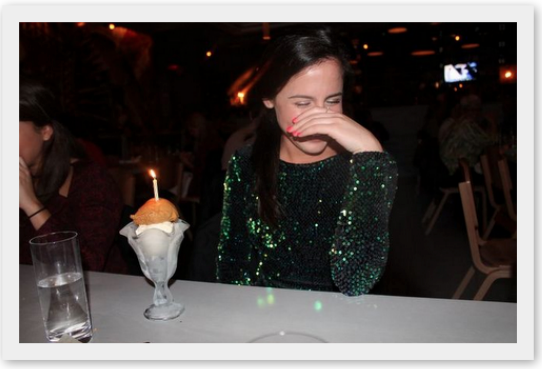 ~Alyssa, fashioniSTA
(Image credits: tavernroad.com, thrillist.com, curioos.com/galaxyeyes/Abstract/Swim/000014152)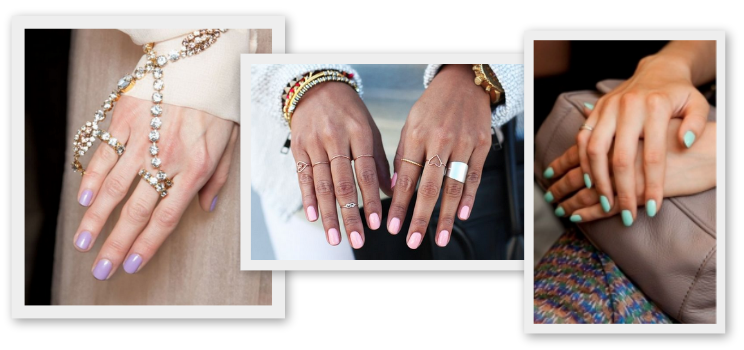 I have a confession to make: I'm obsessed with nail polish. I'm not joking when I say I have at least 50 bottles. I spend more time perusing the nail polish aisle of CVS and Sephora than any normal person should. I don't know why or how this obsession started, but there's no stopping it. And, just like clothes, nail polish colors go in and out of style, meaning I'm always looking for the newest hue to paint on my fingers and toes.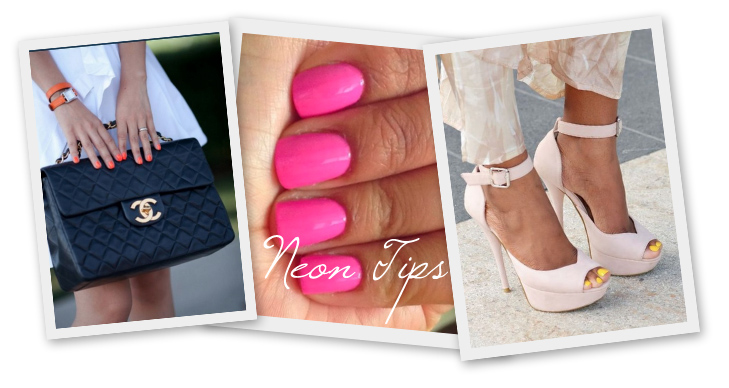 When the weather gets nicer, we discard our harsh black winter coats and thick gray sweaters for lighter, sunnier clothes. Nail polishes are no different. If you're not afraid of a little color, this season is the time to go for it! Pastel nail colors are a great way to transition from winter to spring without worrying about your nails looking too bright. My favorite pastel colors are mint green and lilac, but if wearing nontraditional nail colors isn't work-appropriate, pale pink is just as lovely. Want your fingers and toes to stand out a little more? Orange is one of this season's hottest colors, and looks fantastic on the nails. If you're even more daring, give a neon manicure a try. Neon colors are one of spring's biggest fashion trends, and automatically add a pop to any outfit (remember my earlier post about all-white monochrome? Imagine that with a hot pink manicure—awesome!).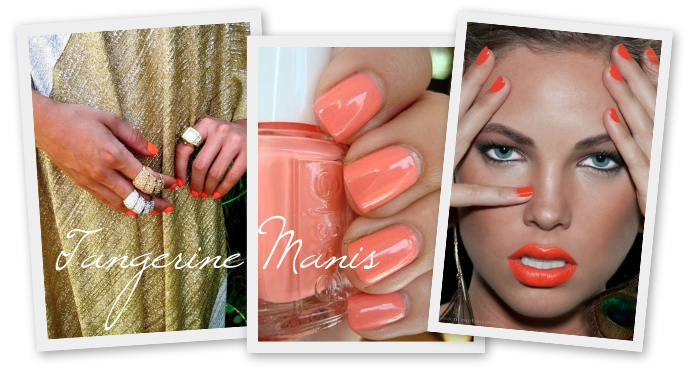 Not so much into highlighter or Easter egg-colored nails? Spring nail polish trends don't just stop there. Nude polishes are just as trendy, and add an air of sophistication to any manicure; plus, they make fingers look longer and slimmer (and you don't have to worry about clashing with your outfit!).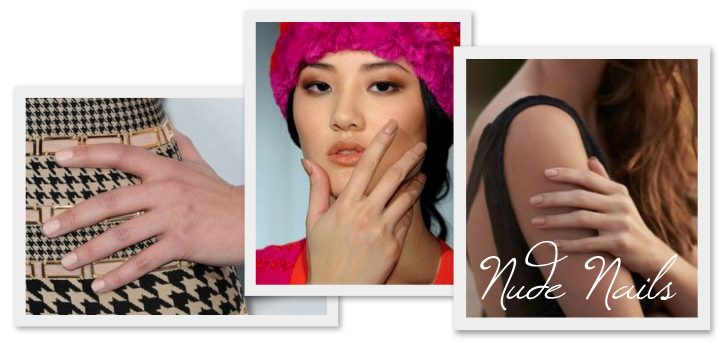 Whether you choose to rock a color or keep it chic and simple in a neutral shade, make sure your nails are just as ready for spring as you are!
~Alyssa, fashioniSTA
(Image credits: http://fashion-ocd.tumblr.com/, obaz.com, flare.com, pinterest.com, sarahpatricia.com.au)
As we start to say goodbye to the snow (seriously, snow, it's time for you to melt already) and hello to the sunshine, we also will bid adieu to our sweaters and embrace new, lighter clothing trends—in particular, sheer clothing. This spring, sheer is absolutely everywhere, from skirts, to dresses to blouses. Sure, the trend may seem a little daunting and risqué, but when worn correctly, sheer can be classy and cute for any occasion—from a night out to the office.
Wearing sheer in the workplace may first strike you as a little inappropriate, and in some cases, that's true. For most working women, wearing a sheer blouse with nothing but a bra underneath it is definitely not fit for an office environment. However, that doesn't mean that we should write it off entirely. There are still many ways to rock spring sheer without getting disapproving side-glances from your coworkers. The biggest tip to wearing a sheer blouse in the office is layering. Try a sheer button down blouse in a pastel color (I love pale pink or baby blue) and then layer an oversized boyfriend blazer on top. The blazer will cover up the more risqué parts, but will still show off the sheer material underneath. Finish the look with a pair of cropped pants and a nude pump. Going out after work? Just take trade the blazer for a leather jacket and you'll have the perfect outfit for post-work cocktails. Think you'll get a little too toasty under the blazer? Don a cute nude or cream colored cami underneath your blouse—the cami will allow you to show off your gorgeous sheer blouse without showing too much skin.
Rocking a sheer ensemble for the evening allows for a little more versatility. Without workplace restraints, don't be afraid to wear a sheer blouse with a flirty lace bra or a fun bandeau underneath! Still a little nervous about sheer, even at night? Don't just limit yourself to tops—dresses are also a great way to sport the sheer trend. Try a cocktail dress that has a sheer neckline and sleeves—you can show off your arms without revealing too much. If you're a little more adventurous, bring attention to your legs in a sheer maxi skirt with a short slip underneath. The short slip will add an opaque contrast to the skirt without fully covering your legs completely as most maxi skirts do.
The next time you spot a sheer top in your favorite pastel color, don't let the thin fabric deter you! You can still rock this hot spring trend for absolutely any occasion.
~Alyssa, fashioniSTA
(Image credits: vanessajackman.blogspot.com, shopdailychic.com, neimanmarcus.com, tinacious.me, asos.com)
Spring Break is one of the most anticipated times of the year: for those of us who are lucky enough to take the time off, we get to escape our busy lives for a few days of rest and relaxation. While some like to travel to snowy ski destinations, I prefer the sun and the beach. The only difficult part? Packing for warm weather when the temperature at home is still hovering around a crisp 32°. But have no fear! After having gone through the difficult packing process myself, I've compiled a list of the top 3 beach essentials not to be forgotten when you go on your spring break getaway.
1. Wide-brimmed hat
For both the fair skinned and those who turn that perfect shade of golden brown, a wide-brimmed hat is absolutely necessary for any sunny destination. Not only do hats protect your face from harmful UV-rays (and premature aging—yikes!), they are also effortlessly chic. An image of Grace Kelly tanning on a beach in Monaco in To Catch a Thief instantly comes to mind with this accessory; if that's not beach fashion inspiration, I don't know what is.
2. Wedges
If you're like me, in October, you dutifully put your best summer wedges in the back of your closet and traded them for booties. Well, it's time to bring them out again! A great pair of wedges is honestly the only heel you need on Spring Break (and this is coming from someone who normally packs four pairs of stilettos for a weekend trip). Wedges are fun, comfortable and versatile and scream warm weather and summer. This is also a great way to try out the latest trends, don't be afraid to mix a colorblock wedge with a patterned outfit!
3. Neon
I've always been a bit iffy about neon—it brings back not so great memories of the orange and hot pink Espirit outfits that my parents would buy for me in the 90s—but this season, it's making a comeback. Spring Break is the perfect time to experiment with this new color trend (and neon looks great with a tan!). Whether you choose a highlighter green bikini or a hot pink asymmetrical dress, you'll stand out in the crowd when you rock some neon on Spring Break.
~Alyssa, fashioniSTA
(Image credits: everythingbutwater.com, dvf.com, stylecaster.com, musingsinfemininity.tumblr.com/, lspace.com, harpersbazaar.com)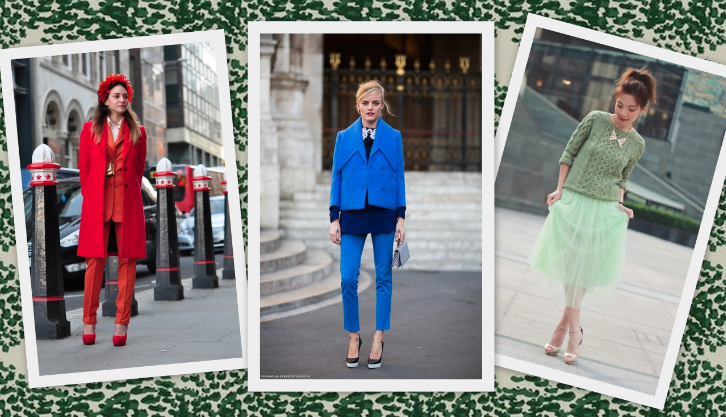 Last week, we focused on monochrome looks in their most classic form: black and white. Dressing in just one color can be daunting, so starting with all-black or all-white ensembles is a great way to experiment with the monochrome trend. But now that we're a little more comfortable with the look, why should we just limit ourselves to black and white? As we enter into spring, we want our outfits to reflect our sunnier moods—that means color, and lots of it!
Once you've mastered black and white, try out a monochrome look in one of spring's hottest colors; my favorites are emerald, blue-green, or orange, but don't be afraid to try something new! The most important part of putting together a colorful monochrome look is to wear the color in a variety of tones—make sure your look isn't matchy-matchy and stay away from choosing all pieces that are too similar in shade.
For a casual day-to-day look, choose one piece of clothing in a bright color and build the rest of your outfit around it. Try pairing a pale blue silk blouse with a pair of electric blue pants and accessorize with a navy blazer or a patterned blue scarf. Choosing a suit in a bright color (as seen above) is an even bolder way to try this trend, just make sure your accessories and other components aren't the identical shade as the suit. To transition the outfit to evening, add a brightly colored clutch or a vibrant pair of blue pumps to your ensemble. Color-coordinating your accessories to your outfit is an absolute must with this trend.
The key to wearing colorful monochrome is not being afraid to experiment; just because you're limited to one color doesn't mean you can't play around with different shades and patterns! Step into spring in a fun, colorful monochrome look-you'll be sure to stand out!
~Alyssa, fashioniSTA
(Image credits for collage: www.nyanzi.com, carolinesmode.com, www.asos.com)
Spring is right around the corner (according to the calendar), which means that prom season is upon every high school fashionista. Instead of blending in with every black dress that hits the dance floor, assert your style stardom by taking a cue from this year's red carpets. This year's trends range from pastel hues to gold embellishments, so choose a trend and dive right in!
1. Bejeweled Beauties
Another hot red carpet trend has been unexpected accessory sparkle. From backwards necklaces (hello, Jennifer Lawrence at the Oscars) to embellished brooches styled as hair clips, claim your style star status by styling your jewelry in unconventional ways. You can also kick this trend up a notch by using colored gemstones, or by doing a larger statement piece. Grab a statement necklace – like these – and finish it off with a smaller hair jewel or an oversized cocktail ring.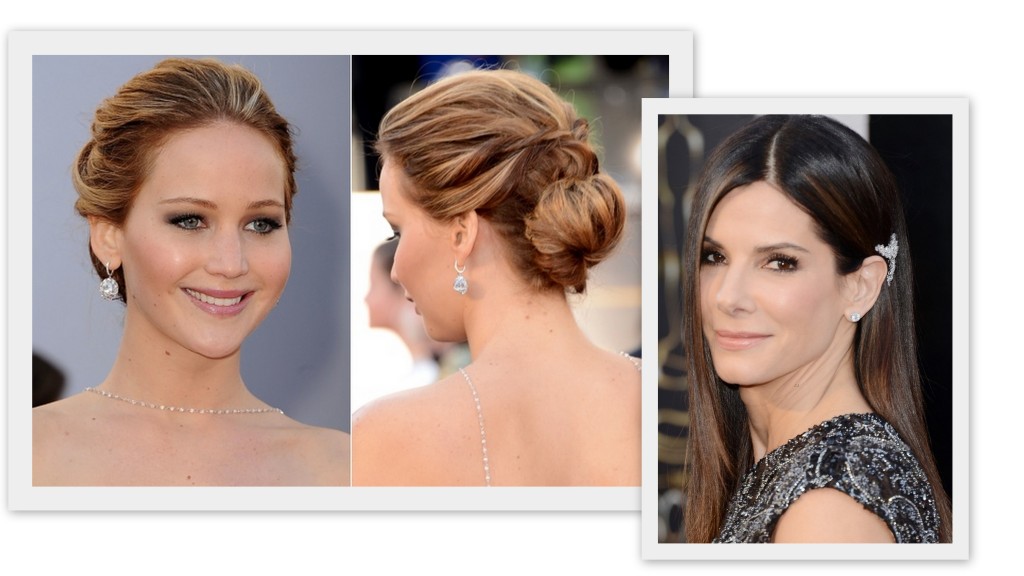 2. Lighten Up
If you watched any of the Oscars red carpet coverage, then you saw the endless parade of pale-hued gowns that graced the event. Trying out a pale pink, blue or gray dress is very on-trend and it is also a classic color palette that won't embarrass you later. You also don't need to be afraid to embrace white, you can easily pull off the trend by going with a sleek silhouette instead of something tulle-enhanced to avoid looking bridal.
3. Go Bold for Gold
Last year was all about the neon, but this year has been focused on embellishments and gold accents. Whether you're comfortable going for gold like Kate Hudson at the Golden Globes, or you like the whole pseudo-lamé thing like Jennifer Lawrence at the premiere of The Hunger Games, this is definitely a trend for the bold. To try it subtly, go with a large, gold statement necklace, or belt a black gown with a high-shine gold belt. Don't forget the gold-embellished clutch!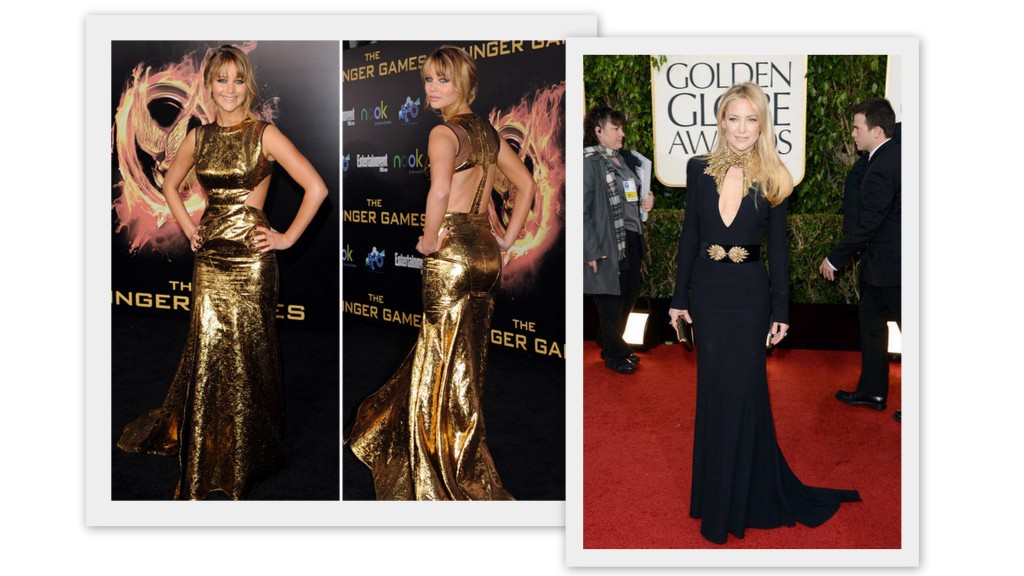 4. Matching Colorblocking
If you're looking to go with a bright color, pair your accessories accordingly. Not only is colorblocking still a huge trend - read: a bright pink dress with a yellow or blue clutch - Another great red carpet look is matching your shoes/bag to your dress, or choosing a close shade and playing off the monochromatic look. To take on this trend with an unexpected silhouette, go with a t-shirt-inspired sleeve – like that on Nina Dobrev at the SAG Awards or Niki Reed at the Golden Globes after-party. This unexpected silhouette is strikingly modern without being too trendy.
5. Softer Shades on Your Face
Stark makeup has had its moment, but it was refreshing to see a more ethereal look on many of the red carpet stars this year. From Amanda Seyfried at the Oscars to Nicole Richie at the Golden Globes, pastel hues were a huge hit with young Hollywood. Plus, while bold makeup shades can make you look older, no one wants to look washed-up at their own prom.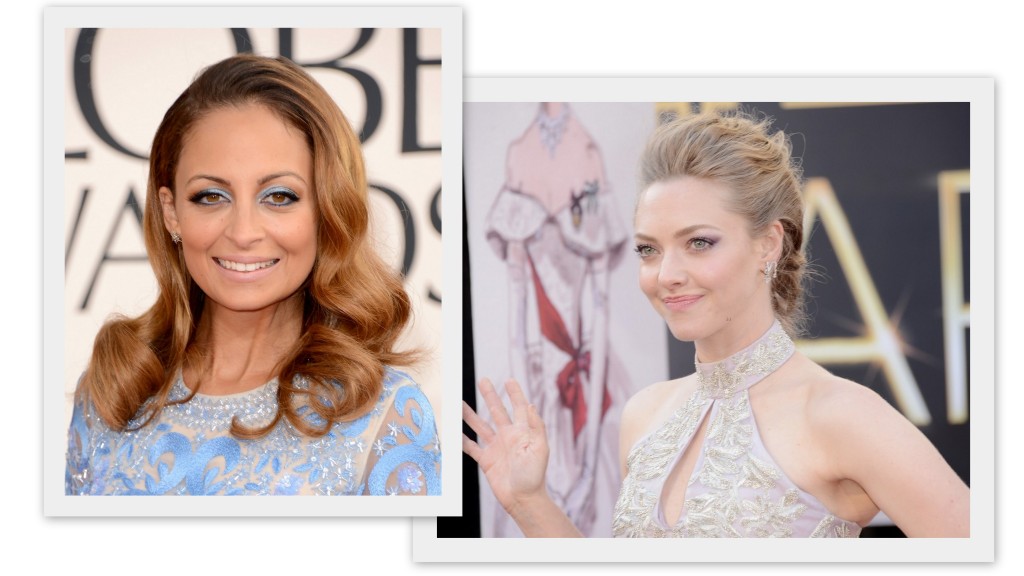 Want to get the inside scoop on this year's prom must-haves? Join us at our Haddonfield, NJ store on March 16th from 12pm – 6pm for our exclusive prom event! You can bring in your unwanted gowns and consign them, browse our first selection of prom dresses, snack on sweets, enter our giveaway for a $50 gift card, plus watch hair and makeup demos from two stylists with the Verde Salon in Collingswood. See you there!
Photo credit: JustJared.com; PopSugar.com; FashionMagazine.com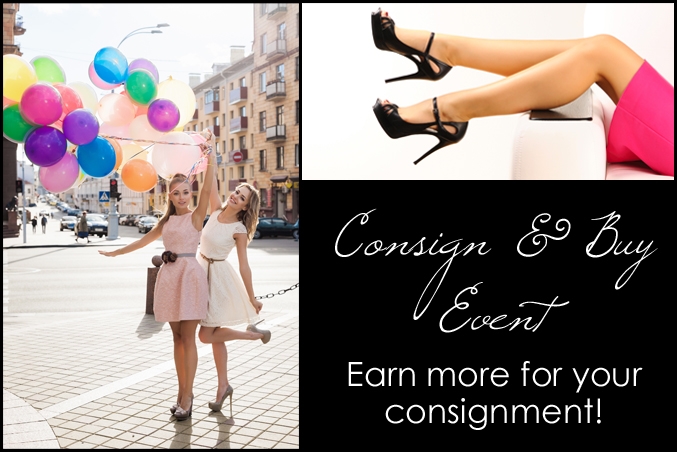 We all love a good promotion (who doesn't like getting an extra discount or added perk?), but there are certain ones that really break the mold. For us, it's the Consign & Buy, easily our favorite STA initiative, and it's not just because everyone gets a 50/50 split (10% more than usual). Whether you're a shopper or consignor, this is the promotion that beats them all. Allow us to break it down for you…
1. It makes spring cleaning about 1000 times easier. Have you looked at your closet lately? Yeah, we know, it's scary (don't worry, we're in the same boat). It can be daunting enough to rifle through your wardrobe, nevermind think ahead to making a consignment appointment. With this promotion, you don't need an appointment! You can just put your items in a bag and drop them off at any STA store on your way to brunch or dinner. (Can you tell we like to eat?)
2. You get extra STA credit that you can use on the items you want, and it's easier than you think. Unless you go years without cleaning out your closet, you might think that you don't have enough to maximize your extra STA credit. Most people don't think to look at their accessories when cleaning out their closets, but bringing in jewelry, sunglasses and other small accessories is a great way to capitalize on the credit.
3. Tons of new product, enough said. A Consign & Buy makes it so easy to consign your items, the amount of new merchandise that goes on display is incredible. Plus if you've taken advantage of the consigning part of this promotion, you can shop these new goodies using your extra STA credit!
4. No wondering about your drop-off. With a Consign & Buy, a store associate will immediately evaluate your items, so you know right away what has been accepted and you can take any unaccepted items home with you. You get the best of both worlds with this promotion, you don't have to make an appointment, but you get all of the benefits of one.
What are you waiting for?! Get yourself to any Second Time Around store from Thursday, March 7th - Sunday, March 10th to get in on the best promotion around!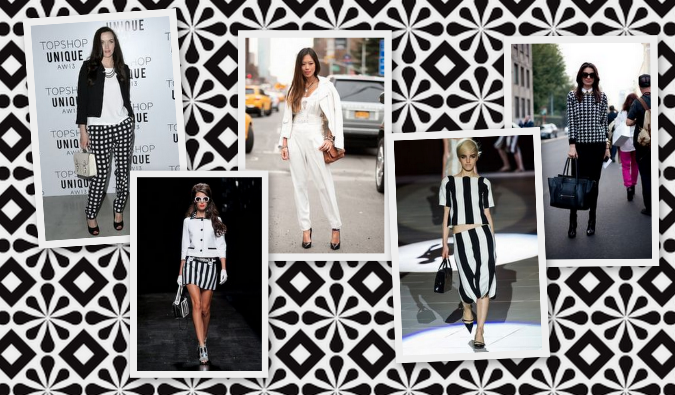 Fashion is all about self-expression, so when black and white monochrome looks became popular, I was a bit hesitant to participate. How can you fully express your fashion sense without the use of color? However, after seeing this trend on nearly every runway, I decided it was worth a shot—and now I'm obsessed!
One of the great things about this trend is that most of us have a bunch of separate black and white pieces in our closets. Because you're only dressing in black and white, it is actually a fairly easy trend to construct from any wardrobe, as long as you know how. For a subtler look for the office or during the day, play around with contrasting separates in a more unconventional way. Instead of donning the traditional black pants/white top look, try a pair of white pants and pair them with a black cashmere sweater or silk top. Since the look is simplistic in color, you can get away with incorporating more organic detail, whether it's adding a belt or layering two embellished pieces in the same hue.
If you're a little more daring, try wearing an ensemble of all white—the color is perfect for transitioning into spring and actually helps to create a slimming silhouette. And with winter white popping up everywhere, you no longer have to wait until Memorial Day to break it out.
If you want to rock monochrome in the evening, play around with black and white patterns; throw on a polka dotted blazer or a pair of striped pants and accessorize with a black and white color blocked bag. If you're super daring, experiment with—gasp!—mixing different black and white patterns in one outfit. Mixing black and white prints is an easy way to try out the contrasting prints trend, giving you two trends in one!
Monochromatic black and white is absolutely everywhere this season, from the runways to the magazines. The trend is fun, flattering and easy, so don't be afraid to give it a shot! Stay tuned as we show you how to work with other hues for a monochromatic look!
~Alyssa, fashioniSTA
(Image credits for collage: Style.com, Refinery29.com, Harpersbazaar.com)
We're handing out our own superlatives for this year's Academy Awards to our best and worst looks of the night. From stand-out accessories to cutest baby bumps to red carpet disasters, we give out our own awards to those who deserve it most.
Best Accessories: Jennifer Lawrence in Dior Couture
While she didn't trip on the endless diamond necklace she was sporting, this backwards necklace was my favorite accessories look of the night (followed closely by Sandra Bullock's hair pin). With the up-do, the simple drop earrings and the light, ethereal makeup, the whole look was perfection.
Best Red Lip: Jessica Chastain in Armani Privé
Looking amazing in a custom-made gown, Jessica definitely made up for her ill-fitting SAG Awards dress. But the icing on this sequined cake was definitely her striking red lip, which took the ensemble from monochromatic to magnificent.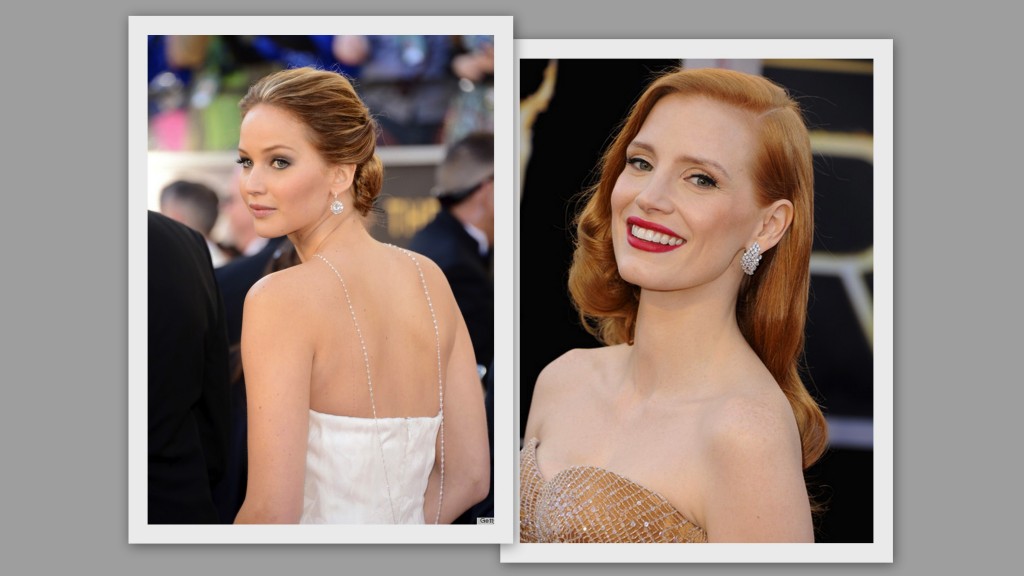 Best Couple: Channing Tatum and Jenna Dewan
This almost went to George Clooney and Stacy Keibler, but Jenna's pregnant with Magic Mike's baby, so she wins. Wearing a black lace Rachel Roy dress, Jenna showed us how to go fitted in the right way when sporting a bump.
Best Embellishment: Kerry Washington in Miu Miu
Playing off the Fall 2012 embellishment trend, this red/coral dress was perfect on her petite frame. The tiny bow and embellishment gave this simple shape a youthful feel, and the slightly darker hued bag made for an air of interesting.
Best Spring 2013 Trends: Zoe Saldana in Alexis Mabille Couture
While this dress had a lot of detail going on, the fact that it was almost monochromatic helped the embellishments blend into the dress beautifully. With ruffles and black/white being hot trends for spring, Zoe's fresh take on ombré is strikingly modern.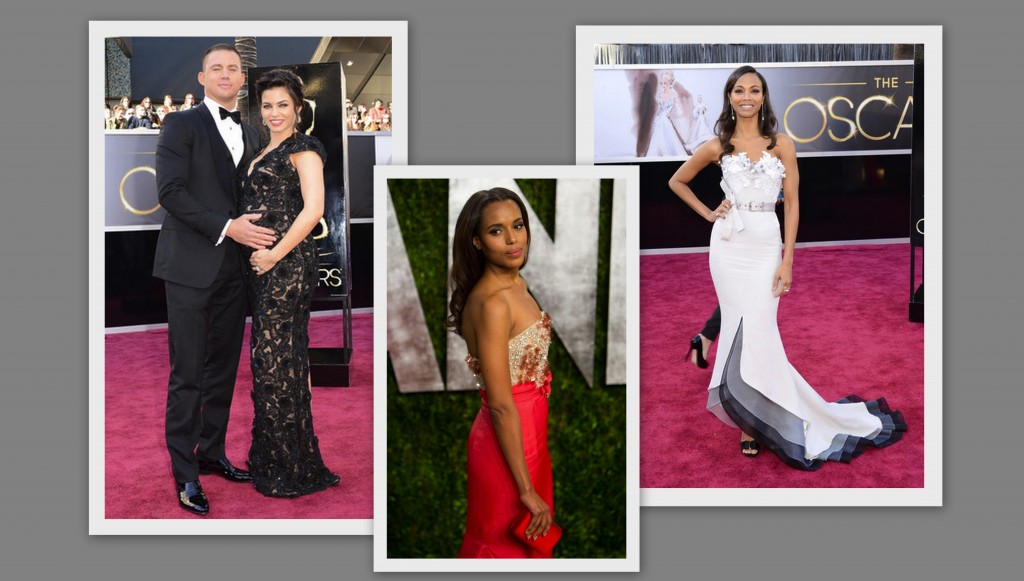 Most Offensive: Anne Hathaway in Prada
This is what happens when you change it up at the last minute. It was assumed – even by the designer – that she would be wearing Valentino, so it was a slap in the face when she showed up in what she did. Not only do we expect more from a nominee (even though the back almost saved the dress), but do we even have to mention the awkward darts? The fact that her nipples now have their own Twitter account sums up this look's legacy.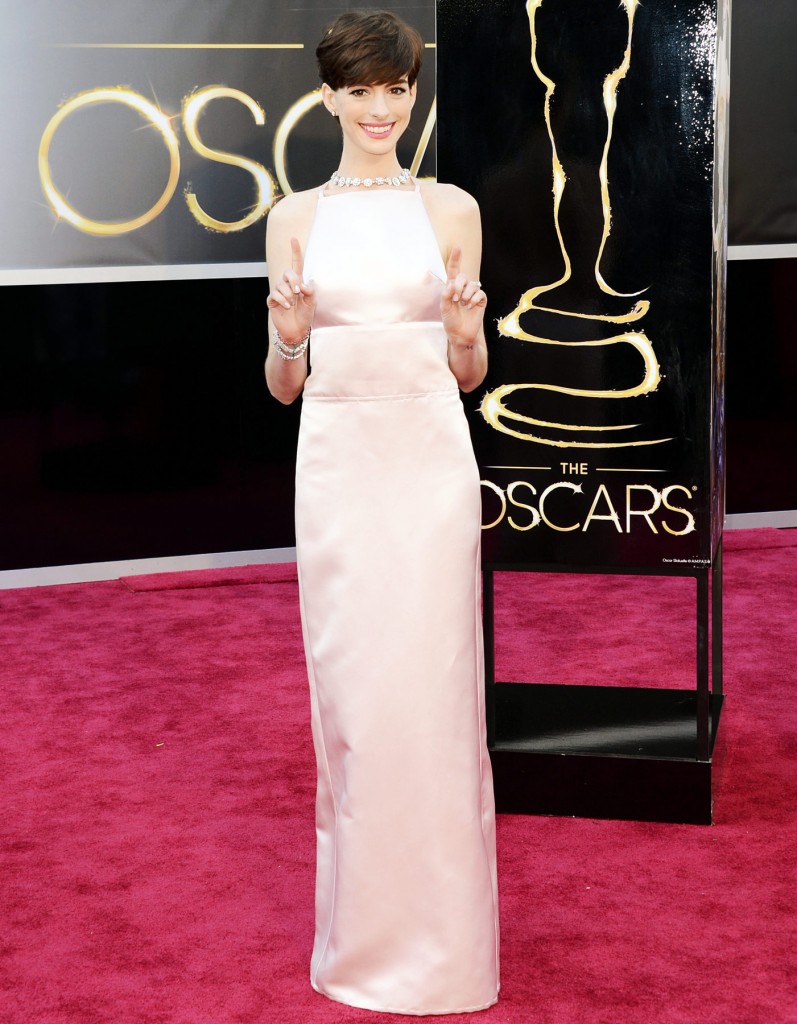 ~Ashley, FashioniSTA
Images by: Huffington Post/Getty, Allure.com, Eonline.com, UsMagazine.com, Popsugar.com