Posts tagged
manicures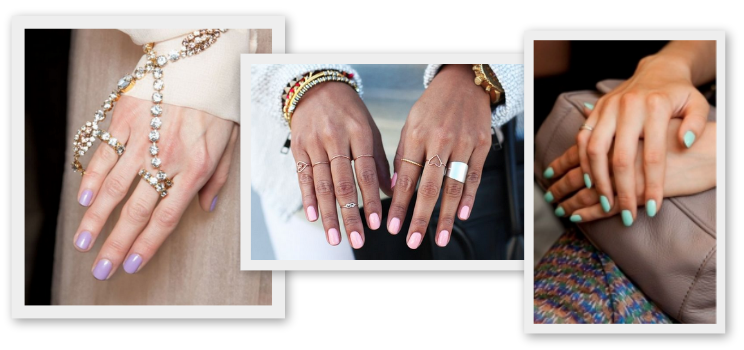 I have a confession to make: I'm obsessed with nail polish. I'm not joking when I say I have at least 50 bottles. I spend more time perusing the nail polish aisle of CVS and Sephora than any normal person should. I don't know why or how this obsession started, but there's no stopping it. And, just like clothes, nail polish colors go in and out of style, meaning I'm always looking for the newest hue to paint on my fingers and toes.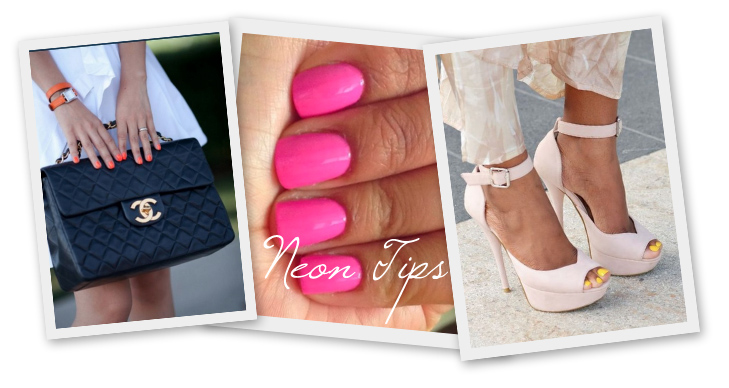 When the weather gets nicer, we discard our harsh black winter coats and thick gray sweaters for lighter, sunnier clothes. Nail polishes are no different. If you're not afraid of a little color, this season is the time to go for it! Pastel nail colors are a great way to transition from winter to spring without worrying about your nails looking too bright. My favorite pastel colors are mint green and lilac, but if wearing nontraditional nail colors isn't work-appropriate, pale pink is just as lovely. Want your fingers and toes to stand out a little more? Orange is one of this season's hottest colors, and looks fantastic on the nails. If you're even more daring, give a neon manicure a try. Neon colors are one of spring's biggest fashion trends, and automatically add a pop to any outfit (remember my earlier post about all-white monochrome? Imagine that with a hot pink manicure—awesome!).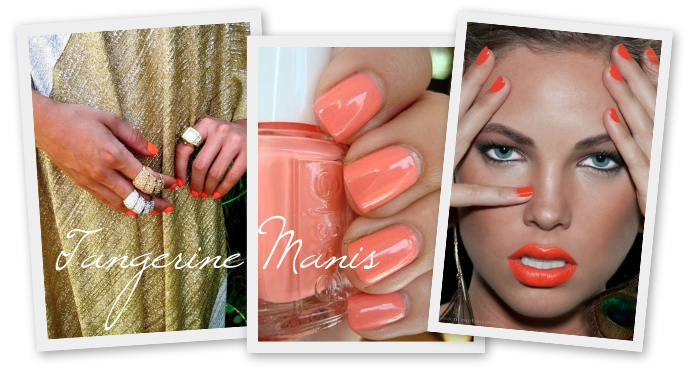 Not so much into highlighter or Easter egg-colored nails? Spring nail polish trends don't just stop there. Nude polishes are just as trendy, and add an air of sophistication to any manicure; plus, they make fingers look longer and slimmer (and you don't have to worry about clashing with your outfit!).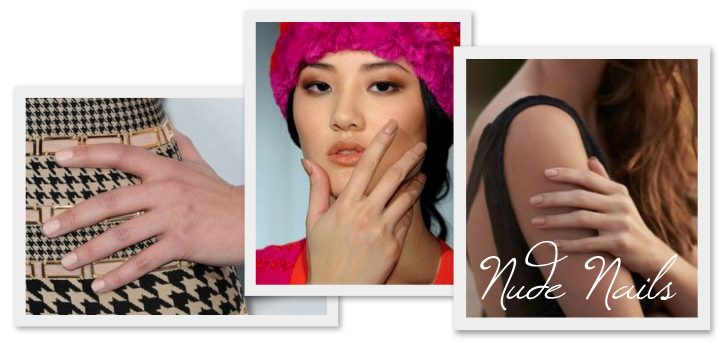 Whether you choose to rock a color or keep it chic and simple in a neutral shade, make sure your nails are just as ready for spring as you are!
~Alyssa, fashioniSTA
(Image credits: http://fashion-ocd.tumblr.com/, obaz.com, flare.com, pinterest.com, sarahpatricia.com.au)
In my opinion, an outfit is never complete unless you have perfectly manicured nails. No matter how great and fashionable you may look, a chipped manicure will bring down your overall look. Luckily, it's easy to polish your look by stopping by your favorite local nail salon, or if you're in a pinch put on a few coats of polish yourself! Here are a few nail trends that will keep your nails looking fashion forward:
1. Pale nails.
Pale nails never go out of style. This is always my basic fallback option and better yet, you can get away with having a few chips without it being glaringly obvious! Essie's Mademoiselle is the perfect pale pink that instantly makes you look more polished and put together. Essie describes this color as "the most classic, grown-up pink," and we couldn't agree more! We also love a classic nude nail, and Essie's Topless and Barefoot is a lovely nude. This is a fresh option for black tie events instead of going with a bold color (like with the Elie Saab dress pictured below), and it's perfect for outfits that are tricky to match to your nails (like the Theodora & Callum cover-up below).
2. Dark gray.
Although this may not seem like your typical nail polish color, this color surprisingly goes with everything. We love Essie's Smokin' Hot. It's not too dark, but is dark enough to make a statement. We think that a dark gray color can be worn similarly to a dark purple. Think dark gray paired with your favorite slouchy sweater and boots (sweater pictured below is J. Crew, boots are by Ugg). We recommend a nice flat gray that doesn't have sparkles in it for a clean look worthy of Pinterest.
3. Dark reds.
Dark red is currently having a moment of popularity. This is a classic color that is perfect for this time of year, and we're fixed on Butter's La Moss hue. We love a dark oxblood red and have found that it's wonderfully versatile for our winter wardrobe. We think this color beautifully compliments a wide variety of colors, from winter white to dark colors. Since oxblood has been so huge this fall and winter, you can wear this to add a pint of punch to a neutral outfit (like the black and gold Marni dress pictured below), or use it to complement an already-colorful ensemble (like the Dolce & Gabbana dress below). For the truly oxblood-obsessed, match your nails to your lips for a look that is unbeatably currant (pun intended).
Enjoy your manicures everyone!
~Molly, fashioniSTA