Posts tagged
Ugg
In my opinion, an outfit is never complete unless you have perfectly manicured nails. No matter how great and fashionable you may look, a chipped manicure will bring down your overall look. Luckily, it's easy to polish your look by stopping by your favorite local nail salon, or if you're in a pinch put on a few coats of polish yourself! Here are a few nail trends that will keep your nails looking fashion forward:
1. Pale nails.
Pale nails never go out of style. This is always my basic fallback option and better yet, you can get away with having a few chips without it being glaringly obvious! Essie's Mademoiselle is the perfect pale pink that instantly makes you look more polished and put together. Essie describes this color as "the most classic, grown-up pink," and we couldn't agree more! We also love a classic nude nail, and Essie's Topless and Barefoot is a lovely nude. This is a fresh option for black tie events instead of going with a bold color (like with the Elie Saab dress pictured below), and it's perfect for outfits that are tricky to match to your nails (like the Theodora & Callum cover-up below).
2. Dark gray.
Although this may not seem like your typical nail polish color, this color surprisingly goes with everything. We love Essie's Smokin' Hot. It's not too dark, but is dark enough to make a statement. We think that a dark gray color can be worn similarly to a dark purple. Think dark gray paired with your favorite slouchy sweater and boots (sweater pictured below is J. Crew, boots are by Ugg). We recommend a nice flat gray that doesn't have sparkles in it for a clean look worthy of Pinterest.
3. Dark reds.
Dark red is currently having a moment of popularity. This is a classic color that is perfect for this time of year, and we're fixed on Butter's La Moss hue. We love a dark oxblood red and have found that it's wonderfully versatile for our winter wardrobe. We think this color beautifully compliments a wide variety of colors, from winter white to dark colors. Since oxblood has been so huge this fall and winter, you can wear this to add a pint of punch to a neutral outfit (like the black and gold Marni dress pictured below), or use it to complement an already-colorful ensemble (like the Dolce & Gabbana dress below). For the truly oxblood-obsessed, match your nails to your lips for a look that is unbeatably currant (pun intended).
Enjoy your manicures everyone!
~Molly, fashioniSTA
Stumped as to how to be the best Santa this year? We've compiled a list of our stores' best gifts, all sure to put you on the nice list for years to come. From small accessories to designer finds (new with tags, of course), all of these items have been fashioniSTA-approved and are available to purchase over the phone just in time to slip under the tree! Check out http://www.secondtimearound.net/locations.aspx for a list of all the stores and their phone numbers!
STA Stocking Stuffers

Stick any of these items into someone's stocking and you'll know the true meaning of holiday cheer.
It Only Looks Like You Spent A Lot…

Want the glory but none of the expense? Here are some items that will gain you ooohhh's and aaaahhhh's without the hefty bill that's usually attached!
Big Spender Santa

You cannot get your mother a vacuum for Christmas and have her not take it the wrong way. Are you now without a gift to give her? Go the extra mile with these suggestions, just don't tell her they were a third of their retail value!
To: Me, Love: Me

Whoever said it was wrong to shop for yourself during the holiday season clearly never saw these.
I don't know if you've heard, but the playground is apparently the latest style scene. All of the up-and-coming stylistas make it their mission to look like lean, mean fashion machines once they hit the monkey bars. If you are sending your child out – or allowing anyone you know to do so – without making sure they are runway-ready from head to toe, you are doing them a serious disservice, or at least that's what it seems when you get a look at any celebrity child. My only complaint when I was little was that my clothes weren't sparkly enough, not that my Burberry prints clashed with each other. Ready to give your kid celebrity status?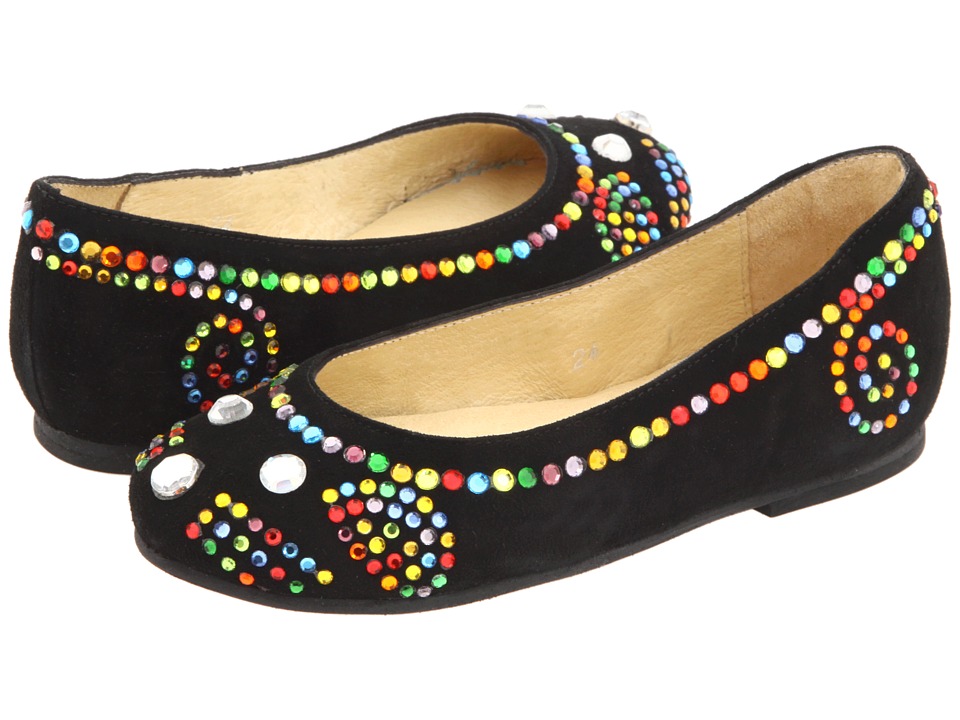 To start off, you need to think practical. With the cold months ahead, your child will obviously need mini Ugg boots. Spring for the Pink Baily Button boots in a dark raspberry color so that she really stands out at recess – and really, almost $150 on tiny footwear is very reasonable. To ensure that she will also be comfortable inside her second-grade classroom, I suggest the Marc Jacobs Rainbow Mouse Ballet Pumps (right). [On a side note, I actually think these are the most adorable shoes, and if they weren't over $250 and were going to be put on a small child's foot and most likely stomped in the dirt until the rhinestones fell off, I would probably seriously advocate these.] And while you wouldn't want this poor fashionista to freeze, I definitely recommend the Burberry Nova Check Poncho, because if you weren't already sold, the hood would definitely push you right over the edge.
Why dress your baby in normal, frumpy clothes? Instead, dress her statement pieces with intricate details. Try a D&G Junior Denim Bow Dress for $415, this dress's large appliqué bows will give your 8-year-old just enough Lady Gaga for her second grade class, of course without going overboard. For a more flashy entrance, try Roberto Cavalli's leopard-printed jeans, bringing the flair of Jersey Shore to an elementary school near you. Too extreme? Scale it back a bit with a pale yellow linen Ralph Lauren dress, perfect for all of the summer weddings that your social butterfly young daughter is sure to attend. And this dress is actually washable – at 30 degrees – a big selling point amidst the other dry clean only selections. For a fall perfect look, your child's wardrobe should really consist of a balanced mix of signature statement pieces and easy basics. And by easy basics, I obviously mean Junior Gaultier faux leather skinny trousers and Monnalisa navy leggings with pearl details. Apparently basic black leggings haven't trickled down into the youth sector, these children are just too fashionable to be seen in anything so pedestrian. And of course the finishing touch to any mini-fashionista's look would be a pair of rounded, blush-colored Chloé sunglasses.
If your child is looking to attend a nightlife social event (and really, when is your child not looking to do this?), try a Sonia Rykiel full-sequin skirt with attached suspenders. Of course, they are referred to as "braces," because apparently nothing in kid fashion is described normally, that would be too kid-friendly. Or go with a Junior Gaultier sequin three tiered dress in black, perfect for the third-grade class New Years' bash at Tenjune. And word on the street is, you can also use this dress as part of a witch Halloween costume.
And for the budding elementary school fashionista, sending her to school with a brown paper bag lunch would just be plain mean. Especially when Juicy Couture has their own pink and academic-themed lunchbox, which contains what they refer to as a "flask." Exactly what comes to your mind when you hear that? Yeah, my thoughts too. When I was attending a school that provided recess, we called them "Thermoses," but I guess when you're a style star on the rise, even your lunchbox gets an inappropriate adult name.
And for those mothers out there who have little princes at home, treat him right and dress him to kill. The ladies out there will not be impressed with his graphic tees and ripped jeans, so go for Paul Smith's black suit with lilac pinstripes. It's just enough pizzazz for a future fashionisto, or if your child happens to be a mini Chuck Bass. For a more casual look, try Paul Smith's mini leather bomber jacket paired with child Ray-Ban Wayfarers. I'm sure the children will get the Top Gun motif that you're going for.
With all of these tips at your command, there is no excuse why your child should look like a normal kid. Of course, she won't be able to actually play or interact with other children, but that's a small price to pay. Why make your kid comfortable when they can wear premium denim and suck on a D&G pacifier?
~Ashley, fashioniSTA, Second Time Around