Posts tagged
Coach
Stumped as to how to be the best Santa this year? We've compiled a list of our stores' best gifts, all sure to put you on the nice list for years to come. From small accessories to designer finds (new with tags, of course), all of these items have been fashioniSTA-approved and are available to purchase over the phone just in time to slip under the tree! Check out http://www.secondtimearound.net/locations.aspx for a list of all the stores and their phone numbers!
STA Stocking Stuffers

Stick any of these items into someone's stocking and you'll know the true meaning of holiday cheer.
It Only Looks Like You Spent A Lot…

Want the glory but none of the expense? Here are some items that will gain you ooohhh's and aaaahhhh's without the hefty bill that's usually attached!
Big Spender Santa

You cannot get your mother a vacuum for Christmas and have her not take it the wrong way. Are you now without a gift to give her? Go the extra mile with these suggestions, just don't tell her they were a third of their retail value!
To: Me, Love: Me

Whoever said it was wrong to shop for yourself during the holiday season clearly never saw these.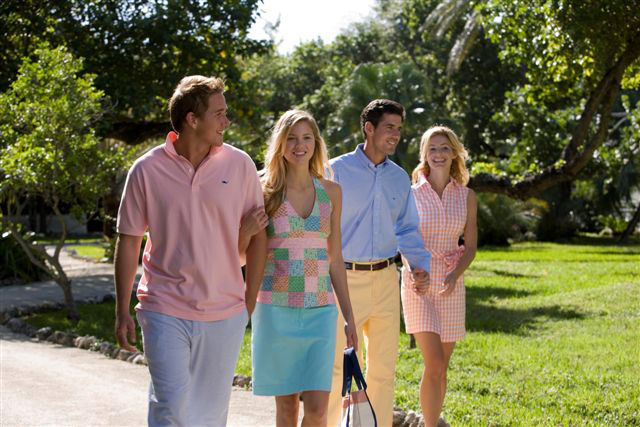 Cape Cod (or, as it's affectionately referred to by Bostonians, "The Cape") has a very specific look — think J. McLaughlin, Lilly Pulitzer, SATC's Charlotte York. "Preppy-Casual," if you will. Fashionistas frolicking along the Massachusetts coastline (including its' sister islands, Martha's Vineyard and Nantucket) have long appreciated the great style classics of prints and patterns with modest-yet-cultured cuts and shapes. If you're heading to Cape Cod this summer - or if you just want to look like you are - focus on coordinating your colors and textures, and don't forget to pack a sweater for those cool waterfront nights.
Dress: Calypso (size M) $49 / Necklace: $12 / Rope Belt: $15 / Straw Fedora: $1
Jacket: Club Monaco (size XS) $39 / Dress: J. McLaughlin (size 12) $59 / Necklace: $14 / Sandals: Frye (size 10) $59 / Bag: Coach $89
Cardigan: Salvatore Ferragamo (size S) $59 / Dress: Lilly Pulitzer (size 10) $59 / Hat: Eric Javitz $39 / Necklace: $8
~Kim, Manager/FashioniSTA
Pink is October's signature color, and products that benefit Breast Cancer research are popping up everywhere. Beauty supplies, jewelry and clothing, and even home goods are doing double duty by looking great and supporting a worthwhile cause. A true fashionista cares about her wardrobe and the wellbeing of others, so do both with select products from some of our favorite brands. From Estée Lauder to Tory Burch, these designers are reaching out to give even more pink support to October.
Probably the easiest way to support the cause is through beauty products, not only do we as girls go through beauty supplies like they're candy, but compared to larger items on the market, these are relatively wallet-friendly. Clinique is offering a lip gloss key ring for $16, with $4 from each sale going to the Breast Cancer Research Foundation. They are also offering their signature lotion with Breast Cancer charms around the bottle, donating $10 of the $45.50 price. Estée Lauder is also supporting the cause, featuring a lipstick trio in a pink, croc print clutch for $25, with the company donating $500,000 to The Breast Cancer Research Foundation. This product is sold out online, but I'm sure you can sweet-talk the Estée Lauder representative at your nearest department store into slipping you this coveted case. Not to be overexposed, Kim Kardashian has debuted a Pink Edition version of her fragrance, with the packaging designed by one of her fans. 10% of the sales of this rollerball version will be donated to the Young Survival Coalition.
If beauty products aren't your thing, there are clothing options as well. Hit the gym with Under Armour shorts ($30, 10% going to breast cancer charities) or an Ellsworth Project Pink workout tank ($60, 20% benefitting breast cancer research). Or take Line & Dot flowy magenta tank out on the town ($74, 20% going to Susan G. Komen for the Cure). Yumi Kim also has a great floral blouse option ($138, perfect for a day at the office with a pencil skirt or a pair of jeans for the weekend. You can also take the cure close to your heart – and body – with Wacoal's hot pink lace bra ($2 goes to Komen).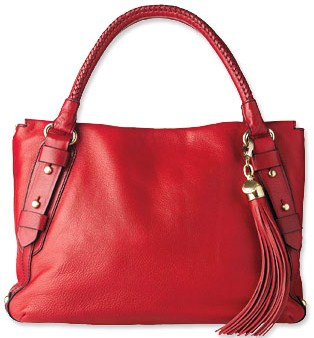 Since we'd never want to give accessories the cold shoulder, of course we have to include the great handbags and shoes that we found to benefit the cause. Tommy Hilfiger has a red leather bag (right), perfect for fall and all of your fall essentials for $398 with 50% of the proceeds going to Breast Health International. Coach also features a pink leather Mia bag, for those of you who want to embrace October's signature color, in both large ($358, 20% goes to BCRF) and mini ($198). Should you be all set in the handbag department, go for Tory Burch's Pink Logo rain boots ($150, 15% benefits BCRF) and umbrella option ($45) and hit the stormy weather in style.
As always, Ralph Lauren's Pink Pony collection benefits the cause, with products ranging from cashmere to candles. 10% of the proceeds go to benefit cancer care and prevention, and as a special edition product, 100% of the sales of their Pink Pony Alligator Wallet ($3995) will go to the cause. Can't pony up that kind of cash? One of my favorite products that they offer is the "Decorate Your Pink Pony Tee" ($150). Not only do you get the signature Pink Pony black tee, but it's also like arts and crafts for adults. They had me hooked when they included individual crystals.
Remember, you can always support Breast Cancer Awareness Month with us at Second Time Around. Pick up a pink wristband at any of our stores, and while you're there, browse for a pop of pink to add to your wardrobe!
~Ashley, fashioniSTA, Second Time Around