Posts tagged
pastels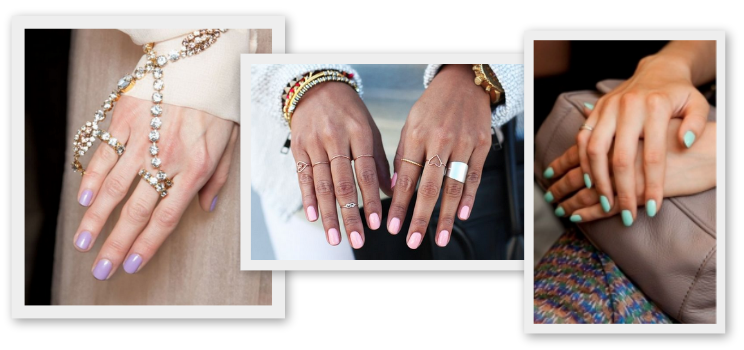 I have a confession to make: I'm obsessed with nail polish. I'm not joking when I say I have at least 50 bottles. I spend more time perusing the nail polish aisle of CVS and Sephora than any normal person should. I don't know why or how this obsession started, but there's no stopping it. And, just like clothes, nail polish colors go in and out of style, meaning I'm always looking for the newest hue to paint on my fingers and toes.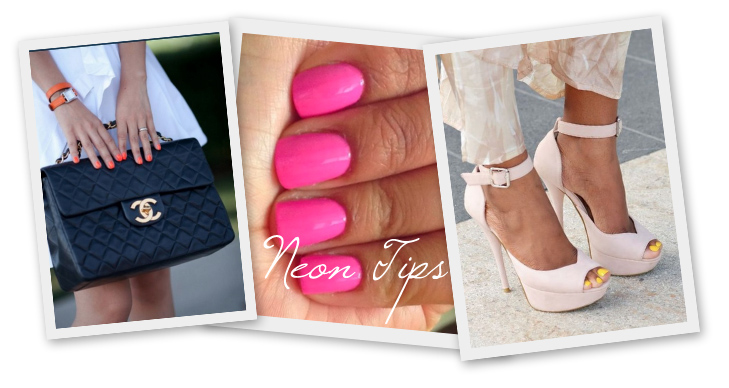 When the weather gets nicer, we discard our harsh black winter coats and thick gray sweaters for lighter, sunnier clothes. Nail polishes are no different. If you're not afraid of a little color, this season is the time to go for it! Pastel nail colors are a great way to transition from winter to spring without worrying about your nails looking too bright. My favorite pastel colors are mint green and lilac, but if wearing nontraditional nail colors isn't work-appropriate, pale pink is just as lovely. Want your fingers and toes to stand out a little more? Orange is one of this season's hottest colors, and looks fantastic on the nails. If you're even more daring, give a neon manicure a try. Neon colors are one of spring's biggest fashion trends, and automatically add a pop to any outfit (remember my earlier post about all-white monochrome? Imagine that with a hot pink manicure—awesome!).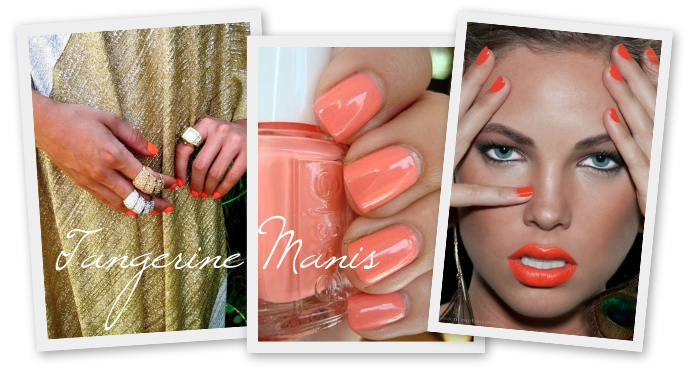 Not so much into highlighter or Easter egg-colored nails? Spring nail polish trends don't just stop there. Nude polishes are just as trendy, and add an air of sophistication to any manicure; plus, they make fingers look longer and slimmer (and you don't have to worry about clashing with your outfit!).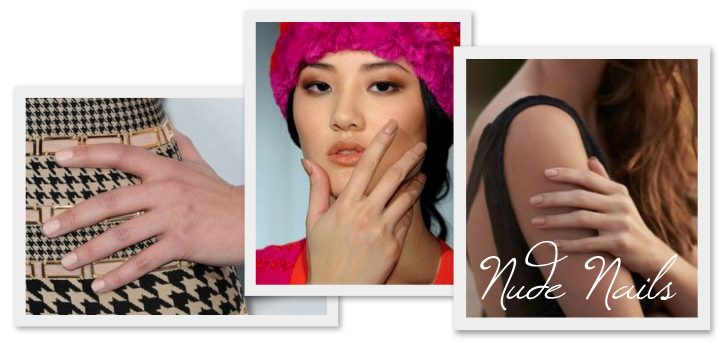 Whether you choose to rock a color or keep it chic and simple in a neutral shade, make sure your nails are just as ready for spring as you are!
~Alyssa, fashioniSTA
(Image credits: http://fashion-ocd.tumblr.com/, obaz.com, flare.com, pinterest.com, sarahpatricia.com.au)

It's March Madness time again, but why does basketball get to have all the fun? This year we're turning our attention to spring 2012 trends, and pitting them against each other in our ultimate style challenge. Each week we'll bring you the rundown from the fashion competition, as we start the games with 16 major spring players. Stay tuned as the competition unfolds, it's going to get cutthroat.
May the odds be ever in your favor!
Meet the Sweet 16
1. Neons
Likened to a "Career Trend," it has a hidden superpower to turn into colorblocking at a moment's notice.
Celebrity Nail Polish Lines
The latest in noteworthy nails is the influx of celebrity-based lines. In its corner is the Kardashians for Nicole by OPI, Nicki Minaj for OPI and the Hunger Games Capitol Couture for China Glaze. If nothing else, at least the Hunger Games knows how to fight.
3. Mixing & matching
You can mix prints, you can mix metals, you can colorblock by mixing solids. A solid competitor with a driving street style force behind it.
4. Crop tops
A former superstar in the '90s with a taste for 21st century vengeance.
5. Hi-low hemlines
New to the style game (unless you liken this to a mullet hemline…which we don't), but it's taking the street style world by force.
6. NBC's Fashion Star
In its corner is a singer/designer, a model/designer, a reality star(?)/designer and a real designer. Let's just say it's got a lot of designing power behind it.
7. Top knots
A hairdo that has the ability to go messy or sleek, a key attribute when worn by a woman who has to look good with limited time. Which is every woman.
8. Day clutches
Another switch-hitter that has come into the running. With its larger size and diverse details, this opponent has a killer A-game.
9. Marni for H&M
A designer with a cult following. A store with a universal following. The combination will prove very hard to beat.
10. Peplum
This daring competitor has brought women everywhere a way to disguise their midsections and hips. Opponents beware.
11. Graphic prints
A new superpower has risen from basic pastel florals and springtime prints. Has the backing of designers like Altuzarra and Prabal Gurung.
12. Jennifer Lawrence
The one who took on Katniss Everdeen is out to prove she's a style star as well.
13. Shorts/Menswear
What used to be reserved for casual wear has taken a daring turn into the formal arena. Has a leg-up with special reinforcements like tuxedo details, satin finish and a full-leather armor.
14. Mint
Saturated pastels are big this spring, and mint is definitely their all-star.
15. Pleats
This multi-faceted competitor that can go long or short when needed
16. Art Deco Jewelry
Sharp, angular designs make this competitor almost deadly, and it has additional strength when stacked.
Rank your favorites with our blank bracket below, and let us know what trend you want to reign supreme on our Facebook www.facebook.com/staconsignment.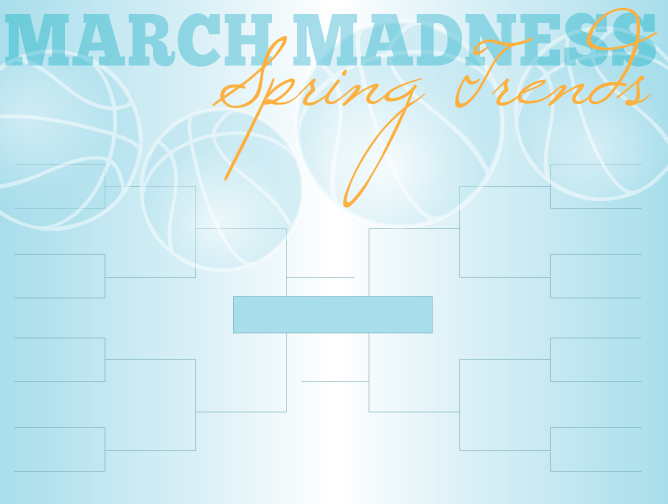 Can't wait for warmer weather? Neither can we!
All stores are now accepting Spring consignment, so bring your transition pieces - cardigans, light-weight jackets, pastels, etc. - to help us get started on switching seasons! Get a head-start on your spring cleaning by weeding out your closet, then cash in on the items you won't wear again by making an appointment at your nearest STA.
Don't live close by? Consign online! Learn more here.