Posts tagged
Prabal Gurung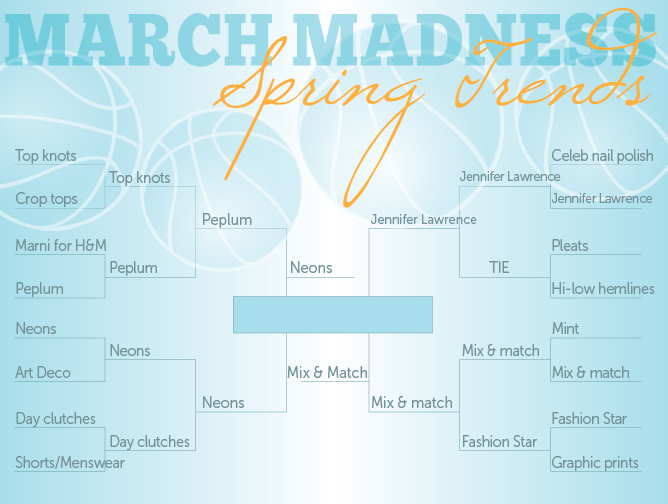 We're going strong into the second to last round of March Madness. The trends have been neck-in-neck, with them breaking out of their style niche shells to get a leg-up on the competition. Check out the winners who earned themselves a spot in the finals!
1. Peplum vs. Neons
This was a fight to the fashion death. The growing popularity of Neons versus the timeless yet trendy design of Peplum. Both started this competition with a strong celebrity backing, a following in the street style brigade, and a cult following in all major retailers. The high-fashion element paired with sell-ability ran through the veins of both of these trends, making them true competitors in the style world.
However, after a fierce battle, Neons emerged the victor. Blame the weather, blame the spring fever, blame the people who wished they had come of age in the '80s, but Neons have gained a blazing following that rivals The Hunger Games. Only it's probably bigger, since people who wore the trend 25 years ago are probably just as excited as the younger fashion followers.
2. Jennifer Lawrence vs. Mixing & Matching
The girl who probably knows how to now survive any post-apocalyptic scenario against a trend that can make you look like you got dressed in the dark. You'd think this would be an easy fight. However, the Mixing & Matching trend has extended beyond the people whose closets emulate Pippi Longstocking's and has become a style phenomenon. It truly runs the gamut, from mixing brights to create colorblocking to mixing metals and stacking jewelry to mixing prints that actually look like they're supposed to go together. When done properly, this trend has an element of fashion genius, which is how it inched above Jennifer Lawrence – who has put in a tremendous style effort during her Hunger Games press tour.
This girl brought out the big guns, sporting only the best from Prabal Gurung, Marchesa and, most recently, L'Wren Scott (her only misstep was a Calvin Klein choice for a NYC screening). She's announcing herself in the best way possible, but the fact that she's still in the starting out phase of her style identity gives Mixing & Matching an edge to dominate Spring 2012. Check back with us come summer, there may be a rematch in the works.