Posts tagged
Nanette Lepore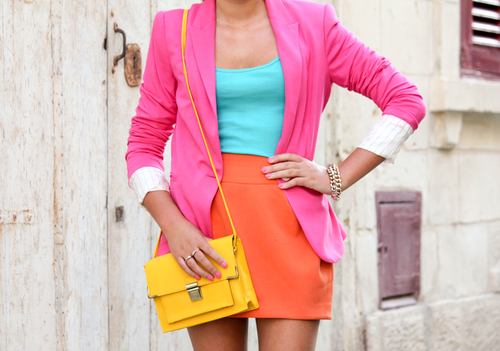 Spring isn't coming quietly this year, so prepare for the bold entrance of the season! From prints to pastels, the palette of the season is definitely all about mixing colors and textures for truly statement-worthy ensembles. So grab your loudest and proudest pieces and take on the warmer weather in style!
Bright colors are a signature sign that sunshine is on its way, and we're soaking up all the chromaticity that we can. Going bold can mean just a pop of color against a monochromatic outfit, whether it's a bright scarf against all black or pairing a camel-colored ensemble with a bright blue handbag. Making the trend personal is easy with a signature color, whether it's an affinity for raspberry (which would be very STA of you) or a love of robin's egg blue. Pick a unique color and work it into your wardrobe whenever you can, with accessories, nail polish, or articles of clothing.
You can also take this signature color, or any other shade that catches your eye, and hop on the colorblocking bandwagon while you're at it. The trend that lit up last summer has returned, giving us more opportunity to lighten our days by pairing complementary brights in unexpected, killer combinations. Whether you're pairing teal with deep purple for a cool color palette or warming it up by mixing orange and yellow, this is an easy trend to try, all you need is a little confidence!
The bold factor doesn't have to stop at solid colors either, this spring we're seeing a dramatic take on prints as well. Art deco prints are popping up on everything from dresses to pants. These angular shapes create drama to even the simplest shift dress, turning any ensemble into a nod to mod. Accessorize with equally angular jewelry for a statement ensemble, or try a silk scarf in a complementary pattern to mix prints in a modern way.
If you're not into stark prints, graphic florals have also hit it big. This futuristic spin on the classic spring floral palette brings a vintage motif into the present using black with brights to highlight bold patterns. Designers have been also using watercolor techniques and elongated patterns to create fluid floral designs that are a cross between classic flowery shapes and bold, contemporary art. Whichever trend you choose to try, go boldly into spring!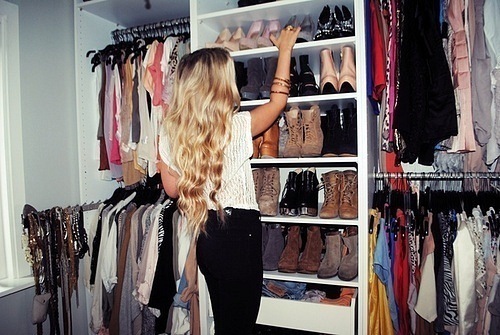 Take control of the new year by taking control of your style. Start off your new year with your own style resolution, and prepare to make this year the beginning of making you even more fabulous than ever. We've got plans for four style resolutions to help you along the way, and we'll be bringing you one each day in the easiest way possible. And besides, if 2012 is the last year, why not go out incredibly stylish?
Organize and Stylize Your Closet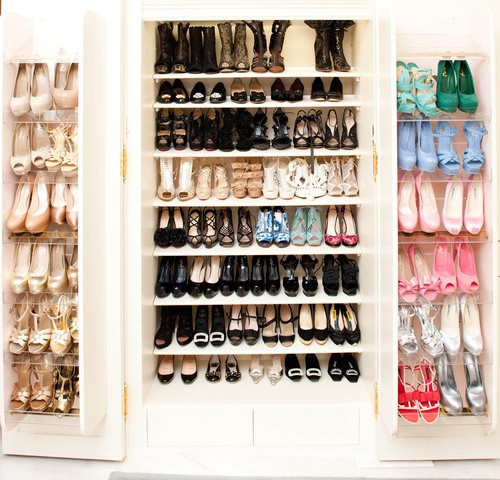 Take on the new year with a new closet. You don't need a new wardrobe to have this, all you need are a few supplies and upgrades to your current closet. If you're ready for a closet clean-out, click here to get inspiration and tips! If you're not ready for an overhaul just yet, a few tweaks can really open up your closet and make your mornings about a million times easier.
First of all, make sure you own enough hangers, and use ones that won't break. When you switch from plastic, brittle hangers to either wooden or velvet, your whole closet will just feel better. This is a great little detail that will keep your clothes in better condition (hello, no hanger snags in the fabric) and will motivate you towards your dream closet. After picking up the piles of clothing off your closet floor, put them in order on the racks by organizing them by category. Keeping all of your blouses together, dresses together, skirts/pants together (etc.) will ensure that you won't find a rogue Nanette Lepore halter hidden behind your winter coat once summer's over. If it's helpful for you to organize your clothing by color, go for it, but if you think that you'll glaze over a section of black tops assuming they're all the same, mixing it up might be better for you.
Don't skimp on organizing your shoes and accessories either. Got scarves sitting in an overflowing basket? Are your belts looped around a hanger and falling off? Are your shoes mismatched and living on your floor? Grab some stackable boxes, a sharpie and some blank labels and get to organizing. Throw your scarves in one box, your belts in another, even your costume jewelry in another. Label the sides so you don't go fishing through them in a morning rage, and you're on your way to closet perfection! (How easy is that?) Take those shoes decorating your floor and line them up on a shelf. You'll have all of your shoe options in front of you, giving you the best chance to create an outfit people will be talking about for weeks. If you're short on space, picking up a one-tier shelf that goes on the floor will at least maximize the space you do have. Organize by color, occasion or heel height, whatever will help your style process the most. Grab your boots that are slouched over and put a rolled magazine in each boot to keep it standing tall.
The final details will add icing on top of your style cake, giving your closet the TLC that it needs. Line your shelves with scented shelf paper, or add sachets to your drawers and shelves to give your closet an oasis vibe (anything to make getting dressed less stressful). You can also throw some cedar chips into your closet, they're inexpensive and they'll keep your clothes away from pesky moths. Go the extra style step and hang an inspiration board on your closet door or wall (find out how to make one here) for an instant style pick-me-up.
Have a closet organizing tip that you'd like to share? Tweet us (@STAconsignment) or post on our Facebook page (facebook.com/staconsignment) and let us know!
~Ashley, FashioniSTA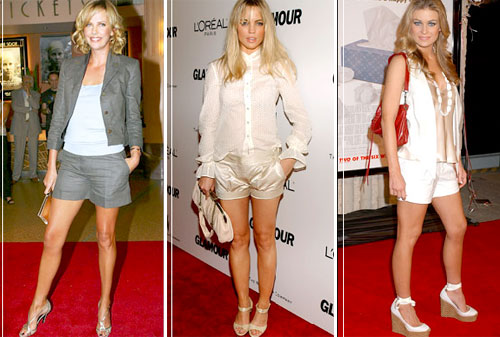 With the warmer weather finally upon us, it's only a matter of time before summer comes full-swing and pants no longer become a viable option. While skirts and dresses are clear favorites for the summer months, a new contender has blown into town: shorts. This casual summer staple has taken on new superpowers, making it work-appropriate as well as red-carpet-worthy.
Working It Out
No longer just for lazy weekends, shorts are popping up in the most unexpected places. What was strictly a "no-wear zone" has taken a dramatic turn to office-friendly. While I wouldn't recommend wearing this trend if you work in strict office environment, if you happen to work in a fashion-friendly zone, wearing shorts to work will make your summer approximately a billion times easier. To keep them work-appropriate, stick with variations on the classic short. Go for a pair of knee-length, straight-leg shorts in a dark neutral with a tucked in blousy tank to slim a pear shape, or try out a pair of blousy harem shorts to create curves. Quick tip: harem shorts are a great way to indulge in your Sex and the City 2 movie fashion fantasy without committing to the overly-indulgent harem pants that the stars sported in the movie. However, the shorts version is not for the fashion faint of heart, but if you are a risk-taker, they are a great way to complement a basic tank. Wear with metallic gladiator flats for a true statement outfit.
Another way to rock this trend in the workplace is to go with shorts that almost look like a skirt. These definitely work best in a creative field, but with designers like Diane von Furstenberg and Nanette Lepore paving the way with this trend, consider yourself in good hands. While you can go down the skort route with this option from Marc Jacobs, if you prefer to not revisit the '90s just yet, going with a patterned or textured pair is the perfect alternative. Try out the floral pair from Nanette Lepore, or the tiered, ruffled version from Wink. Going with a pattern or a texture will minimize the shorts element and maximize the element of style.
Eveningwear
Tired of your usual jeans and tank combo when you hit the town? Try a pair of short, tailored shorts in a neutral color - like black, white or metallic - to spice up your night out. Opt for a sleek pair from Winter Kate, Alice + Olivia or Theory, paired with one of your usual embellished, loose tanks or a fitted, black button-down. This is the only time that stiletto heels with shorts is permissible, so try out your highest pumps with the first option, or your strappy sandals with the latter. You can also add a cropped, lightweight blazer for cooler nights.
A dark denim short is also a great alternative. This cuffed pair from Joe's Jeans can easily be paired with metallic flat sandals and a tank for a more casual night out.
Should you be feeling a little Lindsay Lohan crazy, you can try out sequin shorts from Gryphon or Diane von Furstenberg in place of the sequin leggings you wore during the colder months. Clearly not for the faint of heart, you can pair it with a matching sequin top to create the look of a romper, or go for a flowy, black top in a lightweight material that still fits close to your torso. You don't want to look like you're wearing sequined board shorts about to hang ten.
Weekend Chic
When the work week ends, anything goes on your days off. This is a great time to explore what I think is the greatest trend known to (wo)man: nautical. Play off this trend with a pair of cuffed, denim shorts from Joe's Jeans or Citizens of Humanity, pairing them with a conductor-striped top and chunky, gold link bracelets or a necklace. Or go with a blue seersucker pattern with a red tank and metallic sandals.
You can also channel your inner Daisy Duke with denim shorts, either cutoffs or cuffed. Pair with a floral top for a hippy vibe, or try out gingham on top for a retro feel to your look.
For extra comfort, try a pair of paper bag-waist shorts. Go for a pair in an earthy neutral to create a safari look. Complete your ensemble with a tank in a complementary neutral and pair with gold accessories and oversized, tortoise shell sunglasses.
No matter where you go, remember that shorts with more spandex than your tights are reserved for biking or in-house lounging only!
~Ashley, fashioniSTA, Second Time Around