Summer 2010
I happen to have been in the room recently when the Nickelodeon show "iCarly" was on, and what I saw made me do a double-take. Yes, iCarly was walking around her middle school hallways wearing Rock & Republic jeans. Before I go into the logic of how a 14-year-old could possibly have had a spare couple hundred bucks lying around to buy them, it hits me that I was never that fashionable at that age. Then it hits me even harder: I'm not that fashionable now. While it's tempting to start a turf war with these under-agers for showing up my style, I figured that maybe I can learn something from these teen stars.
I'm not afraid to admit that I'm in my twenties and I now have a minor obsession with what certain teens are wearing. While some trends cannot be universally applied – think blond wigs with bangs and multi-colored knee socks – some of these teen stars can provide great inspiration. Here are some things we can learn from our younger fashionistas:
Brights
The one thing you'll probably never see a teen star wearing is an all-black ensemble (unless this child star has been cast as a lonely outsider and the network needs to make a statement). On the red carpet or on-screen, these teen superstars go for bright colors, whether it's a mini-dress or a casual ensemble with jeans. It's no secret that the younger you are, the more closely your wardrobe relates to a box of crayons. But this new generation has taken brights from primary colors-only to an eclectic mix of prints and textures. Their way of approaching clothing like a true reflection of their lifestyle creates a style that exudes energy and makes fashion more than just a singular look. Take a page from their book and go for a bright yellow minidress for your next party, or try to see if you can go a whole week without wearing a black top. Even in the wintertime, these young stylistas can piece together colorful, yet weather appropriate, outfits. Go for bright colors in unexpected places, whether it's a pair of boots or a belt, it makes it look like you are excited about what you're wearing.
In addition to pops of bright colors, these girls also embrace their youth with fun, feminine clothes. If you've ever looked at a dress and said that you loved it but you were afraid it was "too much," look to the teen generation for inspiration. Every eveningwear piece is a party dress to them, and it makes them stand out. And when was the last time you were unhappy that people noticed you looked great?
Casual Style
I'm the first person to advocate the sweatpants movement, but I figured after iCarly went prancing around her 8th grade halls in premium denim, I couldn't exactly justify my 24/7 yoga pants style. Infusing your wardrobe with
brightly-colored clothing items is a great start to turning your casual style from boring to youthful. To take it a step further, look to the characters these young ladies play. Alex Russo (Wizards of Waverly Place) wears motorcycle boots on a daily basis, yet her girly and fresh makeup paired with her bright ensembles make her more individualist-chic without making her look like a biker hobo. Miley Stewart (Hannah Montana) prances around in converses with colored denim and simple tanks, never looking over-the-top like her famous counterpart. They use fun accessories, always switching it up from the usual subtle pendants, and they aren't afraid to experiment with studs or big belts. These girls create a style that looks like they had fun getting dressed, definitely a lesson the working crowd can learn from. And if you ever need a tutorial on how to mix prints, I still think teen tv characters make this trend more workable than the runways ever did.
Hair Risks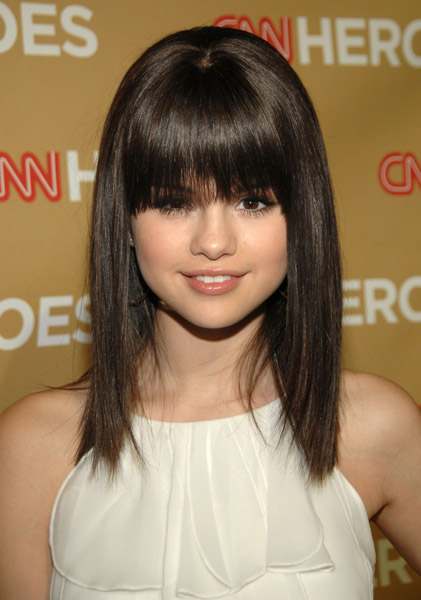 I don't know if younger people's hair grows at an alarmingly faster rate than adults' hair does, but these kids are constantly experimenting with their hair. Maybe because they can't rebel in other ways, they take it out on their hair stylists, but either way, the adult fashionista population can take something away from this carefree nature. Selena Gomez (right) goes from long to bob to bangs all in one season of Wizards of Waverly Place, and even her sidekick on the show is kicking her hairstyle up a notch. It's easy to get into a permanent routine with your hair, but changing it up is a great way to spice up your entire wardrobe without buying a single item of clothing. Don't be afraid to look to these young ladies for inspiration (of course, you're also taking advice from someone who walked into a piercing parlor with a picture of Ashlee Simpson, but it did all work out for me). Go for blunt bangs or a youthful, shoulder-length bob with fresh, bright highlights, and remember that if it doesn't work out, you can always change it. No one is ever too old to try out something new, you never know, it could be the best hairstyle you've ever had. There's a hair risk that everyone wants to take, take a cue from these younger ladies and go for it!
Until I really looked, I never knew how many times I would say, "I want that" during a teen show and not be referring to the junk food they were eating. They have a certain carefree nature with their style where they have fun with fashion without trying to accomplish a goal. When did fashion get to be so serious? You can only wear so many blazers before you start to feel like a corporate lawyer.
~Ashley, fashioniSTA, Second Time Around