Posts tagged
Harper's Bazaar
Nothing says "mod" more than the kaleidoscope-like prints of Emilio Pucci. From the first jewel-colored prints (inspired by motifs from the Italian Renaissance) to the ultimate simplicity of little silk jerseys shifts, Pucci was one of the hottest looks of the early '60s. Pucci fans included some of the decade's most photographed women—Elizabeth Taylor, Marilyn Monroe, Lauren Bacall, and Jacqueline Kennedy Onassis—which helped bring the brand into the public eye and gave it its jet-setting reputation. Monroe's estate alone held enough vintage Pucci for its own display via Christie's Auction House.
Pucci History The evolution of the Pucci label is tale of innovation with roots steeped in regality: the brand's founder, the Marchese Emilio Pucci di Barsento, was a charismatic aristocrat whose lineage extended back to the 14th century. His foresight into fashion, however, was anything but traditional. Pucci was one of the pioneer brands to bear a logo, and the label was one of the first to diversify into interiors, athletic wear and accessories. It introduced free-moving, lightweight fabrics, pop art prints, and new color palettes into womenswear. Looking at the early designs of Pucci today, it is astonishing how contemporary it seems; the featherlight dresses cut as simply as t-shirts and the silk shirts in brilliantly colored jewel prints (designed to be worn with simple white pants or jean) are of today, not yesterday.
A Skiing Start The first clothes designed by Pucci were for the Reed College skiing team — hardly surprising as he was a member of the Italian Olympic ski team. However, his designs came to wider attention in 1947 on the slopes of Switzerland when skiwear that he had designed was photographed by a reporter working for Harper's Bazaar. He was quickly asked by the magazine's editor to design more ski ensembles for a story on European Winter Fashion, which ran in the winter 1948 issue.
Jet-Setting Style After his published Bazaar exposure, Pucci used his newfound recognition to set up a haute couture house on the beautiful Italian resort isle of Capri. By the 1950s, his boutique was catering to wealthy sophisticates, heiresses and movie stars buying his "Capri pants," silk scarves and lightweight separates. By the mid-60s, the label was synonymous with the gilded lifestyle of an international jet-set. To further strengthen his image with the excursionist elite, Pucci was hired by the Braniff International Airways to help update their image — Braniff was seeking to create, as their ad cleverly stated, an "End of the Plain Plane." Pucci would end up designing seven complete outfits for Braniff hostesses and pilots between 1965 and 1977. These uniforms (examples seen below) became so iconic that by 1968 even Barbie had versions of his first four uniforms. These avant-garde creations were designed as individual components to be added or removed as weather dictated; among the more unusual innovations was a "bubble helmet" – a clear plastic hood worn by flight attendants on the tarmac to protect their hairdos from rain and the blast of jet engines.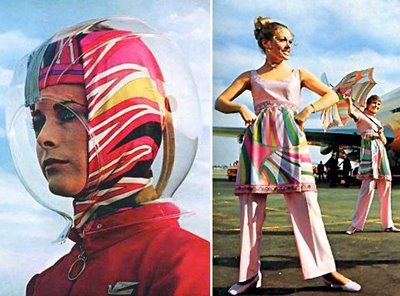 What began with ski garb has expanded into an international empire, with almost every piece carrying the brightly colored, often swirly prints of his original 20th-century style. Today, more than sixty years later, the house remains as vibrant as ever — celebrities such as Victoria Beckham, Kylie Minogue, Isabella Rossellini, Elizabeth Hurley, and Jennifer Lopez wear Pucci creations. Although Pucci's fabulous prints defined a jet-setting generation in the '50s and '60s, his influence on textiles and prints is still very relevant in today's couture. Want some Pucci in your life? Check out these picks from STA:
Terrycloth Tunics, size 6 — $179 apiece at STA HVD SQ
Pucci Pumps, size 7.5 — $79 at STA Charles St.
Pucci Canvas Bag — $179 at STA Charles St.
~Kim, FashioniSTA/Store Manager Harvard Square