Posts tagged
vogue
When heading to the beach this summer, be sure to do it in style. Here are eight essentials for a fashioniSTA's seaside getaway!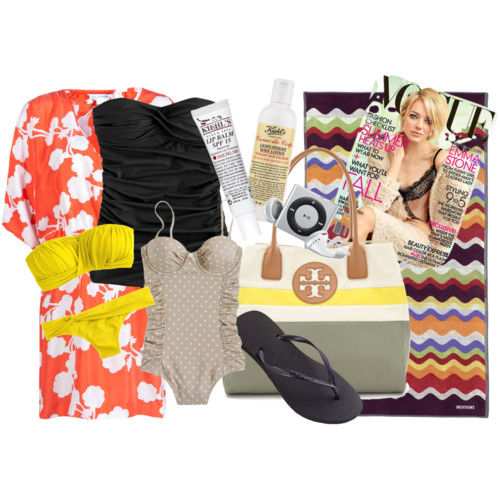 1. Fun, Flattering Swimwear
There are endless possibilities of swimwear styles each year. We recommend going for a classic, flattering suit with a bit of a twist- whether its a pop of color or fun print, like the ones above all from J.Crew.
2. Complimentary Cover-Up
Pair your swim suit with a pretty cover-up. We love this one from DVF. Not only is a Diane von Furstenberg print always in style, but this tunic can take you from the beach, to the beach bar or restaurant, to running errands around town- comfortable, effortless and chic.
3. Beach Flip-Flops
Havaianas are a summer must-have for fashioniSTAs- the most comfortable and practical rubber flip-flop. They come in a variety of colors and prints, and you can even design your own to perfectly show off your summer style and personality.
4. Tory Tote
It's no secret that we love Tory Burch at STA, so when it's time to tote all your summer goods to the beach, we favor a Tory Burch carry-all.
5. Sun Protection
Keep your skin moisturized and protected with a good SPF.
6. Beach Bedding
Nothing says summer like a colorful Missoni knit, so when you're laying on the beach, sunning in the sand, sun in style with a Missoni print beach towel.
7. Quality Reading Material
Vogue, Harper's Bazaar, WWD, Glamour, Elle, etc…oh and Fifty Shades of Grey, obviously.
8. Summer Tunes
Currently on the fashioniSTA summer playlist:
Robyn "Hang With Me"
Ellie Goulding "Lights"
Josh Turner "All Over Me"
New Kids On The Block "Summertime"
Avicii "Silhouettes"
Vanessa Carlton "White Houses"
Zac Brown Band "Toes"
What's your beach essential? Tell us on Facebook or Twitter!
~Lisa, fashioniSTA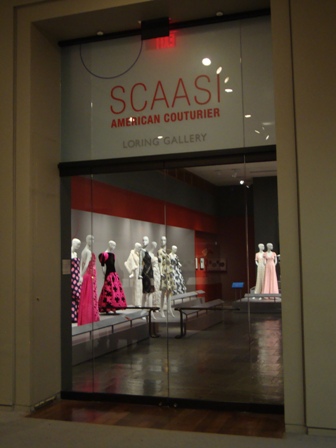 In 2009, the Museum of Fine Arts in Boston acquired a major coup — more than 100 couture designs by Arnold Scaasi, in addition to press clippings and sketchbooks from his late-1950s-to-early-1990s collections. "Scaasi: American Couturier,'' now showing at the MFA through June 2011, is our first look at 28 of the cocktail dresses, gowns, and costumes he custom-created throughout the years. The designs on display highlight his relationships with four members of his select clientele: singer / actress Barbara Streisand, New York socialites Joetta Norban and Gayfryd Steinberg, and Broadway / television star Arlene Francis.
Bringing to light Scaasi's touch for event-ready panache, the collection includes the famous sequined pants outfit that was worn by Streisand during her 1969 Oscar win, along with stage costumes worn in her early concerts, a fur ensemble worn on a trip to Canada in 1970, and costumes worn in On a Clear Day. In addition to these theatrical pieces, cocktail dresses and gala gowns from yesteryear are brought forward to showcase the design detail that helped earn Scaasi his status as an elite designer.
Born Arnold Isaacs in 1935, the son of a Montreal furrier, Scaasi moved to NYC in the early 1950s where he worked as an apprentice for the elaborate couturier, Charles James. Influenced by James' idea of building an evening dress as you would a piece of sculpture, this early training led Scaasi to approach clothing design as a three-dimensional construction project.
Changing his name in the mid-1950s to Scaasi (Isaacs spelled backwards), he became one of the few designers capable of sustaining a made-to-order business in the burgeoning age of ready-to-wear. His designs breathed new life into the elite world of evening apparel, re-energizing the American fashion industry. With bold colors, luxurious fabrics, and dramatic shapes, he quickly rose to fame. By the end of 1958, he had won the Coty American Fashion Critics Award for best designer of the year and had seen his clothing featured on the covers of Vogue and Harper's Bazaar… all before reaching age of 30. Finally, he realized he preferred designing privately for the women he adored, his devoted and exclusive clientele. Stars and socialites such as Joan Crawford, Barbra Streisand, Elizabeth Taylor, Charlotte Ford, Blaine Trump and Brooke Astor were all a part of his client list, which also included First Ladies from Mamie Eisenhower to Barbara and Laura Bush.
Scaasi was noted for his tailored suits and glamorous dresses trimmed with feathers, fur, sequins, and fine embroidery. "I create clothes that are pretty, usually with an interesting mix of fabrics," he has said. "I like luxurious fabrics — great quality for day, and opulence for the evening. I am definitely not a minimalist designer! Clothes with some adornment are more interesting to look at and are more fun to wear."
Head on over to the MFA to check out this fashionable exhibition, which is included with general admission — it's not often you get to stand side-by-side with such creations! While there, pop into fashion photographer Richard Avedon's exhibit, which we fashioniSTAs blogged about back in August! Together with the MFA, we're here to help you keep the pulse on the styles of yesterday and today.
~Kim, FashioniSTA, Second Time Around
This Monday, Boston was blessed with fashion royalty as Anna Wintour, Michael Kors and Natalia Vodianova took the stage for the public forum "Health Matters: Weight and Wellness in the World of Fashion" at Harvard Business School. Each voiced their concerns and their plans for change in the arena of body image and health within the industry.
Going into the event, I had never heard Wintour speak and expected a well rehearsed and somewhat emotionless monologue but was pleasantly surprised when she spoke wholeheartedly about her passion to change the way that Vogue approached the subject.
Wintour spoke candidly of the responsibility that the fashion industry has for the well-being of their models as well as followers and readers. Kors and Vodianova were equally touched by this subject and Kors even promised within the forum that he would never book a model under the age of 16 again "no matter how hot they are."
The one thing that I was and still am on the fence about is that though this is a great initiative, how do we know that it is here to stay? Is it just another trend that will be on the outs by Fall 2010 when we see skeletal girls gracing runways?
I think that if we want to truly see a change, consumers need to take on some of the responsibility. If you see unhealthy girls on the cover of US Weekly or Vogue…DON'T BUY IT!
That's just my two cents.
~Kirsten, FashioniSTA