Posts tagged
anna wintour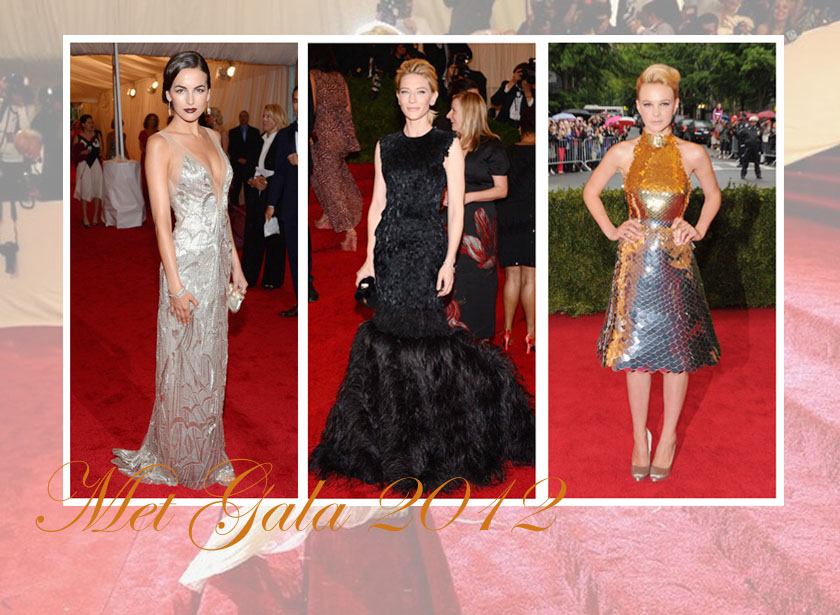 The Met Gala is arguably the most high-fashion red carpet event of the year, where the style risks are lauded and the boring are never invited again (if only). This is a great night for the avant garde to sneak in with the red carpet glamour, giving us great pieces that are sure to inspire (or give us a sneak peek at) upcoming runway collections. Here are the top four trends of the night, and who wore them best!
1. Dripping in Metal
Gold has continued to earn its weight worth, at least in the style arena, and it was definitely a key power player last night. Between Anna Wintour's gold detailed Prada, Karolina Kurkova in a full-on Arabian-inspired Rachel Zoe ensemble, and Jessica Pare's square neckline/cap sleeve dark golden L'Wren Scott gown, there was enough sparkle to go around. Not only was all of this glitz great to watch on the red carpet, but it inspires the rest of us to break out the bold metallics when we have our less-formal (but still fabulous) events to attend.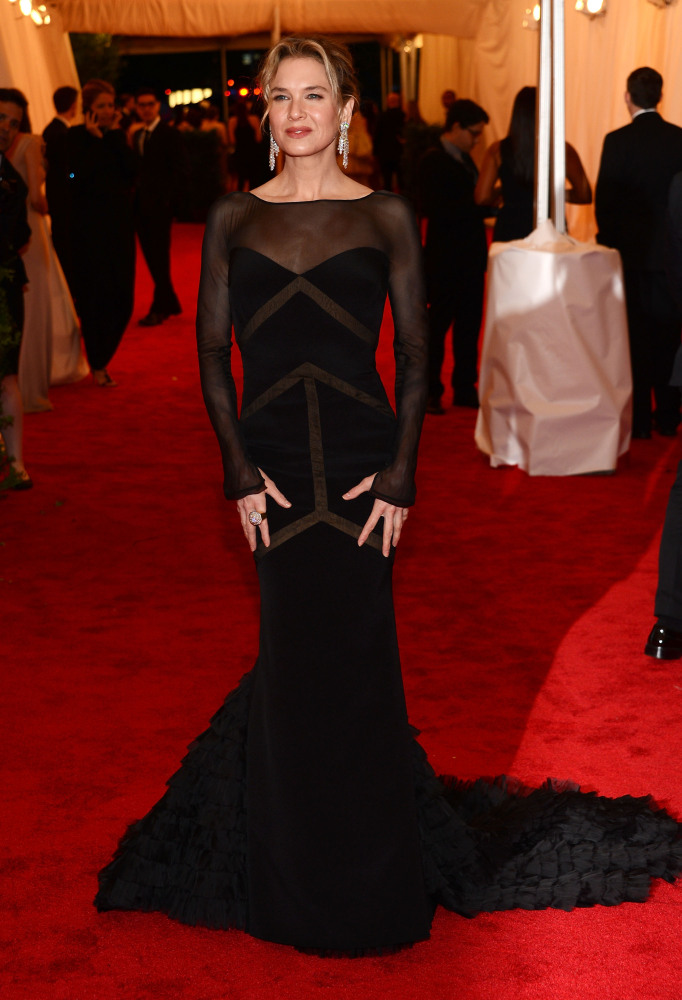 Who wore it best? We're torn between Lana del Rey's flawless sweetheart Altuzarra and Camilla Belle's plunging Ralph Lauren. Both style stars donned the dark gothic makeup to accentuate their dresses' lighter metallic shades, but Camilla Belle's flawless accents with her hair/makeup/earrings put her in the lead.
2. Embellished Mermaids
Instead of body-hugging silhouettes or outrageous ball gowns, the biggest shape contender last night was hands-down the mermaid silhouette. And since we're pretty sure that these ladies weren't trying to hide oversized calves, we can only speculate that the mermaid trend is stationed to take to new heights in the near future. From the tame - like Julianne Hough, to the outrageous - Beyonce in a lace and feather concoction - these ladies added appliques, feathers, tulle and pretty much every other material on the planet to create dramatic volume below the knees.
Who wore it best? While it seems a demure choice, Reneé Zellweger gave us all a shock when she decided against wearing her signature Carolina Herrera. However, dressed in Pucci (left), she rocked the long sleeves, sheer details, and an embellished mermaid train without looking like a trend wreck.
3. Feather Intensity
A flock of feathers covered the red carpet last night. This trend popped up everywhere from Donna Karan's clutch to Kate Bosworth's backless full-on feather Prada dress. Amy Poehler looked shockingly chic in a Fontini black peplum gown with a mermaid train of black feathers, and Diane Kruger's purple Prada gown swept the carpet with the trim and train drenched in feathers. The red carpet had it's grand finale when Beyonce arrived in a jaw-dropping Givenchy Haute Couture embroidered gown with a purple ombré train of feathers, proving to us that she properly holds the title of World's Most Beautiful Woman. I guess stylish birds of a feather really do flock together.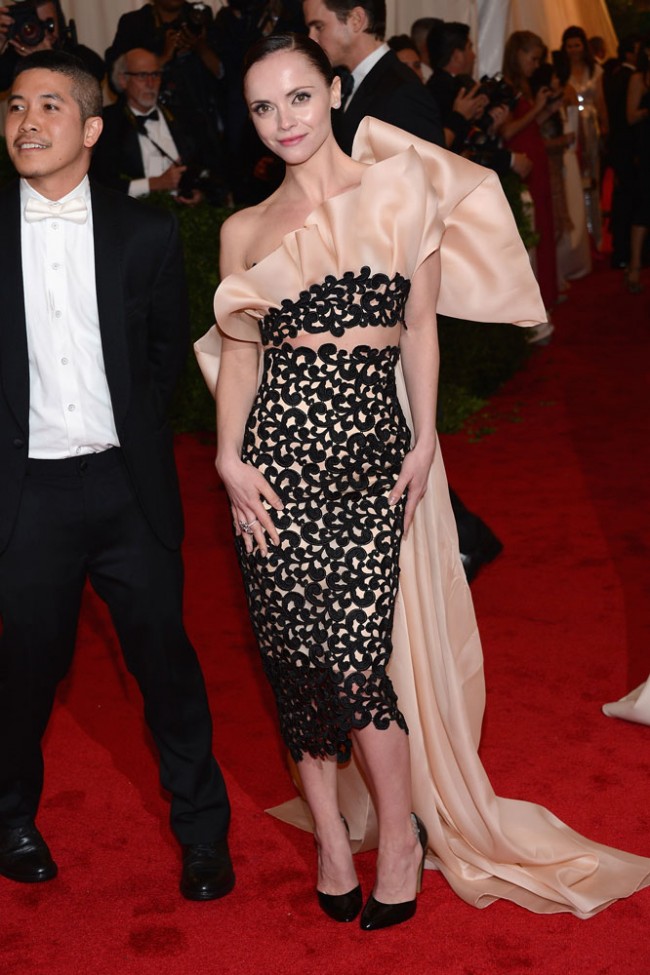 Who wore it best? We have to go with Cate Blanchett in Alexander McQueen. Don't let the black dissuade you from far away, the actress brought the glamour by marrying intricate feather detailing from the bodice to the train with impeccable fit.
4. Sculpturesque
One of the biggest trends on the Fall 2012 runways was the architectural shapes and details, and it carried over onto the red carpet last night. While January Jones stepped out in a Versace hip-action number that we feel like we've seen her in a million times, stars like Elizabeth Banks (in a somewhat bizarre Mary Katrantzou dress) and Jessica Stam (in a pale blue, ornate Christian Dior Couture design) brought over-exaggerated sculpted details to the event.
Who wore it best? Ok, don't judge us, but for some reason Thakoon-dressed Christina Ricci's oversized bow and architectural neckline really spoke to us (right). Maybe it was the risk or maybe we're having a Casper flashback. Don't ask, we really can't explain it.
Do you think someone else wore it better? Tell us in the comments, post on our Facebook wall or Tweet us!
~Ashley and Lisa, FashioniSTAs
Wintour and Kors Come to Boston!
This Monday, Boston was blessed with fashion royalty as Anna Wintour, Michael Kors and Natalia Vodianova took the stage for the public forum "Health Matters: Weight and Wellness in the World of Fashion" at Harvard Business School. Each voiced their concerns and their plans for change in the arena of body image and health within the industry.
Going into the event, I had never heard Wintour speak and expected a well rehearsed and somewhat emotionless monologue but was pleasantly surprised when she spoke wholeheartedly about her passion to change the way that Vogue approached the subject.
Wintour spoke candidly of the responsibility that the fashion industry has for the well-being of their models as well as followers and readers. Kors and Vodianova were equally touched by this subject and Kors even promised within the forum that he would never book a model under the age of 16 again "no matter how hot they are."
The one thing that I was and still am on the fence about is that though this is a great initiative, how do we know that it is here to stay? Is it just another trend that will be on the outs by Fall 2010 when we see skeletal girls gracing runways?
I think that if we want to truly see a change, consumers need to take on some of the responsibility. If you see unhealthy girls on the cover of US Weekly or Vogue…DON'T BUY IT!
That's just my two cents.
~Kirsten, FashioniSTA