How to Shop Your Own Closet: Volume I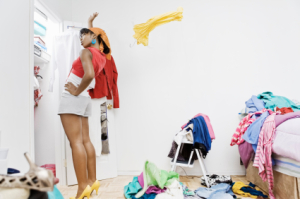 As a stylist, I am elbow-deep in clients' closets on a regular basis. I help clients edit their wardrobes, educate them about the fits and cuts of clothes that work best for them and I build outfits that help the client utilize their attire and accessories to the fullest extent. Often, this closet analysis is followed by a shopping trip to help fill the gaps, but sometimes it is just enough to jumpstart the clients' new fashion life. Since I know how successful this can be, I have put together a four-part blog with some tips for doing it yourself. Here's the first installment:
1. Get rid of anything that you haven't worn in 1 year.
If it's gross, trash it. If it is a really basic or a really casual piece (i.e. extra t-shirts) but still in good condition, donate it. If it is a more valuable piece, consign it. For information on consigning at Second Time Around, please click here!
Addenudum: If there is an item of clothing or an accessory that you do not use, but which holds sentimental value, you may keep it. However, please remove it from your closet and store it elsewhere.
Staring at a closet full of clothing and accessories that you don't use can cause confusion and can cause you to overlook items and outfits that you may actually want to wear. If the offending items are removed – or, at least, relocated – the confusion will be kept at a minimum and outfits will more easily appear.
Keep an eye out for the next edition….there are three more on the way!
~Marisa, Director of Styling, Second Time Around
Comments are closed.