Posts tagged
shorts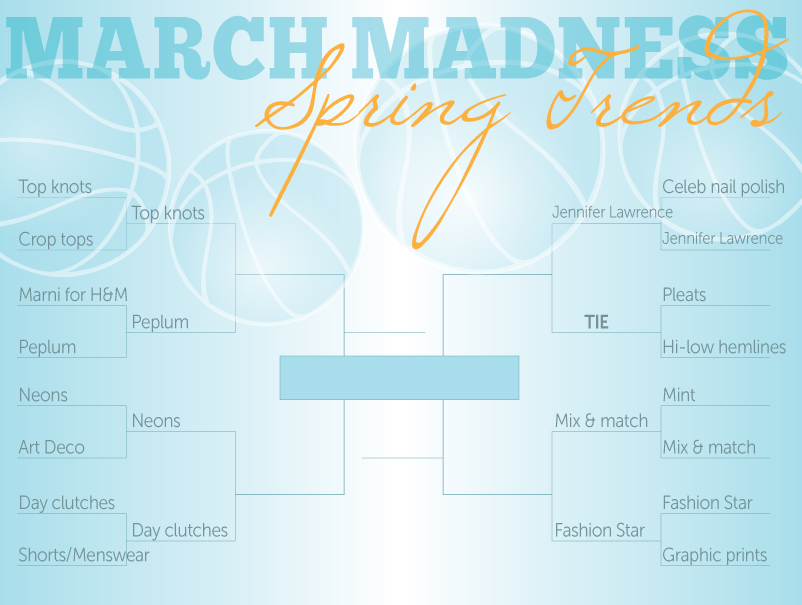 Round 1 was a tough first battle, with our Sweet Sixteen Trends competing against each other to be the top spring trend of 2012. From the celebrity endorsements to the accessibility to women everywhere, these trends broke out the big guns to make it out of the gate. Check out how each game turned out:
1. Top Knots vs. Crop Tops
The Knot trumps the Crop when women everywhere realize that only celebrities and people with personal trainers on speed dial can actually wear crop tops.
2. Peplum vs. Marni for H&M
The hottest silhouette goes up against a designer with a cult following now at lower prices (which is still all relative). It was a pretty dead-heat battle until Peplum whipped out its ability to flatter anyone's midsection. Game over, Marni.
3. Neons vs. Art Deco jewelry
Right out of the gate the Neons powerhouse slams down Art Deco jewelry's effort. Even with the backing of Rachel Zoe, since no one has the time to search for Art Deco jewelry – and it hasn't made it to H&M just yet – it proves to be no match for the rising publicity and street cred that Neons has gained.
4. Day clutches vs. Shorts/Menswear
The nighttime-gone-day accessory (Day clutches) goes up against the daytime-gone-night trend (Shorts/Menswear). This is a decent competition, what with celebrity endorsements on both sides. Ultimately, Day Clutches squeak by as a winner as soon as we (as in all womenkind) realized that our legs weren't quite shorts-ready just yet.
5. Celebrity nail polish lines vs. Jennifer Lawrence
Yes, Celebrity nail polish lines have the backing of The Hunger Games and Nicki Minaj, but adding the over-exposed Kardashians to the mix makes this trend just a little more annoying. And with Jennifer Lawrence's runway choices for her red carpet premieres and her growing superstardom, the girl on fire reigns supreme.
6. Hi-low hemlines vs. Pleats
A great battle with a deadlock outcome. These truly brilliant competitors form an alliance to create a superpower spring trend – Pleated Hi-Low skirts and dresses. Now they've set their sights on knocking out Peplum to form an alliance with Neons.
7. Mint vs. Mixing & Matching
The starring pastel of the spring (Mint) against a trend that stylized breaking major fashion rules (Mixing & Matching) was a tough battle from the start. But the infiltration of downtown divas throughout the world has made Mixing & Matching a new style art, which left Mint in the dust.
8. Fashion Star vs. Graphic prints
Graphic prints hit the runway with legitimate backers, such as Milly and Erdem, and a solid cause to modernize the classic spring floral. However, the star power and accessibility of a television show proved too powerful by helping three retailers sell out (within hours) new items by no-name designers. That's the definition of winning.
Stay tuned to see who wins the round 2 match-up!

It's March Madness time again, but why does basketball get to have all the fun? This year we're turning our attention to spring 2012 trends, and pitting them against each other in our ultimate style challenge. Each week we'll bring you the rundown from the fashion competition, as we start the games with 16 major spring players. Stay tuned as the competition unfolds, it's going to get cutthroat.
May the odds be ever in your favor!
Meet the Sweet 16
1. Neons
Likened to a "Career Trend," it has a hidden superpower to turn into colorblocking at a moment's notice.
Celebrity Nail Polish Lines
The latest in noteworthy nails is the influx of celebrity-based lines. In its corner is the Kardashians for Nicole by OPI, Nicki Minaj for OPI and the Hunger Games Capitol Couture for China Glaze. If nothing else, at least the Hunger Games knows how to fight.
3. Mixing & matching
You can mix prints, you can mix metals, you can colorblock by mixing solids. A solid competitor with a driving street style force behind it.
4. Crop tops
A former superstar in the '90s with a taste for 21st century vengeance.
5. Hi-low hemlines
New to the style game (unless you liken this to a mullet hemline…which we don't), but it's taking the street style world by force.
6. NBC's Fashion Star
In its corner is a singer/designer, a model/designer, a reality star(?)/designer and a real designer. Let's just say it's got a lot of designing power behind it.
7. Top knots
A hairdo that has the ability to go messy or sleek, a key attribute when worn by a woman who has to look good with limited time. Which is every woman.
8. Day clutches
Another switch-hitter that has come into the running. With its larger size and diverse details, this opponent has a killer A-game.
9. Marni for H&M
A designer with a cult following. A store with a universal following. The combination will prove very hard to beat.
10. Peplum
This daring competitor has brought women everywhere a way to disguise their midsections and hips. Opponents beware.
11. Graphic prints
A new superpower has risen from basic pastel florals and springtime prints. Has the backing of designers like Altuzarra and Prabal Gurung.
12. Jennifer Lawrence
The one who took on Katniss Everdeen is out to prove she's a style star as well.
13. Shorts/Menswear
What used to be reserved for casual wear has taken a daring turn into the formal arena. Has a leg-up with special reinforcements like tuxedo details, satin finish and a full-leather armor.
14. Mint
Saturated pastels are big this spring, and mint is definitely their all-star.
15. Pleats
This multi-faceted competitor that can go long or short when needed
16. Art Deco Jewelry
Sharp, angular designs make this competitor almost deadly, and it has additional strength when stacked.
Rank your favorites with our blank bracket below, and let us know what trend you want to reign supreme on our Facebook www.facebook.com/staconsignment.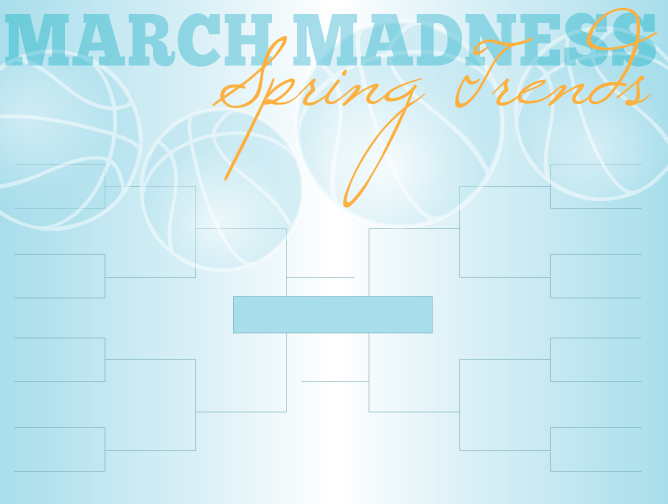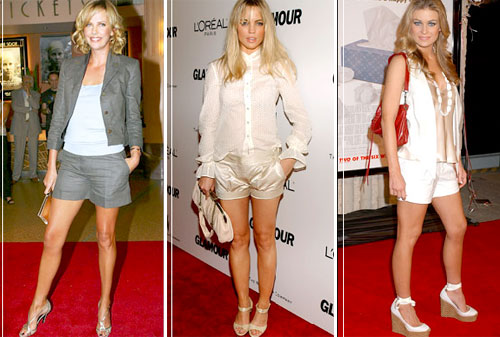 With the warmer weather finally upon us, it's only a matter of time before summer comes full-swing and pants no longer become a viable option. While skirts and dresses are clear favorites for the summer months, a new contender has blown into town: shorts. This casual summer staple has taken on new superpowers, making it work-appropriate as well as red-carpet-worthy.
Working It Out
No longer just for lazy weekends, shorts are popping up in the most unexpected places. What was strictly a "no-wear zone" has taken a dramatic turn to office-friendly. While I wouldn't recommend wearing this trend if you work in strict office environment, if you happen to work in a fashion-friendly zone, wearing shorts to work will make your summer approximately a billion times easier. To keep them work-appropriate, stick with variations on the classic short. Go for a pair of knee-length, straight-leg shorts in a dark neutral with a tucked in blousy tank to slim a pear shape, or try out a pair of blousy harem shorts to create curves. Quick tip: harem shorts are a great way to indulge in your Sex and the City 2 movie fashion fantasy without committing to the overly-indulgent harem pants that the stars sported in the movie. However, the shorts version is not for the fashion faint of heart, but if you are a risk-taker, they are a great way to complement a basic tank. Wear with metallic gladiator flats for a true statement outfit.
Another way to rock this trend in the workplace is to go with shorts that almost look like a skirt. These definitely work best in a creative field, but with designers like Diane von Furstenberg and Nanette Lepore paving the way with this trend, consider yourself in good hands. While you can go down the skort route with this option from Marc Jacobs, if you prefer to not revisit the '90s just yet, going with a patterned or textured pair is the perfect alternative. Try out the floral pair from Nanette Lepore, or the tiered, ruffled version from Wink. Going with a pattern or a texture will minimize the shorts element and maximize the element of style.
Eveningwear
Tired of your usual jeans and tank combo when you hit the town? Try a pair of short, tailored shorts in a neutral color - like black, white or metallic - to spice up your night out. Opt for a sleek pair from Winter Kate, Alice + Olivia or Theory, paired with one of your usual embellished, loose tanks or a fitted, black button-down. This is the only time that stiletto heels with shorts is permissible, so try out your highest pumps with the first option, or your strappy sandals with the latter. You can also add a cropped, lightweight blazer for cooler nights.
A dark denim short is also a great alternative. This cuffed pair from Joe's Jeans can easily be paired with metallic flat sandals and a tank for a more casual night out.
Should you be feeling a little Lindsay Lohan crazy, you can try out sequin shorts from Gryphon or Diane von Furstenberg in place of the sequin leggings you wore during the colder months. Clearly not for the faint of heart, you can pair it with a matching sequin top to create the look of a romper, or go for a flowy, black top in a lightweight material that still fits close to your torso. You don't want to look like you're wearing sequined board shorts about to hang ten.
Weekend Chic
When the work week ends, anything goes on your days off. This is a great time to explore what I think is the greatest trend known to (wo)man: nautical. Play off this trend with a pair of cuffed, denim shorts from Joe's Jeans or Citizens of Humanity, pairing them with a conductor-striped top and chunky, gold link bracelets or a necklace. Or go with a blue seersucker pattern with a red tank and metallic sandals.
You can also channel your inner Daisy Duke with denim shorts, either cutoffs or cuffed. Pair with a floral top for a hippy vibe, or try out gingham on top for a retro feel to your look.
For extra comfort, try a pair of paper bag-waist shorts. Go for a pair in an earthy neutral to create a safari look. Complete your ensemble with a tank in a complementary neutral and pair with gold accessories and oversized, tortoise shell sunglasses.
No matter where you go, remember that shorts with more spandex than your tights are reserved for biking or in-house lounging only!
~Ashley, fashioniSTA, Second Time Around