Posts tagged
matching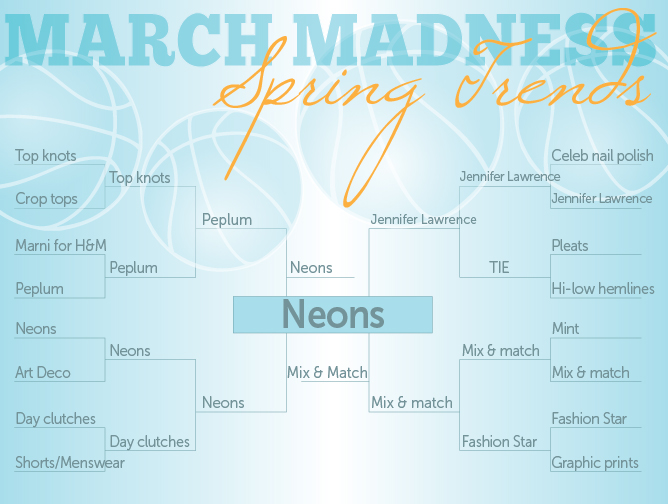 We've made it to the final round! These two trends have made it past 14 other competitors, knocking them all out with their sheer style strength, purchasing perseverance and widespread fashion fame. From the style bloggers who rock the trends on the streets to the magazines that feature these trends in their editorials, it was the fashionista in all of us that made these two trends the style stars that they are. While these two trends deserve a place of honor in the Spring 2012 Trend Hall of Fame, there can only be one winner.
Time to place your bets and make your picks, as we witness the final showdown to see which trend will reign as the ultimate spring trend for 2012. Let the games commence!
Neons vs. Mixing & Matching
To truly visualize this final match, we need to weigh all the pros and cons of each competitor. Both trends have hit the style market but haven't been overplayed, and they are each a tell-tale sign of the style-savvy.
Neons
Pros: Multifaceted – can be worn in a formal setting or can be channeled into a sporty ensemble fit for the gym. Can also be done in smaller doses, such as accessories, or can be the dominating theme of an outfit. Plus nothing says warmer weather like bright colors, and this trend takes it to the extreme (in a good way).
Cons: Reminiscent of the '80s, which is usually thought of as more of a costume decade. New to the trend game.
Mixing & Matching
Pros: The possibilities are truly endless, from mixing jewelry for the fashion conscious to mixing prints for the fashion-daring. Widespread appeal thanks to celebrities mixing high and low-end labels and designs, which has evolved into mixing vintage with current pieces, as well as mixing different shapes, silhouettes, patterns and colors, with colorblocking being a key attribute to this trend.
Cons: When not done properly, it can look like you're in kindergarten.
The Showdown
Both trends started out strong, taking out jewelry, accessory, color and celebrity trends. With the last round one of the most intense, both trends were feeling the heat going into the final battle. Jennifer Lawrence's star power nearly ousted Mixing & Matching, and Neons almost fell to Peplum's slimming silhouette.
Both Neons and Mixing & Matching were on the same level with celebrity endorsements and editorial coverage. Fashion bloggers uphold both trends as equally important, so it was time to turn to the intangible. Mixing & Matching evolved over time into a trend, whereas Neons popped up pretty quickly. While Neons are newer to the game this season than Mixing & Matching, they had a certain factor that could put them ahead. Both trends have the ability to make you look like a stylist, but it is exponentially easier to try the Neon trend and be successful. All it takes is a Neon belt and you're in business, whereas it takes more forethought to get the right grasp on Mixing & Matching.
Mixing & Matching tried to show fashion-worshippers of all levels that they could do this trend right, but it just wasn't enough to persuade the fashion conservative. For those who look to invest in timeless pieces, Mixing & Matching fell too far into the style liberal sector. Those interested in a classic style found that Neon could be subtly integrated into their spring wardrobes through accessories and more traditional silhouettes, like a shift dress. Neons' appeal to both minimalist and bohemians alike was the final success that allowed this trend to take top spot, earning it its place as the Ultimate Spring 2012 Trend.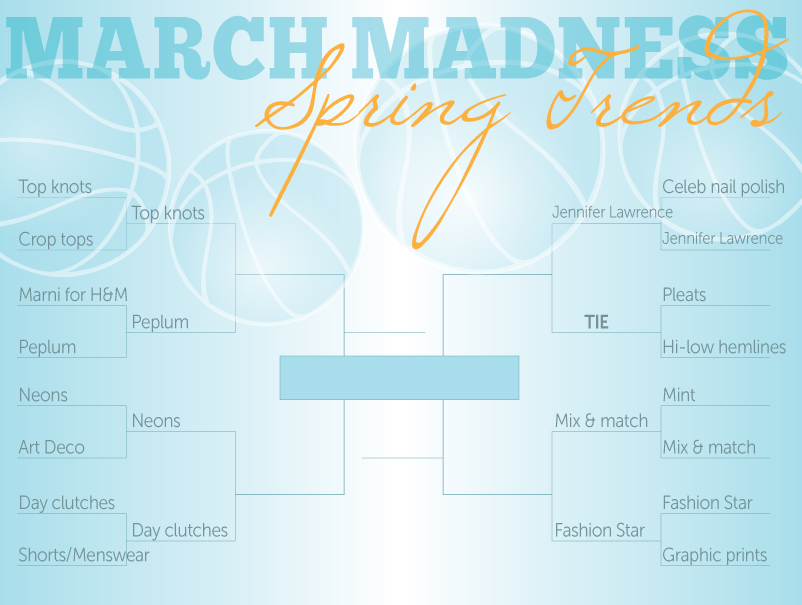 Round 1 was a tough first battle, with our Sweet Sixteen Trends competing against each other to be the top spring trend of 2012. From the celebrity endorsements to the accessibility to women everywhere, these trends broke out the big guns to make it out of the gate. Check out how each game turned out:
1. Top Knots vs. Crop Tops
The Knot trumps the Crop when women everywhere realize that only celebrities and people with personal trainers on speed dial can actually wear crop tops.
2. Peplum vs. Marni for H&M
The hottest silhouette goes up against a designer with a cult following now at lower prices (which is still all relative). It was a pretty dead-heat battle until Peplum whipped out its ability to flatter anyone's midsection. Game over, Marni.
3. Neons vs. Art Deco jewelry
Right out of the gate the Neons powerhouse slams down Art Deco jewelry's effort. Even with the backing of Rachel Zoe, since no one has the time to search for Art Deco jewelry – and it hasn't made it to H&M just yet – it proves to be no match for the rising publicity and street cred that Neons has gained.
4. Day clutches vs. Shorts/Menswear
The nighttime-gone-day accessory (Day clutches) goes up against the daytime-gone-night trend (Shorts/Menswear). This is a decent competition, what with celebrity endorsements on both sides. Ultimately, Day Clutches squeak by as a winner as soon as we (as in all womenkind) realized that our legs weren't quite shorts-ready just yet.
5. Celebrity nail polish lines vs. Jennifer Lawrence
Yes, Celebrity nail polish lines have the backing of The Hunger Games and Nicki Minaj, but adding the over-exposed Kardashians to the mix makes this trend just a little more annoying. And with Jennifer Lawrence's runway choices for her red carpet premieres and her growing superstardom, the girl on fire reigns supreme.
6. Hi-low hemlines vs. Pleats
A great battle with a deadlock outcome. These truly brilliant competitors form an alliance to create a superpower spring trend – Pleated Hi-Low skirts and dresses. Now they've set their sights on knocking out Peplum to form an alliance with Neons.
7. Mint vs. Mixing & Matching
The starring pastel of the spring (Mint) against a trend that stylized breaking major fashion rules (Mixing & Matching) was a tough battle from the start. But the infiltration of downtown divas throughout the world has made Mixing & Matching a new style art, which left Mint in the dust.
8. Fashion Star vs. Graphic prints
Graphic prints hit the runway with legitimate backers, such as Milly and Erdem, and a solid cause to modernize the classic spring floral. However, the star power and accessibility of a television show proved too powerful by helping three retailers sell out (within hours) new items by no-name designers. That's the definition of winning.
Stay tuned to see who wins the round 2 match-up!