Posts tagged
Mixing and matching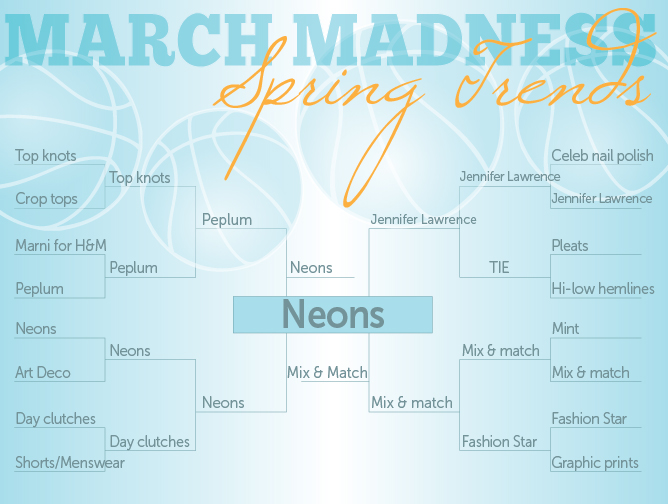 We've made it to the final round! These two trends have made it past 14 other competitors, knocking them all out with their sheer style strength, purchasing perseverance and widespread fashion fame. From the style bloggers who rock the trends on the streets to the magazines that feature these trends in their editorials, it was the fashionista in all of us that made these two trends the style stars that they are. While these two trends deserve a place of honor in the Spring 2012 Trend Hall of Fame, there can only be one winner.
Time to place your bets and make your picks, as we witness the final showdown to see which trend will reign as the ultimate spring trend for 2012. Let the games commence!
Neons vs. Mixing & Matching
To truly visualize this final match, we need to weigh all the pros and cons of each competitor. Both trends have hit the style market but haven't been overplayed, and they are each a tell-tale sign of the style-savvy.
Neons
Pros: Multifaceted – can be worn in a formal setting or can be channeled into a sporty ensemble fit for the gym. Can also be done in smaller doses, such as accessories, or can be the dominating theme of an outfit. Plus nothing says warmer weather like bright colors, and this trend takes it to the extreme (in a good way).
Cons: Reminiscent of the '80s, which is usually thought of as more of a costume decade. New to the trend game.
Mixing & Matching
Pros: The possibilities are truly endless, from mixing jewelry for the fashion conscious to mixing prints for the fashion-daring. Widespread appeal thanks to celebrities mixing high and low-end labels and designs, which has evolved into mixing vintage with current pieces, as well as mixing different shapes, silhouettes, patterns and colors, with colorblocking being a key attribute to this trend.
Cons: When not done properly, it can look like you're in kindergarten.
The Showdown
Both trends started out strong, taking out jewelry, accessory, color and celebrity trends. With the last round one of the most intense, both trends were feeling the heat going into the final battle. Jennifer Lawrence's star power nearly ousted Mixing & Matching, and Neons almost fell to Peplum's slimming silhouette.
Both Neons and Mixing & Matching were on the same level with celebrity endorsements and editorial coverage. Fashion bloggers uphold both trends as equally important, so it was time to turn to the intangible. Mixing & Matching evolved over time into a trend, whereas Neons popped up pretty quickly. While Neons are newer to the game this season than Mixing & Matching, they had a certain factor that could put them ahead. Both trends have the ability to make you look like a stylist, but it is exponentially easier to try the Neon trend and be successful. All it takes is a Neon belt and you're in business, whereas it takes more forethought to get the right grasp on Mixing & Matching.
Mixing & Matching tried to show fashion-worshippers of all levels that they could do this trend right, but it just wasn't enough to persuade the fashion conservative. For those who look to invest in timeless pieces, Mixing & Matching fell too far into the style liberal sector. Those interested in a classic style found that Neon could be subtly integrated into their spring wardrobes through accessories and more traditional silhouettes, like a shift dress. Neons' appeal to both minimalist and bohemians alike was the final success that allowed this trend to take top spot, earning it its place as the Ultimate Spring 2012 Trend.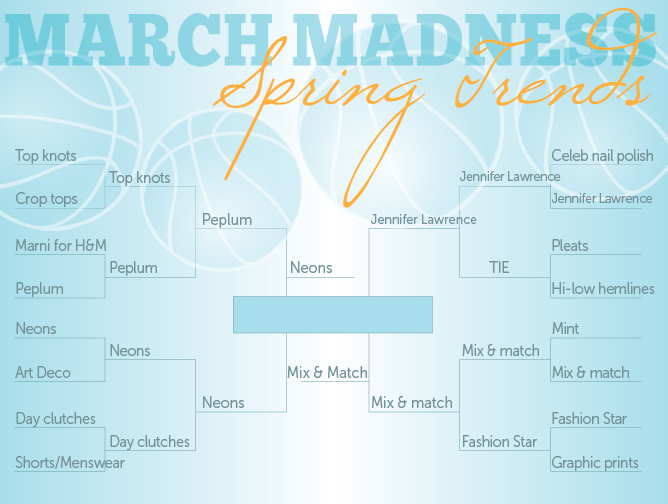 We're going strong into the second to last round of March Madness. The trends have been neck-in-neck, with them breaking out of their style niche shells to get a leg-up on the competition. Check out the winners who earned themselves a spot in the finals!
1. Peplum vs. Neons
This was a fight to the fashion death. The growing popularity of Neons versus the timeless yet trendy design of Peplum. Both started this competition with a strong celebrity backing, a following in the street style brigade, and a cult following in all major retailers. The high-fashion element paired with sell-ability ran through the veins of both of these trends, making them true competitors in the style world.
However, after a fierce battle, Neons emerged the victor. Blame the weather, blame the spring fever, blame the people who wished they had come of age in the '80s, but Neons have gained a blazing following that rivals The Hunger Games. Only it's probably bigger, since people who wore the trend 25 years ago are probably just as excited as the younger fashion followers.
2. Jennifer Lawrence vs. Mixing & Matching
The girl who probably knows how to now survive any post-apocalyptic scenario against a trend that can make you look like you got dressed in the dark. You'd think this would be an easy fight. However, the Mixing & Matching trend has extended beyond the people whose closets emulate Pippi Longstocking's and has become a style phenomenon. It truly runs the gamut, from mixing brights to create colorblocking to mixing metals and stacking jewelry to mixing prints that actually look like they're supposed to go together. When done properly, this trend has an element of fashion genius, which is how it inched above Jennifer Lawrence – who has put in a tremendous style effort during her Hunger Games press tour.
This girl brought out the big guns, sporting only the best from Prabal Gurung, Marchesa and, most recently, L'Wren Scott (her only misstep was a Calvin Klein choice for a NYC screening). She's announcing herself in the best way possible, but the fact that she's still in the starting out phase of her style identity gives Mixing & Matching an edge to dominate Spring 2012. Check back with us come summer, there may be a rematch in the works.