Posts tagged
Spring 2012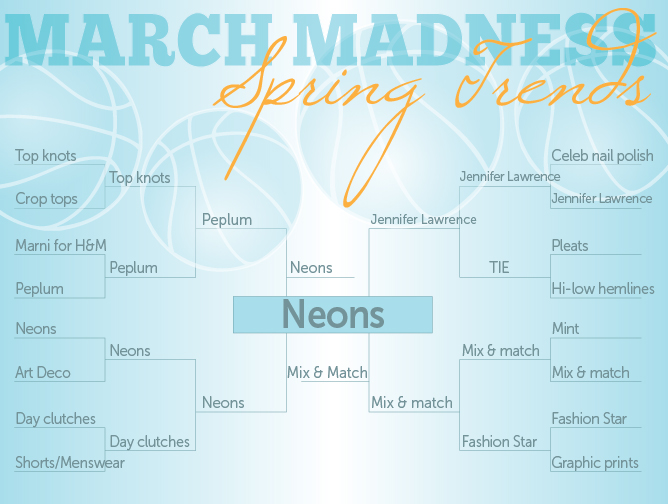 We've made it to the final round! These two trends have made it past 14 other competitors, knocking them all out with their sheer style strength, purchasing perseverance and widespread fashion fame. From the style bloggers who rock the trends on the streets to the magazines that feature these trends in their editorials, it was the fashionista in all of us that made these two trends the style stars that they are. While these two trends deserve a place of honor in the Spring 2012 Trend Hall of Fame, there can only be one winner.
Time to place your bets and make your picks, as we witness the final showdown to see which trend will reign as the ultimate spring trend for 2012. Let the games commence!
Neons vs. Mixing & Matching
To truly visualize this final match, we need to weigh all the pros and cons of each competitor. Both trends have hit the style market but haven't been overplayed, and they are each a tell-tale sign of the style-savvy.
Neons
Pros: Multifaceted – can be worn in a formal setting or can be channeled into a sporty ensemble fit for the gym. Can also be done in smaller doses, such as accessories, or can be the dominating theme of an outfit. Plus nothing says warmer weather like bright colors, and this trend takes it to the extreme (in a good way).
Cons: Reminiscent of the '80s, which is usually thought of as more of a costume decade. New to the trend game.
Mixing & Matching
Pros: The possibilities are truly endless, from mixing jewelry for the fashion conscious to mixing prints for the fashion-daring. Widespread appeal thanks to celebrities mixing high and low-end labels and designs, which has evolved into mixing vintage with current pieces, as well as mixing different shapes, silhouettes, patterns and colors, with colorblocking being a key attribute to this trend.
Cons: When not done properly, it can look like you're in kindergarten.
The Showdown
Both trends started out strong, taking out jewelry, accessory, color and celebrity trends. With the last round one of the most intense, both trends were feeling the heat going into the final battle. Jennifer Lawrence's star power nearly ousted Mixing & Matching, and Neons almost fell to Peplum's slimming silhouette.
Both Neons and Mixing & Matching were on the same level with celebrity endorsements and editorial coverage. Fashion bloggers uphold both trends as equally important, so it was time to turn to the intangible. Mixing & Matching evolved over time into a trend, whereas Neons popped up pretty quickly. While Neons are newer to the game this season than Mixing & Matching, they had a certain factor that could put them ahead. Both trends have the ability to make you look like a stylist, but it is exponentially easier to try the Neon trend and be successful. All it takes is a Neon belt and you're in business, whereas it takes more forethought to get the right grasp on Mixing & Matching.
Mixing & Matching tried to show fashion-worshippers of all levels that they could do this trend right, but it just wasn't enough to persuade the fashion conservative. For those who look to invest in timeless pieces, Mixing & Matching fell too far into the style liberal sector. Those interested in a classic style found that Neon could be subtly integrated into their spring wardrobes through accessories and more traditional silhouettes, like a shift dress. Neons' appeal to both minimalist and bohemians alike was the final success that allowed this trend to take top spot, earning it its place as the Ultimate Spring 2012 Trend.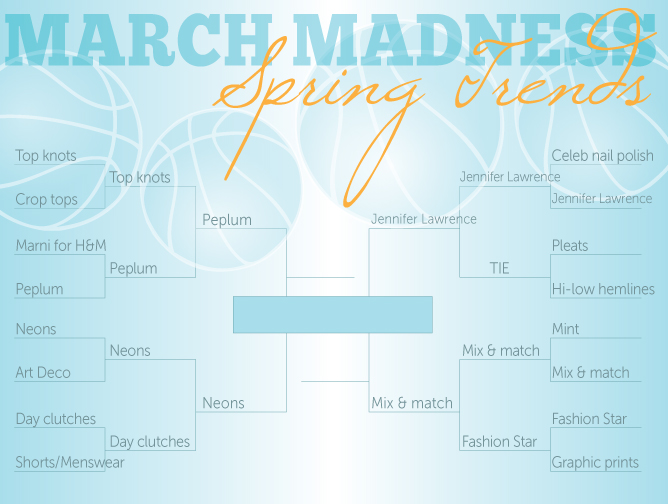 If you thought Round 1 was intense, the spring style trends are back for a fashion face-off that's better than ever. Bringing their A-game, these trends went head-to-head once again,
1. Top Knots vs. Peplum
This would have been a pretty intense street style battle, but when people realized that top knots were a little too Pebbles Flinstone, they took a detour into fashion junkie nation. Peplum was able to go mainstream, infiltrating the fashion elite and mass consumers, making it the ultimate victor.
2. Neons vs. Day clutches
A fierce battle between two trends that could become staples. One has a day-to-night multi-talent, while the other has been a spring superpower, popping up everywhere. No seriously, everywhere, try to find an editorial spread that doesn't include Neons…you won't. The sheer presence of this trend makes it the dominating opponent, effectively bringing the clutches to their knees.
3. Jennifer Lawrence vs. Hi-low pleats
Hi-lo pleats have their moment, but they are slowly proving to be a fleeting fashion trend instead of a superpower. With their lack of flattering powers coupled with the fact that they still remind us of mullets, made it somewhat easy prey for the recently Prabal Gurung/Marchesa-clad Jennifer Lawrence. And the fact that J.L. had a blockbuster movie come out this week and her face has been everywhere might have had something to do with the pleats' defeat.
4. Mixing & Matching vs. Fashion Star
The fact that Jessica Simpson has managed to stay pregnant for about a year has probably partially contributed to Fashion Star's success. While the ratings continue to grow, the dominance of Mixing & Matching is unparalleled. Between its ability to go wild with contrasting prints on the street and the editorial love of mixing neons for colorblocking, it has proved itself to be worthy of the winners' circle from start to finish.
Stay tuned for Round 3, we're one step closer to crowning the ultimate Spring Trend of 2012!

It's March Madness time again, but why does basketball get to have all the fun? This year we're turning our attention to spring 2012 trends, and pitting them against each other in our ultimate style challenge. Each week we'll bring you the rundown from the fashion competition, as we start the games with 16 major spring players. Stay tuned as the competition unfolds, it's going to get cutthroat.
May the odds be ever in your favor!
Meet the Sweet 16
1. Neons
Likened to a "Career Trend," it has a hidden superpower to turn into colorblocking at a moment's notice.
Celebrity Nail Polish Lines
The latest in noteworthy nails is the influx of celebrity-based lines. In its corner is the Kardashians for Nicole by OPI, Nicki Minaj for OPI and the Hunger Games Capitol Couture for China Glaze. If nothing else, at least the Hunger Games knows how to fight.
3. Mixing & matching
You can mix prints, you can mix metals, you can colorblock by mixing solids. A solid competitor with a driving street style force behind it.
4. Crop tops
A former superstar in the '90s with a taste for 21st century vengeance.
5. Hi-low hemlines
New to the style game (unless you liken this to a mullet hemline…which we don't), but it's taking the street style world by force.
6. NBC's Fashion Star
In its corner is a singer/designer, a model/designer, a reality star(?)/designer and a real designer. Let's just say it's got a lot of designing power behind it.
7. Top knots
A hairdo that has the ability to go messy or sleek, a key attribute when worn by a woman who has to look good with limited time. Which is every woman.
8. Day clutches
Another switch-hitter that has come into the running. With its larger size and diverse details, this opponent has a killer A-game.
9. Marni for H&M
A designer with a cult following. A store with a universal following. The combination will prove very hard to beat.
10. Peplum
This daring competitor has brought women everywhere a way to disguise their midsections and hips. Opponents beware.
11. Graphic prints
A new superpower has risen from basic pastel florals and springtime prints. Has the backing of designers like Altuzarra and Prabal Gurung.
12. Jennifer Lawrence
The one who took on Katniss Everdeen is out to prove she's a style star as well.
13. Shorts/Menswear
What used to be reserved for casual wear has taken a daring turn into the formal arena. Has a leg-up with special reinforcements like tuxedo details, satin finish and a full-leather armor.
14. Mint
Saturated pastels are big this spring, and mint is definitely their all-star.
15. Pleats
This multi-faceted competitor that can go long or short when needed
16. Art Deco Jewelry
Sharp, angular designs make this competitor almost deadly, and it has additional strength when stacked.
Rank your favorites with our blank bracket below, and let us know what trend you want to reign supreme on our Facebook www.facebook.com/staconsignment.