Posts tagged
hi-low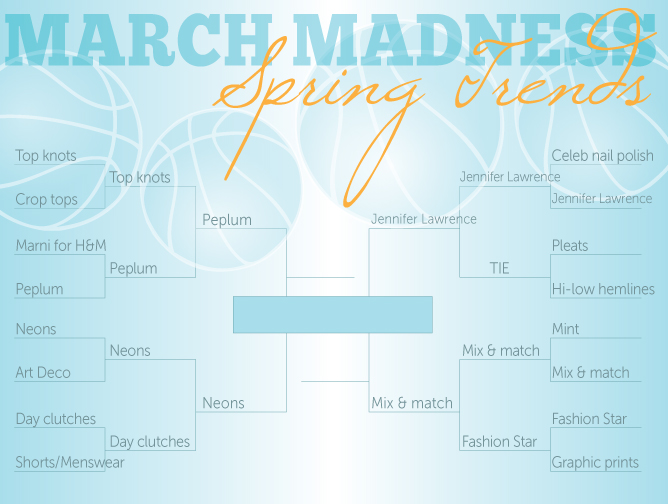 If you thought Round 1 was intense, the spring style trends are back for a fashion face-off that's better than ever. Bringing their A-game, these trends went head-to-head once again,
1. Top Knots vs. Peplum
This would have been a pretty intense street style battle, but when people realized that top knots were a little too Pebbles Flinstone, they took a detour into fashion junkie nation. Peplum was able to go mainstream, infiltrating the fashion elite and mass consumers, making it the ultimate victor.
2. Neons vs. Day clutches
A fierce battle between two trends that could become staples. One has a day-to-night multi-talent, while the other has been a spring superpower, popping up everywhere. No seriously, everywhere, try to find an editorial spread that doesn't include Neons…you won't. The sheer presence of this trend makes it the dominating opponent, effectively bringing the clutches to their knees.
3. Jennifer Lawrence vs. Hi-low pleats
Hi-lo pleats have their moment, but they are slowly proving to be a fleeting fashion trend instead of a superpower. With their lack of flattering powers coupled with the fact that they still remind us of mullets, made it somewhat easy prey for the recently Prabal Gurung/Marchesa-clad Jennifer Lawrence. And the fact that J.L. had a blockbuster movie come out this week and her face has been everywhere might have had something to do with the pleats' defeat.
4. Mixing & Matching vs. Fashion Star
The fact that Jessica Simpson has managed to stay pregnant for about a year has probably partially contributed to Fashion Star's success. While the ratings continue to grow, the dominance of Mixing & Matching is unparalleled. Between its ability to go wild with contrasting prints on the street and the editorial love of mixing neons for colorblocking, it has proved itself to be worthy of the winners' circle from start to finish.
Stay tuned for Round 3, we're one step closer to crowning the ultimate Spring Trend of 2012!