Posts tagged
Armani
We're handing out our own superlatives for this year's Academy Awards to our best and worst looks of the night. From stand-out accessories to cutest baby bumps to red carpet disasters, we give out our own awards to those who deserve it most.
Best Accessories: Jennifer Lawrence in Dior Couture
While she didn't trip on the endless diamond necklace she was sporting, this backwards necklace was my favorite accessories look of the night (followed closely by Sandra Bullock's hair pin). With the up-do, the simple drop earrings and the light, ethereal makeup, the whole look was perfection.
Best Red Lip: Jessica Chastain in Armani Privé
Looking amazing in a custom-made gown, Jessica definitely made up for her ill-fitting SAG Awards dress. But the icing on this sequined cake was definitely her striking red lip, which took the ensemble from monochromatic to magnificent.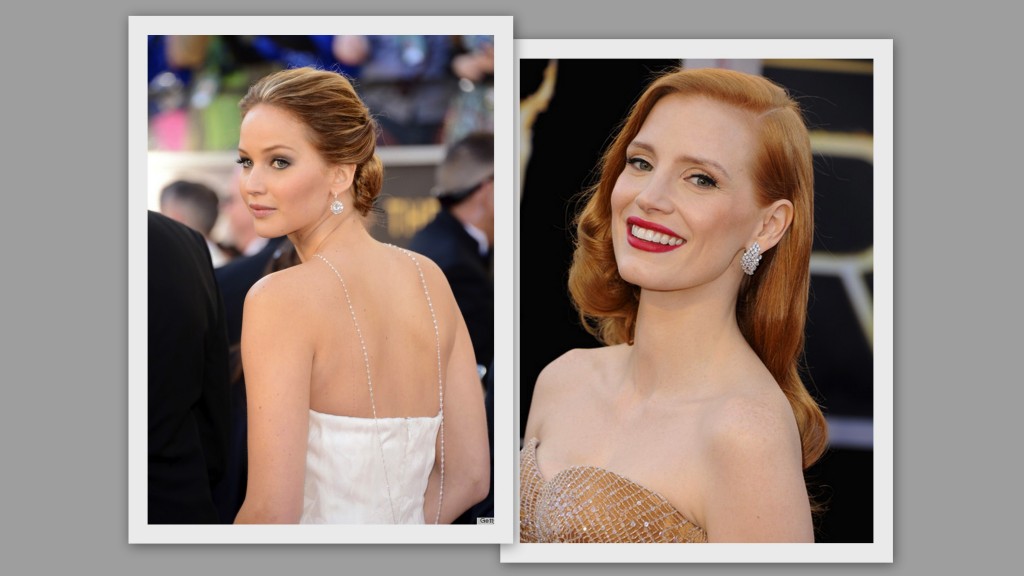 Best Couple: Channing Tatum and Jenna Dewan
This almost went to George Clooney and Stacy Keibler, but Jenna's pregnant with Magic Mike's baby, so she wins. Wearing a black lace Rachel Roy dress, Jenna showed us how to go fitted in the right way when sporting a bump.
Best Embellishment: Kerry Washington in Miu Miu
Playing off the Fall 2012 embellishment trend, this red/coral dress was perfect on her petite frame. The tiny bow and embellishment gave this simple shape a youthful feel, and the slightly darker hued bag made for an air of interesting.
Best Spring 2013 Trends: Zoe Saldana in Alexis Mabille Couture
While this dress had a lot of detail going on, the fact that it was almost monochromatic helped the embellishments blend into the dress beautifully. With ruffles and black/white being hot trends for spring, Zoe's fresh take on ombré is strikingly modern.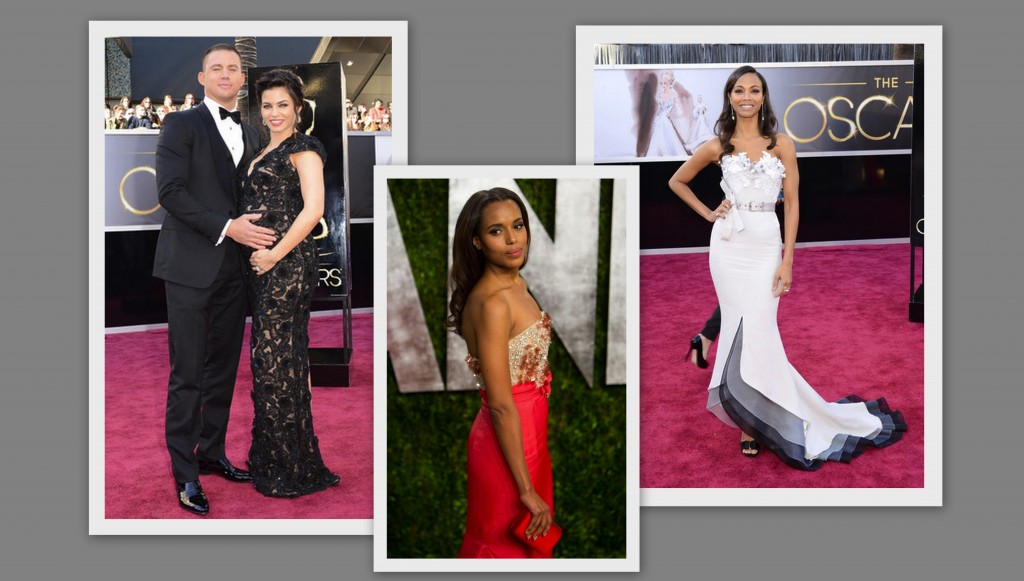 Most Offensive: Anne Hathaway in Prada
This is what happens when you change it up at the last minute. It was assumed – even by the designer – that she would be wearing Valentino, so it was a slap in the face when she showed up in what she did. Not only do we expect more from a nominee (even though the back almost saved the dress), but do we even have to mention the awkward darts? The fact that her nipples now have their own Twitter account sums up this look's legacy.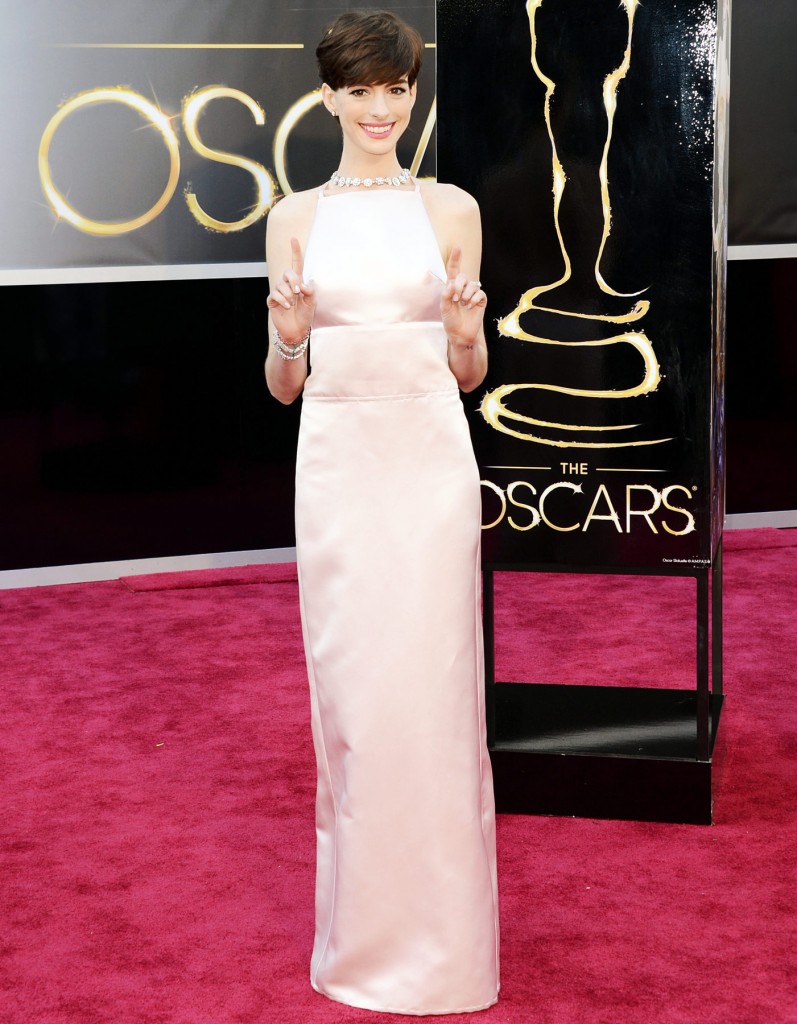 ~Ashley, FashioniSTA
Images by: Huffington Post/Getty, Allure.com, Eonline.com, UsMagazine.com, Popsugar.com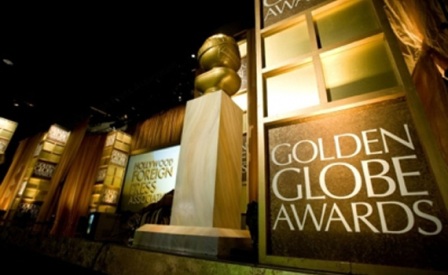 The Golden Globes marks the first big award show of the new year, making it part of the season of fashion holiness. This year a plethora of celebs graced the red carpet, some in outfits that made me want to be a better fashionista, others in ones that looked like a child put it together…in the dark. Check out the hot trends that were on hand that evening, and then stay tuned for our FashioniSTA Police Files as we break it out down who we think wore it best and who needs a fashion detox in a confined style boot camp.
Sunrise, Sunset
A big theme of the Golden Globes fashion parade was an array of orange, pink and red shades. From Emma Stone looking very California girl in a sherbet-colored Calvin Klein t-shirt dress to Sofia Vergara in a red/fuchsia Vera Wang corset gown, the spectrum was bright with stars who at least tried to push the envelope. January Jones was also a lady in red, wearing a fringed and very revealing Versace number, who ended up bearing a striking resemblence to Wonder Woman in some of her photos. On the pink side of things, Lea Michele donned a cotton candy pink, ruffled Oscar de la Renta – which bore a striking resemblance to the other ruffle dresses she wears, Julianne Moore attempted a one-shoulder look in  and Natalie Portman styled her baby bump with a Viktor & Rolf pink silk draped gown, with a large, red rose protruding from her chest as a bonus – did anyone else think of Beauty and Beast? I mean, who doesn't love a good Disney allusion?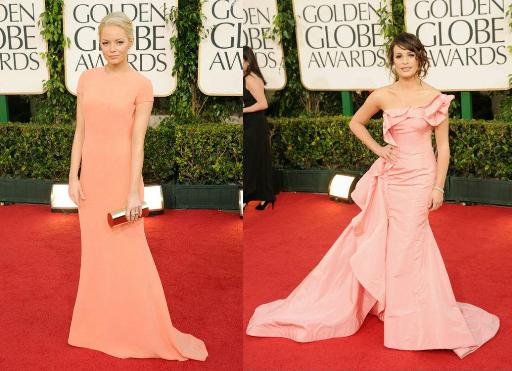 Emerald City
Having four big-name actresses wear a usually absent color makes people go gaga for green, which would explain why pretty much every media outlet is making us believe that every dress down the red carpet was this shade. Catherine Zeta-Jones (in Monique Lhuillier), Angelina Jolie (in Versace), Mila Kunis (in Vera Wang), and Elizabeth Moss (in Donna Karan) all showed up wearing this emerald jewel-tone, which is a nice change from the usually-muted tones that make it down the carpet. This was a great way to bring a little holiday spirit into the new year, and while I had been missing my Christmas tree, I think I can safely say I've gotten my evergreen fix. Big stars in gorgeous gowns? Sounds like a pretty fabulous Christmas gift to me.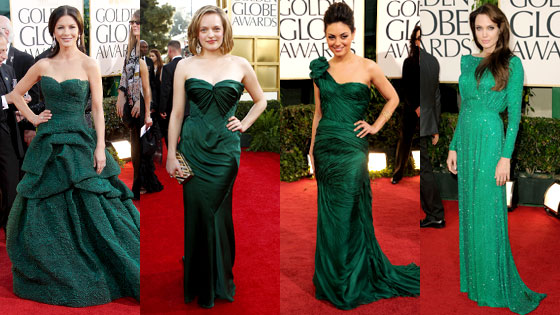 Vintage Frocks
Going vintage is always a great way to stay classic on the red carpet, but go too far, and it can look like an old-school nightmare. From Scarlett Johansson in Elie Saab to Sandra Bullock in Jenny Packham to Leighton Meester in Burberry, there was no shortage of flowy, embellished dresses, with the occasional retro-print thrown in there - see Michelle Williams in Valentino or Heidi Klum in Marc Jacobs. Maybe it's just fashionista delirium, but some of these looked like they belonged in the back of a closet at a retirement home. There's nothing FashioniSTAs love more than a good vintage (or vintage-looking) find, but we could be on the fence about some of these looks, whether or not it's just the styling that went awry.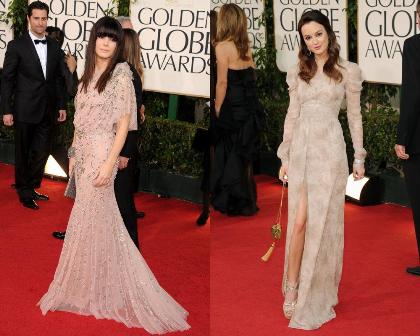 Glitteratti
No awards show would be complete without celebs in sequins. Olivia Wilde wore a Marchesa black tulle number that looked like it could single-handedly restore the American economy with all that gold sprinkled on it, combined with the serious sparkle she had on her shoes. Amber Riley (in Oliver Tolentino), Anne Hathaway (in Armani), and Carrie Underwood (in Badgley Mischka) also went with sequined gowns, providing a little extra sparkle on the red carpet. Jennifer Lopez pushed the glitter envelope with a Zuhair Murad encrusted capelet over his white, demure, yet body-skimming gown, and while different from her sexy style that we know and love, this can be considered the style of "Mommy J.Lo."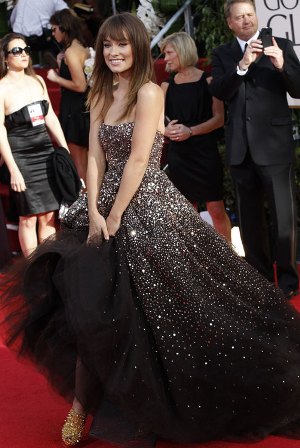 Hungry for more Golden Globes fashion? Who isn't?! Stay tuned as the FashioniSTAs give you their insider opinions on who walked the walk in the right dress, and who needs fashion rehab.