Posts tagged
Kerry Washington
We're handing out our own superlatives for this year's Academy Awards to our best and worst looks of the night. From stand-out accessories to cutest baby bumps to red carpet disasters, we give out our own awards to those who deserve it most.
Best Accessories: Jennifer Lawrence in Dior Couture
While she didn't trip on the endless diamond necklace she was sporting, this backwards necklace was my favorite accessories look of the night (followed closely by Sandra Bullock's hair pin). With the up-do, the simple drop earrings and the light, ethereal makeup, the whole look was perfection.
Best Red Lip: Jessica Chastain in Armani Privé
Looking amazing in a custom-made gown, Jessica definitely made up for her ill-fitting SAG Awards dress. But the icing on this sequined cake was definitely her striking red lip, which took the ensemble from monochromatic to magnificent.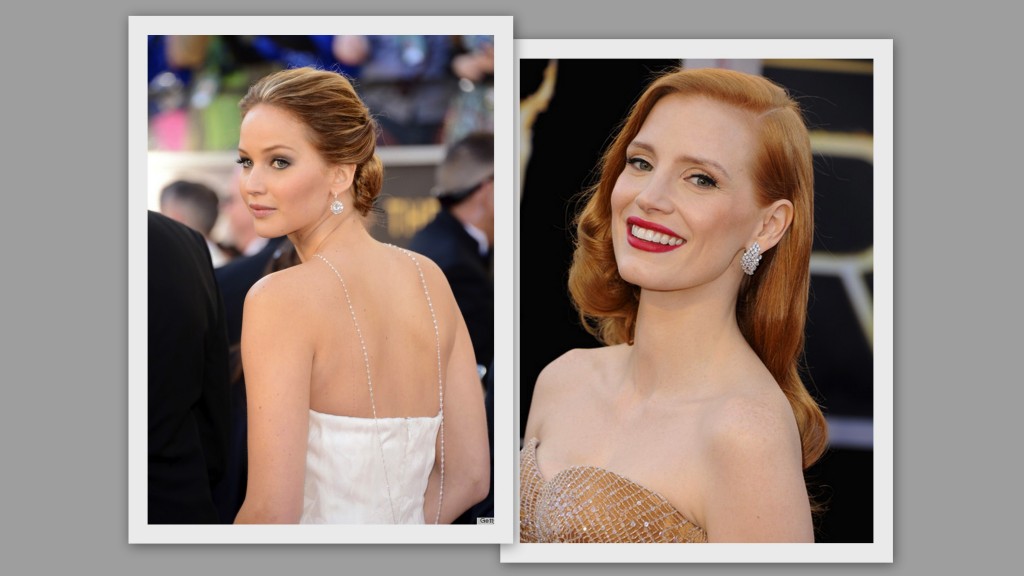 Best Couple: Channing Tatum and Jenna Dewan
This almost went to George Clooney and Stacy Keibler, but Jenna's pregnant with Magic Mike's baby, so she wins. Wearing a black lace Rachel Roy dress, Jenna showed us how to go fitted in the right way when sporting a bump.
Best Embellishment: Kerry Washington in Miu Miu
Playing off the Fall 2012 embellishment trend, this red/coral dress was perfect on her petite frame. The tiny bow and embellishment gave this simple shape a youthful feel, and the slightly darker hued bag made for an air of interesting.
Best Spring 2013 Trends: Zoe Saldana in Alexis Mabille Couture
While this dress had a lot of detail going on, the fact that it was almost monochromatic helped the embellishments blend into the dress beautifully. With ruffles and black/white being hot trends for spring, Zoe's fresh take on ombré is strikingly modern.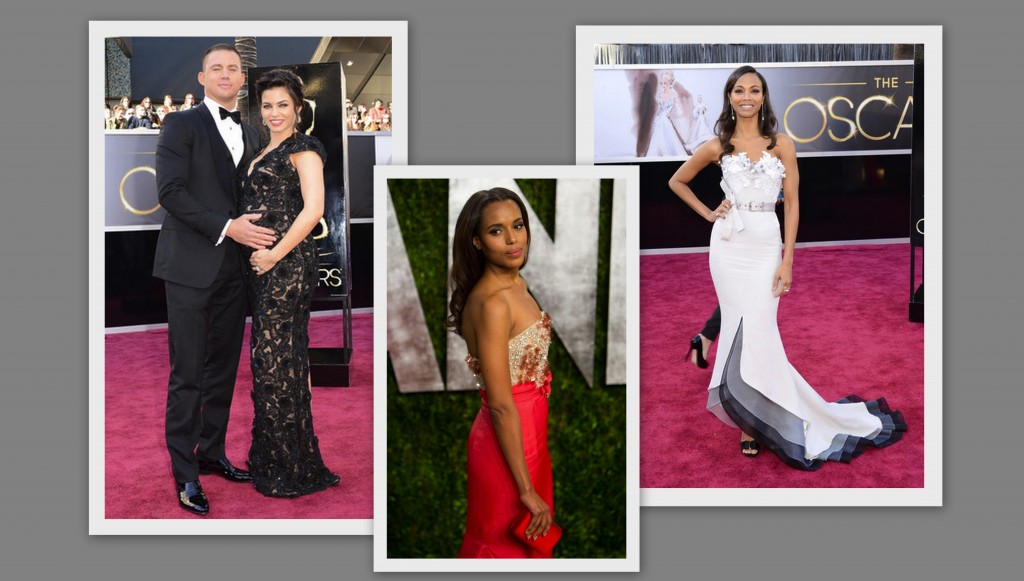 Most Offensive: Anne Hathaway in Prada
This is what happens when you change it up at the last minute. It was assumed – even by the designer – that she would be wearing Valentino, so it was a slap in the face when she showed up in what she did. Not only do we expect more from a nominee (even though the back almost saved the dress), but do we even have to mention the awkward darts? The fact that her nipples now have their own Twitter account sums up this look's legacy.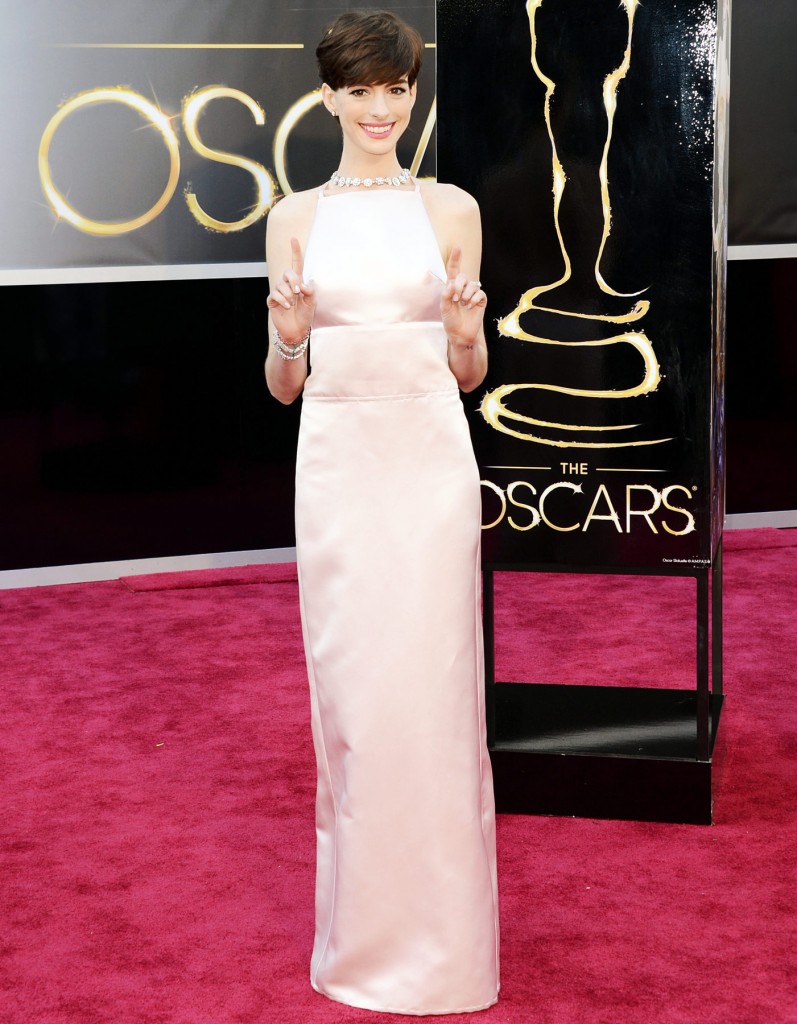 ~Ashley, FashioniSTA
Images by: Huffington Post/Getty, Allure.com, Eonline.com, UsMagazine.com, Popsugar.com
With another award season officially kicking off last night, we are here to weigh in on the best and worst dressed starlets hitting the red carpet. First up: The Golden Globes! From the sparkly style stars to the oh-no-it-hurts flops, Kristen, Ashley and Meghan tell us their picks of the night. Stay tuned for our takes on each awards show this season, and tell us your highs and lows on Facebook and Twitter!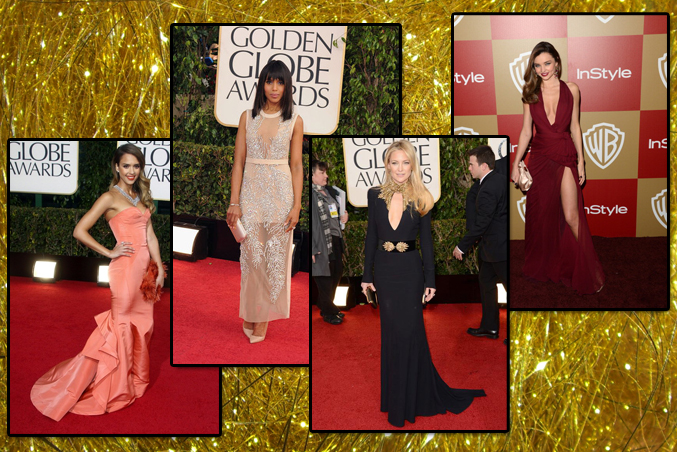 The Best of the Best
Kristen's Pick: Miranda Kerr in Zuhair Murad
I think Miranda was the epitome of old school Hollywood siren (even if she isn't an actress…) in this is burgundy Zuhair Murad gown. If anyone could pull off a high slit and plunging neckline without making it look like they're trying too hard, it's her.
Honorable Mention: Kate Hudson knocked it out of the park in this McQueen number.
Ashley's Pick: Kate Hudson in Alexander McQueen
This entire look is completely flawless. From the intricate embellishment to the effortless blowout, Kate's team was able to make her 100% relevant in this look. She was able to look completely put-together and fashion-forward without looking fussy or bizarre. I can't even put into words how much I love this whole ensemble, it's utterly breathless.
Honorable Mention: Kerry Washington rocked the sheer, nude and embellished trends all in one perfect Miu Miu package.
Meghan's Pick: Jessica Alba in Oscar de la Renta
The always beautiful Jessica Alba looked maj in this Oscar de la Renta gown. The peachy color looks great on her olive skin and the breathtaking necklace breaks up the matching lipstick. Her soft curls pull the whole look together! She could have left the fluffy bag at home but I won't hold it against this best dress nominee.
Honorable Mention: Nicole Richie's blue patterned Naeem Khan dress looked stunning with the matching eye shadow.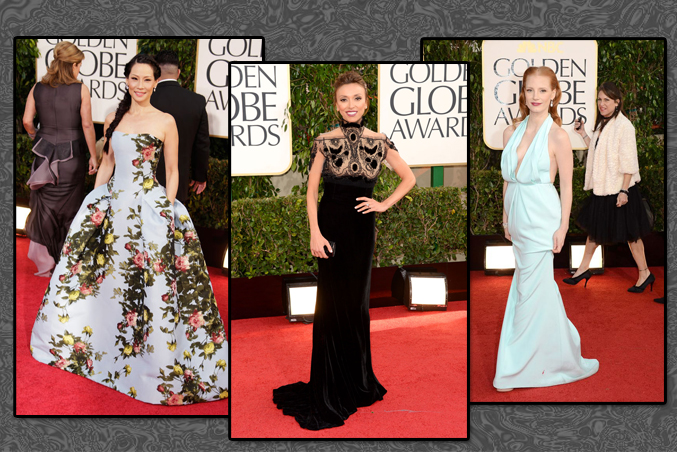 Wayward Worst
Kristen's Pick: I'm sorry but someone has to call the fashion police on Giuliana Rancic. I am usually all for classic, Downton Abby style dresses but Giulianna looks like she's channeling Helena Bonham Carter in this goth-gone-wrong Celia Kritharioti dress. I can't imagine G got Joan's approval on this one.
Honorable Mention: Halle Berry is a babe, but this Versace dress was a fail.
Ashley's Pick: It physically hurts to put Jessica Chastain in this category. I would like to officially go on record and say that I am obsessed with everything about her, all except this Calvin Klein dress. She's a gorgeous canvas, but the fit and the hair choice served her a serious injustice.
Honorable Mention: Sienna Miller's ode to wallpaper Erdem skirt and top.
Meghan's Pick: Lucy Liu can pretty much pull anything off. This dress, not so much. While the silhouette isn't horrible, the floral pattern and colors are. I do like the fullness of the dress and the fact that it has pockets (I always love leaving my bag at home).
Honorable Mention: Julianne Hough's horrific Monique Lhuillier dress and poor makeup ensemble.
We'll see you all in a couple weeks for our SAG Awards picks!