Posts tagged
Armani Prive
We're handing out our own superlatives for this year's Academy Awards to our best and worst looks of the night. From stand-out accessories to cutest baby bumps to red carpet disasters, we give out our own awards to those who deserve it most.
Best Accessories: Jennifer Lawrence in Dior Couture
While she didn't trip on the endless diamond necklace she was sporting, this backwards necklace was my favorite accessories look of the night (followed closely by Sandra Bullock's hair pin). With the up-do, the simple drop earrings and the light, ethereal makeup, the whole look was perfection.
Best Red Lip: Jessica Chastain in Armani Privé
Looking amazing in a custom-made gown, Jessica definitely made up for her ill-fitting SAG Awards dress. But the icing on this sequined cake was definitely her striking red lip, which took the ensemble from monochromatic to magnificent.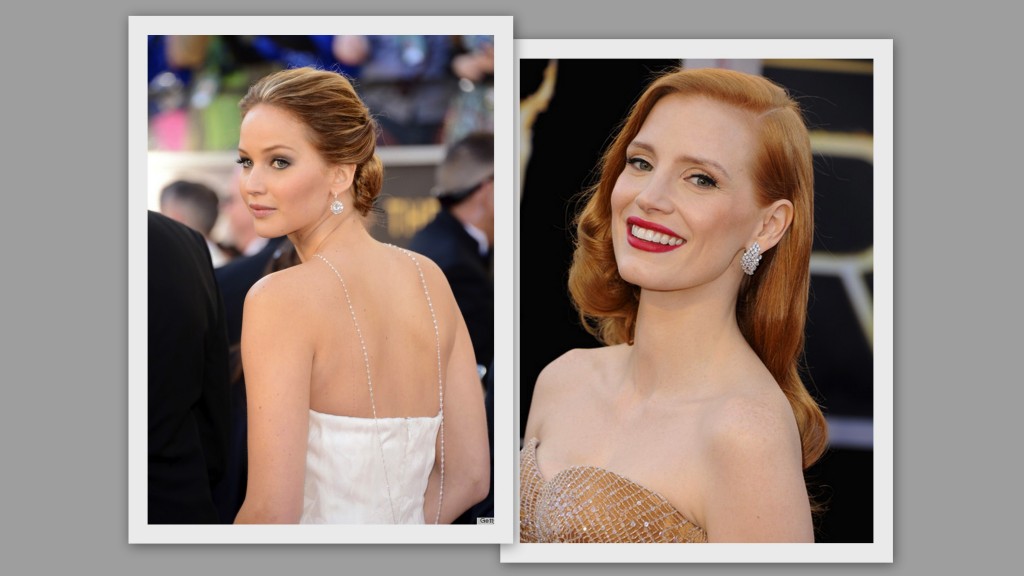 Best Couple: Channing Tatum and Jenna Dewan
This almost went to George Clooney and Stacy Keibler, but Jenna's pregnant with Magic Mike's baby, so she wins. Wearing a black lace Rachel Roy dress, Jenna showed us how to go fitted in the right way when sporting a bump.
Best Embellishment: Kerry Washington in Miu Miu
Playing off the Fall 2012 embellishment trend, this red/coral dress was perfect on her petite frame. The tiny bow and embellishment gave this simple shape a youthful feel, and the slightly darker hued bag made for an air of interesting.
Best Spring 2013 Trends: Zoe Saldana in Alexis Mabille Couture
While this dress had a lot of detail going on, the fact that it was almost monochromatic helped the embellishments blend into the dress beautifully. With ruffles and black/white being hot trends for spring, Zoe's fresh take on ombré is strikingly modern.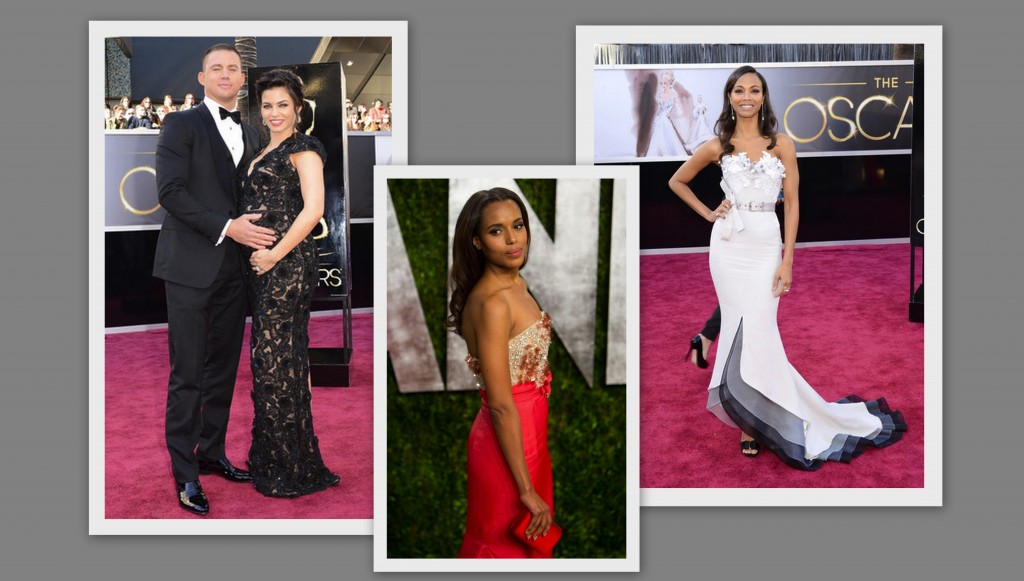 Most Offensive: Anne Hathaway in Prada
This is what happens when you change it up at the last minute. It was assumed – even by the designer – that she would be wearing Valentino, so it was a slap in the face when she showed up in what she did. Not only do we expect more from a nominee (even though the back almost saved the dress), but do we even have to mention the awkward darts? The fact that her nipples now have their own Twitter account sums up this look's legacy.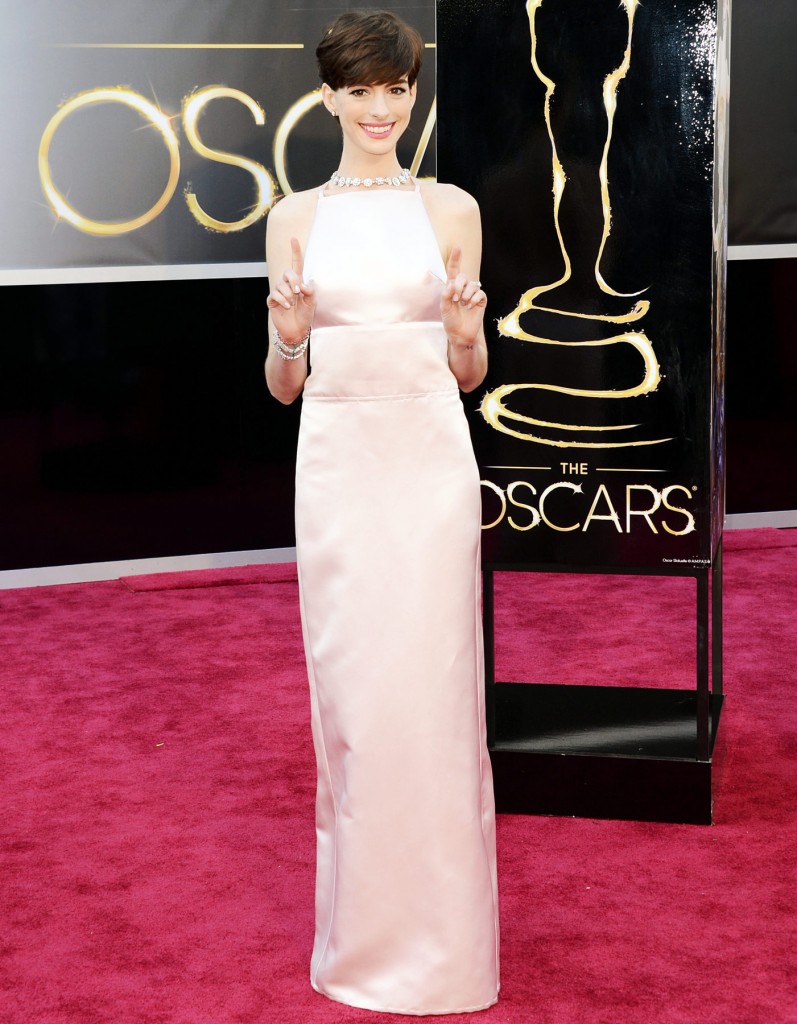 ~Ashley, FashioniSTA
Images by: Huffington Post/Getty, Allure.com, Eonline.com, UsMagazine.com, Popsugar.com
The verdict may still be out as to whether or not Anne Hathaway was a good host, but no one can argue that Rachel Zoe is an incredible stylist. Anne Hathaway changed no less than 7 times last night, for a total of 8 show-stopping looks. The FashioniSTAs break it down, one quick change at a time!
1. Valentino Couture Red Gown – Ashley's Favorite Pick
Marisa: Classic Valentino red on the red carpet, escorted by Valentino Garavani himself. I don't like red gowns very much because I am not a big "red" person, but it was hard to argue with this one.
Ashley: I LOVED this option when I saw it on camera. It was super elegant and the color was perfect on her skin (although the red nails were a little overkill), and it just screamed "Movie Star." Then I saw it in photos, and I don't know what flash some of these photogs are using, but they now have the uncanny ability to completely destroy dresses with one click.
Kim: The color looked stunning on her, but I felt the dress itself was predictable — just another fancy dress in a sea of fanciness.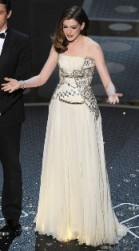 2. Givenchy Grecian Studded Gown – Leslie's Favorite Pick
Marisa: Givenchy can really do no wrong this awards season - Florence Welch at the Grammys, Cate Blanchett at the Oscars - and this silver embellished Grecian gown is no different.
Ashley: It was hard picking a favorite because this one was so spectacular as well. The detail was incredible, and even with her skin being so fair, she pulled this dress off beautifully.
Leslie: Rachel Zoe proved that she knows her stuff by putting Anne in 8 wardrobe changes, truly spectacular on Rachel's part and Anne carried them all well. But this one was my all time favorite, as soon as walked out she show-stopped the place.
Kim: This dress was so gorgeous.  Very royal, very appropriate for the moment.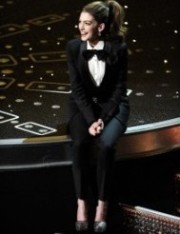 3. Custom Lanvin Tux – Marisa's Favorite Pick
Marisa: This was my absolute favorite Anne Hathaway moment of last night. Not only was the outfit made custom for her by Alber Elbaz himself, but it was paired with dedazzled Brian Atwood pumps and a Brigitte Bardot-inspired ponytail. In the words of Zoe herself, I die.
Ashley: The overall look of this ensemble was genius. It worked with the number that she performed, and the pumps were incredible. It was the perfect way to infuse some life into the evening!
Kim: I wasn't sold on Hathaway's charm until she busted out this little number, coupled with a song-and-dance routine.  Who knew that girl had pipes?  Seriously, my heart melts from her cuteness every time I even see a picture of this outfit.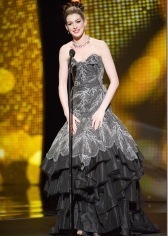 4. Vivienne Westwood
Marisa: I am on the fence here. The gown had potential, but I got distracted by the large necklace and drag-queen hair…
Ashley: This one was the only atrocious look out of the pack. The hair, the necklace, the dress, the whole look was so overdone and it ended up looking like a costume rather than couture. Unless she's playing Mother Ginger in an off-season performance of The Nutcracker, she should have lost this look.
Kim: I liked the dress, but I'm with Marisa on this one — the hair and the necklace just ruined it.  The slight deconstruction of the dress needed to be paired with a more wild look, so the polish up top was poorly matched.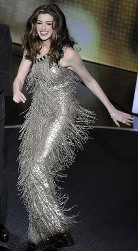 5. Oscar de la Renta Fringed Dress – Kim's Favorite Pick
Marisa: This dress was both fabulous and fun. Even Anne couldn't resist twirling about on stage to make the fringe float.
Ashley: Gorgeous. This was everything an Oscar dress should symbolize: drama and energy. I'm loving the whole '70s trend that's coming back, and this was the perfect example of this style done right. I'll throw it over to Kim to sum up this look, I have a feeling she might like this one…
Kim: Out… Of…  The…  Ballpark.  YES YES YES, Hathaway!  Lots of fringe is seldom done right, and she struck gold with this one.
 .
 .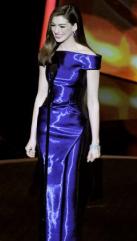 6. Armani Privé Cobalt Dress
Marisa: "Fierce" is the word that comes to mind. The color was out-of-this-world and the structured silhouette was futuristic, yet somehow it still looked classic and elegant. Giorgio Armani has still got it!!
Ashley: As a closet superfan of Zenon: Girl of the 21st Century, I love anything with a futuristic flair. This color was also a great nod to the upcoming Spring brights, and Armani has continued to wow this awards season (minus the misstep with Reese Witherspoon at this show).
Kim: The color was fabulous!  I could have done without the shine, and I'm just not a big fan of that shoulder line, but I really enjoyed seeing Hathaway bust out the bold colors, and this dress is one of them.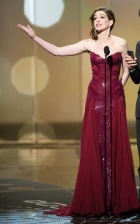 7. Atelier Versace Burgundy Gown
Marisa: Donatella certainly knows how to make a show-stopper. The intricate, body-hugging banding details and subtle shimmer made it sexy, but the color kept it regal and classy. Love.
Ashley: The structure of this dress was so intricate, and the color was a great shade against Anne's fair skin. This was a great choice for the host, it really popped on stage, but if it had been photographed on the carpet, the detail might have gotten lost, and the color would have clashed with the carpet.
Kim: I love the hue and the detail of the dress, but you could really only see it up close.  From a distance, it was just another big dress.  The color, in my opinion, was the only saving grace of this piece.
8. Tom Ford Sheer, Bedazzled Gown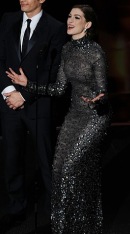 Marisa: This was an interesting choice by Zoe and I loved it. This long-sleeved, high-neck dress was still "Tom Ford-sexy" and had a bit of a vampy edge to it. It was also one of the only examples of his first women's collection at the Oscars.
Ashley: This was my least favorite, and probably the most unflattering option. This would probably have worked better if it was super short and Anne Hathaway was debuting her short program for the Women's Figure Skating portion of the Olympics.
Kim: This just seemed SO matronly on her.  I thought she was supposed to represent a more YOUNG and HIP version of the Oscars?
.
The biggest awards show is without a doubt the Oscars, and this ceremony brought out some of the best outfits of the year!  In comparison to last year's gala, we noticed a lot more poise and polish.  Last year was a mixed bag of prints and ruffles and experimental fashion, and this year was a definite return to the glitz and glamour that is expected at such a show. We break it down from the gowns to the jewels, FashioniSTA style!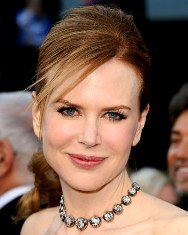 Big Time Jewels
We know that the first thing that catches your eye is the dress, but this year's show brought out such a wide variety of shiny accessories, that we just can't ignore them. Hailee Steinfeld's Fred Leighton's diamond headband was an adorable addition to her youthful, ballerina-esque ensemble. Céline Dion's Bulgari pendant was stunning, and an exquisite addition to her streamlined gown. These jewels saved some of the outfit disasters that hit the red carpet, such as Nicole Kidman's gorgeous Fred Leighton necklace (right) that offset her poor Dior gown choice.
But some jewelry choices were just plain distracting. Amy Adams in Cartier should fire her stylist, that necklace is not meant for that neckline, and the cuff is jewel overkill.  And wait until we get to Reese Witherspoon, her emerald earrings are just the tip of the iceberg.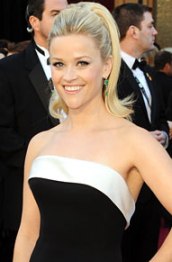 Mismatched Hair Choices
One bizarre trend this season was horribly underdone hairstyles paired with fabulous dresses.  Sharon Stone looked great in John Galliano for Christian Dior, but what was going on on top of her head? She had a serious bubble with out of control wisps.  Amy Adams tried hard to channel Veronica Lake, but she was in some serious need of conditioner and the choice was all wrong for that L'Wren Scott dress of hers.  And poor Sandra Bullock just can't seem to get a break at the salon – her Vera Wang dress was out of sight, but it looked like someone just grabbed chunks of her hair and pinned them at random.  I feel like this is how my hair looks when I'm at the spa.  But for Reese Witherspoon (right), she had the exact opposite problem – wonderful ponytail fall, but paired with the earrings and the outdated dress, it was too much.  If she lost the earrings and paired the hair with a different dress, like Hailee Steinfeld's Marchesa, for example, and Witherspoon would have been too adorable for words.
The FashioniSTA Picks
Best Dressed: Cate Blanchett (right) in Givenchy Couture was breathtaking. It was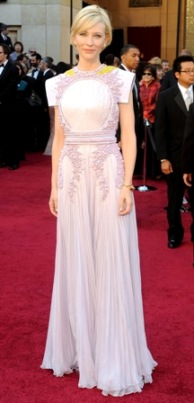 everything that a red-carpet gown should be - unique and on the cutting edge of fashion yet wearable so that the actress was still the focus. Her earrings were small so as not to distract from the beautiful beading on her shoulders and chest and her hair was soft and simple - a perfect match. I loved everything about this dress - the color, the beading, the cut-out, the draping - but what really made it a show-stopper was the way in which Cate wore it. She can handle an edgy dress with ease - an Oscar-worthy red carpet moment indeed!
Worst Dressed: Thank God Melissa Leo won the Oscar for best Actress in a Supporting Role so that there was something to focus on other than that atrocious Marc Bouwer dress. The heavy-handed lace, the gold foil lining, the high collar, the structured shoulder, the spider-beetle necklace (what in the world??!!)…there was WAY too much going on and none of it was flattering. I loved her in the Fighter, but I hated her in that dress.
On the Fence: Gwyneth Paltrow looked absolutely stunning in the metallic column dress by Calvin Klein Collection. It fit her to a T, her hair matched it perfectly and the way it moved…incredible. However, I was totally put off by the jeweled brooch at her hip and matching earrings. The brooch at her hip totally distracted from the clean, statuesque lines of the dress and I thought that the multi-colored stones on the jewelry were too much. Her stylist could have definitely introduced an additional color to the ensemble, but just one color would have been best. I am thinking big emeralds…
Rookie of the Year: Hailey Steinfeld's tea-length Marchesa dress was the perfect choice for this young star. It was appropriate for the occasion and most importantly, it was appropriate for her age. She looked like a princess and I am sure that she felt like one too. The makeup was clean and simple - subtle liner and mascara and a pink lip - and the silver headband and ballerina bun kept it youthful and fun. I hope that she had a fabulous time!
Biggest Comeback:  Sharon Stone has ended up on Worst-Dressed Lists more often than Best-Dressed Lists of late. However, she redeemed herself last night. The form-fitting black dress with feather embellishments was both classic and of-the-moment all at the same time. But, the feathers and the asymmetrical neckline placed Stone directly in line with the current trends. Her clutch was simple and added some additional texture and her hair was in a classic French twist, but with some added height for drama. I may have preferred if her makeup artist didn't have such a heavy hand with the eyeliner (it makes her look a little crazy and, let's be honest, Sharon Stone doesn't need any help looking crazy…), but other than that, it was a red-carpet A+!!
Best Dressed: Anne Hathaway in Valentino Couture, before the flash photography got a hold of her. It was the epitome of timeless elegance when I saw it on the red carpet coverage, and it makes me very sad that the photographs ruin it. Cate Blanchett's allusion to my fave holiday - Easter - was also a breath of fresh air. Fashion-foward that works.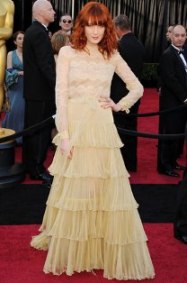 Worst Dressed: Florence Welch (right). Looking like what I'd imagine the wife in the attic in Jane Eyre, I'm borderline shocked that Valentino would let this loose on the red carpet. But then again, they also designed that daisy disaster that Michelle Williams wore to the Golden Globes.
On the Fence: Mandy Moore in Monique Lhuillier. I loved the gold sparkles with the illusion detail, but something about this felt wrong. Between the color of the dress, her skin tone, her makeup, and her hair, she just looked washed out, and a little old.
Biggest Comeback: Celine Dion in Armani Privé. Although she's never been a worst-dressed offender, I can't recall the last time I saw her on a red carpet. She made her big comeback in the best way possible, by wearing a killer dress (she had twins recently?!) and paying homage to her last Oscar appearance with her "Heart of the Ocean"-esque pendant.
Rookie of the Year: My girl crush on Selena Gomez grows every time I see her on the red carpet. Although she wasn't part of the Oscars until the Vanity Fair after party, she looked AMAZING in a red Dolce and Gabbana gown. Her hair, makeup and accessories were the perfect complements to the dress, her overall look was just stunning.
Best Dressed: Halle Berry (right) in Marchesa. She looked radiant in a nude strapless crystal corset gown. It had has silk tulle ruffles that made it look like she was floating on a cloud. Halle Berry never disappoints me and this dress proves it.
Worst Dressed: Scarlett Johansson in Dolce and Gabbana. The purple doily looking ensemble was terrible, I personally think she's beautiful all the time but that gown did nothing for her and her figure.
On the Fence: Amy Adams in L'Wren Scott. The royal blue sequin gown was to dieeeeeeee for but the accessories through me for a loop. Granted they were Cartier but the emerald green necklace and bracelet on blue??? No idea what she was thinking but none the less she was wearing a spectacular dress.
Rookie of the Year: Hailee Steinfeld in Marchesa. Truly a pretty little ballerina moment. I thought it worked really well for being that she's fourteen, it was modest and a great approach to the Oscars. I'm sure we'll see more of her in the future.
Best Dressed: Matthew McConaughey's better half Camila Alves (right) in Kaufman Franco… I know, I know, not exactly who you would expect, but that dress was JUST TOO GOOD.  The Oscars are all about polish, and that Camila was the essence of sleek.  Same could be said for Jennifer Hudson in Atelier Versace.  Execution?  FLAWLESS.
Worst Dressed:  My biggest "ugh" of the night went to Mark Ruffalo's wife, Sunrise Coigney in Jean Paul Gaultier.  What…was…that?!  Oh, and Reese Witherspoon?  I think I saw your dress when I was perusing the Cosmo Prom Issue back in 1996…only then it was made by Zum Zum and not Armani Privé.
On the Fence: Cate Blanchett in Givenchy…in the end, I liked it, but it just seemed a little too "walking art" for me.  Jennifer Lawrence donned a Calvin Klein sheath, and she looked jaw-dropping sexy.  But for the Oscars?  It felt a little too casual.
Biggest Comeback: Sandra Bullock in Vera Wang.  That dress was so gorgeous on her, and if you recall the walking nightmare that was her Golden Globes outift, I think we can all agree that Bullock is back on track.
Rookie of the Year: Hailee Steinfeld — at 14 years old, she drew that design, brought it to Marchesa, and they made it for her.  Rookie?  Welcome to the Big Leagues!
Stay tuned for bigger and better things from the FashioniSTAs!!