Posts tagged
Sienna Miller
With another award season officially kicking off last night, we are here to weigh in on the best and worst dressed starlets hitting the red carpet. First up: The Golden Globes! From the sparkly style stars to the oh-no-it-hurts flops, Kristen, Ashley and Meghan tell us their picks of the night. Stay tuned for our takes on each awards show this season, and tell us your highs and lows on Facebook and Twitter!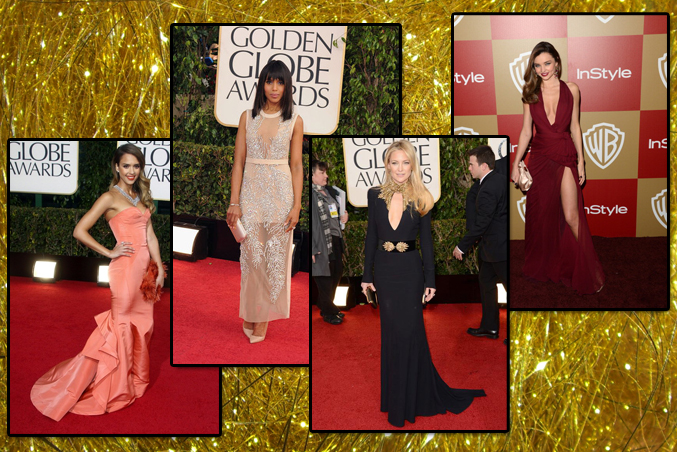 The Best of the Best
Kristen's Pick: Miranda Kerr in Zuhair Murad
I think Miranda was the epitome of old school Hollywood siren (even if she isn't an actress…) in this is burgundy Zuhair Murad gown. If anyone could pull off a high slit and plunging neckline without making it look like they're trying too hard, it's her.
Honorable Mention: Kate Hudson knocked it out of the park in this McQueen number.
Ashley's Pick: Kate Hudson in Alexander McQueen
This entire look is completely flawless. From the intricate embellishment to the effortless blowout, Kate's team was able to make her 100% relevant in this look. She was able to look completely put-together and fashion-forward without looking fussy or bizarre. I can't even put into words how much I love this whole ensemble, it's utterly breathless.
Honorable Mention: Kerry Washington rocked the sheer, nude and embellished trends all in one perfect Miu Miu package.
Meghan's Pick: Jessica Alba in Oscar de la Renta
The always beautiful Jessica Alba looked maj in this Oscar de la Renta gown. The peachy color looks great on her olive skin and the breathtaking necklace breaks up the matching lipstick. Her soft curls pull the whole look together! She could have left the fluffy bag at home but I won't hold it against this best dress nominee.
Honorable Mention: Nicole Richie's blue patterned Naeem Khan dress looked stunning with the matching eye shadow.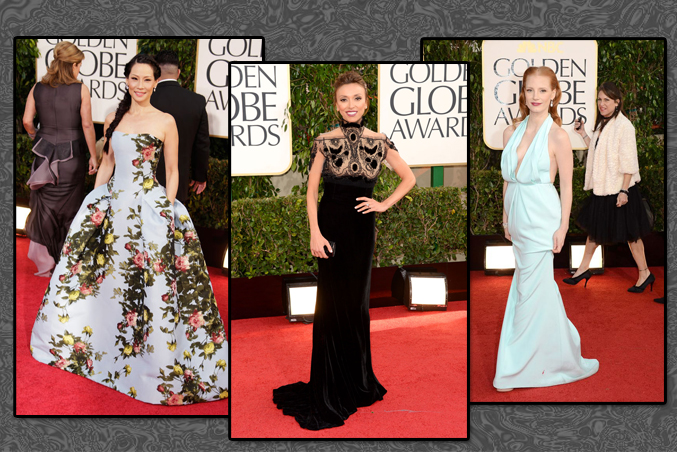 Wayward Worst
Kristen's Pick: I'm sorry but someone has to call the fashion police on Giuliana Rancic. I am usually all for classic, Downton Abby style dresses but Giulianna looks like she's channeling Helena Bonham Carter in this goth-gone-wrong Celia Kritharioti dress. I can't imagine G got Joan's approval on this one.
Honorable Mention: Halle Berry is a babe, but this Versace dress was a fail.
Ashley's Pick: It physically hurts to put Jessica Chastain in this category. I would like to officially go on record and say that I am obsessed with everything about her, all except this Calvin Klein dress. She's a gorgeous canvas, but the fit and the hair choice served her a serious injustice.
Honorable Mention: Sienna Miller's ode to wallpaper Erdem skirt and top.
Meghan's Pick: Lucy Liu can pretty much pull anything off. This dress, not so much. While the silhouette isn't horrible, the floral pattern and colors are. I do like the fullness of the dress and the fact that it has pockets (I always love leaving my bag at home).
Honorable Mention: Julianne Hough's horrific Monique Lhuillier dress and poor makeup ensemble.
We'll see you all in a couple weeks for our SAG Awards picks!
Truth: I'm a magazine hoarder. September issue season is similar to the second coming of Christmas. While I love each one that the mailman delivers, it leaves me with the inevitable surplus of material lying around my home. What's a girl to do with so much material month after month?
Answer: Inspiration books/boards. With my passion for society and fashion, my inspiration books serve as the best current indicator of my personal style.
A bit different than journaling, there's a few tips that every would-be inspiration bookie should keep in mind:
Pick the palette that's right for you. For me, it's a big basic black Moleskine notebook with graph paper. I prefer a sleek and simple canvas for its diverse inner-workings. For others, a journal with a favorite quote or motto may work. If you travel frequently, a notebook or sketchbook that you stumble across any random market may be perfect to use. Whatever you do, don't just settle for that leftover Five Star notebook from your sophomore year communications class. Even the exterior of your inspiration book should reflect a piece of you.
Know that a notebook isn't right for you? If you don't want to put together a book, you can always translate this same concept into an inspiration board using a simple piece of poster board. Hang it on the wall next to your closet for instant inspiration!
Use a broad set of materials. While my main focus is my own personal style, I constantly remind myself that my style goes beyond my favored military blazers and one-shoulder frocks. Inspiration can be found not only in the latest issue of Vogue, but also in the Pottery Barn catalog that lands on my doorstep. Love the ocean? Grab a sailing magazine. Find an amazing photo on Tumblr that speaks to you? Print it out and grab a glue stick. Don't limit an inspiration book to one topic – it's a space to let loose on everything you love.
Intertwine your personal styles. An inspiration book is a perfect place to further explore your current style. Without a doubt, a trend will appear within the pictures you choose. (For me, it was a lot of Sienna Miller, Reese Witherspoon, Rachel Bilson and Ashley Olsen.) Use your images as a guide to (loosely!) define your style and tweak it to make it uniquely you. (You'll find that yes, you can mix the button-down you adore on Kate Middleton and the boho skirt that Mary Kate Olsen rocks in the same outfit). Should you find yourself wearing similar pieces on a regular basis, this is the perfect way to find new and interesting additions to make your outfits that much more special.
Target what you have. Spy a picture of your L.L.Bean tote in Elle? The Catherine Malandrino LBD you nabbed on your last STA jaunt? The high-waisted Ralph Lauren pants you covet in your closet? Make sure to tear those pages out and work them into your inspiration book. See how professional stylists work them into their photo shoots for a new take on your longtime favorites.
The best part? Inspiration books always act as the best personal magazine. Can't decide what to wear to work in the morning? Tempted to grab your default leggings and tunic combo without thinking? Flip open any page of your newly minted inspiration book for any quick dose of panache you need.
~Meredith, fashioniSTA/Shopper Extraordinaire