Posts tagged
Michelle Williams
The Metropolitan Museum of Art Costume Institute Gala is the high fashion event where the style elite can push the envelope in the hautest way possible. Unlike the Grammys where celebs show up wearing cans of tuna or weird disco sunglasses, the Met Gala showcases the true potential of designers, fashion-forward celebs and ingenious stylists. Join us as we break down the top trends, the fashion elite and the style disasters that graced the Met Gala red carpet.
Americandy
While this is a great event to showcase haute gowns and bold picks, it is also refreshing to see a group of ladies strutting their stuff in simple, streamlined ensembles by American designers. Michael Kors must have worked overtime, dressing Diana Agron (below, right), Brooklyn Decker (below, left), Emma Roberts, and model Caroline Trentini. From Brooklyn's hot pink, high slit fierceness to Caroline's nude, textured concoction, Kors got it right, sending out the perfect amount of American minimalism with the Met Gala-required wow-factor.
Always the American minimalist, Claire Danes showed up in a metallic Calvin Klein Collection gown, while Zoe Saldana (below, center) also donned the designer wearing a strapless pale lemon dress. Both were low-key looks, yet they managed to not underwhelm us with their fresh choices in color.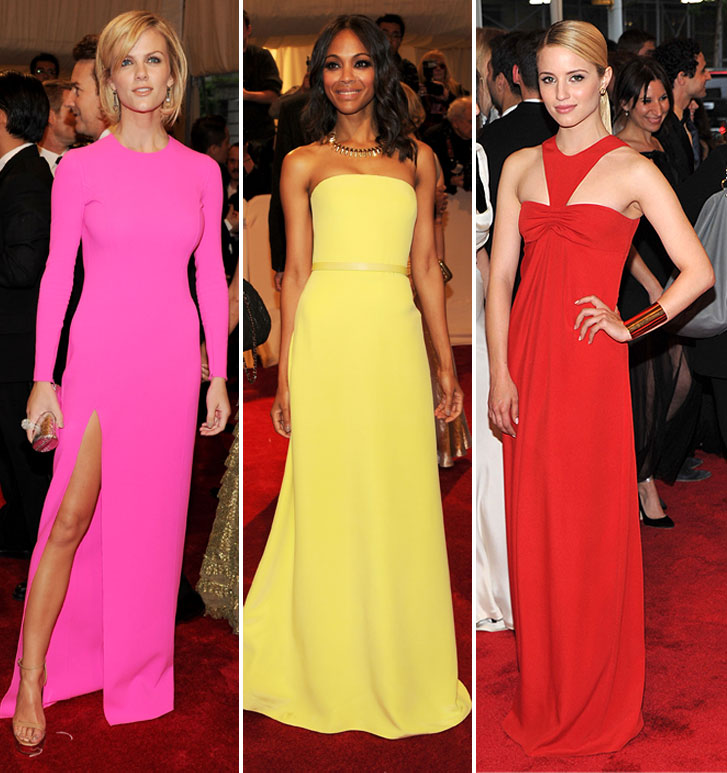 Got Something Up My Sleeve
One of the biggest trends of the night was sleeves. These stars must have finally been affected by the raging winter the rest of the country experienced, because you could not take a step without bumping into a not-bare arm. However, this trend seemed to work only on the stars who were able to keep it simple. The stand-outs of the night got this trend exactly right, including Renee Zellweger in a nude Carolina Herrera gown with just the right amount of sparkly detail on each hip. Naomi Watts also must have gotten dressed with Renee, because she too showed up in a nude gown with sparkle accents (by Stella McCartney), however hers created this ethereal feel with the illusion sleeves and light, translucent material. Gwyneth Paltrow brought the classy element back to gold in a stunning Stella McCartney, open-back, fitted gown, along with Sarah Jessica Parker in a silver, high-neck Alexander McQueen creation with the perfect silver-on-silver pattern detail. Going for a bit of a fashion risk, Ashley Olsen (below, right) encompassed the overall image of the evening in a vintage Christian Dior black gown with full, ivory, off-the-shoulder sleeves.
However, her sister, Mary Kate (below, left), missed the mark with her oversized Givenchy dress that looked like it was fit more for a trip to an Amish 1970s beach rather than a costume gala. Iman also looked like she was out of another decade a Stella McCartney gold, belted jumpsuit, and in the bad, 1980s type of way. But the biggest trend offender of the night? Christina Ricci in Zac Posen, evoking a morbid, just-raised-from-the-dead-in-a-Tim-Burton movie motif.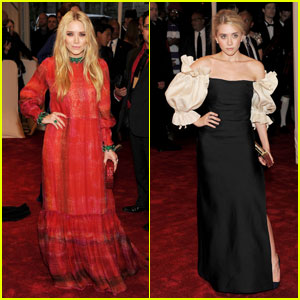 Surprise Designer: Topshop
When I think of the Met Ball, I think of haute couture gowns with feathers, studs, sequins and an expensive designer label attached. This year, however, three stunning starlets graced the gala in a label even we frugal fashionistas can afford. Jessica Szohr (below, center) edged things up a bit in a black velvet and tinsel minidress, while Maggie Grace (below, left) hit the red carpet in a limited-edition black gown by the mainstream label. Finally, Ginnifer Goodwin (below, right) wowed in a knotted green dress with a deep v front, which was ever so slightly overworked with the matching green eye makeup.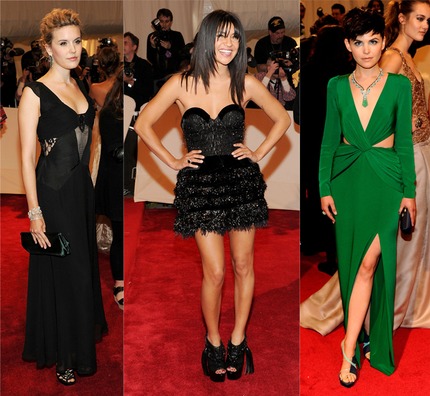 FashioniSTA Best Dressed: Diane Kruger in Jason Wu (left). Between her use of the illusion, sleeves and bedazzled trends, you'd think this would be a complete miss. But she managed to make it all work, evoking an old Hollywood glamour rather than a trashy mash-up of trends, which is definitely not easy to do.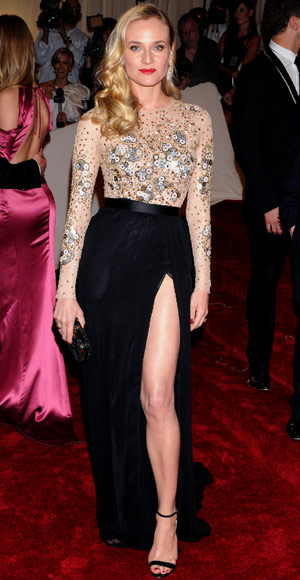 FashioniSTA Worst Dressed: Fergie in Marchesa. Not only is this dress an atrocious bridal nightmare from 1982, but the overly bronzed makeup and borderline frosted hair just added to the disaster. Bring back Grammy 2010 Fergie please!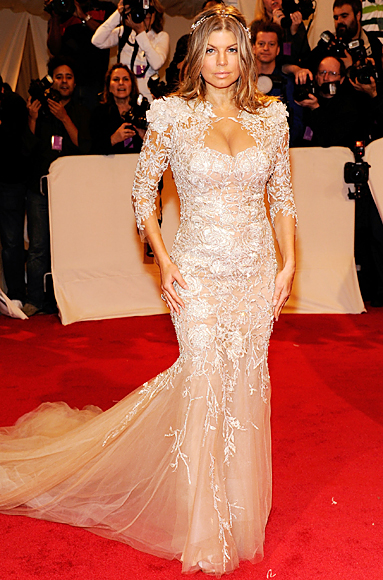 Most Improved: Rather than give this to an actual person, this award goes to Valentino's daisies, making their big comeback as appliqués on Dakota Fanning's tulle dress. After seeing Michelle Williams in these daisies at the Golden Globes, we thought that this trend would die a slow, painful death, but they have come back at the right event, on the right starlet, and in exactly the right way.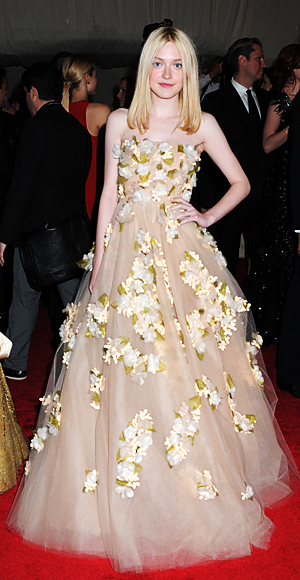 ~Ashley, FashioniSTA, Second Time Around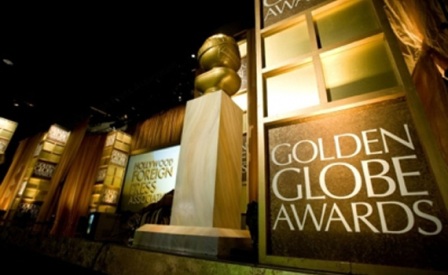 The Golden Globes marks the first big award show of the new year, making it part of the season of fashion holiness. This year a plethora of celebs graced the red carpet, some in outfits that made me want to be a better fashionista, others in ones that looked like a child put it together…in the dark. Check out the hot trends that were on hand that evening, and then stay tuned for our FashioniSTA Police Files as we break it out down who we think wore it best and who needs a fashion detox in a confined style boot camp.
Sunrise, Sunset
A big theme of the Golden Globes fashion parade was an array of orange, pink and red shades. From Emma Stone looking very California girl in a sherbet-colored Calvin Klein t-shirt dress to Sofia Vergara in a red/fuchsia Vera Wang corset gown, the spectrum was bright with stars who at least tried to push the envelope. January Jones was also a lady in red, wearing a fringed and very revealing Versace number, who ended up bearing a striking resemblence to Wonder Woman in some of her photos. On the pink side of things, Lea Michele donned a cotton candy pink, ruffled Oscar de la Renta – which bore a striking resemblance to the other ruffle dresses she wears, Julianne Moore attempted a one-shoulder look in  and Natalie Portman styled her baby bump with a Viktor & Rolf pink silk draped gown, with a large, red rose protruding from her chest as a bonus – did anyone else think of Beauty and Beast? I mean, who doesn't love a good Disney allusion?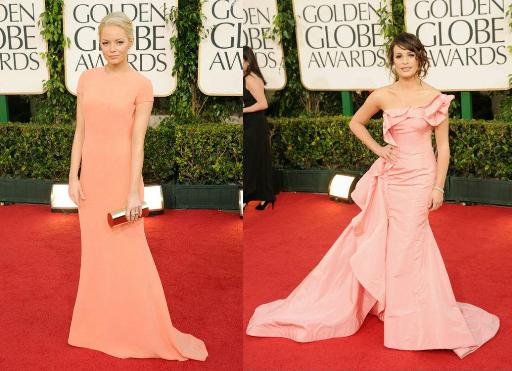 Emerald City
Having four big-name actresses wear a usually absent color makes people go gaga for green, which would explain why pretty much every media outlet is making us believe that every dress down the red carpet was this shade. Catherine Zeta-Jones (in Monique Lhuillier), Angelina Jolie (in Versace), Mila Kunis (in Vera Wang), and Elizabeth Moss (in Donna Karan) all showed up wearing this emerald jewel-tone, which is a nice change from the usually-muted tones that make it down the carpet. This was a great way to bring a little holiday spirit into the new year, and while I had been missing my Christmas tree, I think I can safely say I've gotten my evergreen fix. Big stars in gorgeous gowns? Sounds like a pretty fabulous Christmas gift to me.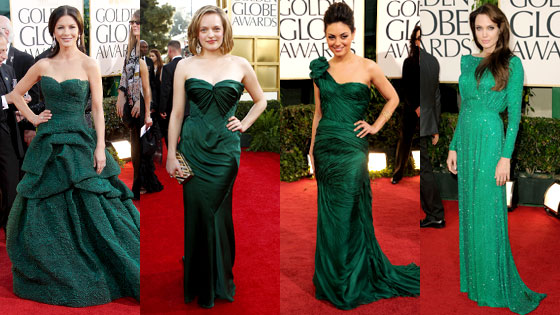 Vintage Frocks
Going vintage is always a great way to stay classic on the red carpet, but go too far, and it can look like an old-school nightmare. From Scarlett Johansson in Elie Saab to Sandra Bullock in Jenny Packham to Leighton Meester in Burberry, there was no shortage of flowy, embellished dresses, with the occasional retro-print thrown in there - see Michelle Williams in Valentino or Heidi Klum in Marc Jacobs. Maybe it's just fashionista delirium, but some of these looked like they belonged in the back of a closet at a retirement home. There's nothing FashioniSTAs love more than a good vintage (or vintage-looking) find, but we could be on the fence about some of these looks, whether or not it's just the styling that went awry.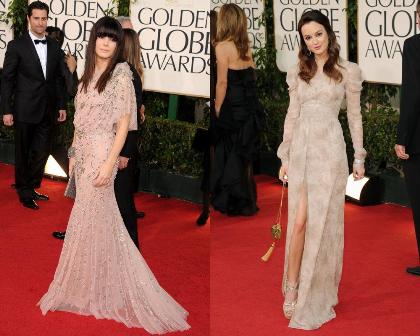 Glitteratti
No awards show would be complete without celebs in sequins. Olivia Wilde wore a Marchesa black tulle number that looked like it could single-handedly restore the American economy with all that gold sprinkled on it, combined with the serious sparkle she had on her shoes. Amber Riley (in Oliver Tolentino), Anne Hathaway (in Armani), and Carrie Underwood (in Badgley Mischka) also went with sequined gowns, providing a little extra sparkle on the red carpet. Jennifer Lopez pushed the glitter envelope with a Zuhair Murad encrusted capelet over his white, demure, yet body-skimming gown, and while different from her sexy style that we know and love, this can be considered the style of "Mommy J.Lo."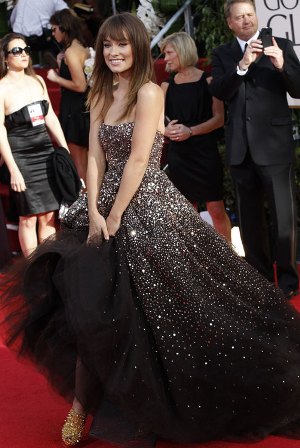 Hungry for more Golden Globes fashion? Who isn't?! Stay tuned as the FashioniSTAs give you their insider opinions on who walked the walk in the right dress, and who needs fashion rehab.