St. Patrick's Day How-To: A Dose of Green Done Right
Green is in the air this weekend, and it's only natural to want to get in on the festivities. Resist the urge to wear an oversized green bow-tie and a t-shirt that says "Kiss Me, I'm Irish." Instead, try a few fashionable approaches to the holiday to ensure that you don't wake up with a bad style hangover.
Minty Fresh
With Spring just around the color, saturated pastels are popping up everywhere. One of the biggest colors this spring is mint (not to be confused with Thin Mints), which also happens to be a killer choice to celebrate in this weekend. Instead of going with traditional kelly green, try a fresh spin with mint, either in a pair of colored denim (like from Current/Elliott), a sleeveless top (like this one from Rag & Bone), or a full mint dress (like from Diane von Furstenberg). Touches of mint were all over the Spring 2012 runway, from Carolina Herrera to DVF, and have been making they're way into all aspects of street style. If you're not comfortable trying it out in an ensemble, go with a mint manicure, pair of flats, scarf, sunglasses, or a bunch of stackable prasiolite or peridot-accented bangles or rings. Or you could even find items of clothing that have small mint touches, like this colorblock dress by Tibi (two trends, one stone!).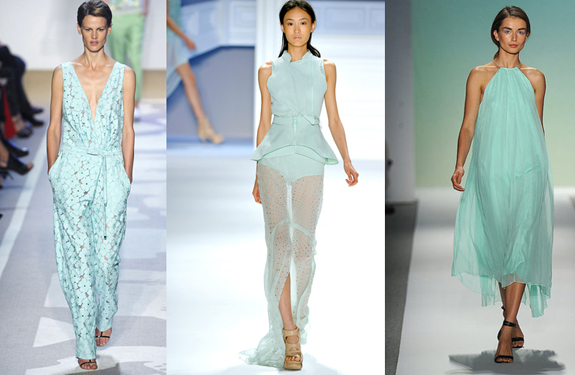 It's All in the Details
Unless you moonlight as a leprechaun, head-to-toe green might be a no-go. However, using a few individual touches of green can help you have a put-together - but still festive - look. Now is the perfect time to break out that bright green handbag or pair of flats that you haven't been wearing. Green is a tough color to go to, but luckily this spring is all about brights, and this is the perfect opportunity to break out of your muted shell! Red jeans have been lighting up the streets, but to get ahead of the trend a bit, go for a pair of green denim. Perfect for St. Patrick's Day and beyond!
If pants aren't your thing, you can start by working green in with jewelry and accessories, and then when you're feeling brave, you can move to bigger parts of your ensemble. Snap up a green dress, tank or skirt, and keep the rest of the outfit neutral for a classic look or go for colorblocking to bring on the bold. If you feel more comfortable with neutrals (black, white, camel, navy), you can work with different textures to achieve different looks. Go with simple knits for a minimalist vibe, or channel your inner urbanite with touches of leather - a huge trend for both spring and fall 2012. If you choose the colorblocking route, green goes great with all shades of blue - try a bright cobalt with a dark green for a great springtime look - as well as certain shades of yellow. Since neons are coming out in full-force, pairing a kelly green with a bright yellow is a surefire hit. But remember, for this holiday, pairing two shades of green together could come across as overkill.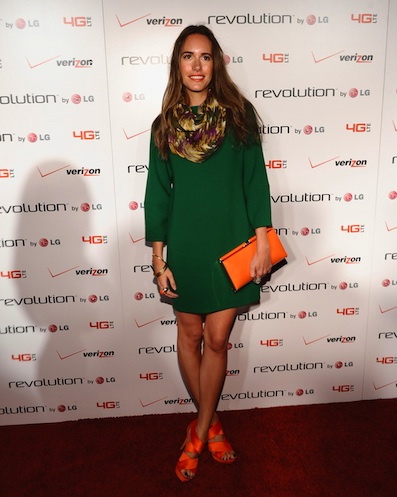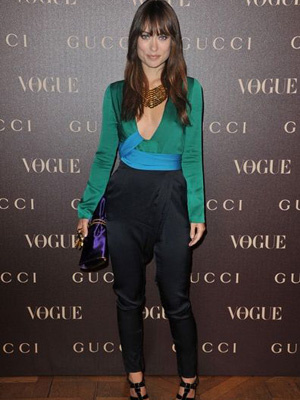 Prints Charming
This is also a great time to work in some of the green-printed pieces you have sitting in your wardrobe. Whether it's a green and white-printed wrap dress or a green polka-dotted blouse (like this Kate Spade option), St. Patrick's Day is a safe occasion to try out a piece for the first time. Once you wear it out, you may be more comfortable working it into your current wardrobe rotation. (This holiday is also a great excuse to get another wear out of a piece.) Another great thing about wearing green prints is that it doesn't look like you overdosed on the St. Patrick's Day Kool-Aid. You'll look classic and put-together, with just the right amount of holiday spirit.
Of course if you're one of those girls who goes big or goes home, I won't judge you for wearing a full sequined, green dress, as long as you channel Alice + Olivia's Fall 2012 line rather than Poison Ivy from Batman.
~Ashley, FashioniSTA
Comments are closed.