Posts tagged
flats
Green is in the air this weekend, and it's only natural to want to get in on the festivities. Resist the urge to wear an oversized green bow-tie and a t-shirt that says "Kiss Me, I'm Irish." Instead, try a few fashionable approaches to the holiday to ensure that you don't wake up with a bad style hangover.
Minty Fresh
With Spring just around the color, saturated pastels are popping up everywhere. One of the biggest colors this spring is mint (not to be confused with Thin Mints), which also happens to be a killer choice to celebrate in this weekend. Instead of going with traditional kelly green, try a fresh spin with mint, either in a pair of colored denim (like from Current/Elliott), a sleeveless top (like this one from Rag & Bone), or a full mint dress (like from Diane von Furstenberg). Touches of mint were all over the Spring 2012 runway, from Carolina Herrera to DVF, and have been making they're way into all aspects of street style. If you're not comfortable trying it out in an ensemble, go with a mint manicure, pair of flats, scarf, sunglasses, or a bunch of stackable prasiolite or peridot-accented bangles or rings. Or you could even find items of clothing that have small mint touches, like this colorblock dress by Tibi (two trends, one stone!).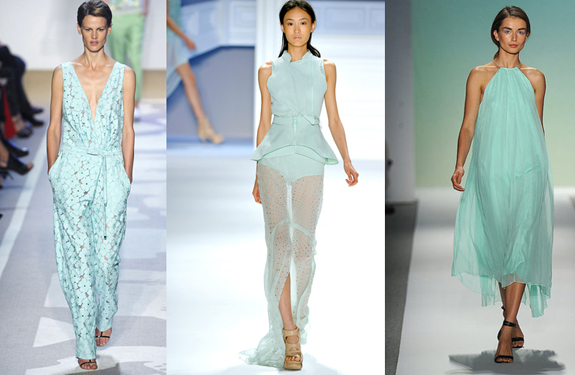 It's All in the Details
Unless you moonlight as a leprechaun, head-to-toe green might be a no-go. However, using a few individual touches of green can help you have a put-together - but still festive - look. Now is the perfect time to break out that bright green handbag or pair of flats that you haven't been wearing. Green is a tough color to go to, but luckily this spring is all about brights, and this is the perfect opportunity to break out of your muted shell! Red jeans have been lighting up the streets, but to get ahead of the trend a bit, go for a pair of green denim. Perfect for St. Patrick's Day and beyond!
If pants aren't your thing, you can start by working green in with jewelry and accessories, and then when you're feeling brave, you can move to bigger parts of your ensemble. Snap up a green dress, tank or skirt, and keep the rest of the outfit neutral for a classic look or go for colorblocking to bring on the bold. If you feel more comfortable with neutrals (black, white, camel, navy), you can work with different textures to achieve different looks. Go with simple knits for a minimalist vibe, or channel your inner urbanite with touches of leather - a huge trend for both spring and fall 2012. If you choose the colorblocking route, green goes great with all shades of blue - try a bright cobalt with a dark green for a great springtime look - as well as certain shades of yellow. Since neons are coming out in full-force, pairing a kelly green with a bright yellow is a surefire hit. But remember, for this holiday, pairing two shades of green together could come across as overkill.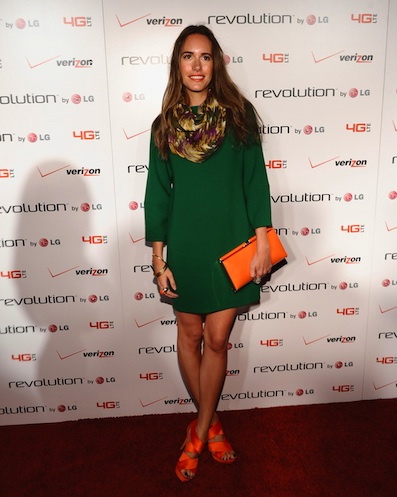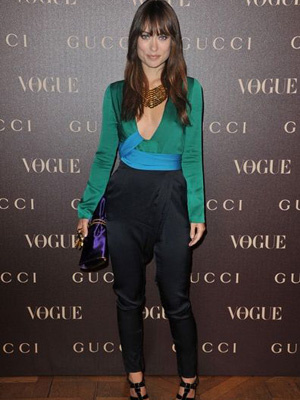 Prints Charming
This is also a great time to work in some of the green-printed pieces you have sitting in your wardrobe. Whether it's a green and white-printed wrap dress or a green polka-dotted blouse (like this Kate Spade option), St. Patrick's Day is a safe occasion to try out a piece for the first time. Once you wear it out, you may be more comfortable working it into your current wardrobe rotation. (This holiday is also a great excuse to get another wear out of a piece.) Another great thing about wearing green prints is that it doesn't look like you overdosed on the St. Patrick's Day Kool-Aid. You'll look classic and put-together, with just the right amount of holiday spirit.
Of course if you're one of those girls who goes big or goes home, I won't judge you for wearing a full sequined, green dress, as long as you channel Alice + Olivia's Fall 2012 line rather than Poison Ivy from Batman.
~Ashley, FashioniSTA
Paging 1996: you lost your jelly shoes and they somehow ended up in 2010. I was thinking about sending them back, but then I reconsidered. While I may not be ready to publicly fess up to my secret love for BSB and snap bracelets, after seeing the recent comeback of jellies, I may be ready to take this romance public.
It's not difficult to see why we have revisited this trend. It's almost like the shoe gods all got together and thought of a way women could have cute, comfortable shoes that can't be ruined unless you set them on fire. Even then I'm pretty sure you can mold them back together. The only problem was they were hideous, to put it mildly, and I have the emotional scars to prove it when I tried to bring them back in the eighth grade. But now that one glitch has been solved as designers such as Tory Burch and Burberry have stepped up and taken on the challenge.
The main difference between what we wore 15 years ago and what is being shown now is the color scheme designers are using. It's all about going opaque for a modern twist. We all remember jellies as being horrifically transparent, like Saran Wrap laced across your feet. But now you can use jellies as a way to update your current wardrobe choices with flats, flip flops, and sandal options. Everyone and their mother has a pair of Tory Burch Reva flats, and while they are now a classic staple, you can experiment with Burch's jelly Reva flats in bright pink or blue, guaranteed to make you stand out and withstand a freak rainstorm. Or go for classic black for a hint of edginess behind your seemingly demure footwear.
Ready to rock the world with your jelly footwear? Go for it with a pair of magenta, gladiator jelly sandals from Diane von Furstenberg paired with a romper for weekend fun in the city or at the beach. Or go with a pair of clear, embellished d'orsay flats from Stuart Weitzman – a true tribute to the '90s. Only for the truly fashion fearless, you can wear these with a bright sundress to really stand out, or go for the shoes in black for more versatility (and to look less like you still worship NKOTB).
Should you not be ready to fully revisit the days of Saved by the Bell and Tamagotchi pets, you can always try the jelly trend in a subtle flip flop. Try a clear, check pattern from Burberry or a bright (and less jelly-like) pair from Tory Burch, great for a relaxing day outside or even a casual barbecue. Or you can go 2010-fancy with a pair of bow flip flops from Valentino – perfect for the weekend or if you happen to have a black tie event starring Lady Gaga. These could definitely venture outside of the beach without looking out of place, especially in opaque ivory or red. Or you could always keep your jellies as poolside-only attire, for those who prefer to keep their fashion risks on the down-low.
Remember girls, clear is for the risk-takers, opaque equals modern subtlety. Until next time!
~Ashley, fashioniSTA, Second Time Around

Springtime brings college graduations and often the beginning of summer internships. Stepping out into the real, working world can be scary, especially if the only work-appropriate attire that you own is an interview suit. There are a few life-saving pieces that many people overlook, but are definitely worth making part of your style survival lineup:
Flats
In your first working experience, you will probably have a job where you will need to bring upper or mid-level management their coffee. And you will need to do it quickly, usually by running. Give yourself a break and wear flats – at least for the first few weeks – so you don't have to worry about maintaining your balance in heels. Cole Haan flats are like an extra lifeline with their Nike Air technology, but any pair of soft, leather flats work great. Either invest in a neutral color – such as Chanel black or nude leather – or use your flats to liven up your office outfit by adding subtle embellishments as seen with Vera Wang Lavender Label or Delman. Also, flat boots are completely acceptable as well, and you can usually commute in them.
Great designers to consider: Chanel, Tod's, Cole Haan, Pour La Victoire, Delman, Lavender Label Vera Wang, Joie
Raincoat
It never occurred to me when I got my first job that I would need to commute there as well. What also never occurred to me was that it might rain. One of the best decisions you can make is investing in a rain jacket with a hood. Go for the double-team on this one and find a jacket that you can also wear when the weather is nicer, whether it's a classic Burberry trench or a toggle front option from Jane Post.
Great designers to consider: Burberry, Theory, Jane Post, Preta LoBue
Basic Tanks and Blouses
One of the great life lessons I received when I started working was that you can never have enough basic tanks. Stockpile them in a variety of colors that you can use to layer, and never underestimate how many you will go through in the course of a week. In addition to these essentials, I also learned that investing in colorful and patterned blouses is key. While basic tanks work great under cardigans, structured blouses create instant professionalism when standing alone. Go for traditional neutrals to establish the basics, but also try bold colors and subtle embellishments – these become the new neutrals. These details on top will transform your skirts and pants from separates into a cohesive ensemble. While fitted blouses work with any look, you can pair looser tops with skinny jeans or tuck them into your pencil skirts for a professional, yet chic outfit. Even if you don't work in a creative field, you can still wear an embellished or colorful tank – mastered by Tory Burch – under a blazer and with a conservative skirt or pants.
Great designers to consider: Basic Tanks-James Perse, Vince, Theory; Blouses- J.Crew, Tory Burch, Nanette Lepore, Diane von Furstenberg
Cardigans
Office weather can be unpredictable at best. Instead of wrapping yourself in a blanket when it gets too cold or wearing your coat indoors, make a cardigan a critical staple of your style survival kit. One sage piece of advice I learned: a black cardigan is like a best friend, it will help you out in any fashion situation. Make sure that you have at least one that's fitted as well as a longer, looser cardigan and you'll have any outfit covered. Feeling bolder? Experiment with different sleeve lengths, materials, colors and buttons to spice up your wardrobe.
Great designers to consider: J.Crew, Tory Burch, Juicy Couture
Commuting Tote
While you won't need to show up at the office with a full set of luggage, you will need at least one tote bag, usually in addition to your purse. This bag will help you cart around extra work materials in addition to your lunch or cardigans, so make sure it has sturdy handles and a roomy interior, but opt for one that is still slim enough to fit in your desk drawer. From clear and plastic to slim and leather, this bag will become an indispensable part of your working routine.
Inside your tote should also be a golden nugget of fashion wealth: a shoe bag. Since commuting in your nice shoes is generally impossible, carrying a small cloth bag for your commuting footwear will give you the peace of mind that you aren't bringing the street grime into your tote.
Great designers to consider: Louis Vuitton, Marc by Marc Jacobs, Tory Burch, Lulu Guinness, Carlos Falchi, Bottega Venetta
Ok recent grads, good luck with your jobs!  We know you will be (and look!) great.
~Ashley, FashioniSTA, Second Time Around