Posts tagged
Bottega Venetta
Our Boston Fashion Week "Closet Couture" show was a hit last Monday! With our guest list overflowing, we managed to fit almost all of our fashionista followers into our space at the W Hotel in downtown Boston. Styled by The Stylist Closet's Terri Mahn and Second Time Around's Director of Styling, Marisa Meloski, the show featured 48 looks mixing high-end designer wear with lower-end pieces, ranging from party dresses to fall jackets to bohemian denim. Missed the event? Don't worry, we've got all of your backstage peeks and showtime scoop, along with the top trends of the evening.
Before the show, a team of make-up artists and hair stylists from Salon Acote (on Newbury Street) were on hand to prep the models backstage.
Between stylings, the models bonded backstage. Photographers were on-hand to capture each behind-the-scenes element of the show.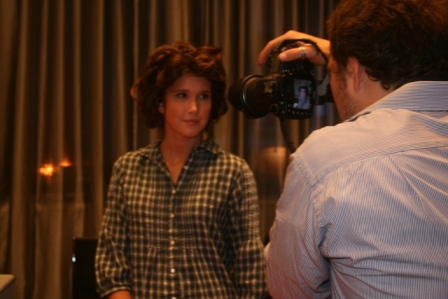 Before the show began, Terri gave the girls a pep talk backstage as she and Marisa dressed the models in a variety of bohemian layers, structured jackets and dresses, bold jewelry, and perfect-for-fall boots. Check out these photos from right before the show, the girls were eager to show off their perfectly styled ensembles and a variety of hairstyles, from loose curls to romantic up-dos to full volume!
The show itself was a huge hit, with looks ranging from structured to layered bohemian. Here are some of my favorite looks from the show, including a group shot of the models during the finale. Which look is your favorite?
Here's a similar look, but instead they substituted the vest for an open cardigan and pairing the look with very fitted pants and ankle booties. Don't be afraid to wear a top with longer sleeves than your cardigan, it'll give your outfit another element if your sleeves peek out from your monochromatic sweater.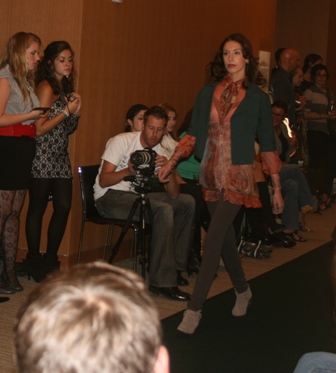 After each model posed in 3-4 different outfits, it was hard to capture them all by the end! But watching them all during the finale gave us a great look at how all of the outfits could easily fit into anyone's wardrobe, despite them all having completely different styling techniques.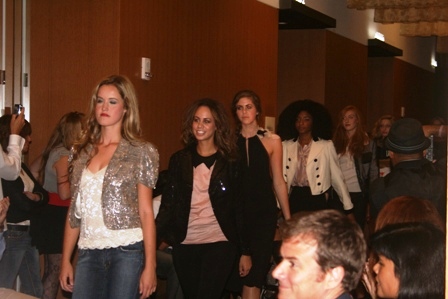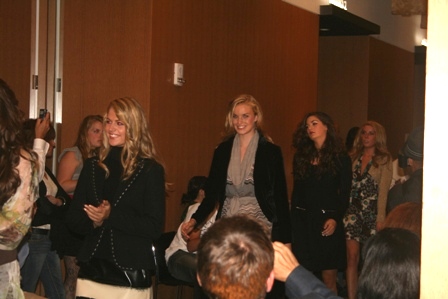 After the show, we opened our pop-up store, take a look at some of the items that were available to our shoppers, courtesy of our 176 Newbury Street store!
The STA employees also had a great time after the show, check out the final candids below!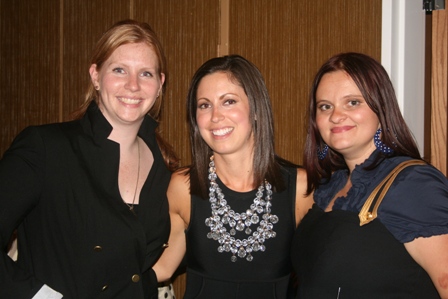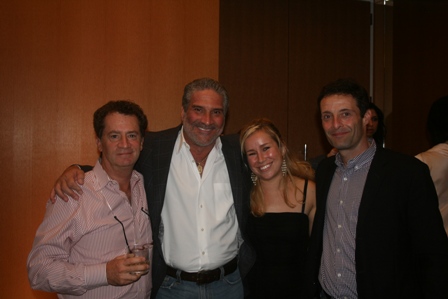 Thank you to everyone who was able to make it to the show! Keep checking back to find out more information for another one of our big events, coming in early November!
~Ashley, fashioniSTA, Second Time Around
Rompers (aka jumpsuits or onesies) first appeared on the fashion radar two summers ago. However, the trend has been slowly but surely picking up steam instead of gaining early momentum and then fizzling out. In fact, from the looks of the 2011 Resort runways, the trend is here to stay…at least into the next year.
With designers like Jill Stuart, Bottega Venetta, Chanel, Vena Cava, Alexander Wang, Marc Jacobs and Yves Saint Laurent including rompers in their collections – and in many cases more than one – rest assured that your purchase will not go to waste if you are considering adding one to your wardrobe.
Having just shopped for and purchased one myself during my trip to Madrid, Spain where tiny rompers on bra-less beauties is more the norm than the exception in the hot, hot weather, I feel informed enough to give some advice to those interested in taking the plunge.
Piece of Advice #1: Beware of the fit.
If you are tall or long in the torso, it may be hard to find the romper for you. (I think that this may be the first time in my fashion life that I have suggested that an item may not work for someone who is tall. One point for the short girls! But, I digress…)
Please make sure to try on any romper of interest! Waist detailing should fall at the natural waist, not dragged down to the hips or up to the bra-line due to an ill fit. Also, please make sure that there is ample breathing room so that there are no wardrobe malfunctions a la Janet Jackson in strapless rompers and so that your nether regions are not cradled so tightly that nothing is left to the imagination in rompers with straps.
Piece of Advice #2: Guidelines for casual rompers.
When you select a romper for casual-wear, I prefer them in a looser fit and a longer length. Also, I think they are best in a fun and of-the-moment print such as sailor stripes or feminine florals.
Pair them with bohemian strappy sandals, oxfords or booties, thin waist belts and fedoras. Throw on a cross-body bag or a drawstring bucket bag over your shoulder.
Piece of Advice #3: Guidelines for dressy rompers.
When you select a romper for dressy occasions and nights out on the town, feel free to go a little tighter and a little shorter to turn up the sexiness. (Or you can opt for the romper with full pant for head to toe drama…) Also, I would recommend solid colors such as black, bold jewel tones and fluorescent brights.
Accessorize with large envelope clutches and platform heels and wedges in metallics and patent leathers and embellish with collarbone-grazing statements necklaces and eye-catching cocktail rings.
Still not sure? Stop by your local Second Time Around to check out our wallet-friendly selections and get additional advice from our fashionable sales associates.
Happy Shopping!
~Marisa, Director of Styling, Second Time Around
First Job Fashion Survival Kit: Your Work Wardrobe Lifesavers
Springtime brings college graduations and often the beginning of summer internships. Stepping out into the real, working world can be scary, especially if the only work-appropriate attire that you own is an interview suit. There are a few life-saving pieces that many people overlook, but are definitely worth making part of your style survival lineup:
Flats
In your first working experience, you will probably have a job where you will need to bring upper or mid-level management their coffee. And you will need to do it quickly, usually by running. Give yourself a break and wear flats – at least for the first few weeks – so you don't have to worry about maintaining your balance in heels. Cole Haan flats are like an extra lifeline with their Nike Air technology, but any pair of soft, leather flats work great. Either invest in a neutral color – such as Chanel black or nude leather – or use your flats to liven up your office outfit by adding subtle embellishments as seen with Vera Wang Lavender Label or Delman. Also, flat boots are completely acceptable as well, and you can usually commute in them.
Great designers to consider: Chanel, Tod's, Cole Haan, Pour La Victoire, Delman, Lavender Label Vera Wang, Joie
Raincoat
It never occurred to me when I got my first job that I would need to commute there as well. What also never occurred to me was that it might rain. One of the best decisions you can make is investing in a rain jacket with a hood. Go for the double-team on this one and find a jacket that you can also wear when the weather is nicer, whether it's a classic Burberry trench or a toggle front option from Jane Post.
Great designers to consider: Burberry, Theory, Jane Post, Preta LoBue
Basic Tanks and Blouses
One of the great life lessons I received when I started working was that you can never have enough basic tanks. Stockpile them in a variety of colors that you can use to layer, and never underestimate how many you will go through in the course of a week. In addition to these essentials, I also learned that investing in colorful and patterned blouses is key. While basic tanks work great under cardigans, structured blouses create instant professionalism when standing alone. Go for traditional neutrals to establish the basics, but also try bold colors and subtle embellishments – these become the new neutrals. These details on top will transform your skirts and pants from separates into a cohesive ensemble. While fitted blouses work with any look, you can pair looser tops with skinny jeans or tuck them into your pencil skirts for a professional, yet chic outfit. Even if you don't work in a creative field, you can still wear an embellished or colorful tank – mastered by Tory Burch – under a blazer and with a conservative skirt or pants.
Great designers to consider: Basic Tanks-James Perse, Vince, Theory; Blouses- J.Crew, Tory Burch, Nanette Lepore, Diane von Furstenberg
Cardigans
Office weather can be unpredictable at best. Instead of wrapping yourself in a blanket when it gets too cold or wearing your coat indoors, make a cardigan a critical staple of your style survival kit. One sage piece of advice I learned: a black cardigan is like a best friend, it will help you out in any fashion situation. Make sure that you have at least one that's fitted as well as a longer, looser cardigan and you'll have any outfit covered. Feeling bolder? Experiment with different sleeve lengths, materials, colors and buttons to spice up your wardrobe.
Great designers to consider: J.Crew, Tory Burch, Juicy Couture
Commuting Tote
While you won't need to show up at the office with a full set of luggage, you will need at least one tote bag, usually in addition to your purse. This bag will help you cart around extra work materials in addition to your lunch or cardigans, so make sure it has sturdy handles and a roomy interior, but opt for one that is still slim enough to fit in your desk drawer. From clear and plastic to slim and leather, this bag will become an indispensable part of your working routine.
Inside your tote should also be a golden nugget of fashion wealth: a shoe bag. Since commuting in your nice shoes is generally impossible, carrying a small cloth bag for your commuting footwear will give you the peace of mind that you aren't bringing the street grime into your tote.
Great designers to consider: Louis Vuitton, Marc by Marc Jacobs, Tory Burch, Lulu Guinness, Carlos Falchi, Bottega Venetta
Ok recent grads, good luck with your jobs!  We know you will be (and look!) great.
~Ashley, FashioniSTA, Second Time Around
Spring is the time when all things seem new and fresh, when new life is breathed into our dead and dormant surroundings. The weather gets warmer, the sun comes out, baby animals are born and plants and flowers begin to bloom. Much the same happens in the world of fashion. Whites and colors are reintroduced, lighter-weight fabrics welcome warmer temperatures and new, fresh fashion ideas are born. Spring 2010 is no different and it promises to be an exciting one. There was no lack of variety on the spring 2010 runways and there were almost as many trends as there were catwalks. In response, we have selected the most reality-ready trends in order to make your spring shopping trip a more-focused and successful one.
Enjoy our first installment below and keep checking back in the coming weeks to catch all of the trends…
Pale Hues
The predominant colors of the season are barely colors at all. Nudes, soft neutral tones, pale pinks and muted blues showed up in almost every designer's collection. Keep your look monochromatic or go multi-tonal – the choice is yours. Check out the spring collections of Bottega Venetta, Burberry Prorsum, Marc Jacobs, Celine and Chanel for inspiration.
Underwear as Outerwear
Items that were traditionally meant as "under-things" and intimate wear are having their moment in the spotlight. While interpreted very literally at times on the catwalk, the best way to translate them to reality is to select subtle accents and combine them with more modest pieces. Look for lace, sheer fabrics, sexy cutouts, slinky silks and bra, slip and negligee detailing when doing your spring shopping. Look to Marc Jacobs, Dolce and Gabbana, Versace, BCBG Max Azria, Christopher Kane, Bottega Venetta and Jil Sander for direction.
~Marisa, Director of Styling, Second Time Around