Posts tagged
Alexander Wang
I'm sure all fashionistas would agree, we hate having to cover up our outfit every time we go outside when it's cold out. In the winter, your coat is the outfit the world sees, and at  STA we love sporting jackets that are as fashionable as we are. But with so many to choose from, how do you know which coat best suits you?! Like your outfit, have your winter coat reflect your personality! Here are a few celebrity style inspirations to help you pinpoint your coat personality:
Trench Coats and Wool Blends
Personality Traits: Elegant, classic, classy, pretty, composed, girl-next-door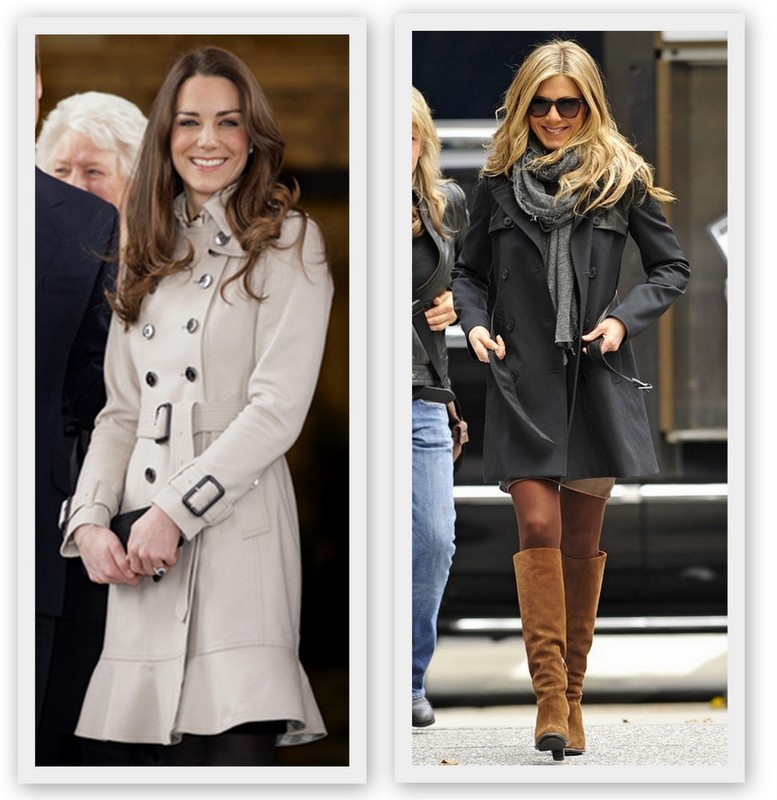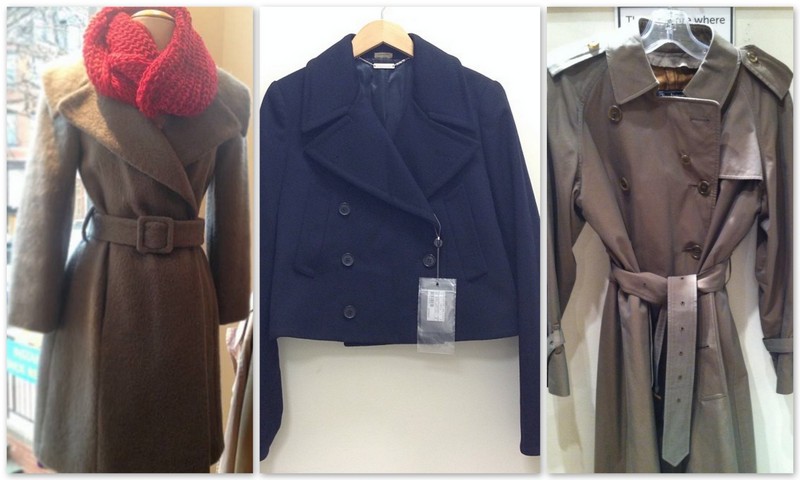 Inspiration: Kate Middleton and Jennifer AnistonAt STA:
A wool peacoat or a classic trench are the perfect cover for a nice occasion, or when you feel like looking sleek and put together.  The simple addition to your outfit not only keeps you warm, but exudes your beautiful and confident personality.  It's impossible to go wrong with this sophisticated outerwear.
At STA:
Susana Monaco mohair/wool - STA 219 Newbury St.
Alexander McQueen short peacoat wool/cashmere - STA Portsmouth
Burberry Olive Trench - STA Wellesley
Fur
Personality Traits: Bold, Fearless, Confident, Diva, Glam
Inspiration: Victoria Beckham and BeyonceAt STA:
The look speaks for itself.  Nothing says "I'm a star" like fur.
At STA:
Lapin cat vest - STA Gramercy Park
Mink - STA Gramercy Park
Ombre dyed fox fur - STA Brookline
The Puffer
Personality Traits: Easy-going, fun, casual, big personality, lovable
Inspiration: Reese Witherspoon and Sofia VergaraAt STA:
The puffer is the "ready for anything" coat.  Whether your running errands, off to work, or out for the night, the puffer can handle anything.  Its versatility and undeniable warmth gives that "girl next door" feel, who's easy going and up for anything.  And who doesn't love a little fur trim when trying to add a little bit of edge?
At STA:
Northface Puffer Jacket - STA Portsmouth
Moncler Puffer - STA Charles St.
Cole Haan quilted jacket - STA Portsmouth
Unconventional and Daring
Personality Traits: Bold, Daring, Confident, Striking, Show-stoppers, risk-taker, trend-setter
Inspiration: Jessica AlbaAt STA:
Vests, bright colors, and different textures are all ways to bring unique flair to your outerwear.  Who needs to follow trends when you can set your own?  Whatever your heart desires, there's a coat out there to match.  And when you flaunt it on the streets, everyone can tell that's a girl with a fun, unique, and glamorous style.
At STA:
T by Alexander Wang jacket with leather sleeves - STA Nolita
Barbour vest - STA Charles St.
Bod n Christensen bomber jacket - STA Brookline
Barneys leather vest - STA Gramercy Park
Whatever your personality, flaunt it to the world through your winter coat!
Photos: pintrest.com
Rompers (aka jumpsuits or onesies) first appeared on the fashion radar two summers ago. However, the trend has been slowly but surely picking up steam instead of gaining early momentum and then fizzling out. In fact, from the looks of the 2011 Resort runways, the trend is here to stay…at least into the next year.
With designers like Jill Stuart, Bottega Venetta, Chanel, Vena Cava, Alexander Wang, Marc Jacobs and Yves Saint Laurent including rompers in their collections – and in many cases more than one – rest assured that your purchase will not go to waste if you are considering adding one to your wardrobe.
Having just shopped for and purchased one myself during my trip to Madrid, Spain where tiny rompers on bra-less beauties is more the norm than the exception in the hot, hot weather, I feel informed enough to give some advice to those interested in taking the plunge.
Piece of Advice #1: Beware of the fit.
If you are tall or long in the torso, it may be hard to find the romper for you. (I think that this may be the first time in my fashion life that I have suggested that an item may not work for someone who is tall. One point for the short girls! But, I digress…)
Please make sure to try on any romper of interest! Waist detailing should fall at the natural waist, not dragged down to the hips or up to the bra-line due to an ill fit. Also, please make sure that there is ample breathing room so that there are no wardrobe malfunctions a la Janet Jackson in strapless rompers and so that your nether regions are not cradled so tightly that nothing is left to the imagination in rompers with straps.
Piece of Advice #2: Guidelines for casual rompers.
When you select a romper for casual-wear, I prefer them in a looser fit and a longer length. Also, I think they are best in a fun and of-the-moment print such as sailor stripes or feminine florals.
Pair them with bohemian strappy sandals, oxfords or booties, thin waist belts and fedoras. Throw on a cross-body bag or a drawstring bucket bag over your shoulder.
Piece of Advice #3: Guidelines for dressy rompers.
When you select a romper for dressy occasions and nights out on the town, feel free to go a little tighter and a little shorter to turn up the sexiness. (Or you can opt for the romper with full pant for head to toe drama…) Also, I would recommend solid colors such as black, bold jewel tones and fluorescent brights.
Accessorize with large envelope clutches and platform heels and wedges in metallics and patent leathers and embellish with collarbone-grazing statements necklaces and eye-catching cocktail rings.
Still not sure? Stop by your local Second Time Around to check out our wallet-friendly selections and get additional advice from our fashionable sales associates.
Happy Shopping!
~Marisa, Director of Styling, Second Time Around