Posts tagged
mink
I'm sure all fashionistas would agree, we hate having to cover up our outfit every time we go outside when it's cold out. In the winter, your coat is the outfit the world sees, and at  STA we love sporting jackets that are as fashionable as we are. But with so many to choose from, how do you know which coat best suits you?! Like your outfit, have your winter coat reflect your personality! Here are a few celebrity style inspirations to help you pinpoint your coat personality:
Trench Coats and Wool Blends
Personality Traits: Elegant, classic, classy, pretty, composed, girl-next-door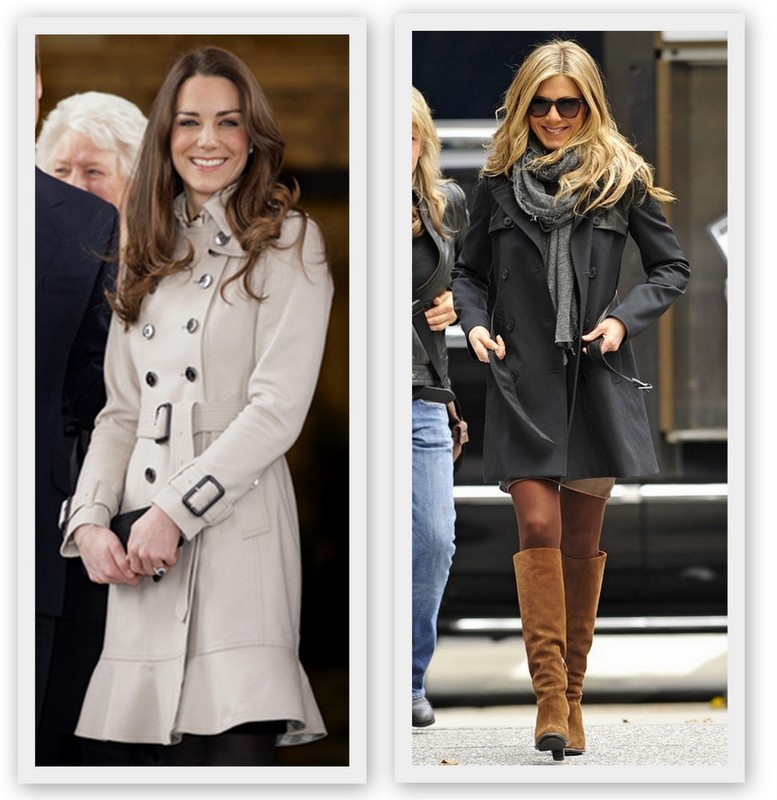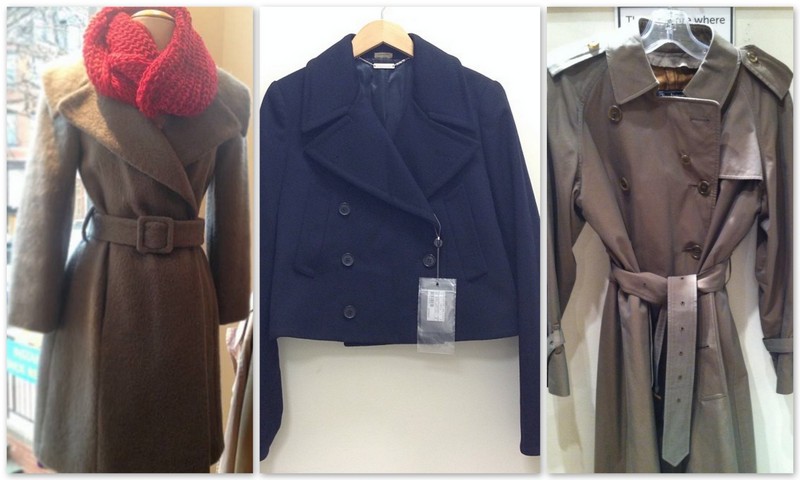 Inspiration: Kate Middleton and Jennifer AnistonAt STA:
A wool peacoat or a classic trench are the perfect cover for a nice occasion, or when you feel like looking sleek and put together.  The simple addition to your outfit not only keeps you warm, but exudes your beautiful and confident personality.  It's impossible to go wrong with this sophisticated outerwear.
At STA:
Susana Monaco mohair/wool - STA 219 Newbury St.
Alexander McQueen short peacoat wool/cashmere - STA Portsmouth
Burberry Olive Trench - STA Wellesley
Fur
Personality Traits: Bold, Fearless, Confident, Diva, Glam
Inspiration: Victoria Beckham and BeyonceAt STA:
The look speaks for itself.  Nothing says "I'm a star" like fur.
At STA:
Lapin cat vest - STA Gramercy Park
Mink - STA Gramercy Park
Ombre dyed fox fur - STA Brookline
The Puffer
Personality Traits: Easy-going, fun, casual, big personality, lovable
Inspiration: Reese Witherspoon and Sofia VergaraAt STA:
The puffer is the "ready for anything" coat.  Whether your running errands, off to work, or out for the night, the puffer can handle anything.  Its versatility and undeniable warmth gives that "girl next door" feel, who's easy going and up for anything.  And who doesn't love a little fur trim when trying to add a little bit of edge?
At STA:
Northface Puffer Jacket - STA Portsmouth
Moncler Puffer - STA Charles St.
Cole Haan quilted jacket - STA Portsmouth
Unconventional and Daring
Personality Traits: Bold, Daring, Confident, Striking, Show-stoppers, risk-taker, trend-setter
Inspiration: Jessica AlbaAt STA:
Vests, bright colors, and different textures are all ways to bring unique flair to your outerwear.  Who needs to follow trends when you can set your own?  Whatever your heart desires, there's a coat out there to match.  And when you flaunt it on the streets, everyone can tell that's a girl with a fun, unique, and glamorous style.
At STA:
T by Alexander Wang jacket with leather sleeves - STA Nolita
Barbour vest - STA Charles St.
Bod n Christensen bomber jacket - STA Brookline
Barneys leather vest - STA Gramercy Park
Whatever your personality, flaunt it to the world through your winter coat!
Photos: pintrest.com
Get a Princess Wedding without Breaking the Royal Bank
I'm sure there are many fashioniSTAs out there planning weddings (and drooling over Kate's gorgeous sapphire). As a fashioniSTA bride myself, I thought I would share a bit how I used STA and designer consignment steals to not only dress myself as the bride from head to toe, but also the lovely ladies in my family. If you're at all like me, you've learned pretty quickly that planning a wedding on a budget takes some creative thinking. For me, at least, going the designer consignment route was second nature, and I'm living proof that with the right eye, you can create a picture-perfect wedding party fit for a princess without a royal trust fund.
As it happens, I found my gown (second hand!) in a rather haphazard way. I learned that Goodwill had partnered with bridal salons in the area to do a fundraiser for local women's shelter programs. They filled a HUGE warehouse with lightly-used sample wedding gowns. Like running-of-the-brides, though, the event started at the crack of dawn the following Sunday, and my sleep-deprived law-student brain said, Na-ah. Too early. Well, fast-forward 48 hours. I was sitting in church that Sunday morning, knowing the blowout sale ended in 4 hours, and I figured, What the hey! So I schlepped myself out to West Roxbury – I figured, with gowns starting at $80, even if I find nothing at least I'll have tried a few styles on and narrowed down my search. Yeah, well, go figures. In a room filled with thousands of gowns, most of which I wouldn't have given a second glance too, there was my gown! The exact one I had been looking for- 1940's inspired, bias-cut, hammered silk, with a waterfall drape and tasteful rhinestone beading. FOR $80!! Not joking. I just about fainted right then when the woman told me the price, and I'm fairly certain my mother did when I finally got her on the phone.
My shoes came along in much the same way. My mother, up for a visit, baby sister and I were trolling Newbury street, and I brought them to my favorite shops on the street (STA, duh!). We were browsing in 219 when I came across the perfect pair of Manolo's. Silver satin d'Orsay pumps with a low heel and rhinestone circle. At 50% off, and ending up at $75, you better believe I snatched those right off the shelf!
I think at this point I decided to give myself a little challenge: $75 per item that I had left to find, tops. I mean, if I could find my gown for $80, I could find everything else for less, right?
So one night while working at the Newton store, I get an IM from our NYC Lexington store. It's my sister (she works there!) with a wedding find. Christian Dior pearl and CZ halo clip earrings that just showed up at her shop. Score, for $32! Next, on a rare Saturday off, I peeped in a new consignment store that had just opened in Connecticut and found a stunning vintage Art Deco silver and rhinestone bracelet for $75. Last but not least, I trolled wedding-specific online resale websites, and upcycled my veil from a bride in Seattle who decided at the last minute to go with a birdcage veil instead of a long veil.
Ok, fine, so I did break my "$75 limit" rule on a splurge. Knowing New England in the spring, I had no idea if May 8 would be snowing, raining, 85 degrees and balmy . . . so I made arrangements as any fashioniSTA would. A few months after I started working at the Newton store, it turned to fur season. One particularly fine piece caught my eye—a silver mink capelet. Not being an animal rights activist myself, I LOVED the mink. I figure, if you're going to wear fur of any variety, you might as well wear the real stuff. I waited till the end of the fur season, and splurged $125 on my perfect wedding outerwear. It came in handy, too! My wedding day stormed all morning, was sunny and gorgeous all afternoon (just in time for pictures in the gardens!), and dropped to a frigid 37 degrees as we were leaving the reception. I only wish I had though of gloves to complete the look.
All in all, I spent a total of $500 for my wedding gown and accessories. Not bad, eh?
Can't leave out my lovely ladies! My mother, veteran consignor that she is, scored a stunning Tahari blk satin column gown for $60 at the consignment store I grew up with back home. STA hadn't hit the big city yet when we were looking for my sister's gown. We still managed to wrangle a sweet deal from Saks—at 80% off, her Marc Bouwer gown came to $167. I lent her our great-grandmother's gold & pearl chandelier earrings, which she paired with gold bangles she found at the Lex Ave store; a pair of strappy gold Chloe sandals from the store at $176 completed her look.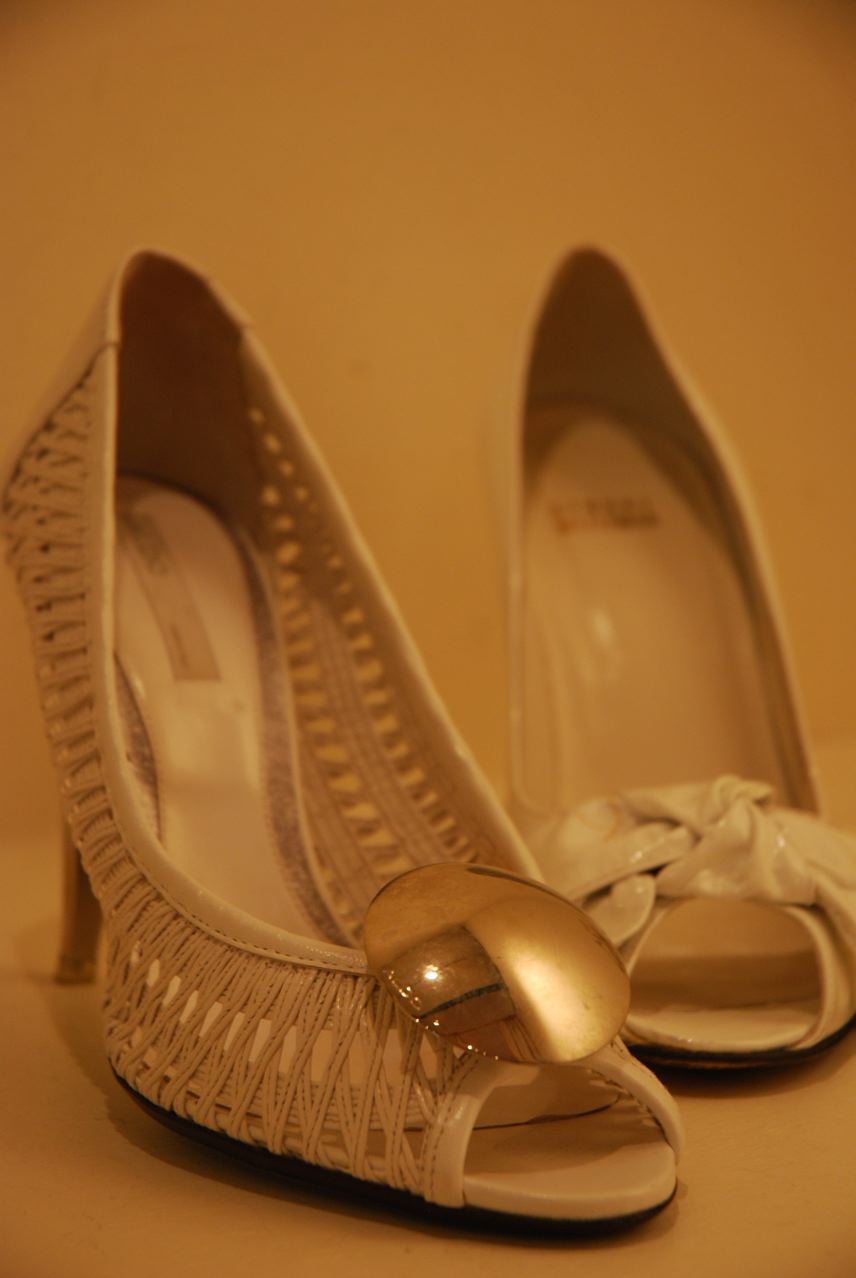 I was inspired by that Art Deco era look- very black tie, very glamorous. But you can find something for ANY style wedding at STA. I can look at any shelf at my Newton store, and find something I think would be perfect for a wedding.
Want white shoes? Check out these white patent Stuart Weitzman peeptoes at $109 (right) for a classic and feminine shoe, or these Aldo woven leather peeptoes at $25 (right), perfect for that outdoor or more casual wedding. Having a garden wedding? Avoid sinking heels with a pair of classic flats - like our white Fendi pair (below). Or try any of our strappy Jimmy Choo sandals for a more glam night at, say, the State room or the Plaza—gold or silver, take your pick (below in gold). For the trendier bride, going with a "something blue" accent on your shoe can really make your individual wedding statement. Or our black and blingy Valentino pumps that we have in stock might strike just the right note of glam and edgy- perfect for a mermaid shape gown!
Now that your toes are covered, need a bag? We have a stunning Vintage Rosenfeld hammered gold evening bag. Or this adorable little gold pear shaped bag by Rolo. Or this hand hammered silver bag from Mexico. Each is just the perfect size for your lipstick, some breath mints, and a Tide stick (which is all you really need on your big day anyway).
Jewelry is a wedding must! Try a blingy right-hand ring, like this sterling and CZ eye-catcher (below). If you're not wearing a veil, or looking for something a little more fun for your head, try a glitzy Miu Miu headband for a change! These Swarovsky pearl and CZ halo earrings (below) look just like my Dior's, and are the perfect touch for anyone with short hair (like myself) or planning and up-do. Or you could try to pull in your "something blue" with your jewelry. We have a great Gundert silver and lapis necklace that's a bargain at $64!
And don't worry, STA's good for more than just accessories on your Big Day. Especially if you're planning a non-traditional wedding, or even looking for a cute white dress to wear to your Bridal Shower or rehearsal. Stop into any of our stores, and you're sure to find a collection of white, ivory, and cream dresses, in every length and fabric, perfect for whatever occasion. Outfit your ladies in STA! Especially if you're giving your gals a color, and letting them pick their own dress, make sure you keep STA on your list of perfect places to shop. This is the perfect time of year to find an amazing selection of jewel tone, pastel or bright spring and summer dresses! Go for a short cocktail length for a classic feel to any color or shape, or go with a maxi style as a trendy or fancier option!
For all the fashioniSTA brides out there, Best Wishes! Get creative in where you look for your perfect wedding accessories, and make sure to check out the closest STA to you while you're at it.
~Jamie, Manager and fashioniSTA bride, Second Time Around Newton