Posts tagged
necklace
Okay, so we know Valentine's day isn't a real holiday.  And while we may not be all about the romance and hearts and chocolate, we'll take any excuse for a festive outfit.  Who doesn't love a good red and pink color scheme?
If you're a fashionista like us, we know you own your fair share of "a pop of red" pieces.  Now's the time to whip em out.
How cute are these red on pink outfits?  We love the bold and oh so appropriate clash of color.
As girls it's in our nature to love a holiday all about romance.  Trust us, we get it.  But we understand sometimes you want to fly a little under the radar on this day of love.  You can still embrace your love for the holiday while staying subtle.  We suggest rocking your festive hues, but pairing them with other non-valentines day colors like black or navy.  Keeping your wardrobe traditional for the work place?  Add your pop of Vday colors in accessories.  Stack on some red bangles, pumps, beaded necklace, or nail polish.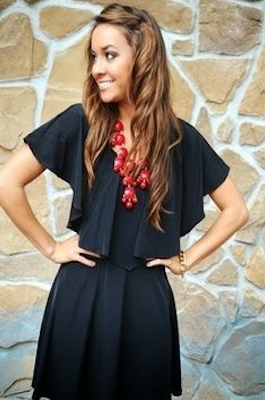 If Valentine's day isn't your thing, grab your best, hot and feminine pieces and embrace your indifferent attitude.  Nothing says, I love myself like a LBD or pencil skirt.
What better way to celebrate love than to show off your love for fashion?! Happy Valentines Day Fashionistas!
Photos from Pintrest.com
I'm sure you've been anticipating a rather extensive list, as usual.  But as a fashioniSTA, what else do you expect?  For your convenience I've narrowed it down to my top ten items.  You can find every item on my list at STA.  And while you're there, maybe you'll even get some more ideas!  So here it is.
A Fashionista's Christmas List:

Chanel Earrings  (STA 324 Newbury St.)
Fur Vest
Tory Burch Boots (STA Philadelphia)
David Yurman Crossover Ring
Juicy Couture Watch (STA Haddonfield)
Louboutin Pumps
Alice and Olivia Sequin Dress (STA Englewood)
Hermes Cuff
Valentino Kaleido Gem Tote (STA South Miami)
Louis Vuitton Scarf
Now I know fashion isn't really your forte, so I understand if this list is a little intimidating to tackle.  So if you can't get them, it's okay.  I can always go to the…
SALE at STA the day after Christmas!  From 9am-12pm everything at STA is 50% off!
Then after 12pm, there's 20-30% off the entire store!
As a present for myself, I'll be hitting the after Christmas sale at STA.  I promise I've been good all year.  Merry Christmas Santa.
Sincerely,
A FashioniSTA
Photos from STA Facebook pages and pintrest.com
Thanksgiving, the one holiday that is actually about food.  If you're anything like me, I don't necessarily feel my most beautiful and put-together self when I'm stuffing my face for 24 hours.  It's hard to resist those comfy and stretchy yoga pants, but don't give in!  Here are three fabulous outfit inspirations to keep you looking fabulous (as usual) this Thanksgiving.
1. Cozy and Versatile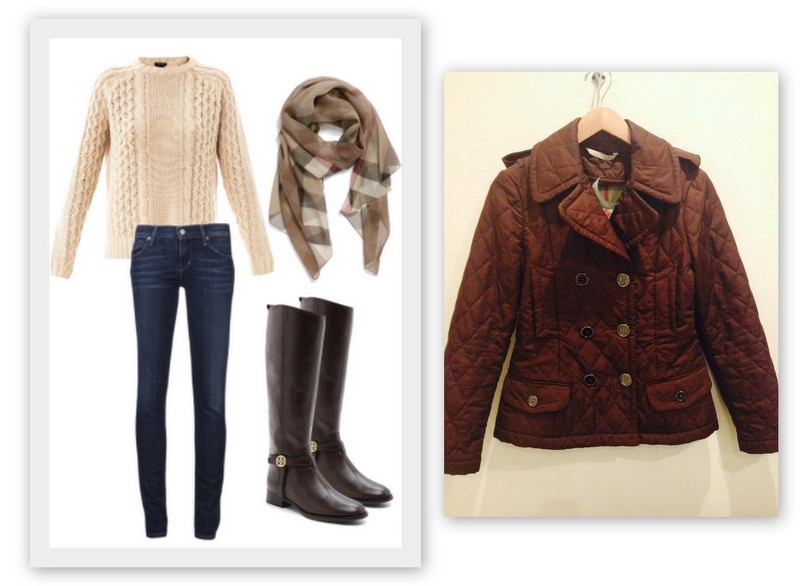 This outfit is great for all of the active ladies. Whether lounging with the family or running around with the kids, this outfit is comfortable but ready to go!  Citizen jeans are the epitome of classic casual, and the Theory knit sweater is a subtle touch of cozy and confident.  Tory Burch boots add a little glam, and the Burberry scarf ties the whole thing together for an unstoppable ensemble.
And wouldn't you know, this Burberry quilted jacket from STA 324 Newbury St. goes perfectly when it's time for the family football game.
2. Elegant and Feminine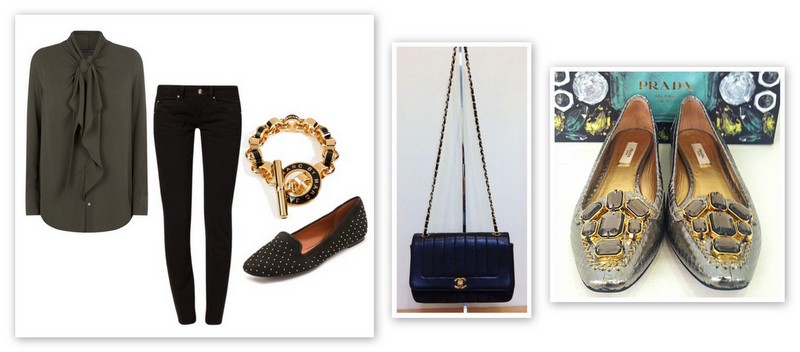 Sometimes we celebrate Thanksgiving with a loved-one's family instead of our own.  But don't let that frighten your holiday fashion sense!  A feminine, chic outfit is appropriate for any Thanksgiving atmosphere.  We love this blouse from Ralph Lauren, which you can dress down with Calvin Klein black skinny jeans.  Then add your personality in the accessories!  We added some sparkle with Rebecca Minkoff loafers and a Marc Jacobs bracelet.
These Prada silver jeweled flats from STA Armitage are a fabulous way to add some glam to your sophisticated ensembles.  And If you're a guest, the Chanel cross body from STA Haddonfield can carry all of your little necessities while you're out!
3. Stylish, Yet Forgiving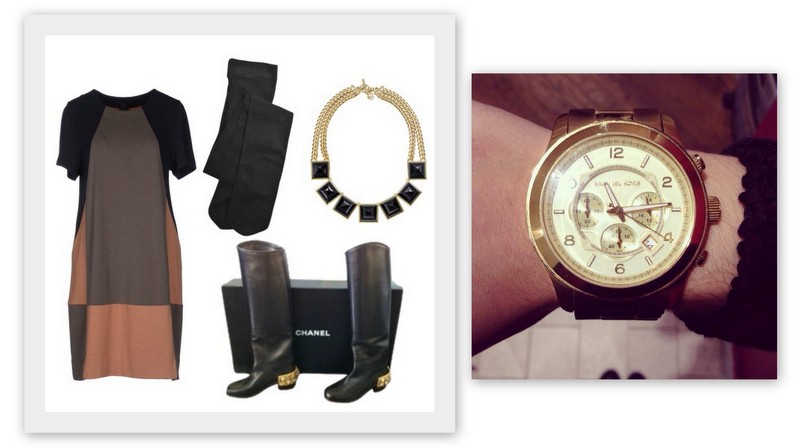 Maybe you're like me and love to spend Thanksgiving with a glass of wine in the kitchen with the women of the family.  All I know is I don't want to wear anything too restricting, especially as I'm nibbling all day!  A dress is a great way to stay comfortable and fashionable.  This Marc by Marc Jacobs short dress allows you to move freely around the house.  Paired with black tights and Chanel boots, it screams bold and down to business.  And we can never resist a good accessory, like this Michael Kors collar necklace.
And don't forget a Michael Kors boyfriend watch from STA 176 Newbury St. is a mandatory accessory on Thanksgiving to keep track of all the madness!
Happy Thanksgiving fashioniSTAs!
We're almost there fashionistas!  Just a few more days until Black Friday, only the best day of the year for us shopaholics.  I have to admit, I'm getting more and more excited by the minute, but I'm also getting nervous!  There'll be so much to shop for, and so little time!  I can't go in without a plan.  It's time to assess my closet and figure out exactly what I need to track down on the big day.
There are 10 items I definitely can't go home without on Black Friday.
The List: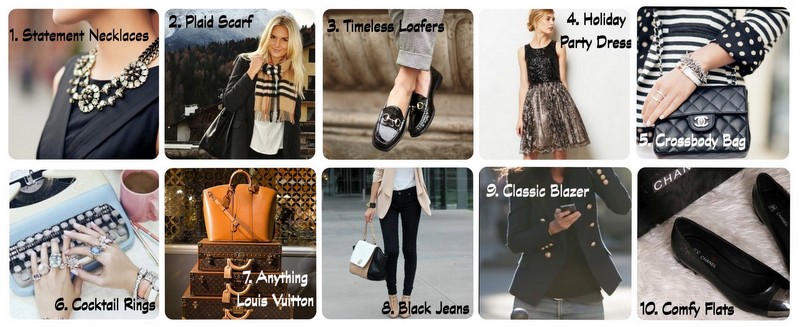 1. Statement necklaces
2. Plaid (Burberry) scarf
3. Timeless loafers
4. Holiday Party Dress
5. Cross body bag (appropriate for day and night!)
6. Costume rings
7. Anything Louis Vuitton8. Black Jeans
9. Classic Blazer
10. Killer (but comfy) Flats
… and 11. Anything with tags is a perfect gifts for friends
Make your lists ladies, time is running out!
Photo Credits: pintrest.com
A TIMELINE OF TRINKETS: Jewelry Through the Decades
Every jewelry aficionado has at least one piece in their collection that stands out, be it for eye-catching glitz, overly ornate details, or understated simplicity.  But where do these pieces come from?  Heirlooms? Antique shops? Your local department store?  All jewelry, be they from yesterday or yesteryear, can be credited in design to certain eras.  Join us as we scour the cases at our Harvard Square location, hunting for pieces to help highlight the ongoing heyday of personal adornment!
Each groundbreaking design period had jewelry styles that are easy to identify, so let us begin with one of the earliest trends to break away from the mold of conservative cameos and basic gemstones…
ART NOUVEAU (all the rage: 1895-1915)
The graceful Art Nouveau period started with designers in France and those in America following suit. The most important characteristic of this kind of jewelry was its free-flowing nature. The whimsical lines found in Art Nouveau jewelry suggest the movement, passion, and youthful vigor in the new ideas of the turn of the century. At the heart of the Art Nouveau movement were nature motifs and fantastical elements such as fairies and wood creatures.
EDWARDIAN (all the rage: 1890-1920)
After the death of the UK's Queen Victoria, the Edwardian era was ushered in when her son Edward took the throne. This was a lavish period with pearls and diamonds paired with emeralds, rubies and other gemstone accents. This era was proven to be a highly decorative and elaborate period, full of regal and bold components.
ART DECO (all the rage: 1920-1935)
The period between the World Wars witnessed new interest in modernizing jewelry. Designers of the Art Deco period welcomed the clean lines of the machine age — forms inspired by nature or abstract sources followed geometric lines, a noticeable difference from both Edwardian and Art Nouveau jewelry.  In addition to the strong shapes, this was a period of contrasting bright colors.
Motifs of the Art Deco period included screw-back / clip-on earrings and Egyptian-esque jewelry (King Tut's tomb was discovered in 1922). Themes of this era are still prevalent today — new diamond cuts were introduced to accentuate the geometric taste, including the emerald cut, triangle cut, trapeze cut, and marquis cut.
RETRO (all the rage: 1935-1950s)
Even before World War II, jewelry was changing. The Retro look was an infusion of old and new - utilizing the curves of Art Nouveau with the clean simple look of Art Deco, but in a scale not seen before. Big was beautiful when it comes to describing jewelry of the Retro period, elaborate and colorful with an array of gold and gemstones. It had Hollywood for its inspiration, so the retro jewelry was somewhat larger than life in style. This was also the period when charm bracelets became a favorite jewelry item.
CONTEMPORARY (all the rage: 1960s to present)
Jewelry in recent decades has come a long way. Plastics were introduced, which provided a huge outlet for new colors and styles. Price points decreased and everyone was now able to find an affordable style to suit them.  Bold, primary colors emerged, as did oversized cartoony shapes. This carried on well into the 1980s, but after the "massive consumption" years of the decade, less became more in the 1990s. The silhouette became neater as shoulder pads finally died and jewelry became non-existent or chic in its simplicity and barely-there quality. Floating necklaces were popular, as were simple studs for earrings.  Moving forward, the '00s weren't so much about any one trend — it actually relied heavily on past decades for inspiration. Add in leather cuffs, arm bands and cocktail rings, and you've got yourself a complete ensemble from the early 21st century.
CURRENT (all the rage: now)
Because women have a need for newness in their style, fashion will continue to offer changes. Some trends are emerging in 2010, but they are subtle and cautious. Big, edgy and bold pieces are still significant; statement necklaces, large cocktail rings and massive bracelets remain important. What has emerged this year is that metal is playing a larger role in jewelry designs. Chains are among the most simple and ancient forms of jewelry, but designers are using them in elaborate and modern ways this season. Designs run the gamut, from delicate dangling gold earrings to bold bib-style necklaces, composed of dozens of strands of chains. The newest necklaces are mixtures of gold and silver, shiny and matte metals, often dressed up with crystals, charms, stones and pearls.
Judging from the variety of styles that can be found in the Harvard Square Second Time Around alone, one emerging trend is simply to mix it up.  Take a little Art Nouveau and toss in a little Deco, grab that Edwardian-esque set of earrings and contrast it with a dark chain necklace.  Blur the lines of yesterday and today… and where better to go than a one-stop shop over in Cambridge!
~Kim, Manager, Second Time Around Harvard Square