Posts tagged
watch
I'm sure you've been anticipating a rather extensive list, as usual.  But as a fashioniSTA, what else do you expect?  For your convenience I've narrowed it down to my top ten items.  You can find every item on my list at STA.  And while you're there, maybe you'll even get some more ideas!  So here it is.
A Fashionista's Christmas List:

Chanel Earrings  (STA 324 Newbury St.)
Fur Vest
Tory Burch Boots (STA Philadelphia)
David Yurman Crossover Ring
Juicy Couture Watch (STA Haddonfield)
Louboutin Pumps
Alice and Olivia Sequin Dress (STA Englewood)
Hermes Cuff
Valentino Kaleido Gem Tote (STA South Miami)
Louis Vuitton Scarf
Now I know fashion isn't really your forte, so I understand if this list is a little intimidating to tackle.  So if you can't get them, it's okay.  I can always go to the…
SALE at STA the day after Christmas!  From 9am-12pm everything at STA is 50% off!
Then after 12pm, there's 20-30% off the entire store!
As a present for myself, I'll be hitting the after Christmas sale at STA.  I promise I've been good all year.  Merry Christmas Santa.
Sincerely,
A FashioniSTA
Photos from STA Facebook pages and pintrest.com
Thanksgiving, the one holiday that is actually about food.  If you're anything like me, I don't necessarily feel my most beautiful and put-together self when I'm stuffing my face for 24 hours.  It's hard to resist those comfy and stretchy yoga pants, but don't give in!  Here are three fabulous outfit inspirations to keep you looking fabulous (as usual) this Thanksgiving.
1. Cozy and Versatile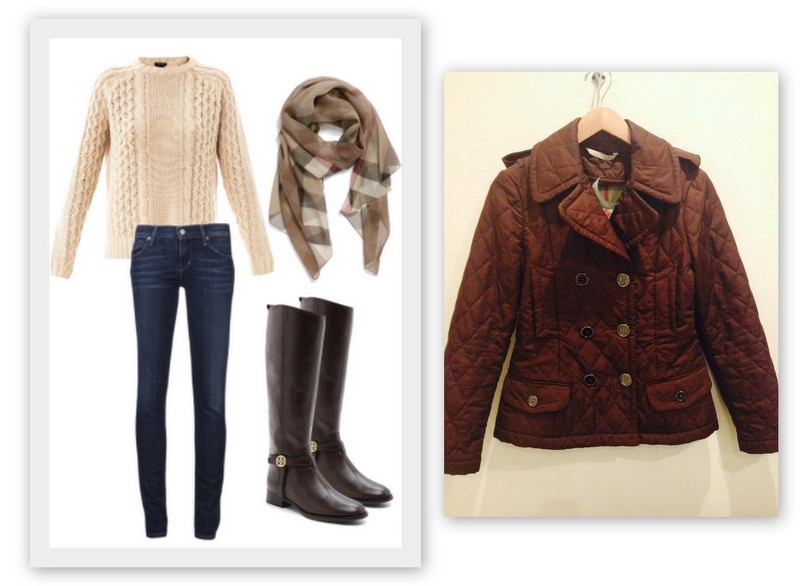 This outfit is great for all of the active ladies. Whether lounging with the family or running around with the kids, this outfit is comfortable but ready to go!  Citizen jeans are the epitome of classic casual, and the Theory knit sweater is a subtle touch of cozy and confident.  Tory Burch boots add a little glam, and the Burberry scarf ties the whole thing together for an unstoppable ensemble.
And wouldn't you know, this Burberry quilted jacket from STA 324 Newbury St. goes perfectly when it's time for the family football game.
2. Elegant and Feminine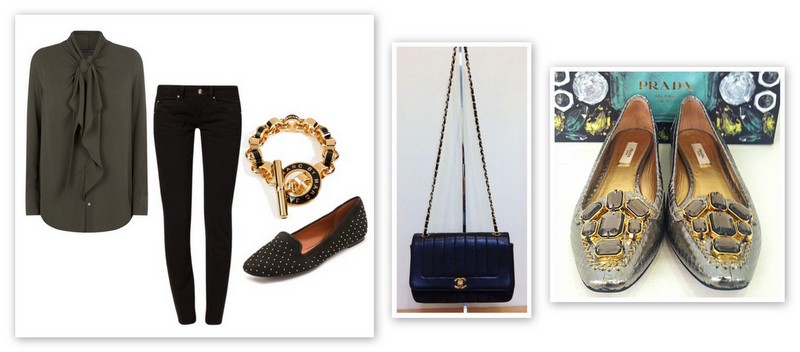 Sometimes we celebrate Thanksgiving with a loved-one's family instead of our own.  But don't let that frighten your holiday fashion sense!  A feminine, chic outfit is appropriate for any Thanksgiving atmosphere.  We love this blouse from Ralph Lauren, which you can dress down with Calvin Klein black skinny jeans.  Then add your personality in the accessories!  We added some sparkle with Rebecca Minkoff loafers and a Marc Jacobs bracelet.
These Prada silver jeweled flats from STA Armitage are a fabulous way to add some glam to your sophisticated ensembles.  And If you're a guest, the Chanel cross body from STA Haddonfield can carry all of your little necessities while you're out!
3. Stylish, Yet Forgiving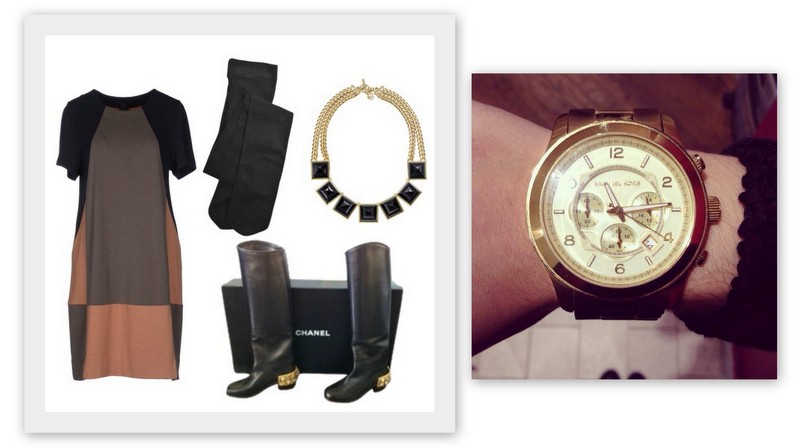 Maybe you're like me and love to spend Thanksgiving with a glass of wine in the kitchen with the women of the family.  All I know is I don't want to wear anything too restricting, especially as I'm nibbling all day!  A dress is a great way to stay comfortable and fashionable.  This Marc by Marc Jacobs short dress allows you to move freely around the house.  Paired with black tights and Chanel boots, it screams bold and down to business.  And we can never resist a good accessory, like this Michael Kors collar necklace.
And don't forget a Michael Kors boyfriend watch from STA 176 Newbury St. is a mandatory accessory on Thanksgiving to keep track of all the madness!
Happy Thanksgiving fashioniSTAs!