Posts tagged
rebecca minkoff
Thanksgiving, the one holiday that is actually about food.  If you're anything like me, I don't necessarily feel my most beautiful and put-together self when I'm stuffing my face for 24 hours.  It's hard to resist those comfy and stretchy yoga pants, but don't give in!  Here are three fabulous outfit inspirations to keep you looking fabulous (as usual) this Thanksgiving.
1. Cozy and Versatile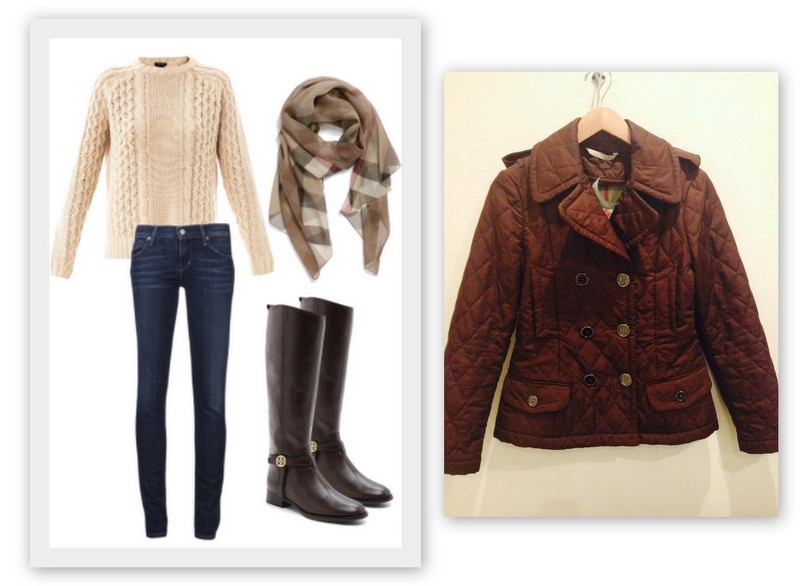 This outfit is great for all of the active ladies. Whether lounging with the family or running around with the kids, this outfit is comfortable but ready to go!  Citizen jeans are the epitome of classic casual, and the Theory knit sweater is a subtle touch of cozy and confident.  Tory Burch boots add a little glam, and the Burberry scarf ties the whole thing together for an unstoppable ensemble.
And wouldn't you know, this Burberry quilted jacket from STA 324 Newbury St. goes perfectly when it's time for the family football game.
2. Elegant and Feminine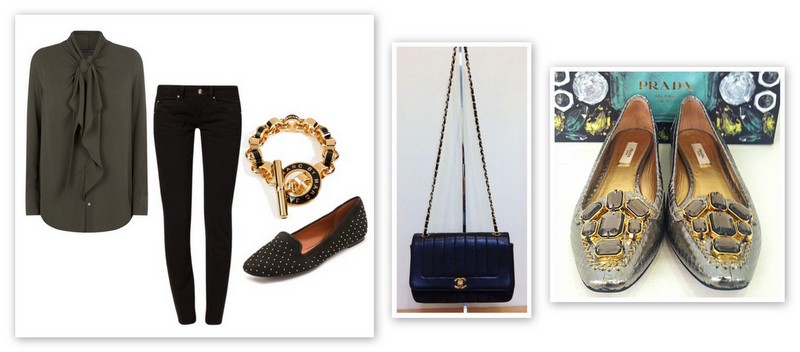 Sometimes we celebrate Thanksgiving with a loved-one's family instead of our own.  But don't let that frighten your holiday fashion sense!  A feminine, chic outfit is appropriate for any Thanksgiving atmosphere.  We love this blouse from Ralph Lauren, which you can dress down with Calvin Klein black skinny jeans.  Then add your personality in the accessories!  We added some sparkle with Rebecca Minkoff loafers and a Marc Jacobs bracelet.
These Prada silver jeweled flats from STA Armitage are a fabulous way to add some glam to your sophisticated ensembles.  And If you're a guest, the Chanel cross body from STA Haddonfield can carry all of your little necessities while you're out!
3. Stylish, Yet Forgiving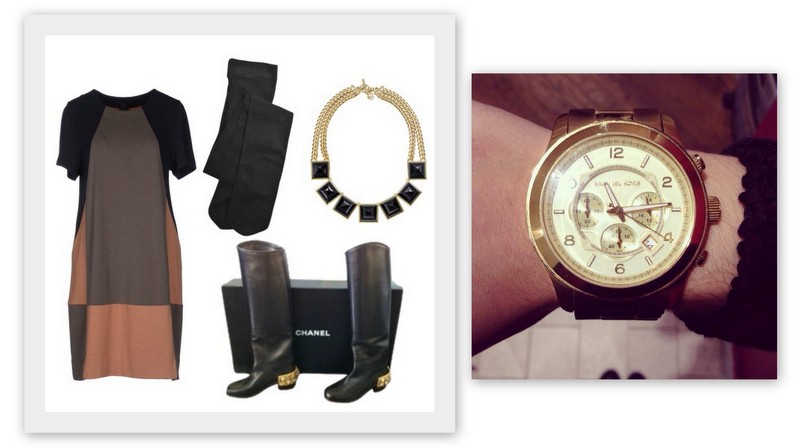 Maybe you're like me and love to spend Thanksgiving with a glass of wine in the kitchen with the women of the family.  All I know is I don't want to wear anything too restricting, especially as I'm nibbling all day!  A dress is a great way to stay comfortable and fashionable.  This Marc by Marc Jacobs short dress allows you to move freely around the house.  Paired with black tights and Chanel boots, it screams bold and down to business.  And we can never resist a good accessory, like this Michael Kors collar necklace.
And don't forget a Michael Kors boyfriend watch from STA 176 Newbury St. is a mandatory accessory on Thanksgiving to keep track of all the madness!
Happy Thanksgiving fashioniSTAs!
The Fourth of July is the perfect time of year to show off your patriotic side. With looks of red, white, and blue, there are an unlimited amount of stylish ways to celebrate.  Whether you're going to a cookout, beach party, or just watching the fireworks with the family, here are some fashioniSTA wardrobe essentials that will have you looking the most festive this fourth.
Cookout Cool
For those of you backyard barbecuing, a pair of distressed denim shorts, like these from Joe's Jeans, are a must-have and the perfect base to any outfit! Not only are these laid back bottoms comfortable and classic, but extremely versatile as well. Add a flirty tank top in summer stripes to top off your look- we love this one from Tory Burch.  Take this look from cookout casual to city chic by adding a blazer and gladiator sandals.
Party Pretty
An effortless look for any Fourth of July celebration is summer's favorite dress: the maxi. Sport the dress in any one of the holiday's colors for an easy, chic look. This Michael Stars maxi in bright blue is perfectly on trend and perfectly appropriate for the fourth. Pair a simple maxi with statement pieces such as some bold baubles, or a statement bag, like the Rebecca Minkoff "Mini M.A.C." we have been coveting all season.
Beach Babe
For the beach goers, display your reds, whites, and blues proudly in a colorful swim suit and cover-up. We love this American Flag bikini from Ralph Lauren paired with this pretty eyelet cover-up,  another great find from Tory Burch. Finish your look with the just the right beach accessories and flip flop around the with summer's best sandals and fashioniSTA favorites, Jack Roger's "Navajo." Lastly, be sure to tote all your beach needs in style as well with a nautical inspired carryall like this one from Marc by Marc Jacobs.
No matter what your plans are for celebrating this fourth, these fashioniSTA picks of red, white and blue are just the right touches to add some festive flair to your look. So grab some sparklers and celebrate in style!
~Lisa, fashioniSTA
Remember that sense of pride that you had as a child when you returned from camp and could parade your newly tie-dyed clothes around your non-camper friends? It's like that feeling all over again, except instead of Hanes dipped in food coloring, designers are taking the tie-dye trend and applying it with new sophistication through different materials and dye patterns. I have always loved this trend because of its unexpected versatility, from traditional tie-dye to modern, monochromatic examples. This trend can span the realm between preppy and bohemian without looking out of place. What used to be just reserved for tee-shirts is now making a breakthrough with tailored pieces and even cocktail attire.
The designer to watch this year with this trend is Tory Burch. Branching out from the usual tie-dye motifs, she has made this trend office-appropriate and applied it to new materials, like leather (which, for the record, I didn't even know you could tie-dye). While I've never been a big fan of leather shorts, Burch has made hers look more uptown chic than like lederhosen. If shorts aren't your thing, there's also a leather skirt in the same pattern. Burch has also used tie-dye on her blouses, testing the versatility of this trend with casual tanks as well as work-appropriate blouses. While I wouldn't recommend wearing one of these blouses with a full, conservative suit, if you work in a creative field, you can pair it with a neutral-toned skirt or linen pants for a breezy, summertime look.
Other designers are jumping on this bandwagon as well, from casual C&C California to upscale, lavish designers. If you're feeling extra bold, you can incorporate this trend into your eveningwear. Try a tie-dye maxi dress from Alice + Olivia or a shorter, striped version from Leyendecker. Another option for the fashion risk-taker: tie-dyed accessories. Designers aren't excluding handbags and wallets from this trend, so should you be feeling courageous, try out a tie-dye statement accessory like one of the ones this year from Rebecca Minkoff or Tory Burch.
These are definitely for the fashion extrovert, so if your style isn't quite that outgoing, you can still include this trend in your casual-wear. Going for something like a tie-dye stripe pattern in a skirt from Joie or a loose tank top from Patterson J. Kincaid is perfect for a weekend or vacation look. Or you can always go super casual with a tie-dyed bikini, a sure-fire way to make you stand out at the beach or pool—in a good way, of course. Designers such as Tyler Rose, Martha Rey, and Victoria's Secret have put out colorful options that'll make your all-white cover-up pop.
There are also pattern variations of tie-dye that are popping up in designer collections. The dip-dyed trend made waves with Alice + Olivia and Graham + Spencer a few years ago and has equally evolved. Not to be confused with ombré's gradual color gradation, this technique is when there is a stark contrast between colors, making it look like the garment has been dipped into the dye. Check out the options from Juicy Couture, like their silk shorts that you can pair with a white cotton tank and metallic, flat sandals. This is a softer way to try the tie-dye trend if you're unsure of the real deal.
If you're still afraid of looking like you stepped out of a child's birthday party, you can always take this trend subtle with a tie-dye summer scarf. Take one with a monochromatic tie-dye or dip-dye pattern in a bright color –think orange from Juicy Couture – and make it pop against a white tee-shirt and skinny jeans for an easy and chic look perfect for summer. Or try a tie-dye headband, like the ones from Bop Bijoux, perfect for keeping your hair out of your face while running errands or at the beach.
Whichever way you choose to experiment with this trend, tie-dye will breathe life into your wardrobe, adding a punch to your summertime ensembles.
Until next time,
Ashely, FashioniSTA, Second Time Around