Posts tagged
sweater
Okay, so we know Valentine's day isn't a real holiday.  And while we may not be all about the romance and hearts and chocolate, we'll take any excuse for a festive outfit.  Who doesn't love a good red and pink color scheme?
If you're a fashionista like us, we know you own your fair share of "a pop of red" pieces.  Now's the time to whip em out.
How cute are these red on pink outfits?  We love the bold and oh so appropriate clash of color.
As girls it's in our nature to love a holiday all about romance.  Trust us, we get it.  But we understand sometimes you want to fly a little under the radar on this day of love.  You can still embrace your love for the holiday while staying subtle.  We suggest rocking your festive hues, but pairing them with other non-valentines day colors like black or navy.  Keeping your wardrobe traditional for the work place?  Add your pop of Vday colors in accessories.  Stack on some red bangles, pumps, beaded necklace, or nail polish.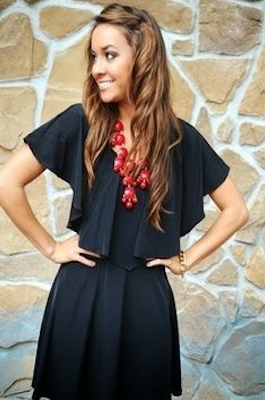 If Valentine's day isn't your thing, grab your best, hot and feminine pieces and embrace your indifferent attitude.  Nothing says, I love myself like a LBD or pencil skirt.
What better way to celebrate love than to show off your love for fashion?! Happy Valentines Day Fashionistas!
Photos from Pintrest.com
Whoever said you can't wear white after Labor Day must be pretty embarrassed.  Winter white has plowed its way back into style with a vengeance.  Thank goodness.. anyone else get a little teary-eyed putting away your white jeans?  We are loving this trend, because the color itself IS the trend.  Forget pieces, cuts, or looks that are trendy, but don't flatter your look.  You can still wear all your favorite looks, just try it in white!  Poof!  You're wearing the latest trend.  Now while white is known for symbolizing innocence and purity, it doesn't have to be worn that way.  There are endless ways to wear white to fit your style personality.  Here are a few of our favorites!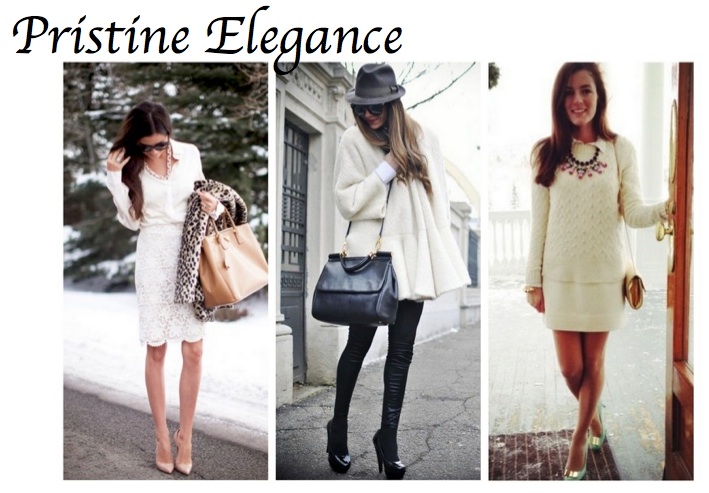 Okay, so maybe sometimes white has a dreamlike fairytale feel.  And if your style reflects the princess in you, winter white is your prince charming.  The color is clean, crisp, and exudes a feel of class and grace.  We especially love pairing white with other neutrals like cream or nude to emphasize this innocent style.  Looking for a great versatile piece?  A white peacoat is a great go-to to make any outfit sweet and refined.  We also love the timeless simplicity of white lace for its undeniable femininity, or a white sweater for a polished, sophisticated style.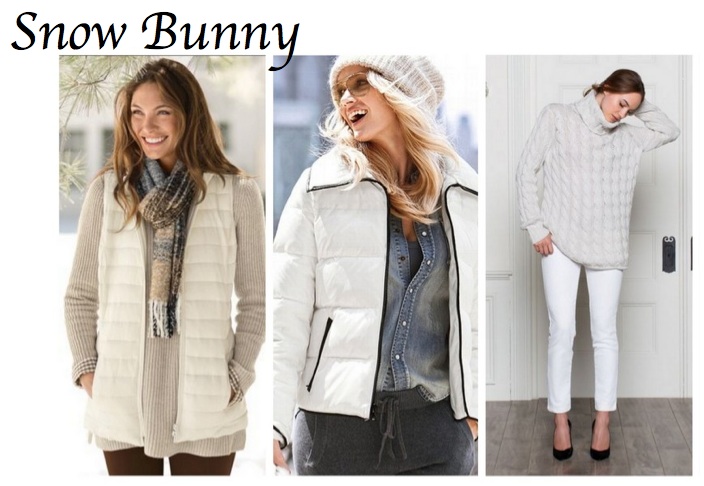 Sometimes you just can't resist building a snowman, catching snowflakes on your tongue or taking a walk in the falling snow.  But to have all the fun in the cold, bundling doesn't always leave us feeling feminine.  To feel cute in the winter wonderland, white pieces are a great option.  A white down coat with a fur-trimmed hood a perfect way to get that cozy style.  Disclaimer: we are not suggesting you should dress like a bunny.  However, a great way to get the girl-next-door snow bunny look is to add a little fur. Even adding a fur scarf or fur-lined gloves with your white puffer coat adds a cozy lovable quality to your outerwear.  And don't forget your fuzzy white earmuffs!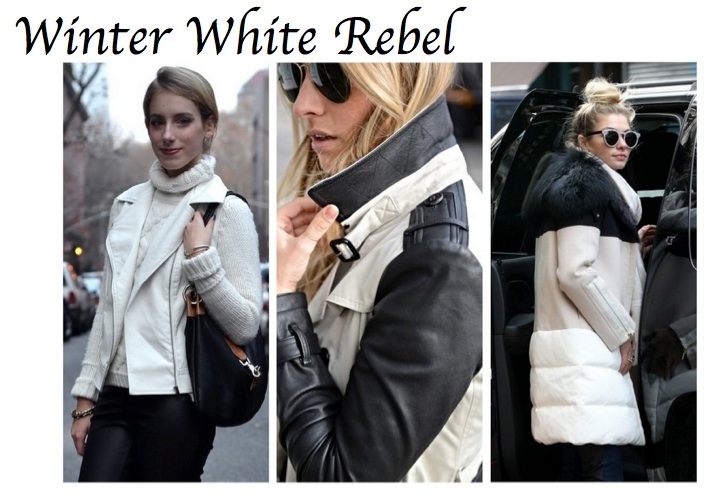 Don't worry.  Elegant princess and cute snow bunny aren't the only options white has to offer.  If you prefer an edgier look, white certainly challenges the status quo.  White leather is crisp and sharp, and we love the contrast it gives to classic winter pieces.  Paring an edgy white leather jacket with a soft sweater is the epitome of opposites attract.  Or even pair your favorite white sweaters with black leather pants for a unique stylish twist on this cozy winter top.  Even easier?  Pair your craziest shoes with your everyday skinnies and a simple white top, and you've got a great winter white outfit to suit distinctly you.
All pictures from pinterest.com
Thanksgiving, the one holiday that is actually about food.  If you're anything like me, I don't necessarily feel my most beautiful and put-together self when I'm stuffing my face for 24 hours.  It's hard to resist those comfy and stretchy yoga pants, but don't give in!  Here are three fabulous outfit inspirations to keep you looking fabulous (as usual) this Thanksgiving.
1. Cozy and Versatile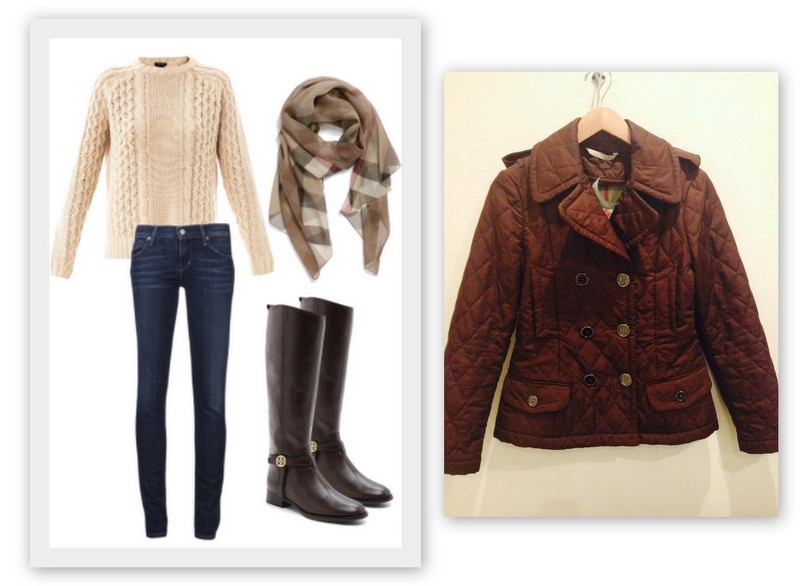 This outfit is great for all of the active ladies. Whether lounging with the family or running around with the kids, this outfit is comfortable but ready to go!  Citizen jeans are the epitome of classic casual, and the Theory knit sweater is a subtle touch of cozy and confident.  Tory Burch boots add a little glam, and the Burberry scarf ties the whole thing together for an unstoppable ensemble.
And wouldn't you know, this Burberry quilted jacket from STA 324 Newbury St. goes perfectly when it's time for the family football game.
2. Elegant and Feminine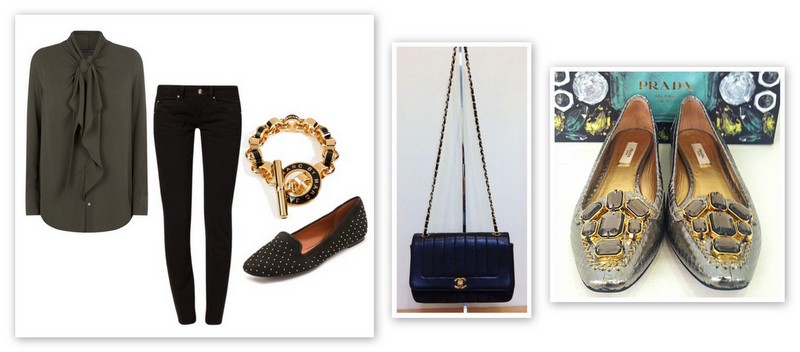 Sometimes we celebrate Thanksgiving with a loved-one's family instead of our own.  But don't let that frighten your holiday fashion sense!  A feminine, chic outfit is appropriate for any Thanksgiving atmosphere.  We love this blouse from Ralph Lauren, which you can dress down with Calvin Klein black skinny jeans.  Then add your personality in the accessories!  We added some sparkle with Rebecca Minkoff loafers and a Marc Jacobs bracelet.
These Prada silver jeweled flats from STA Armitage are a fabulous way to add some glam to your sophisticated ensembles.  And If you're a guest, the Chanel cross body from STA Haddonfield can carry all of your little necessities while you're out!
3. Stylish, Yet Forgiving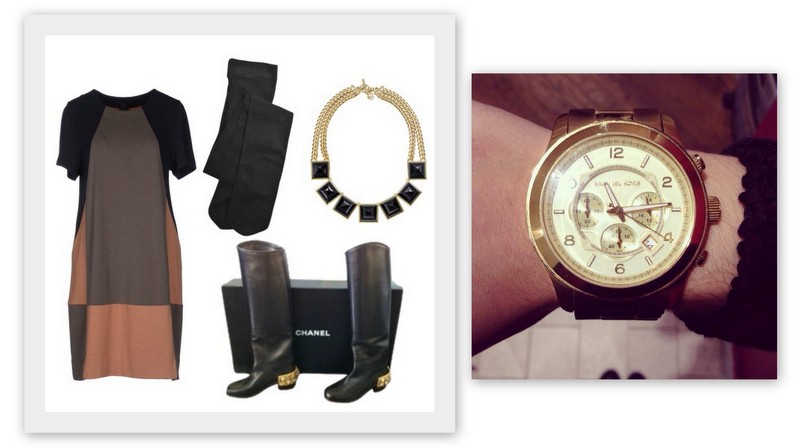 Maybe you're like me and love to spend Thanksgiving with a glass of wine in the kitchen with the women of the family.  All I know is I don't want to wear anything too restricting, especially as I'm nibbling all day!  A dress is a great way to stay comfortable and fashionable.  This Marc by Marc Jacobs short dress allows you to move freely around the house.  Paired with black tights and Chanel boots, it screams bold and down to business.  And we can never resist a good accessory, like this Michael Kors collar necklace.
And don't forget a Michael Kors boyfriend watch from STA 176 Newbury St. is a mandatory accessory on Thanksgiving to keep track of all the madness!
Happy Thanksgiving fashioniSTAs!