Posts tagged
chic
I'm still in awe over the dresses from this year's Oscars. There really weren't any looks that I didn't love or thought to be distasteful (even Lady Gaga surprisingly rose to the occasion). What really keeps me watching these red carpet events is the confidence that these women ooze. I know, I know. They are all A-list celebrities, but you have to remember that with the right dress and accessories you can feel like a celebrity too. With that being said, after watching the Oscars there are a few looks that would work perfectly as inspiration for pieces in our own closets.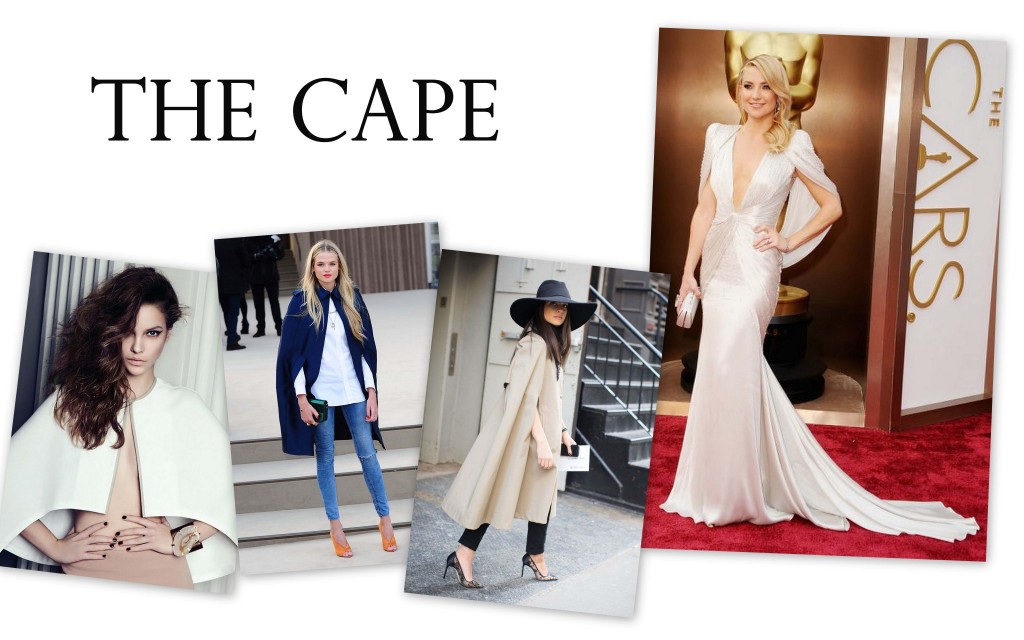 The Cape - As seen on Kate Hudson, a cape is an accessory that can amp up a red carpet look. For us, a cape of more substantial material can do the same as an everyday look. With jeans and a t-shirt or dressed up with skinny pants and an oversized hat, the cape can take your look to a whole other level. How chic does a cape look just draped every so slightly onto the shoulders?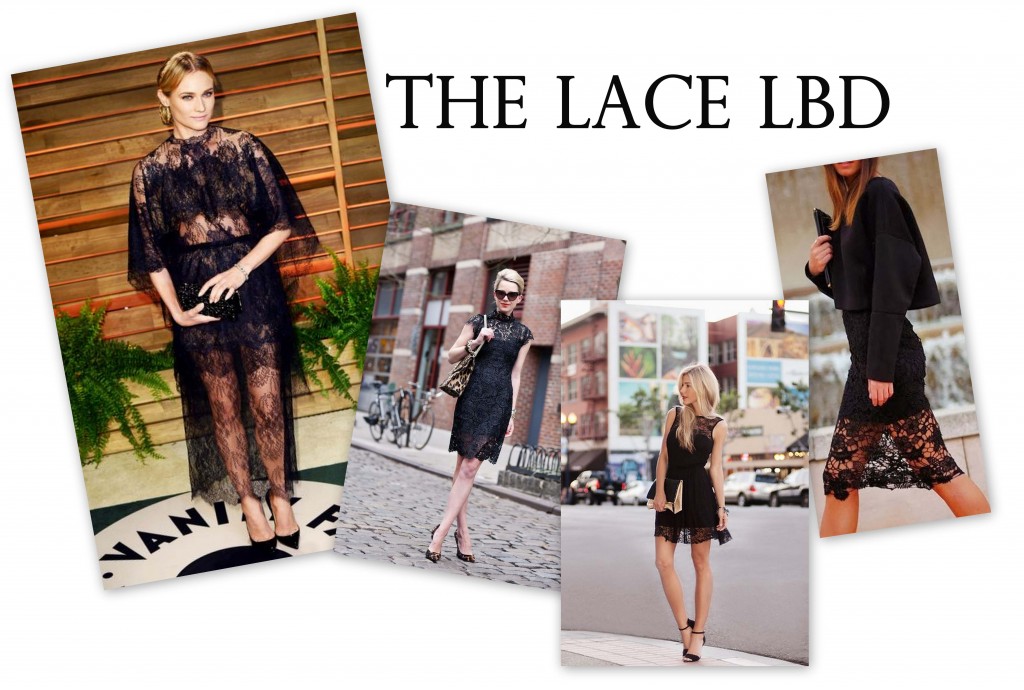 The Lace LBD - Who doesn't love a little black dress? Oh wait, no one. It is the staple piece that we all already have in our closets (if you don't, then you got to get one - life changing!) because it makes women feel like a powerhouse. So, why not add sophisticated lace to your LBD? Let's take Diane Kruger's Valentino frock. What is so prefect about this dress is that you're showing skin and totally covered up all at the same time. How provocative is that?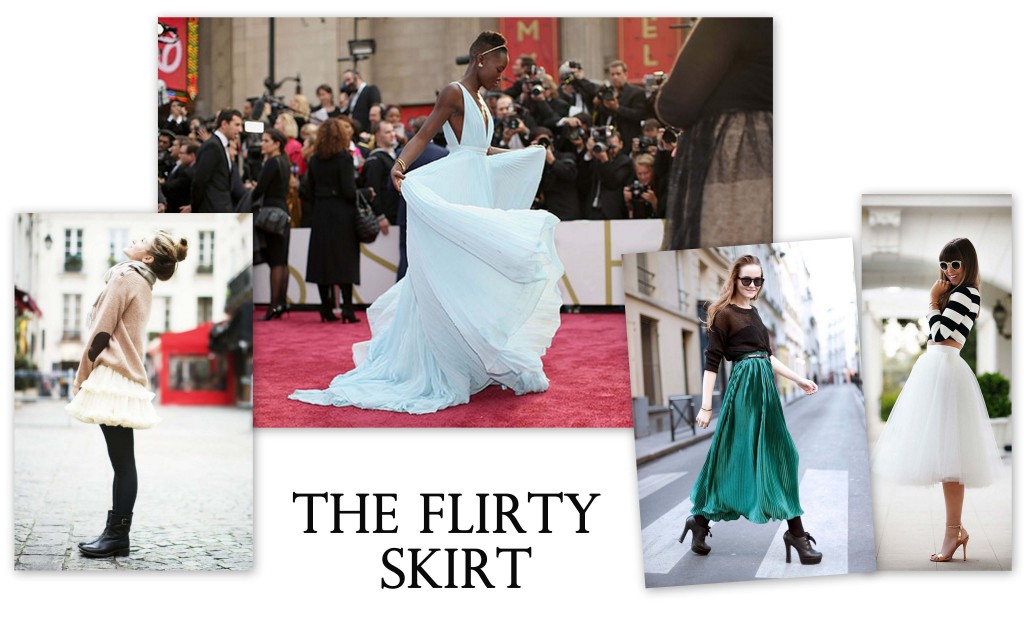 The Flirty Skirt - I couldn't write a blog post about the Oscars and not include Lupita Nyong'o. Her custom Prada gown was straight out of a fairy tale. How fun would it be to twirl in a flowy skirt until you were dizzy, like when you were a kid? That's what her dress makes me want to do. Off the red carpet, a long or short flirty skirt is all you need to feel like a princess.
I am definitely going to be on the hunt for these pieces after watching the Oscars! These pieces can transitional your wardrobe and make you feel like a celebrity. Don't take my word for it, just look at how amazing these ladies look!
~Taylor, fashioniSTA
Photo Credits: Refinery29 and Pinterest
Thanksgiving, the one holiday that is actually about food.  If you're anything like me, I don't necessarily feel my most beautiful and put-together self when I'm stuffing my face for 24 hours.  It's hard to resist those comfy and stretchy yoga pants, but don't give in!  Here are three fabulous outfit inspirations to keep you looking fabulous (as usual) this Thanksgiving.
1. Cozy and Versatile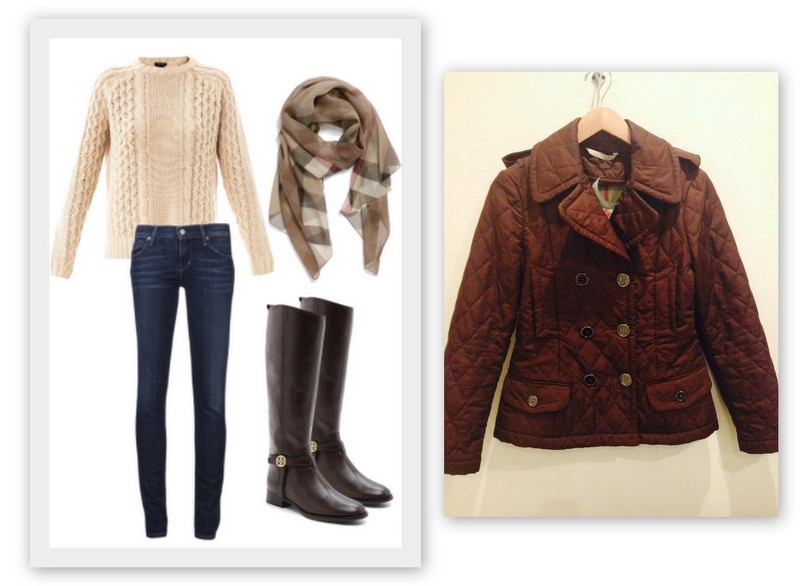 This outfit is great for all of the active ladies. Whether lounging with the family or running around with the kids, this outfit is comfortable but ready to go!  Citizen jeans are the epitome of classic casual, and the Theory knit sweater is a subtle touch of cozy and confident.  Tory Burch boots add a little glam, and the Burberry scarf ties the whole thing together for an unstoppable ensemble.
And wouldn't you know, this Burberry quilted jacket from STA 324 Newbury St. goes perfectly when it's time for the family football game.
2. Elegant and Feminine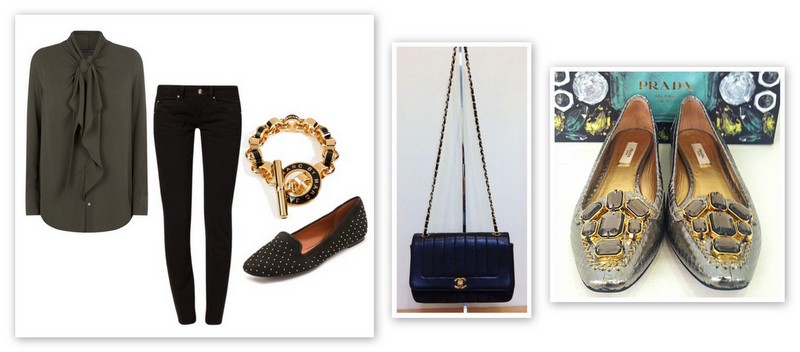 Sometimes we celebrate Thanksgiving with a loved-one's family instead of our own.  But don't let that frighten your holiday fashion sense!  A feminine, chic outfit is appropriate for any Thanksgiving atmosphere.  We love this blouse from Ralph Lauren, which you can dress down with Calvin Klein black skinny jeans.  Then add your personality in the accessories!  We added some sparkle with Rebecca Minkoff loafers and a Marc Jacobs bracelet.
These Prada silver jeweled flats from STA Armitage are a fabulous way to add some glam to your sophisticated ensembles.  And If you're a guest, the Chanel cross body from STA Haddonfield can carry all of your little necessities while you're out!
3. Stylish, Yet Forgiving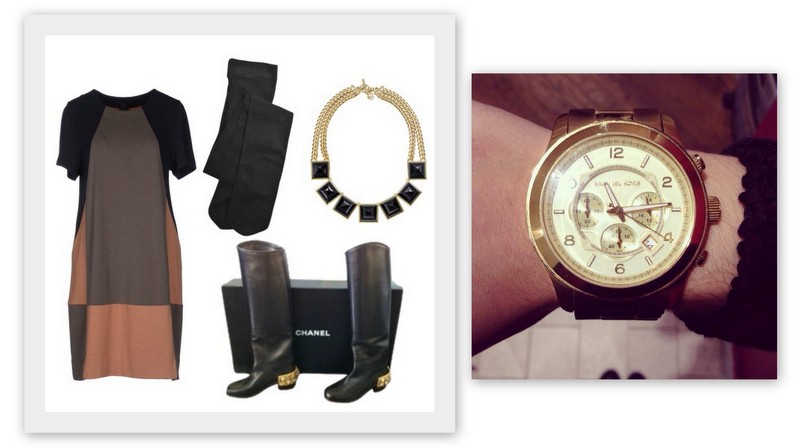 Maybe you're like me and love to spend Thanksgiving with a glass of wine in the kitchen with the women of the family.  All I know is I don't want to wear anything too restricting, especially as I'm nibbling all day!  A dress is a great way to stay comfortable and fashionable.  This Marc by Marc Jacobs short dress allows you to move freely around the house.  Paired with black tights and Chanel boots, it screams bold and down to business.  And we can never resist a good accessory, like this Michael Kors collar necklace.
And don't forget a Michael Kors boyfriend watch from STA 176 Newbury St. is a mandatory accessory on Thanksgiving to keep track of all the madness!
Happy Thanksgiving fashioniSTAs!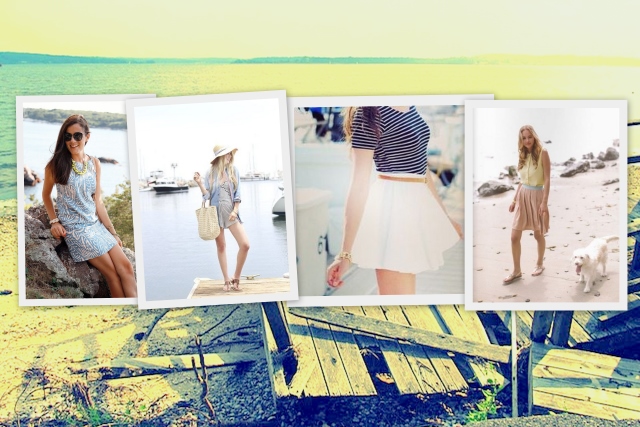 No matter where it is you're spending your summer, we know you fashioniSTAs are doing it in style! This summer is all about making a statement, while also remaining true to your individuality and personal style.  When dressing for your vacation getaway, we are seeing a huge nautical influence on the latest trends.  Some of the hottest trends this season are simple patterns with a preppy vibe, think classic Tommy Hilfiger and Tory Burch.  When seaside no matter what your style is, you cannot go wrong with a brightly colored Lily Pulitzer ensemble.  Whether headed to the ocean or traveling to the countryside, vacation style is all about simple, elegant, and classy.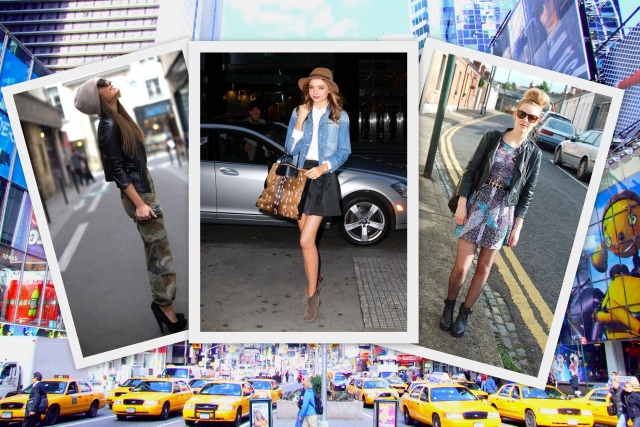 This summer's urban style has a much edgier vibe.  When it comes to looking your best in the city streets, it is all about making a bold statement.  Lots of trends we are seeing this season are pushing boundaries, the streets definitely have an 80's vibe when they are full of destroyed denim, studs, and leather. What we recommend trying is mixing older trends with newer ones or pairing two totally different items to make a unique look.  Next time you decide to wear a floral pattern, add some edge with some leather or destroyed denim! If there is ever a time to try something new and different, it is when strutting down the city sidewalks.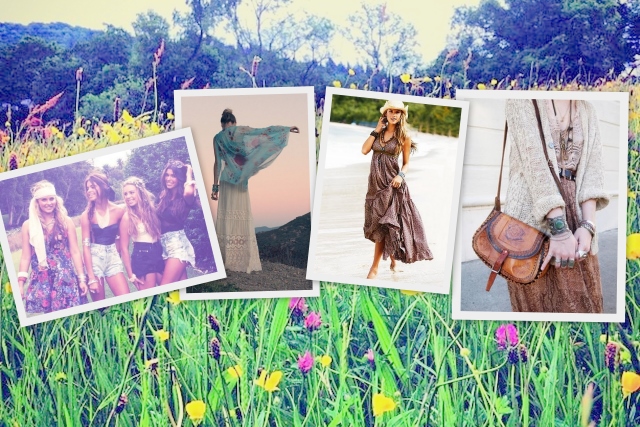 It is hard to ignore how much of a bohemian influence there has been on this summer's trends.  With maxi dresses and cross body bags being two of this summer's must haves, this summer you can't resist the catching the bohemian fever.  Even if you don't consider your personal style particularly bohemian, this style is absolutely worth trying, even if just for the comfort factor alone! From crochet and fringe to vintage looking over-sized jewelry, we are loving everything about this style. We recommend you try pairing a floral pattern with an over sized sheer shall to get just the right vibe.
-Catherine, fashioniSTA
(Image credits: pinterest.com, tumblr.com)