Posts tagged
purse
I'm sure you've been anticipating a rather extensive list, as usual.  But as a fashioniSTA, what else do you expect?  For your convenience I've narrowed it down to my top ten items.  You can find every item on my list at STA.  And while you're there, maybe you'll even get some more ideas!  So here it is.
A Fashionista's Christmas List:

Chanel Earrings  (STA 324 Newbury St.)
Fur Vest
Tory Burch Boots (STA Philadelphia)
David Yurman Crossover Ring
Juicy Couture Watch (STA Haddonfield)
Louboutin Pumps
Alice and Olivia Sequin Dress (STA Englewood)
Hermes Cuff
Valentino Kaleido Gem Tote (STA South Miami)
Louis Vuitton Scarf
Now I know fashion isn't really your forte, so I understand if this list is a little intimidating to tackle.  So if you can't get them, it's okay.  I can always go to the…
SALE at STA the day after Christmas!  From 9am-12pm everything at STA is 50% off!
Then after 12pm, there's 20-30% off the entire store!
As a present for myself, I'll be hitting the after Christmas sale at STA.  I promise I've been good all year.  Merry Christmas Santa.
Sincerely,
A FashioniSTA
Photos from STA Facebook pages and pintrest.com
We're almost there fashionistas!  Just a few more days until Black Friday, only the best day of the year for us shopaholics.  I have to admit, I'm getting more and more excited by the minute, but I'm also getting nervous!  There'll be so much to shop for, and so little time!  I can't go in without a plan.  It's time to assess my closet and figure out exactly what I need to track down on the big day.
There are 10 items I definitely can't go home without on Black Friday.
The List: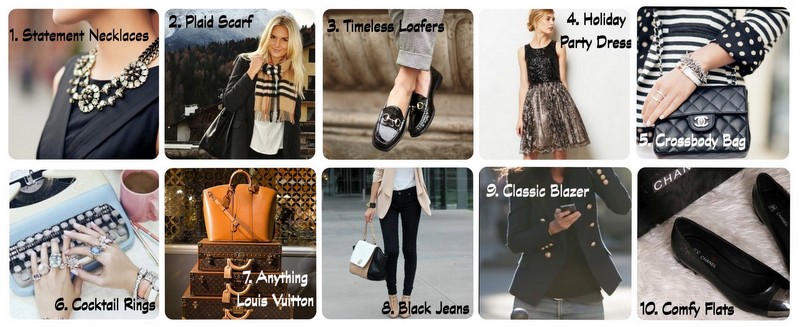 1. Statement necklaces
2. Plaid (Burberry) scarf
3. Timeless loafers
4. Holiday Party Dress
5. Cross body bag (appropriate for day and night!)
6. Costume rings
7. Anything Louis Vuitton8. Black Jeans
9. Classic Blazer
10. Killer (but comfy) Flats
… and 11. Anything with tags is a perfect gifts for friends
Make your lists ladies, time is running out!
Photo Credits: pintrest.com