Posts tagged
brooch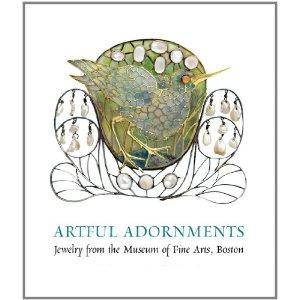 Once upon a time, feathers, claws, coral, and rock crystals drew as much attention as that huge rock on your neighbor's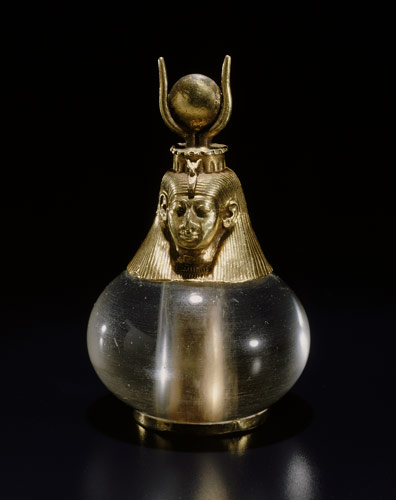 finger. These crazy pieces were used as a sort of silent communication system, stating your status to all who passed by. B.C.-era bling also served to be personally symbolic, seen as protective charms that could keep the wearer from harm. Since then, jewelry has evolved into fashionable accents viewed less as status symbols (engagement rings aside) or Harry-Potter-esque amulets and more as little "pops" we add to our daily wardrobe to pull ourselves together.
But jewelry as… art? If your love of all things sparkly goes beyond the typical gal's "these earrings go with this outfit" mindset, then you will be blown away by the Boston Museum of Fine Arts most recent exhibition. Jewels, Gems, and Treasures: Ancient to Modern opened on July 19th, showcasing about 75 pieces dating from 2400 BC to 2003. This exhibition ushers in the inauguration of the MFA's new "Rita J. and Stanley H. Kaplan Family Foundation Gallery," which promises to be a home for thematic rotating jewelry shows.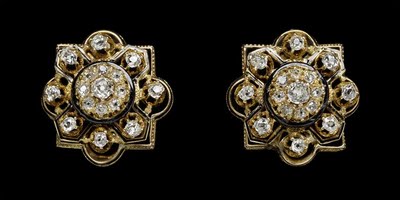 Among the standout pieces of historical value are a diamond earring/enamel brooch set from the 1860's (right), worn by Mary Todd Lincoln as she mourned her presidential husband; a diamond earring/necklace Tiffany set (now considered to be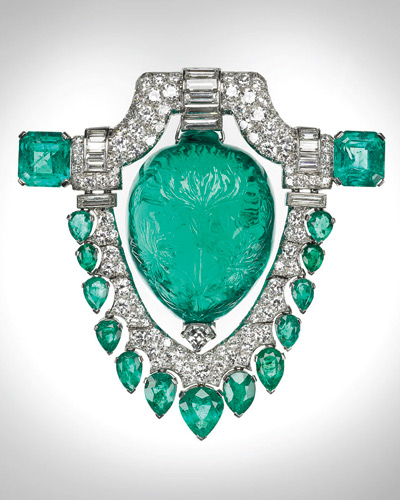 one of the oldest surviving American-made necklaces) given by gun tycoon Samuel Colt in 1856 to his bride; enameled cuff bracelets which once belonged to Coco Chanel; cereal heiress Marjorie Merriweather Post's platinum-diamond- emerald brooch; six deity-topped pendants previously owned by Nubian queens (above, right); and a brooch-and-earrings set adorned with taxidermy hummingbirds (below), which were all the rage in 1860's England. This already-impressive list excludes the scores of art deco pieces on display by contemporary artisans. You'll have to see them all for yourself!
The MFA's new gallery marks the first exhibition dedicated entirely to jewelry at a major U.S. art museum. "This seems to be as significant as when art museums began having departments and curators for textiles," says Marjorie Schwarzer, author of Riches, Rivals, and Radicals: 100 Years of Museums in America. "It's taking these art forms that were considered 'craft' and then were considered 'women's arts' and elevating them to fine art." As Ruth Peltason, author of Living Jewels: Masterpieces from Nature: Coral, Pearls, Horn, Shell, Wood & Other Exotica points out, "if we can get intelligent people talking to us about jewelry, then we won't just see it as 'would I wear that ring?' or 'gee, I'd like to own that necklace.' Instead, we can look at it as something of its time and ask 'Who are those great makers? Who are those great artists?'"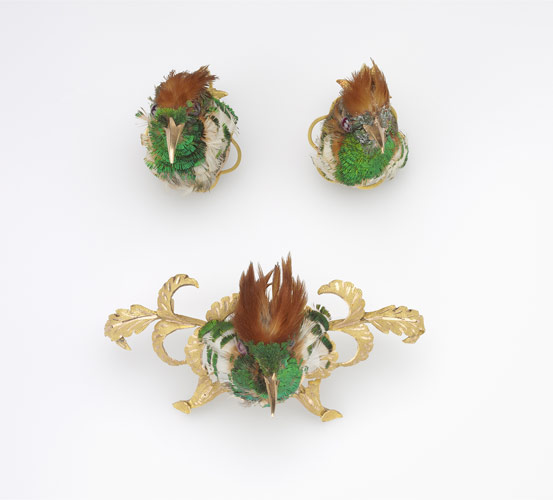 From a fashioniSTA's standpoint, it's all about staying ahead of the trends. After all, history repeats itself on the runway! By visiting an exhibit like this, you can ogle the jewelry from hundreds of years ago and compare it to what we are wearing today, seeing how these pieces continue to inspire our current styles. Prepare yourself to be dazzled as well as inspired. If you're in the Boston area, be sure to check out this breathtaking exhibition, on display through November 25th.
~Kim, Store Manager - Harvard Square/FashioniSTA
Every jewelry aficionado has at least one piece in their collection that stands out, be it for eye-catching glitz, overly ornate details, or understated simplicity.  But where do these pieces come from?  Heirlooms? Antique shops? Your local department store?  All jewelry, be they from yesterday or yesteryear, can be credited in design to certain eras.  Join us as we scour the cases at our Harvard Square location, hunting for pieces to help highlight the ongoing heyday of personal adornment!
Each groundbreaking design period had jewelry styles that are easy to identify, so let us begin with one of the earliest trends to break away from the mold of conservative cameos and basic gemstones…
ART NOUVEAU (all the rage: 1895-1915)
The graceful Art Nouveau period started with designers in France and those in America following suit. The most important characteristic of this kind of jewelry was its free-flowing nature. The whimsical lines found in Art Nouveau jewelry suggest the movement, passion, and youthful vigor in the new ideas of the turn of the century. At the heart of the Art Nouveau movement were nature motifs and fantastical elements such as fairies and wood creatures.
EDWARDIAN (all the rage: 1890-1920)
After the death of the UK's Queen Victoria, the Edwardian era was ushered in when her son Edward took the throne. This was a lavish period with pearls and diamonds paired with emeralds, rubies and other gemstone accents. This era was proven to be a highly decorative and elaborate period, full of regal and bold components.
ART DECO (all the rage: 1920-1935)
The period between the World Wars witnessed new interest in modernizing jewelry. Designers of the Art Deco period welcomed the clean lines of the machine age — forms inspired by nature or abstract sources followed geometric lines, a noticeable difference from both Edwardian and Art Nouveau jewelry.  In addition to the strong shapes, this was a period of contrasting bright colors.
Motifs of the Art Deco period included screw-back / clip-on earrings and Egyptian-esque jewelry (King Tut's tomb was discovered in 1922). Themes of this era are still prevalent today — new diamond cuts were introduced to accentuate the geometric taste, including the emerald cut, triangle cut, trapeze cut, and marquis cut.
RETRO (all the rage: 1935-1950s)
Even before World War II, jewelry was changing. The Retro look was an infusion of old and new - utilizing the curves of Art Nouveau with the clean simple look of Art Deco, but in a scale not seen before. Big was beautiful when it comes to describing jewelry of the Retro period, elaborate and colorful with an array of gold and gemstones. It had Hollywood for its inspiration, so the retro jewelry was somewhat larger than life in style. This was also the period when charm bracelets became a favorite jewelry item.
CONTEMPORARY (all the rage: 1960s to present)
Jewelry in recent decades has come a long way. Plastics were introduced, which provided a huge outlet for new colors and styles. Price points decreased and everyone was now able to find an affordable style to suit them.  Bold, primary colors emerged, as did oversized cartoony shapes. This carried on well into the 1980s, but after the "massive consumption" years of the decade, less became more in the 1990s. The silhouette became neater as shoulder pads finally died and jewelry became non-existent or chic in its simplicity and barely-there quality. Floating necklaces were popular, as were simple studs for earrings.  Moving forward, the '00s weren't so much about any one trend — it actually relied heavily on past decades for inspiration. Add in leather cuffs, arm bands and cocktail rings, and you've got yourself a complete ensemble from the early 21st century.
CURRENT (all the rage: now)
Because women have a need for newness in their style, fashion will continue to offer changes. Some trends are emerging in 2010, but they are subtle and cautious. Big, edgy and bold pieces are still significant; statement necklaces, large cocktail rings and massive bracelets remain important. What has emerged this year is that metal is playing a larger role in jewelry designs. Chains are among the most simple and ancient forms of jewelry, but designers are using them in elaborate and modern ways this season. Designs run the gamut, from delicate dangling gold earrings to bold bib-style necklaces, composed of dozens of strands of chains. The newest necklaces are mixtures of gold and silver, shiny and matte metals, often dressed up with crystals, charms, stones and pearls.
Judging from the variety of styles that can be found in the Harvard Square Second Time Around alone, one emerging trend is simply to mix it up.  Take a little Art Nouveau and toss in a little Deco, grab that Edwardian-esque set of earrings and contrast it with a dark chain necklace.  Blur the lines of yesterday and today… and where better to go than a one-stop shop over in Cambridge!
~Kim, Manager, Second Time Around Harvard Square