Posts tagged
gold
While it feels like everyone just put away Christmas leftovers, it's already time to plan the perfect New Year's Eve ensemble. Whether you're ringing in 2013 with your girlfriends at the hottest party, or with your loved ones at home with a take-out container of Chinese food, we have your guide to start 2013 on your most stylish foot (or, rather, Louboutin clad heel). Here we dish out the details for the glitter girl who's headed out on the town for the last night of the year.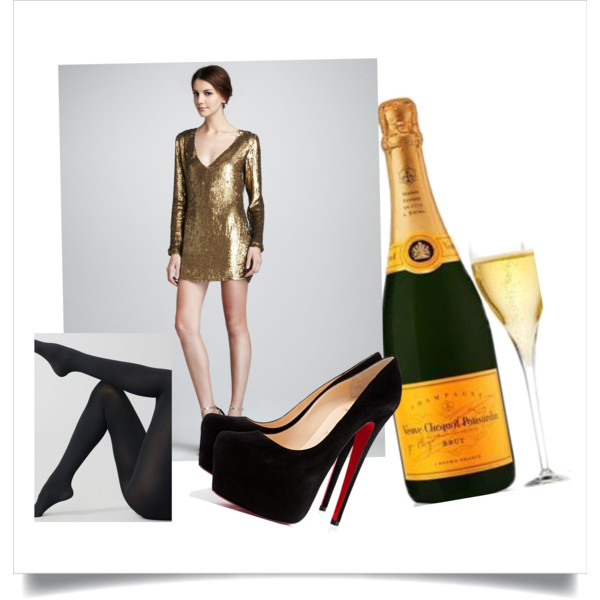 It's no secret that sequins are this fashioniSTA's friend. A gold sequin minidress (like the one above by Haute Hippie) is the perfect look for any New Years Eve bash that's sure to turn heads. Paired with opaque black Wolford tights and classic black Louboutin heels makes looking New Years Eve festive easier than popping a bottle of bubbly. If you're nervous about shining too brightly, throw on a basic black blazer, just be sure to mix it up with texture - velvet, corduroy, etc. - rather than embellishments.
Unsure how to accessorize your New Years Eve look? Switch out your festive holiday manicure for a dash of gold (like Sephora's "Come to Paparazzi" topcoat). Toss on a chunky cocktail ring, and a pair of neutral gemstone studs for the ideal amount of sparkle. Need a clutch to stash your ID, iPhone and lip gloss for the night? A sleek black envelope clutch never fails (especially when you're already donning this much sparkle).
Need more New Years Eve tips? Check out our Countdown to NYE Pinterest board and our daily Twitter tips. And stay tuned for our next part, where we shift from girly glitz to menswear-inspired elements for the big night!
~Meredith, fashioniSTA
Whether you're a college student home for the holidays, a young professional going to Christmas dinner at your significant other's home for the first time, or a hostess expecting all of your extended family in your home, dressing festive (appropriately!) is never an easy task.
Lucky for you, festive is my specialty. Put down the ubiquitous Santa hat and choose one (or two, or all three) of these ways to bring some holiday cheer into your wardrobe for the next four days.
Baroque Details

Bring one of our favorite fall 2012 trends into your holiday arsenal. A little gilded Baroque-inspired detail (like the above gold jacket by ASOS) goes a long way during the holiday season. Best when paired with simple black pants and knee-high boots, this brings a bit of festive shimmer to your gift-giving look. You can take this look a little further with a gold-gilded skirt or dress in a Baroque print, or a two-toned lace dress - one color for the lace overlay and another color underneath - will give you the same effect. Want just a dash of this? Try a set of antiqued-gold bangles like these Amrita Singhs, or an embellished clutch to top off your outfit.
The Perfect Manicure

Blame our Pinterest obsession for this no-fail way to bring a subtle holiday hint to an outfit. The best part about this is you can keep it super simple if you're short on time. Cranberry red, pine green, a gold glitter accent? There's no better hand to have when reaching under the tree. If you're looking for something a little more advanced, break out the toothpicks and tiny brushes to paint on stripes, snowflakes, or bows. We've found great tutorials for keeping your manis festive at Goose's Glitter blog, Do Not Refreeze blog, Nails Helensvale, and Chickettes (for those of you who love nail decals). And don't forget! Make sure to check out our Get Your Holiday Spirit Pinterest board for lots of holiday beauty inspiration.
The Never Fail Stand-By

'Tis the season for red and green. We can assure you, this look is possible without looking like an extra from Elf. Start with a festive red or green cashmere pullover sweater, like the Michael Kors featherweight style above. Pair with crisp white pants, or a neutral black skirt for a timeless look that'd make even Kate Middleton's holiday looks jealous. Prefer a dabble of festive color? Try a tartan headband or dark red and green gemstone jewelry for a modern take on traditional holiday spirit.
Happy Holidays (and make sure to check out our Holiday Tips of the Day on Twitter at @STAConsignment)!
-Meredith, FashioniSTA
Believe it or not, the fall fashions have started to fill the shelves and racks of your favorite stores everywhere. Since our blissfully sunny and hot summer has lulled us into a summer fashion stupor, the FashioniSTA blog is here to wake you up and get you ready for the coming season. Because it's coming….whether you like it or not!
The Fabulous Fifties
The glamour of the fifties is back. Select high-waisted skirts – both form-fitting and full, corseted tops, sweet cardigans, narrow belts for the waist and smart lady-like jackets if this trend is right for you.
Real and Faux Fur
Fur – both real and faux – was everywhere on the Fall 2010 runways and in as many forms, shapes and colors as designers could dream up. Get a fur jacket if you love the look. If you're not sure, snag an item with a fur embellishment or trim and take it for a spin.
Head to Toe Color
Instead of head-to-toe black, brown or grey, dress yourself in head-to-toe color. Reds, greens and purples were favorites on the Fall 2010 runways. But, keep it interesting by varying the hue and intensity of the color from piece to piece.
Minimalist Menswear
Whether it is a suit for the office or an outerwear piece for everyday, minimalist menswear is the way to go. This may be the trend under whose umbrella you buy your investment piece for the season
Gold Rush
Up the fashion ante by adding gold to your traditionally all-neutral fall ensembles. And not just any gold.
Search out the lames, the multi-dimensional metallics and the rich and royal gold and red brocades.
"Long"term Relationship
Long skirts – either shin-length or all the way to the ankle – were shown on numerous Fall 2010 runways. Pair them with kitten heels or flat boots for easy city walking.
Luxurious Layers
Make like a nomad and pile on the layers. Use wrap skirts, chunky sweaters, tweed jackets and oversized coats – the more, the better! Add additional interest by incorporating numerous types of fabrics, textiles and embellishments in one outfit.
I truly hate when summer leaves us. But, the fall fashions certainly manage to cheer me right back up. Here's hoping that they cheer you up too!
Shop on readers!
~Marisa, Director of Styling, Second Time Around
'